This post may contain affiliate links, which means we may receive a commission if you purchase through our links. Please
read our full disclosure here
.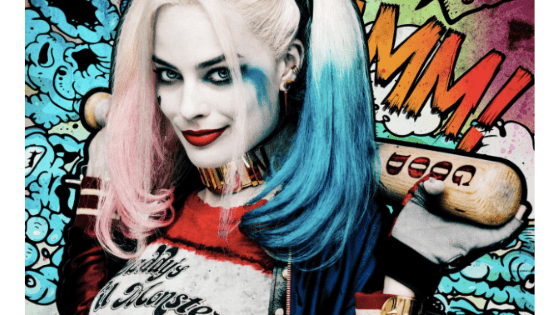 In 1992, on the hit show Batman the Animated Series, a new face appeared in the form of Joker's girlfriend, Harley Quinn.
What started off as a one-time appearance, soon became a worldwide phenomenon. Harley Quinn has become one of the most popular fictional villains in history. Her "adorable lunatic" personality has made her fan favorite. And don't forget about her iconic costumes.
Today, we'll take you through Harley Quinn's style evolution and the best Harley Quinn outfits we've seen over the years:
About Harley Quinn
Harley Quinn originally started off as Dr. Harleen Quinzel, a psychiatrist who became obsessed with Batman's main villain, the Joker. After she fell in love with the Joker, she adopted the persona of Harley Quinn.
There have been many iterations of Harley over the years.
She started off as a bubbly and crazy character in the Batman Animated Series. She then had a full makeover in the Batman Arkham video games, complete with a sexier vibe.
Her look changed again in the early 2010s, when DC Comics came out with their New 52 series. In the New 52 rendition, Harley has many outfit changes, her most notable one being her roller derby look complete with red and blue hair.
Then came Suicide Squad, were Margot Robbie famously played Harley Quinn as a tattooed, baseball-wielding fashionista.
Below are four outfits inspired by the infamous Harley Quinn's style.
Harley Quinn's Outfits Throughout History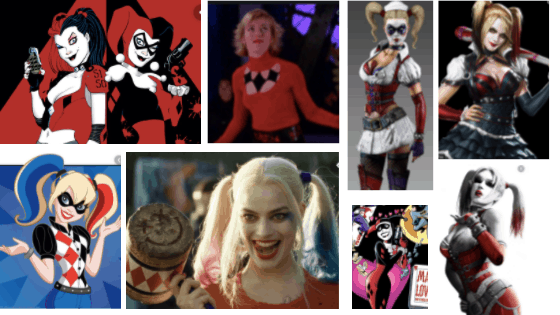 Batman the Animated Series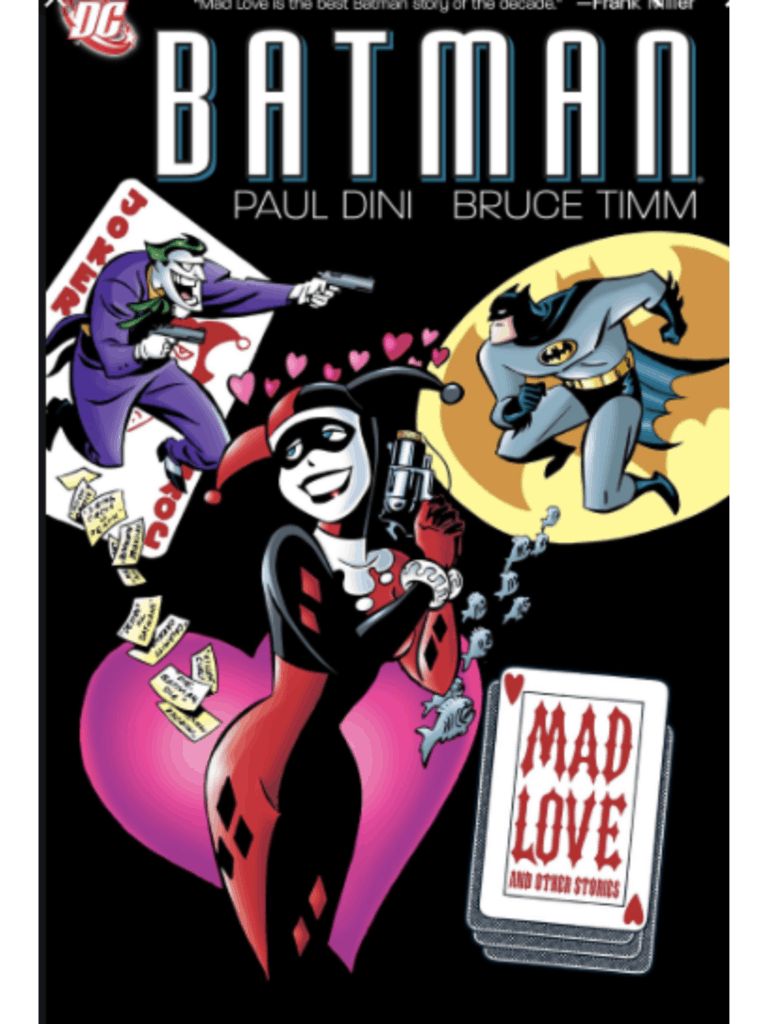 Harley Quinn's first appearance, in 1992's Batman animated series, was an instant hit. She became known for her bubbly personality and her iconic costume.
In the animated series, Harley wears the classic red and black jumpsuit that features a white collar and wrist cuffs, as well as a diamond pattern.
We're kicking off our Harley Quinn outfits with the most "out there" look of the bunch.
To get this look, go for a red or black jumpsuit or overalls, and then add red, white, and black accessories. Sticking to this basic color palette will give you a classic Harley vibe that will work perfectly for the upcoming fall season.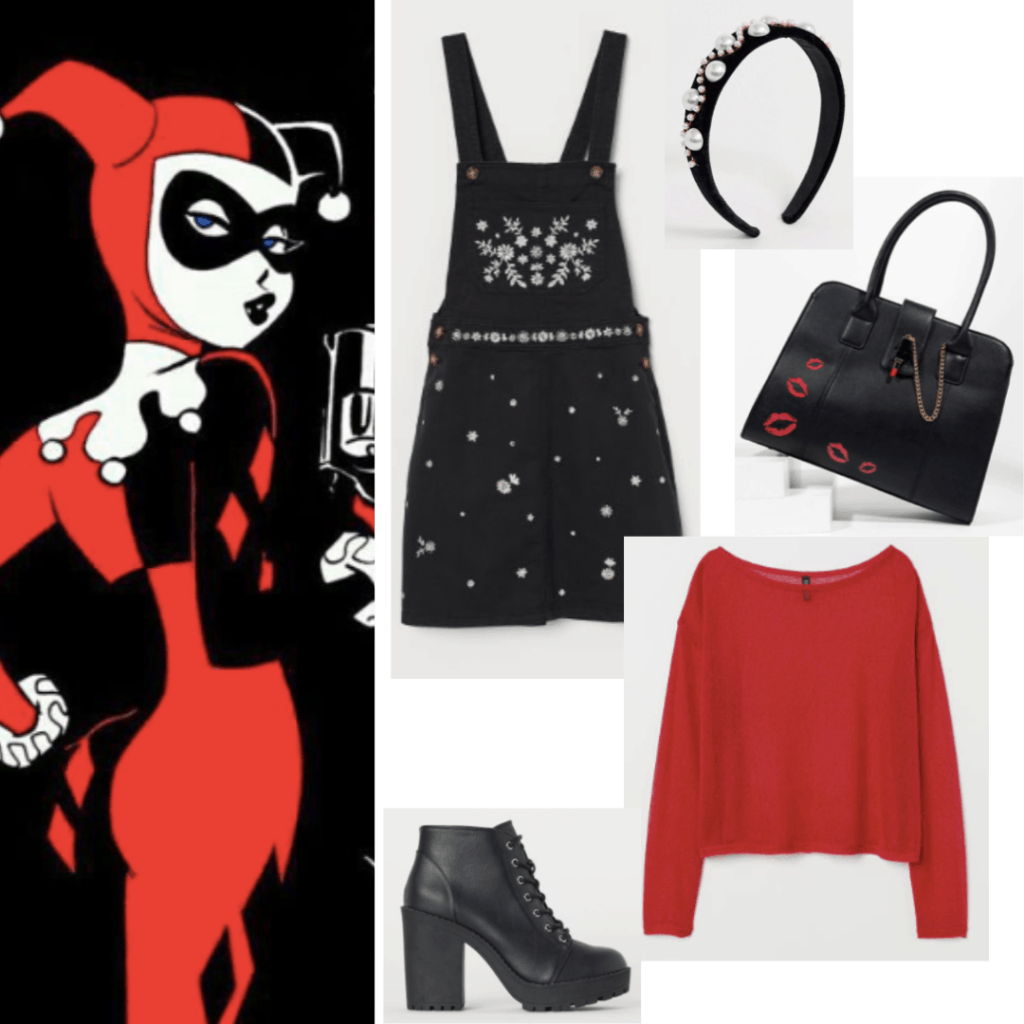 Products: Overall Dress – H&M, Sweater – H&M, Shoes – H&M, Headband – ASOS, Purse – Unique Vintage
Arkham Asylum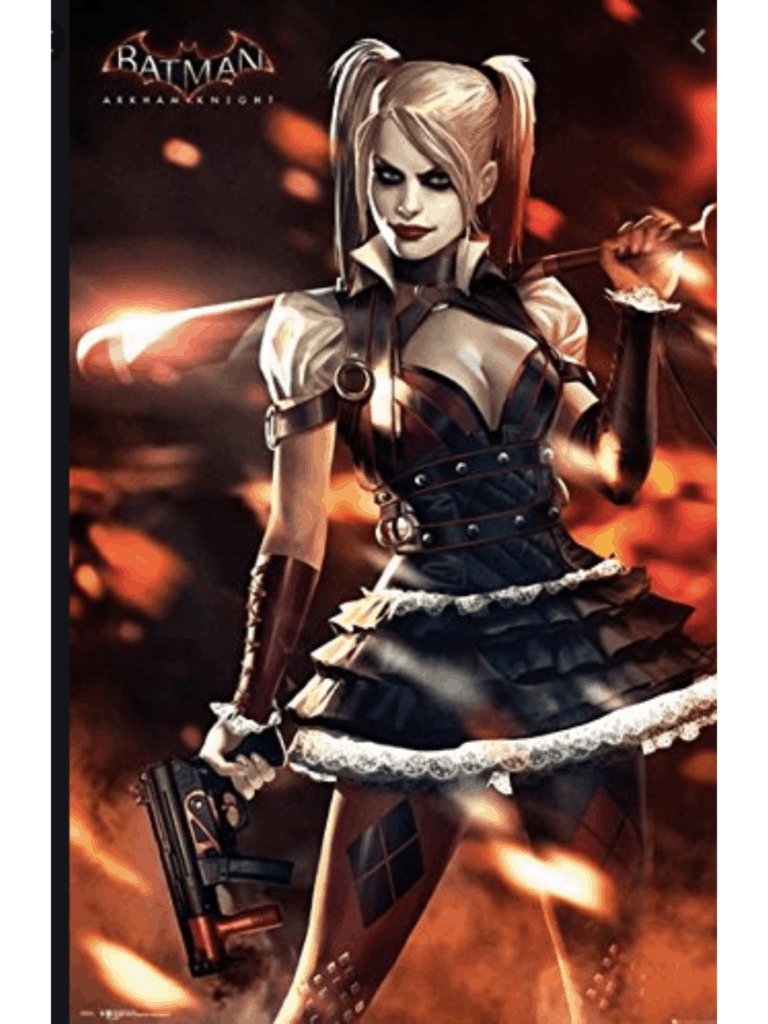 There have been three Arkham games, each featuring their own version of Harley Quinn.
Her look in the video games revolves around corseted tops, mini skirts, knee-high boots, and puffed sleeves. These looks are all meant to make the childlike Harley appear more grown up and like the formidable threat that she is.
It's crazy to think about, but many of Harley's staples from Arkham Asylum are actually trending right now!
Puff sleeves are one such example, so go for a top featuring the trend. Then add a skater skirt, a pair of boots, and patterned tights. To be truly over the top (maybe for a Halloween party), you can add these statement gloves.
This look will be perfect for hanging out with friends and causing mischief once school starts.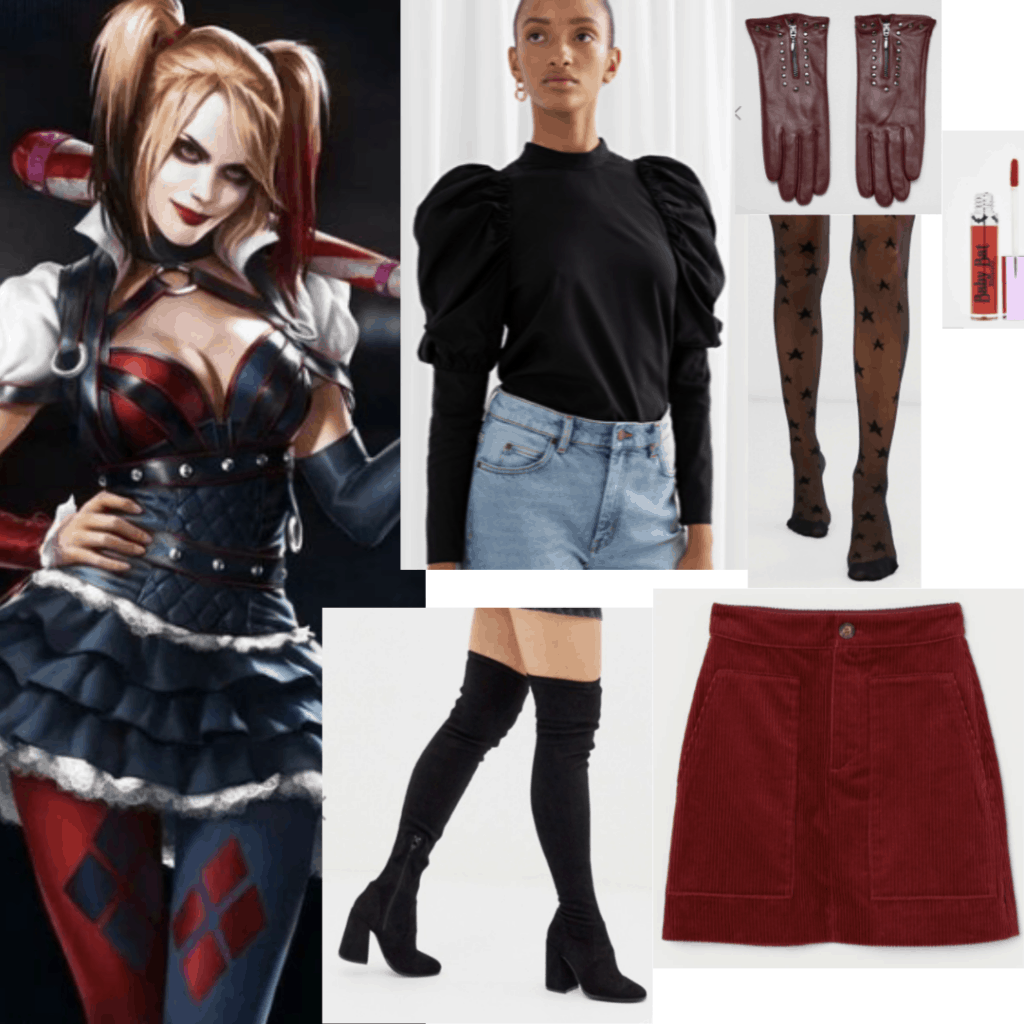 Products: Top – & Other Stories, Skirt – H&M, Boots – ASOS, Lipstick – Dolls Kill, Gloves – ASOS, Tights – ASOS
New 52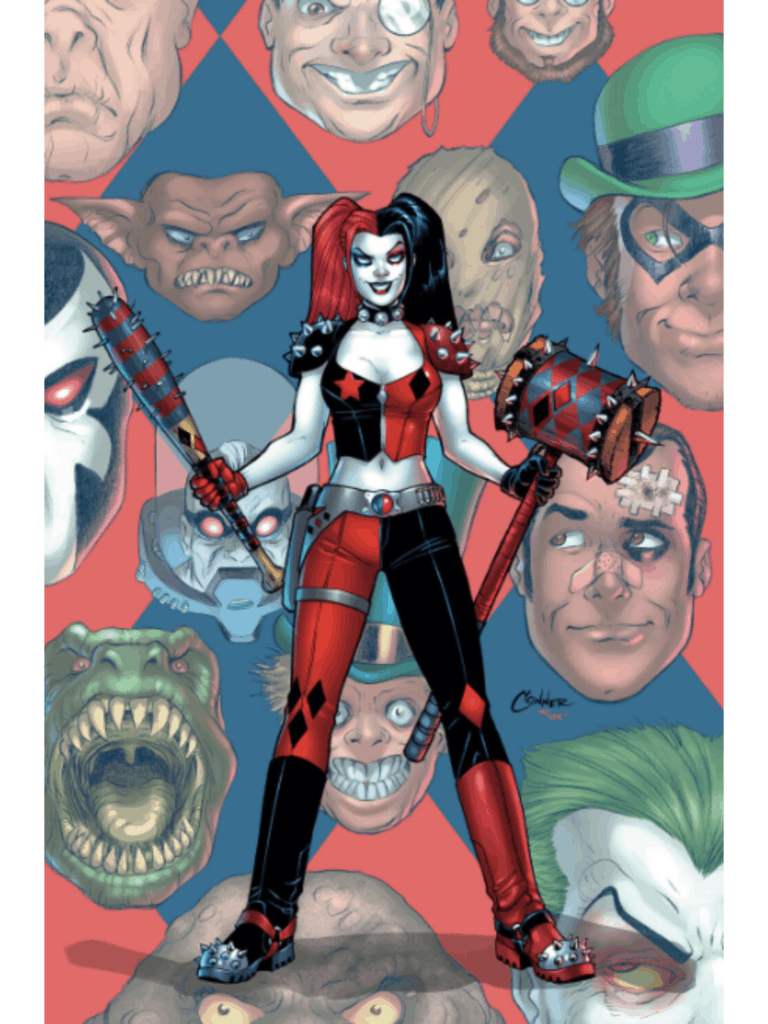 In the New 52 DC comics series, Harley appears in several different costumes. In New 52, she has more of an athletic look, rather than the cute jester vibe she had in the animated series. She wears her look while fighting good guys, playing baseball, and roller-skating. (As you do.)
Think of this Harley Quinn outfit as a more realistic approach to the classic cartoon. Start off with a red top and black shorts combo, then accessorize with more red and black.
This is a cute and casual look that could work both for attending classes and for a girl's night out while it's still warm.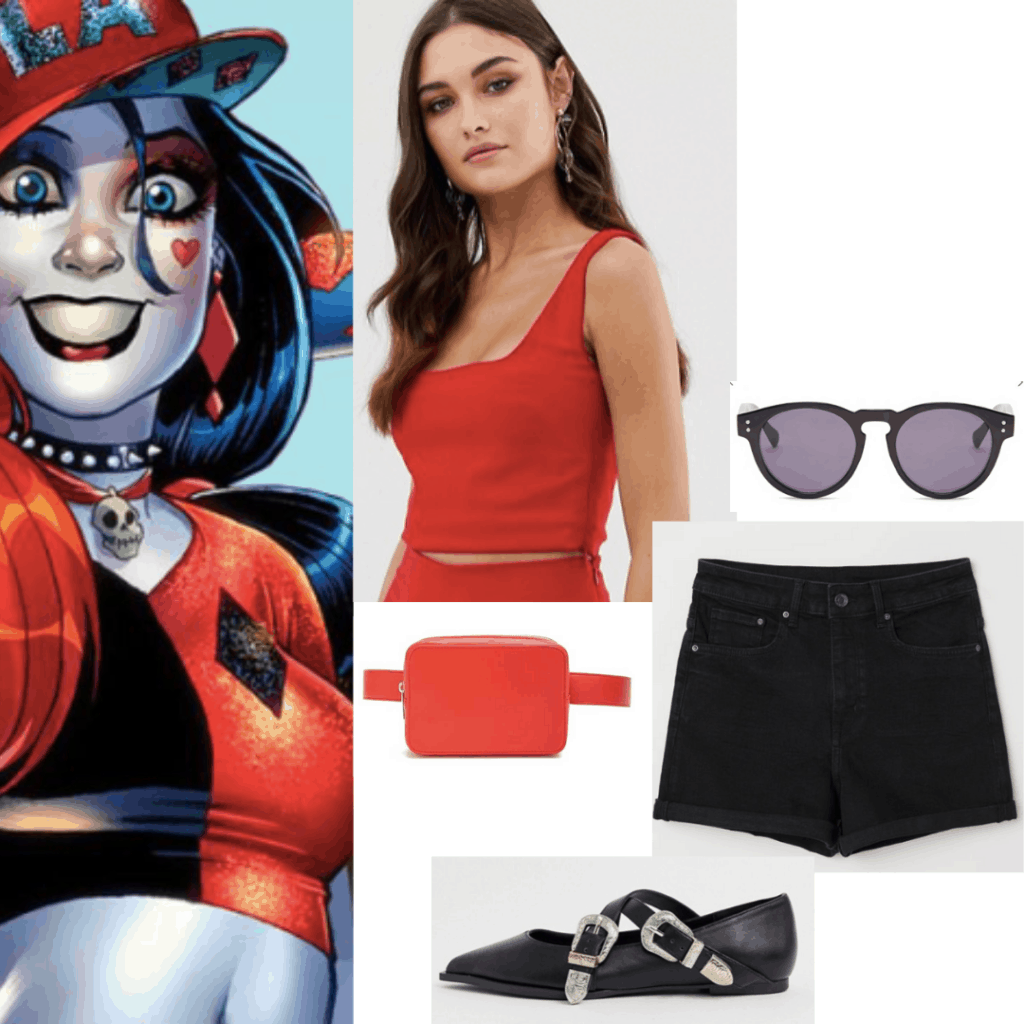 Products: Top – ASOS, Shorts – H&M, Shoes – ASOS, Belt Bag – Forever 21, Sunglasses – Forever 21
Suicide Squad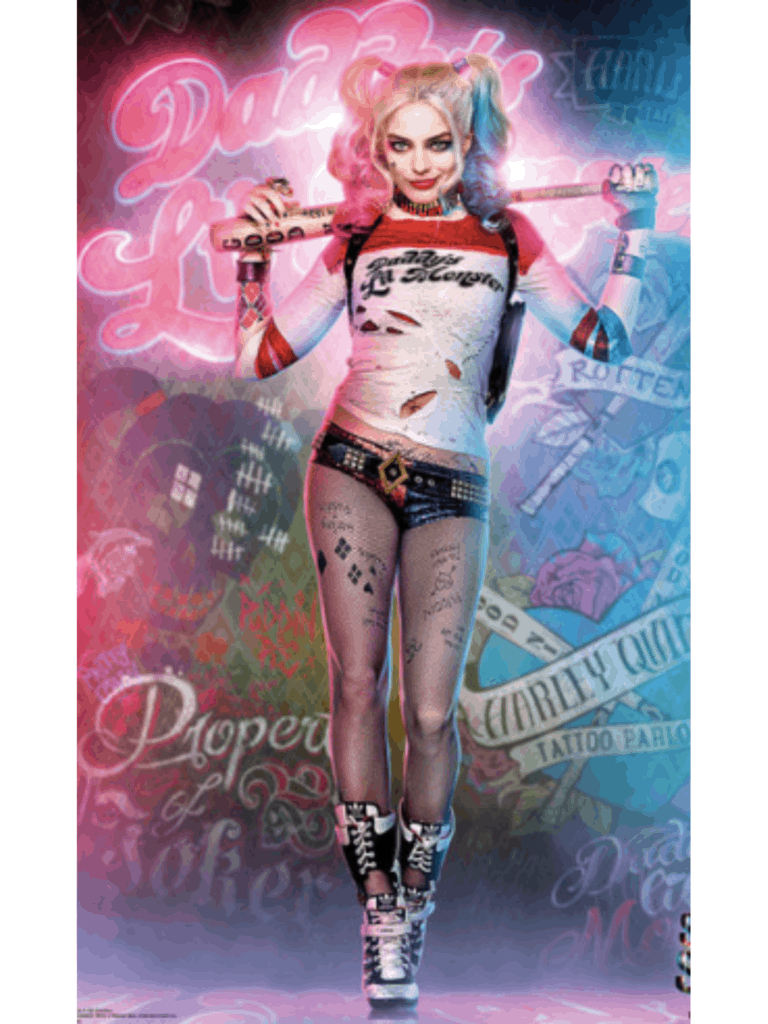 The most recent and most popular version of Harley Quinn is certainly her Suicide Squad appearance, where she is played by Margot Robbie.
Suicide Squad (2016) is a film about popular Batman villains being forced together to take out bad guys even worse than them. Harley is the heart of the film, and most definitely the most interesting character.
Throughout the film, she makes several costume changes, but her baseball tee, sequin hot pants, and bomber jacket combo is her most popular look. This Harley Quinn look introduces blue into her color palette and also brings out a more fashion-forward, modern Harley.
Harley's Suicide Squad outfits, though bold, can easily be translated into today's fashion. Just find a basic t-shirt, some cute shorts or a skirt, and some tennis shoes. Mix them together and you've got the perfect Harley look.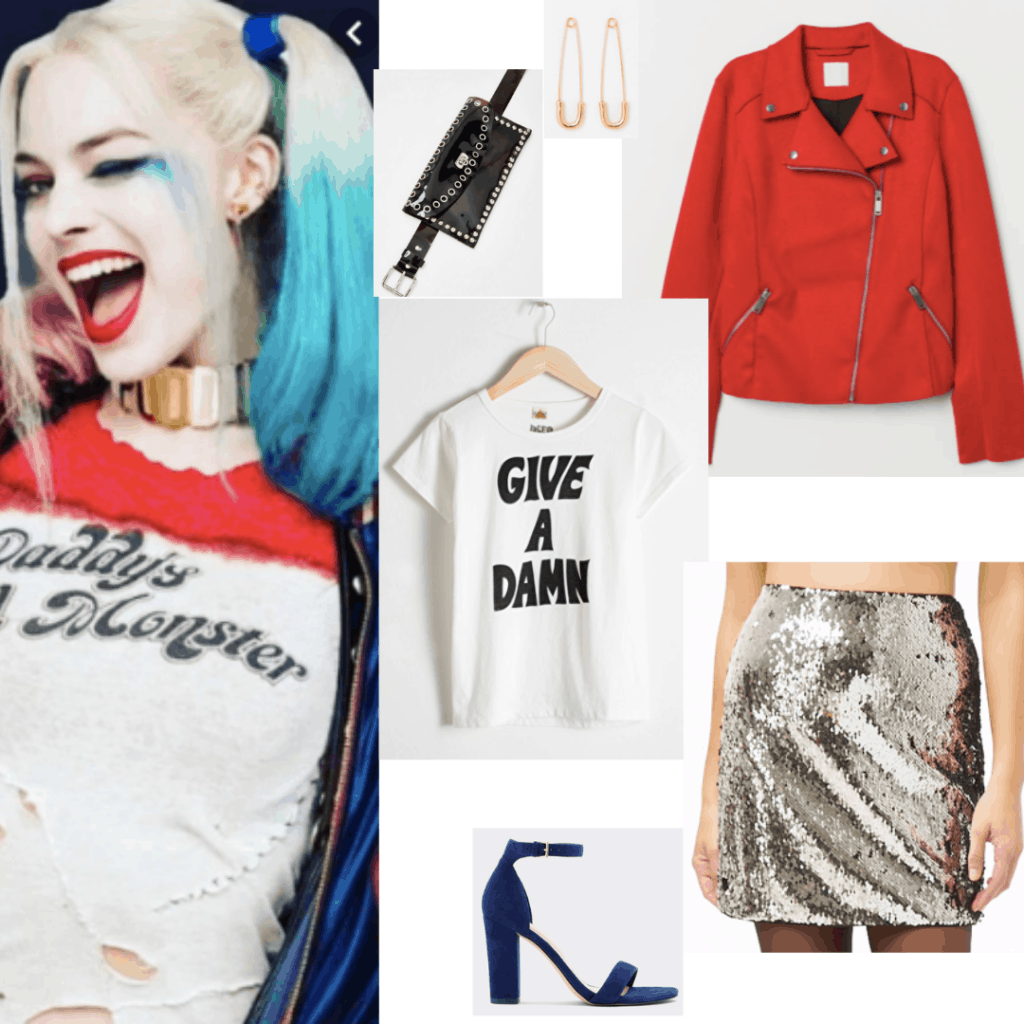 Products: Skirt – Forever 21, Jacket – H&M, T-Shirt – & Other Stories, Shoes – ALDO, Earring – Dollskill, Belt Bag – Dollskill
What did you think about Harley Quinn's style?
All of these Harley Quinn outfits, with the possible exception of #1, are perfect for school starting. They would all be great for date nights or a party with friends. The strict color palette makes everything come together so easily, and makes everything highly fashionable. All the outfits are comfortable and stylish, and I urge you to give them a try — or let them inspire your Halloween costumes!
I hope you enjoyed this post, and that you feel inspired to find your inner bad girl through fashion.