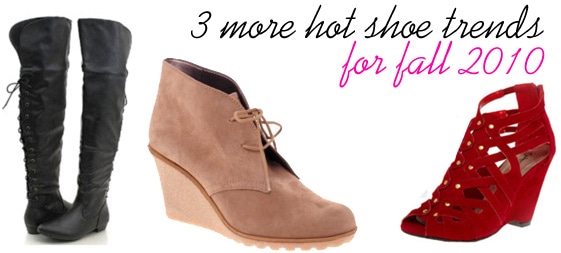 Yesterday, we covered the top five shoe trends for fall 2010. But because there are so many trendy shoe styles in stores right now, we couldn't keep the list to five! Therefore, I've compiled a list of three more hot shoe styles you'll want to be wearing this season. Interested? Read on!
1. Desert Boots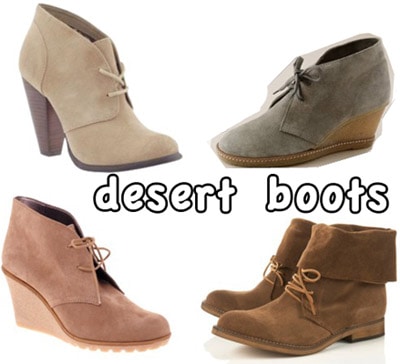 (Top Heeled , Pewter Wedge, Pink Wedge, Brown Boots)
All you tomboy fashionistas will love this season's desert boot. Rugged yet cute, these boots add a touch of masculinity to any outfit. One cool thing about these boots is that they are also in style for men this season, meaning if you have a significant other, you can both rock out in these and be sickeningly cute together. Either way, pair your desert boots with a pair of slouchy skinnies or some tights to look chic-ly disheveled.
2. Combat Boots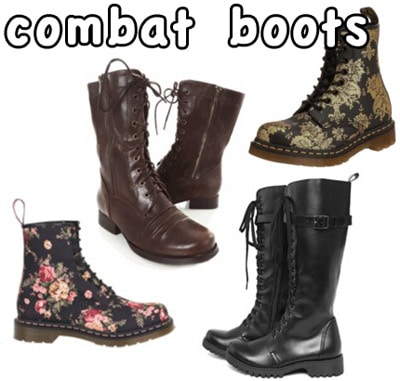 (Brown, Gold Patterned, Floral, Black)
In line with this season's military trend, combat boots in all heights and patterns will be popular for fall. All colors and patterns are welcome, so if you're daring, you can experiment with floral patterns like the boots above, or keep it simple with a plain black pair. In fact, as we covered in our first post on fall 2010 shoe trends, lace-up shoes in general are a fashion must for fall, so make sure you know how to tie your laces!
3. Wedge Heels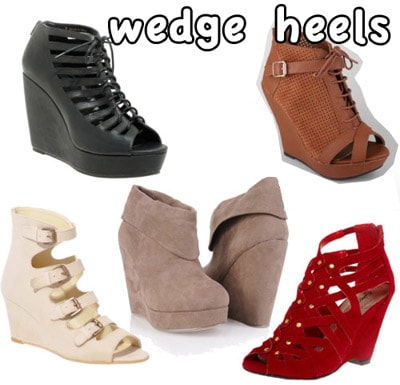 (Black Cutouts, Brown Peeptoe, Taupe Suede, White Buckle, Red Wedge)
They've been big on the blogosphere and among fashion's elite for a while now, but now these previously-tough-to-find shoes are starting to crop up everywhere. Wedge heels come in a variety of styles, so whether you want something strappy, buckled, full-coverage, or somewhere in between, there's a shoe for you. And what's best is that the wedge is generally easier to walk in than your typical stiletto, and is a bit gentler on your heels. What's not to love about that?
Bonus: Boots of All Styles!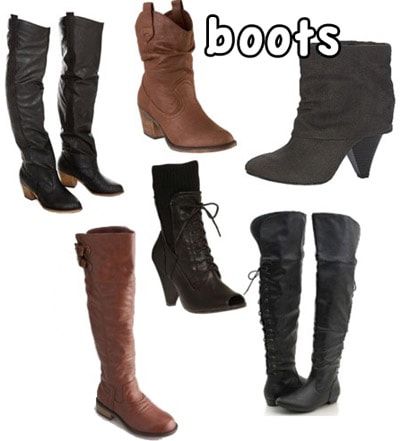 (Thigh High, Cowboy, Black Heel, Peep Toe, Brown Buckle, Black Laceup)
Okay, I cheated – I couldn't keep the list to three. Surprise, surprise: boots- everyone's favorite fall shoe, will be back again, and pretty much every style imaginable will be acceptable.
As I said before, lacing will be a popular trend for fall, so lace-up boots are a great fashion-forward choice. As far as shaft height goes, mid-calf boots (which were popular last fall), will be less popular, though certainly still wearable. Most boots this season will end right above the knee or over the knee. Additionaly, sleek and streamlined styles are a little more popular this season (as opposed to last season's "slouch" style), so if you're trying to stay trendy, those are the key things you should look out for.
Honestly, though, I say forgo trends and pick out the boots you like- you really can't go wrong.
Thoughts?
What do you think of this fall's "it shoes?" Do you have a favorite style? Is there a style that you absolutely hate? What shoes will you be wearing this fall? Whatever your thoughts, let me know in the comments!