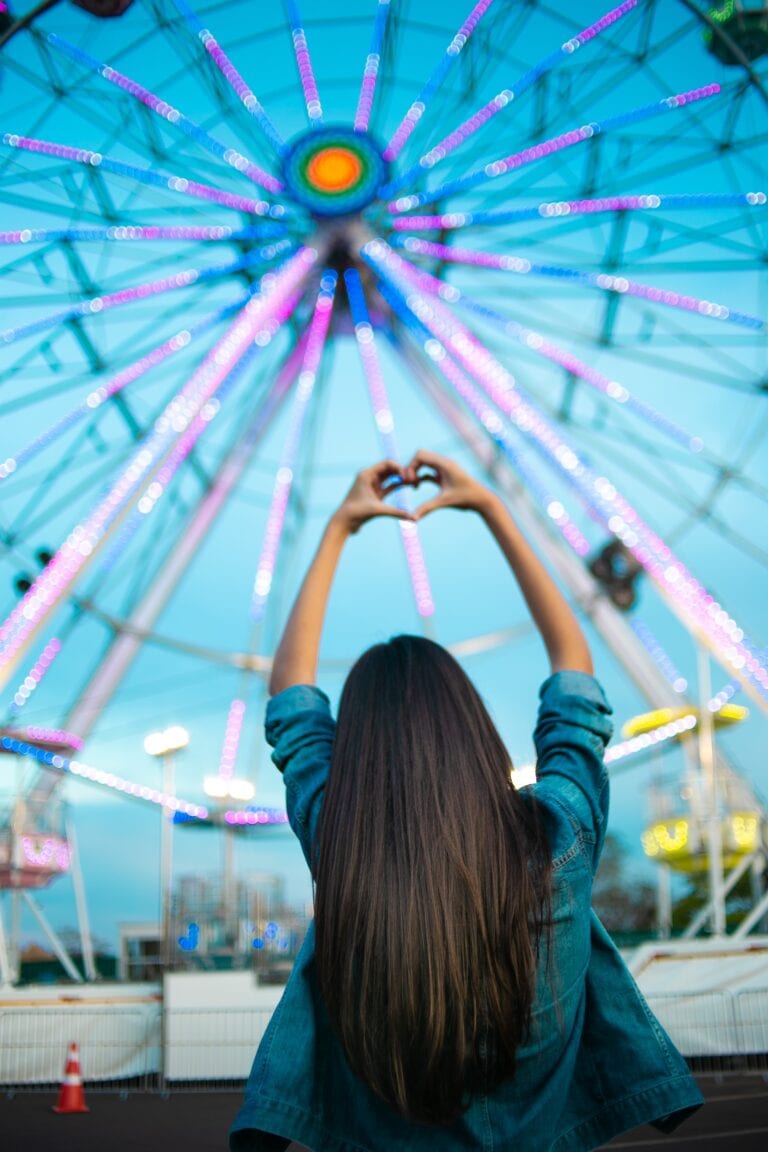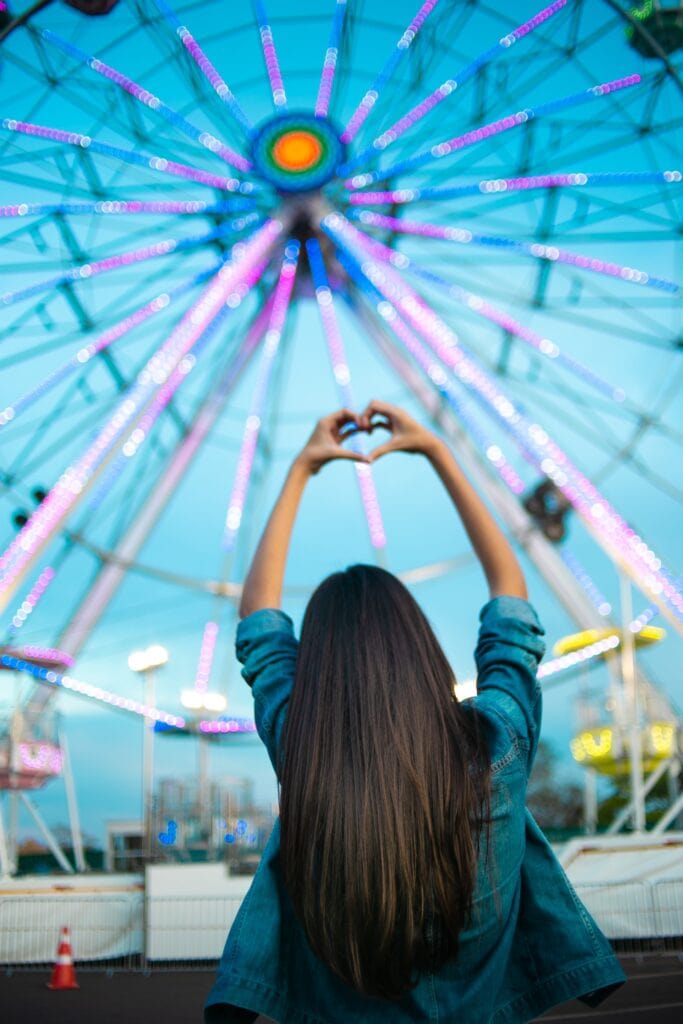 Festival season is upon us, and with it comes trendy fashion and of course, great music. With all the festival fashion inspiration blowing up your social media feeds, it's hard to plan out a hard-hitting outfit that doesn't also hit your wallet. There are so many amazing festival-ready statement pieces, but don't forget about the festival looks that you can restyle into casual outfits!
To give you some inspiration, here are some Insta-worthy festival outfits, and some styling ideas to lower the cost per wear of each piece.
The Overalls Outfit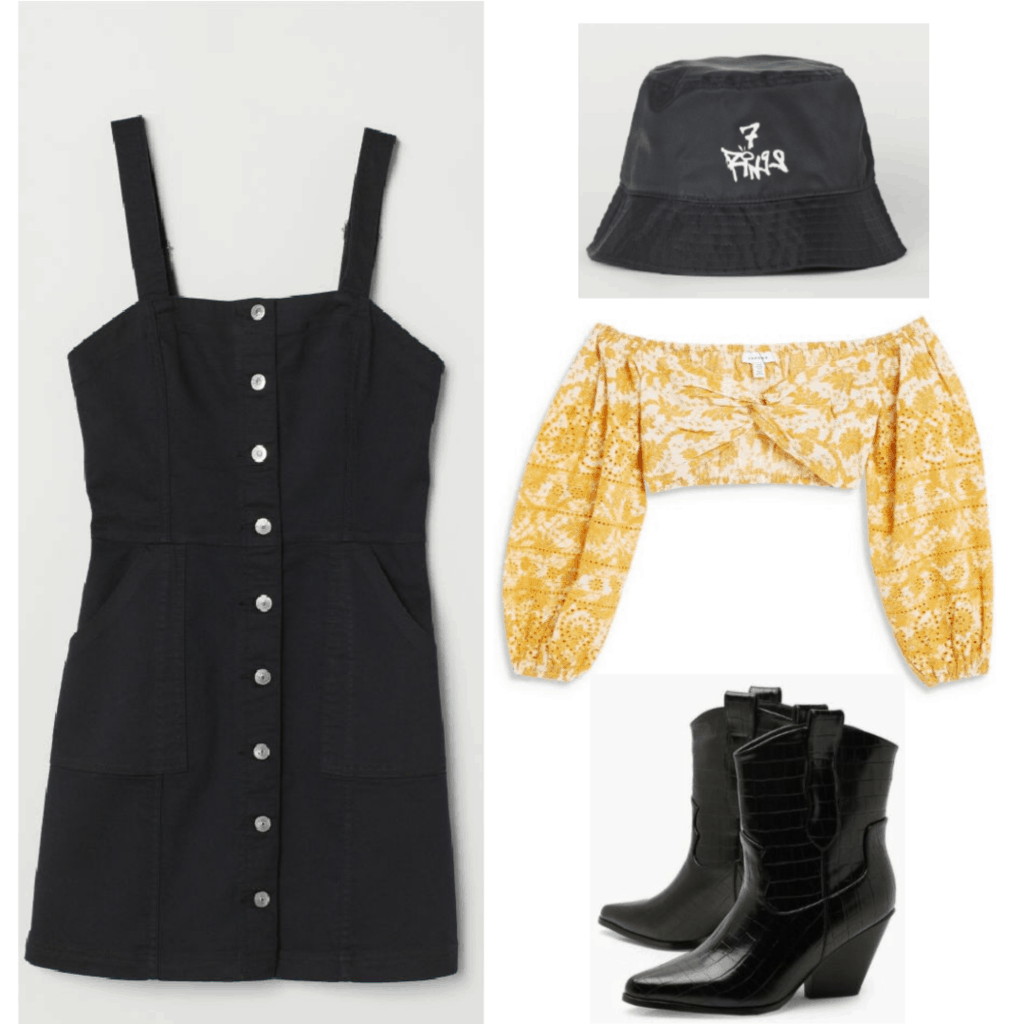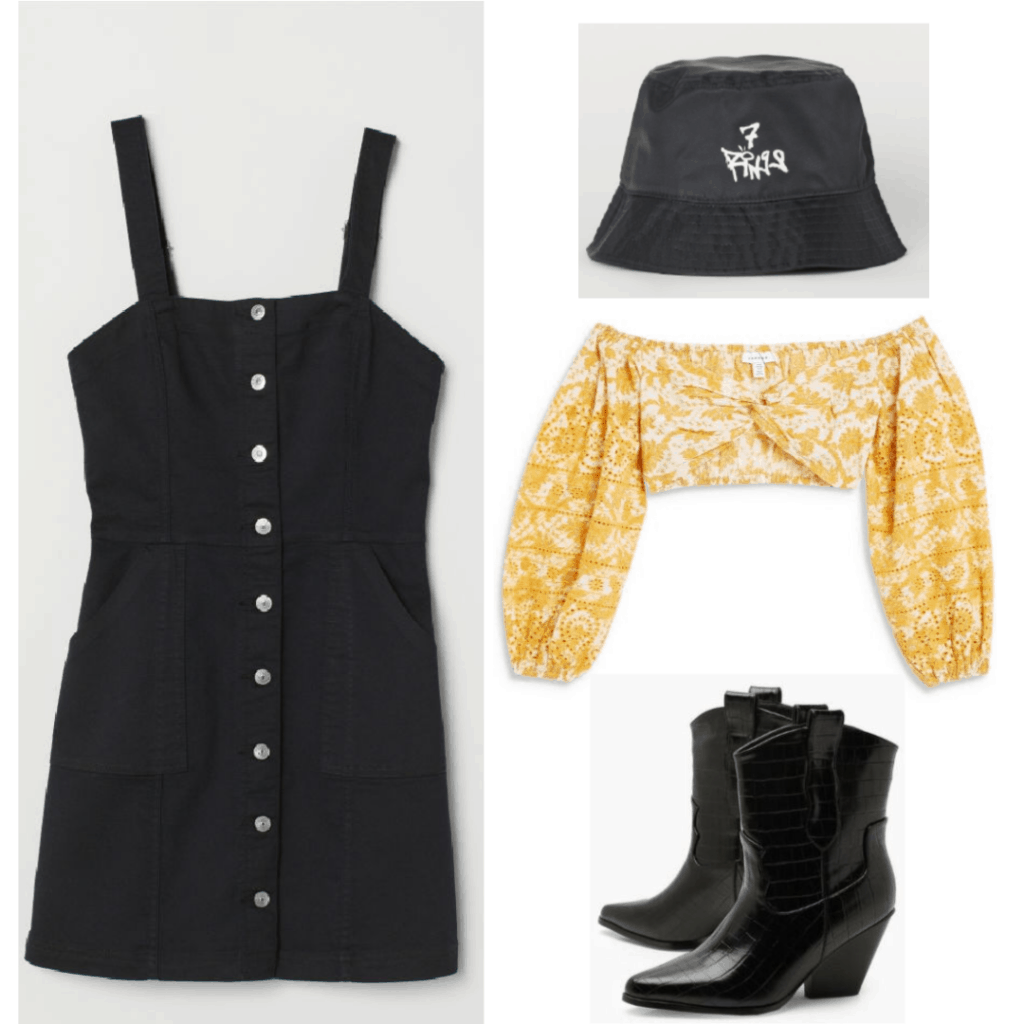 Products: Overalls – H&M, OTS Shirt – Nordstrom, 7 Rings Bucket Hat – H&M, Cowboy Boots – Boohoo
Overalls and pinafore dresses are so cute when styled for a festival! The look above has an overall dress (or pinafore) layered over an off-the-shoulder blouse with ruching on the front and the sleeves. To accessorize, I've added a bucket hat (isn't this Ari collection hat the cutest??), and some sleek western-inspired boots.
What I love about this outfit is that all the pieces can be re-worked into tons of other looks. While the look is already wearable as it is, you can tweak every aspect to make it work for more casual occasions.
The bucket hat is the easiest summer accessory (apart from a good pair of sunnies, of course), as you can throw it onto any outfit to add some '90s flair.
The overalls are such a great layering piece, and you can style them with virtually any top to make any outfit look edgier. Or, for a more feminine look, opt for the same pair of overalls in white. For summer, I love overalls with bandeau tops or even styled over bathing suits for beach and boardwalk days. When the weather gets colder, overalls can be styled over sweaters and turtlenecks and paired with a chic bootie.
The Biker Shorts Outfit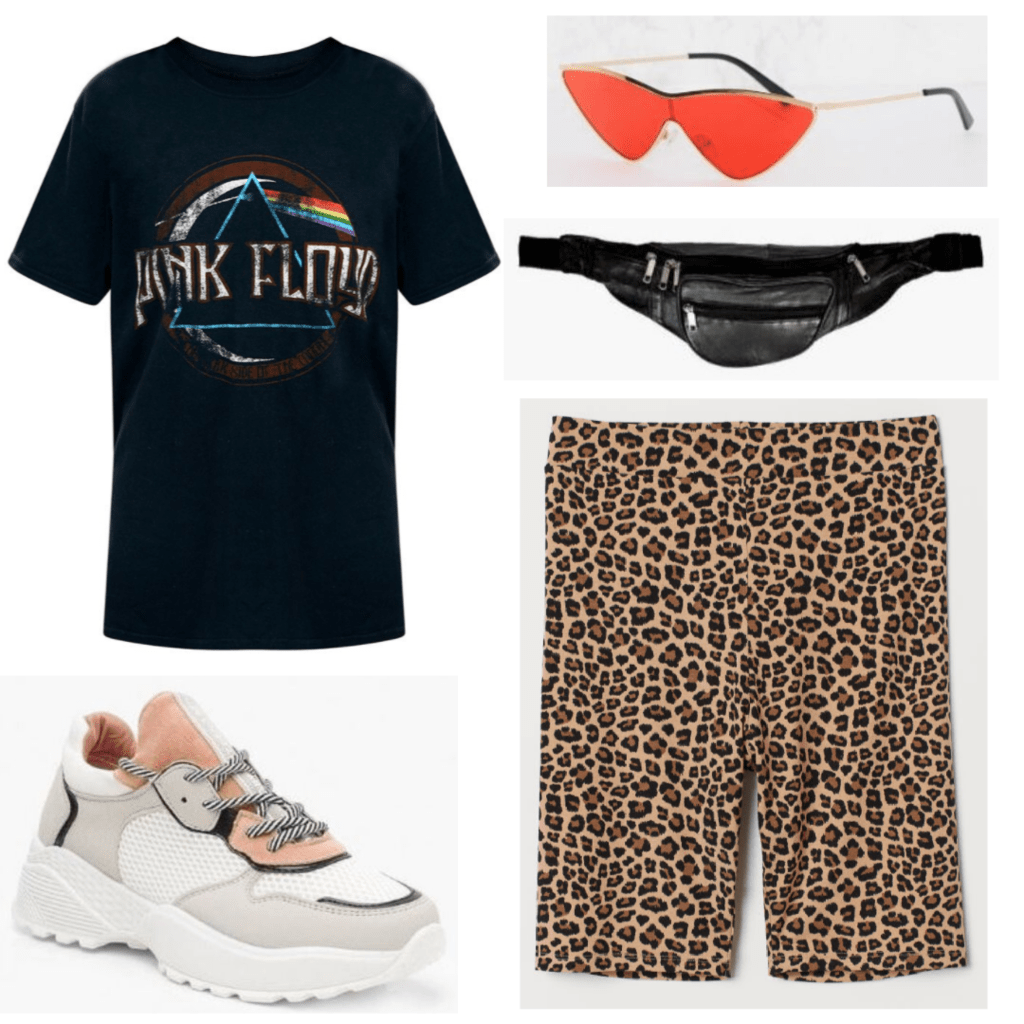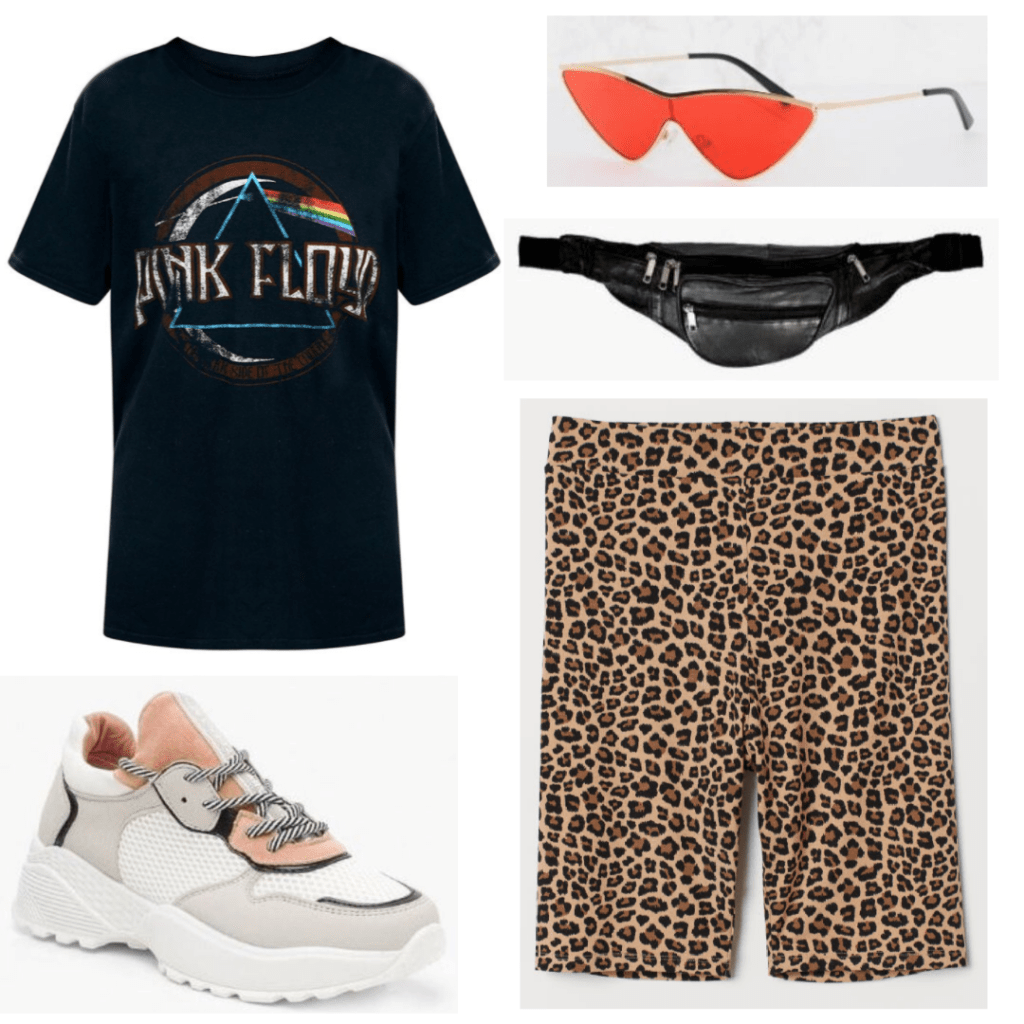 Products: Graphic Tee – PrettyLittleThing, Leopard Bike Shorts – H&M, Cat-Eye Sunnies – PrettyLittleThing, Belt Bag – Boohoo, Chunky Sneakers – Boohoo
This is the easiest (and arguably the comfiest!) look to put together. If you don't already have all of these pieces in your closet, it won't cost much to pick them up.
Graphic tees are super easy to thrift, and they're always cooler when they're secondhand. The rest of these items can be picked up on the cheap from stores like Forever21, H&M, and the like.
This outfit is effortlessly cool and can be worn to a concert or just to run some errands around town. When the weather cools down, swap out the biker shorts for your favorite jeans to achieve the same easy-breezy effect.
Related Post: What to Wear with Biker Shorts: The Ultimate Guide
Festival Glam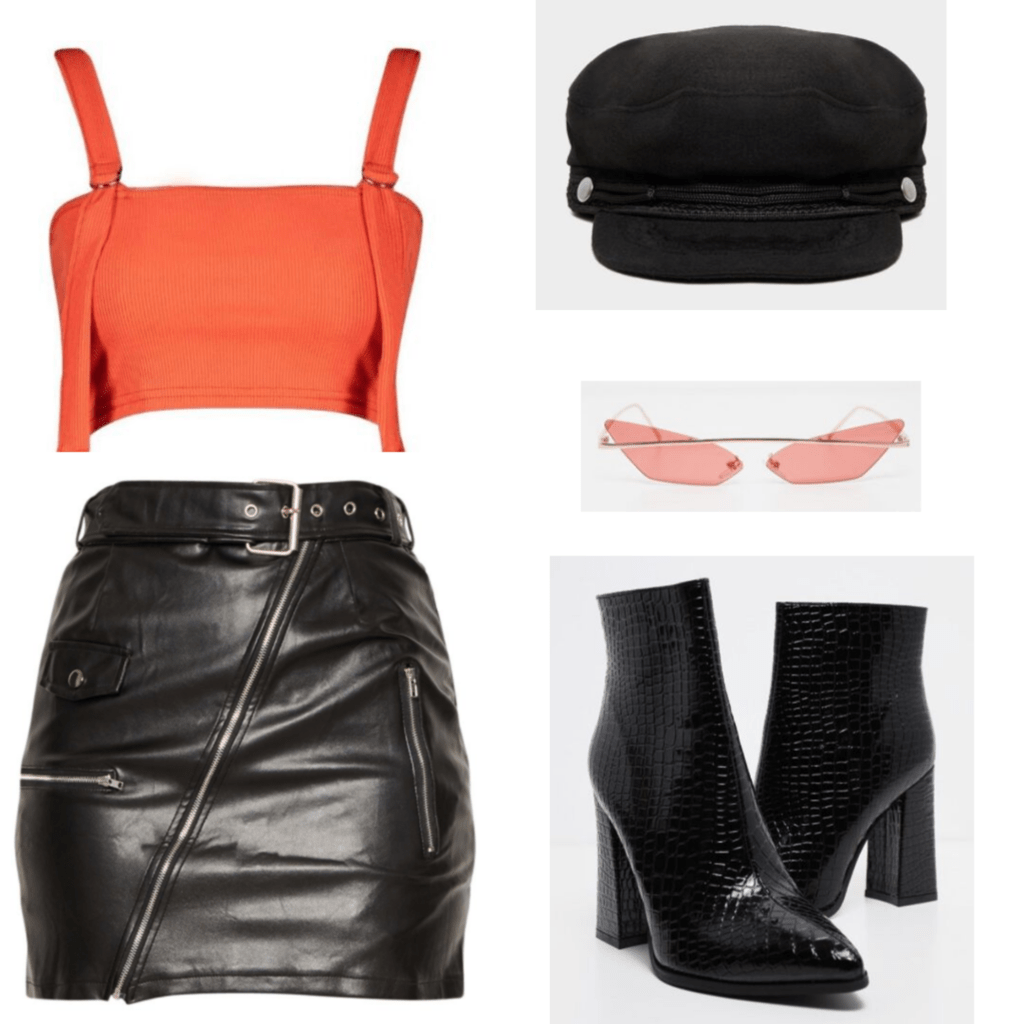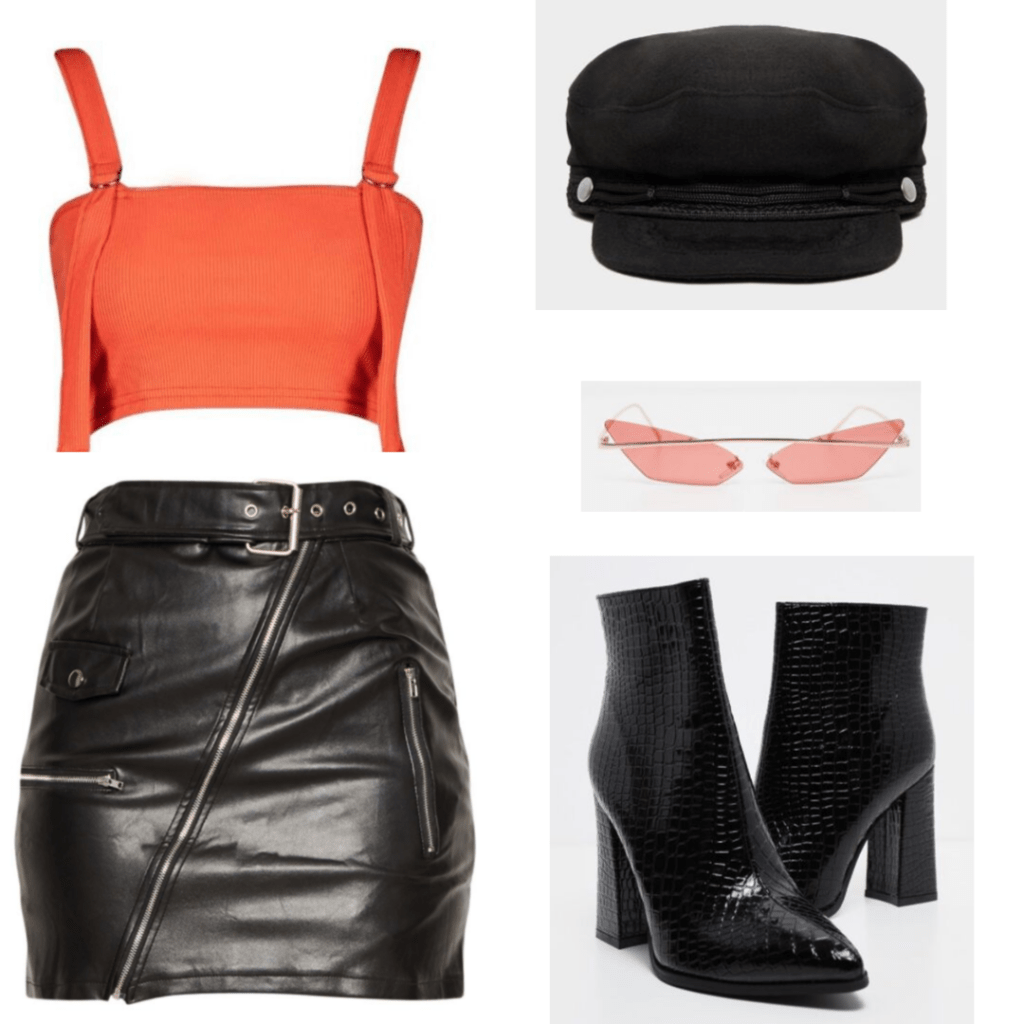 Products: Baker Boy Cap – PrettyLittleThing, Cat-Eye Sunnies – PrettyLittleThing, Crop Top – Boohoo, Leather Skirt – PrettyLittleThing, Croc Booties – PrettyLittleThing
For those of us who like to glam up on the regular, this outfit will likely be made up of pieces that we already own. If not, these can be found for great prices at online boutiques and then restyled for tons of different occasions.
The crop top is definitely an eye-catching piece, but it can be easily dressed down. Pairing the top with a comfy pair of jeans and a denim jacket makes it casual-chic (plus, double denim is super trendy!). Or, for cooler weather, layer it over a t-shirt or long-sleeved top to keep wearing it well into fall.
To dress down the leather skirt, pair it with a basic (or graphic!) tee or a sweater and your go-to sneakers. Or, throw a pair of nylons underneath and pair it with a chic bootie (like the ones above) to make it a fall-ready look.
I want to hear from you!
What are your go-to festival outfits? Do you have any tips for making your festival pieces work in a casual wardrobe? Let's chat about it below!