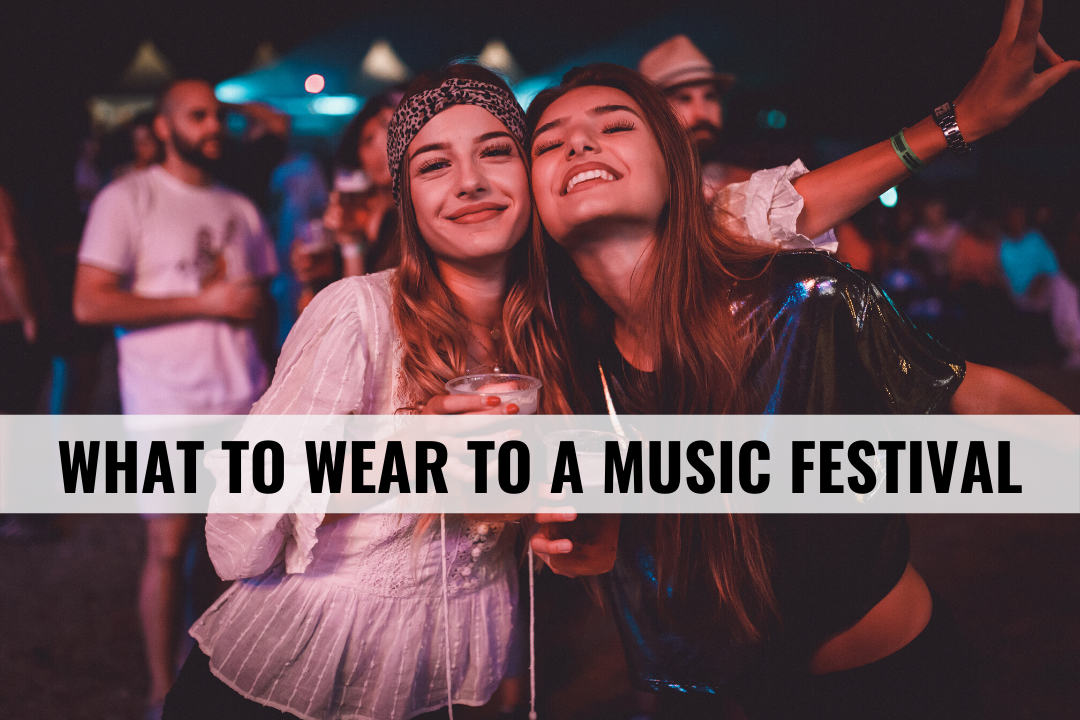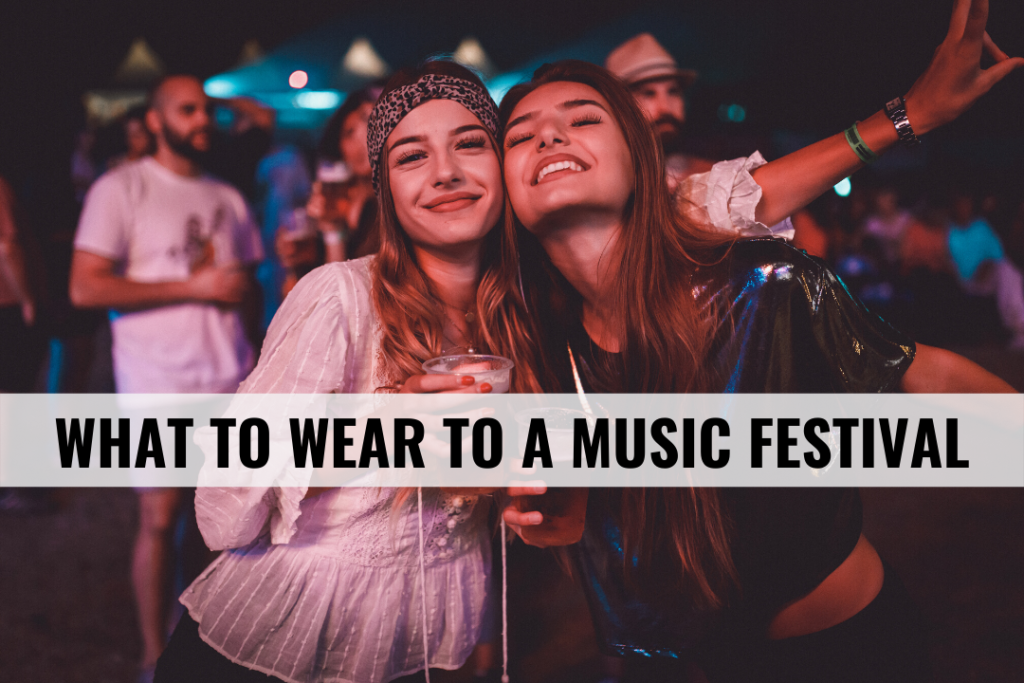 With music festival season finally here, we're giving you the best outfits to wear and how to style them.
These outfits are great for any music festivals, concerts, or outdoor festivities you might be attending this summer. Summer is practically here, so get ready to start planning your iconic fits!
I styled 11 music festival outfits for women based on this year's best festival fashion trends! I also included some cute ideas for accessories to add to any look and 5 essential style tips to keep in mind when planning your outfit.
Related reading: The Ultimate List of Music Festival Tips: What to Bring & How to Prepare
What to Wear to a Summer Music Festival
Shorts
This first look is centered around a classic pair of denim shorts. You can never go wrong with a pair of jean shorts. These are the Levi's Ribcage Light Wash Denim Cutoff Shorts that feature a flattering high-waisted fit and a lightly distressed silhouette.
I paired the shorts with this fun cream crochet-knit tank and some high-top platform white Converse. I finished the outfit off with this gold body chain that would look so cool draped over this outfit.
This look is certain to keep you comfortable but still is super cute!
Mini Skirts
Mini skirts are super popular for festivals! This one from Urban Outfitters is super bohemian with its ruffles and lace. The skirt is mid-rise with a tiered silhouette. I paired it with this cropped white silky top and this cream belt bag.
The main focus of this look is these amazing white and gold heart cowgirl boots. These are only $35 from Amazon and come in 11 other super cute colors. They are mid-calf with a chunky heel and cute heart details. A total must-have this season!
Bohemian Dresses
This next look is one of my favorites! It features this amazing bohemian dress from Free People. It's actually a bodysuit featuring a flowing overskirt with crochet lace inserts. It has a ruched neckline and ruffled hems.
This dress is so stunning and flows so well. The indie style bottom makes it super comfortable, and the front slit skirt makes it easy to walk and dance in! The semi-sheer design is perfect for the festival season. It's honestly a must-have.
I paired the dress with these Steve Madden Black cowgirl boots and this black western belt. For a bag, I added this black croc crossbody bag to hold all your essentials in for the festival.
Long Skirts
Long skirts are super popular for the festival season! This one from Lulus has a high-low hemline and a dramatic leg slit. It's in this beautiful rustic mauve color and in a lightweight fabric for those hot festival seasons.
I added this floral cropped tank from Zara and these adorable western-inspired short white cowgirl booties. I finished off this outfit with this chain belt to drape over the skirt and this cream utility belt bag.
Mini Dresses
If you want to keep it simple, mini dresses are super trendy but honestly never go out of style. This one from Lulus is a super fun green color and has a babydoll silhouette. It has ties to adjust the straps and to add some fun details.
I paired it with these amazing knee-high white cowgirl boots. I have these and they are SO comfortable so you can dance in them all day long.
For accessories, I added a white belt bag and some layered gold chain necklaces to spice up the look.
Overalls
Overalls are always a fun look because they are super cute and keep you comfortable all day long. These are in a fun color to add something a little different. I love this green color for summer.
I layered this white cropped tank underneath and added some black combat boots. Combat boots add a more edgy style to the look and are perfect for festival season. I finished off with a pair of oversized black sunglasses.
Jeans
This is another one of my all-time favorite looks. Denim-on-denim is a super popular and fun trend to try out this festival season. This bralette and jean set are from Princess Polly. They are in this vintage-blue wash. The jeans have a cargo-utility style to them which makes them super fun and trendy.
I added these chunky platform white sneakers, silver hoops, and a simple black belt bag to hold all your essentials in for the night. Belt bags are the best for the festival season because they stay secure and you can have both of your hands free.
Knit Dresses
Knit dresses are super trendy for festival season, especially this year. This one from Zara is in bright orange color. It has a sleeveless design and a round neckline. I paired it with these chunky green sneakers and a matching green mini shoulder bag.
I finished off the look with this flowy hair scarf that you can use to pull your hair back with. Hair scarfs are a great accessory to add on to any festival or concert ensemble.
Long Pants
Long pants are another fun trend to try out for festival season. These jacquard pants from Zara are green and blue patterned with a high-waisted and wide leg silhouette.
I added this structured black halter tie tank top to match and this bright orange mini shoulder bag. Lastly, some comfortable sneakers. These are platform black Nike air force 1s.
Long Shirts
This festival outfit for women is super fun and something I would totally wear in a heartbeat. This long button-down shirt is from Zara. It's a tie-dye pink and white pattern with a lapel collar, v-neck and long sleeves. I added the long mom shorts from Cotton-on. They are light wash and high-waisted.
The real stars of this look are these amazing cowgirl western-inspired boots and this sparkly beaded mini bag. These pink boots are faux-suede with a block-heel and pointed-toe. This bag is super sparkly and amazing looking with the beading and chain strap detail.
Jackets
This last outfit styles this fun jacket from Dolls Kill. It has bright patchwork details and a cropped fit. This jacket is so fun and cool for a festival and since it gets colder and night, this would be a great layered look.
I added this fun green bikini top underneath and layered on a pair of high-waisted boyfriend distressed jeans. I finished off this look with this fun brown cowgirl hat. Cowgirl hats are super cute and fun for festivals!
Accessories
The best way to complete a look for festival season is with some accessories! I've listed some below that would be great with any one of these outfits and spice up any look.
Hats
Cowgirl hats are super fun for summer festivals. The western style is a big trend we are seeing right now with the hats and all the cowgirl boots.
This one is especially cute because it's a fun take on the traditional hat with a bright green color. It's made of woven straw with a crochet design and twine rope around the crown.
Leather Belts
A classic leather western belt like this is a great accessory to add to any outfit. You can wear one with jeans, denim shorts, skirts, and over dresses.
Mini Bags
You don't want to bring a bag that's too big to a festival, so a mini shoulder bag like this is perfect. I love the fun bright pink color and the silver stud details. It also has some fun buckles and adjustable straps.
Sunglasses
A large pair of sunnies like these are not only trendy but are great for daytime festivals that are super sunny. This oversized black pair has a great large square shape and are super affordable from Amazon.
Belt Bags
Belt bags are my favorite bags to wear to concerts because your belongings are super secure and your can keep both hands free all night. This one from Asos is a fun pink color and a nylon material.
Bandanas
Pink bandanas like this are a perfect add-on to any festival outfit. Tie this one in your hair or around your neck for a fun look.
Layered Gold Necklaces
I love the look of lots of layered gold necklaces. They add some extra style and glam to any outfit and are a great choice for festival season.
Fun Statement Earrings
Fun statement earrings like these from Zara are the easiest possible way to spice up any outfit. These bright orange flower ones would look super cute with any of these outfits. I love the look of mixing bright colors together, and it's a really trendy thing to do this year.
Hair Jewelry
Hair jewelry like this has been super trendy at festivals and concerts. You can braid the stars into your hair or snap them in some curls. Either way, you're sure to turn heads!
Style Tips for Your Festival Outfits
Here are some style tips to keep in mind when styling your outfits for the festival season!
Wear comfortable shoes
You're probably going to be doing lots of walking, so wearing a pair of shoes that are very comfortable is super important. If you have bought a new pair of boots to wear, I recommend wearing them around your house every chance you get pre-festival to try to break them in.
Wear sunscreen
You're going to be outside all day so it's important to wear sunscreen to protect your skin and your face. (Here are our favorite sunscreens.)
Wear your hair up or in braids
If you love to dance, it's a great idea to wear your hair up in some type of hairstyle to get it off your neck and prevent you from sweating or getting too hot. There are so many fun and cute styles to try — here's our list of our favorite summer music festival hairstyles.
Wear minimal makeup
Since it's going to be so hot, you don't want to be wearing too much makeup or heavy face products that can make you sweat. It will make you feel so much better to have a fresh face or lightweight minimal makeup on since you're going to be at the festival all day.
Select one or two statement pieces
Add to your look with all the fun accessories I mentioned above. Adding one or two statement pieces can really complete your look and throw it all together.
Layer up
Since you're going to be at the festival from an early day well into late at night, It's important to wear layers that you can add on when you get colder at night, but also take off when it's hot during the day. Flannels, shackets, and denim jackets are perfect for this.
Which music festival outfit was your favorite?
What did you think of these music festival outfits for women? Are you going to any music festivals or concerts this summer? Let me know in the comments below!