TV Fashion Recap is a biweekly column featuring the best of TV fashion. Every other week, we recreate our favorite outfits from the most recent episodes of all of the hottest shows. Stay tuned; we may feature your favorite show next!

Every other week, I break down the best of TV fashion, featuring my favorite looks from the last two weeks. This week, I was inspired by Pretty Little Liars andTeen Wolf. Read on to check out the outfits:
1. Pretty Little Liars (Season 4, Episode 14): Spencer's Patterned Blouse and Blazer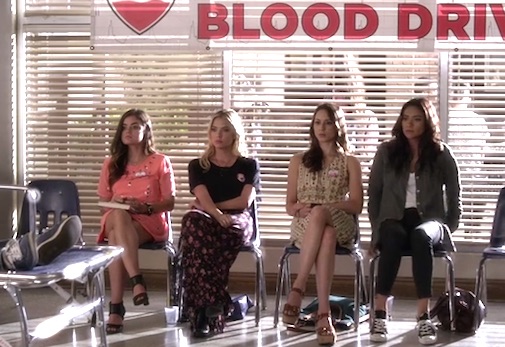 (Photo Credit – Screenshot)
I am absolutely obsessed with Pretty Little Liars (see here and here for more recaps!). The show is suspenseful, emotional, and so much fun to watch – that was, until the most recent episode.
Spoiler alert! Hanna and Caleb's breakup scene in this last episode was heart-wrenching. I care about Hanna and Caleb's relationship more than my own, so I was in classic breakup mode, sobbing and demolishing a pint of Ben & Jerry's Chocolate Fudge Brownie ice cream. It was awful. How do you guys feel about this turn of events with 'Haleb,' as they are affectionately nicknamed on the message boards?
Luckily, CF reader Rafaella helped me see past the grief when she recommended I take a second look at Spencer's outfits in episode 14. Spencer's style is preppy, classic, and polished, and her looks in this episode were no exception!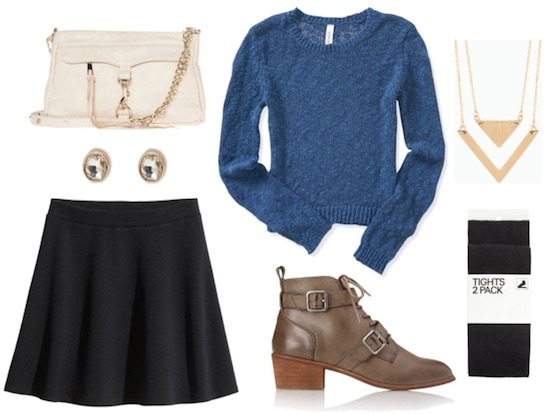 Product Info: Pants, Blouse, Blazer, Bandeau, Bracelet, Necklace, Shoes
To recreate Spencer's casual yet classy outfit, start with a pair of red skinny jeans and a white dotted blouse. If your shirt is sheer like Spencer's, add a lacy black or navy bandeau underneath. Put on a fitted navy blazer, then leave it unbuttoned to make the look slightly more effortless.
Remember to keep the accessories light to channel Spencer's casual vibe – a long pendant necklace and a bracelet or two are all you really need to complete this chic outfit!
2. Teen Wolf (Season 3, Episode 14): Allison's Leather Jacket and White Dress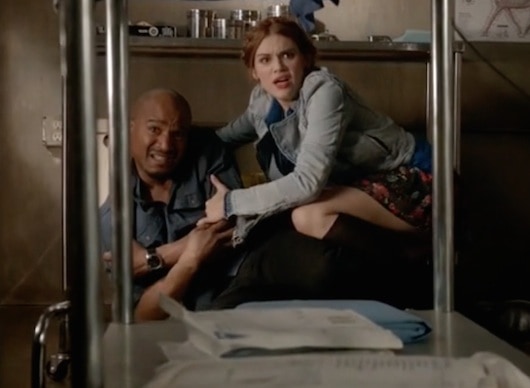 (Photo Credit – Screenshot)
Speaking of relationship choices that I don't approve of, what is with Allison and Isaac from Teen Wolf? I am not a fan of their romantic tension – I'm firmly on Team Scott. However, I'm still absolutely obsessed with the show, and I'll keep watching it no matter what (see here and here for more recaps!).
I don't want to sound like a broken record, but if you aren't watching it, you should stop what you are doing (after finishing this article, of course!) and immediately start watching it. Teen Wolf is funny, action-packed, and – not that this impacts my love for the show at all, of course – has lots of hot shirtless guys.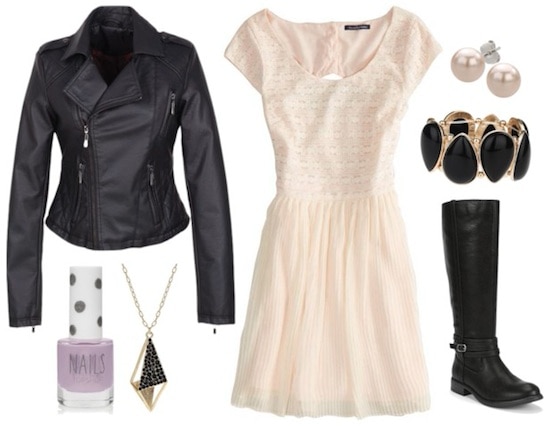 Product Info: Jacket, Dress, Earrings, Bracelet, Nail Polish, Necklace, Boots
Allison's look is a perfect mix of edgy and girly. To recreate this ensemble, which would be perfect for a night out, start with a white skater dress – this cream one has beautiful feminine detailing and tiny pleats that Allison would absolutely love. Layer a black faux leather motorcycle jacket on top, then slip on a pair of knee-high black boots to add an edgy contrast to the dress.
Mix girly accessories, like pearl earrings, with trendy black-and-gold jewelry to further the contrast. Paint on a few coats of a girly pastel nail polish to complete this cute, eye-catching look!
Your thoughts?
What do you think of these looks? Did we miss any amazing outfits from the past week of TV? Which shows do you think deserve a spot on the next TV Fashion Recap post? Leave a comment below and tell us what you think!