This post may contain affiliate links, which means we may receive a commission if you purchase through our links. Please
read our full disclosure here
.
TV Fashion Recap is a new biweekly column featuring the best of TV fashion. Every other week, we recreate our three favorite outfits from the most recent episodes of all of the hottest shows. Stay tuned; we may feature your favorite show next!

In the makeup-melting heat, I prefer to sit inside with the air conditioning on full blast, an iced tea in my hand, and the TV on. Summer is the best time to catch up on all the shows that I missed during the school year while I was, umm… studying.
Though I love to get my daily dose of drama from the safe distance of my couch, it's the TV fashion that really catches my eye. This week, I was inspired by Teen Wolf, The Bachelorette, and Rizzoli & Isles.
1. Teen Wolf (Season 2, Episode 6): Lydia's Leather Jacket & Lace Dress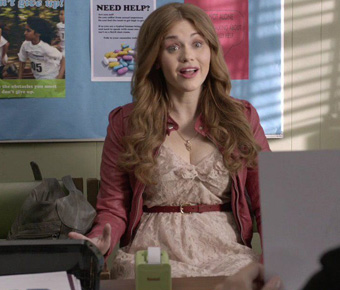 For those of you who aren't already addicted to this MTV show, it's about studly social outcast Scott McCall's struggle to adapt after being bitten by a werewolf. He has to keep his newfound powers and the discovery of other werewolves a secret from everyone. He also has to juggle a werewolf-hunter girlfriend and get through high school alive. It's a lot for anyone to handle.
This episode focuses on Scott and his best friend, Stiles, as they try to protect their friends after finding out some information that I won't spoil for you about the mysterious shape-shifter.
Lydia Martin, the fashion-forward girl played by Holland Roden (pictured above), is the stereotypical Queen Bee, though as the series progresses, we see that she has a deeper, more sensitive side. At the end of season one, she was bitten by a werewolf, though she seems to be immune to the bite. However, in season two, she begins having hallucinations involving werewolves. She may be crazy, but you have to give her credit — her fashion sense is still spot on.
Outfit Inspiration: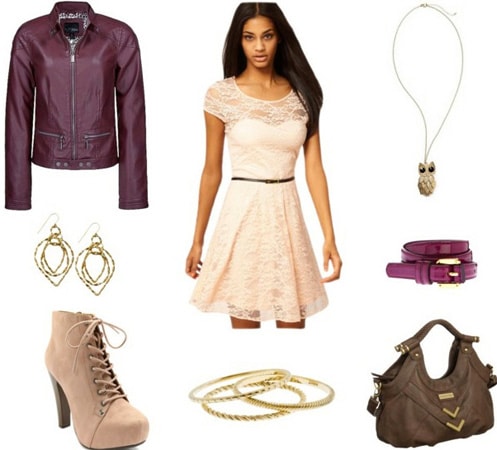 (Product Information: Jacket – Buckle, Dress – ASOS, Necklace – Piperlime, Earrings – Whistles, Belt – ASOS, Boots – Charlotte Russe, Bracelets – J.Crew, Bag – Purse Boutique)
As soon as I saw it, I fell in love with Lydia's leather jacket and lace dress combo (pictured above). Lydia's adorable burgundy jacket has edgy studded details, which contrast beautifully with her lace dress. The ruffled neckline of Lydia's dress adds visual interest, while the matching colors of her jacket and belt tie everything together, creating a cohesive, adorable ensemble.
To recreate this look, start with a pretty lace dress and dark purple moto jacket, and add a matching purple belt. Accessorize with a cute owl necklace that matches Lydia's and some matching gold bangles. For footwear, add suede-lace up booties: these beige platform ones add height and will work perfectly into Fall. Finally, grab a dark leather bag with gold detailing to tie everything together and hold all of your essentials.
2. The Bachelorette (Season 8, Episode 8): Emily's White Pleated Dress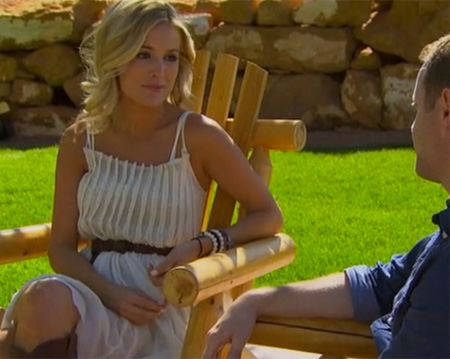 This season of ABC's The Bachelorette focuses on Emily Maynard, who was chosen on the fifteenth season of The Bachelor by bachelor Brad Womack. Unfortunately, the relationship didn't work out, and Emily is once again looking for love and a father for her young daughter. She has experienced some setbacks (including one of the contestants calling her daughter "baggage"), but she is optimistic that her second shot at reality dating will bring her lasting love.
As of this episode, race car driver Arie, entrepreneur Jef, insurance agent Sean, and the very emotional sales director Chris are left. I won't spoil anything for you, but this was the Hometown Dates episode where Emily meets the families of her love interests. Despite a few overprotective family members and a well-meaning but terrible prank, everything went well.
It was hard for me to focus on the drama, though, because Emily just has the cutest style! To meet Jef's family in Utah, she channeled her inner cowgirl and took style cues from Taylor Swift. The result couldn't have been more adorable.
Outfit Inspiration: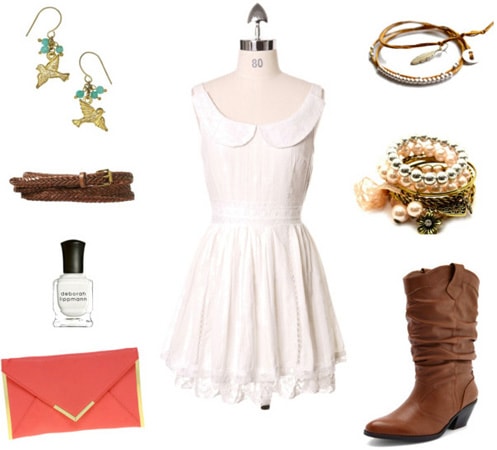 (Product Information: Earrings – People Tree, Dress – Chic wish, Friendship Bracelet – Boticca, Belt – Gap, Bracelet Set – Fantasy Jewelry Box, Nail Polish – Nordstrom, Clutch – ASOS, Boots – Charlotte Russe)
Emily's white pleated dress, which she paired with slouchy cowboy boots, is a great example of a perfectly casual summer look. Her dress looked simple at first glance, but upon closer examination, contained sheer accordion details and interesting lines. In true Emily fashion, she balanced the girly frock with rugged leather cowboy boots, and finished with an armful of feminine bracelets.
To recreate Emily's look, start with a little white dress: The ruffled lace edging, Peter Pan collar, and form-fitting waist of this one create a girly vibe. Next, grab some slouchy brown boots – these ones have a slight heel, giving you height while remaining comfy enough to wear to class. A matching brown belt helps tie the look together, while dainty friendship bracelets and sparrow earrings add sparkle. Finish with a coral envelope clutch for an extra pop of color.
3. Rizzoli & Isles (Season 3, Episode 5): Maura's Bold Red Blazer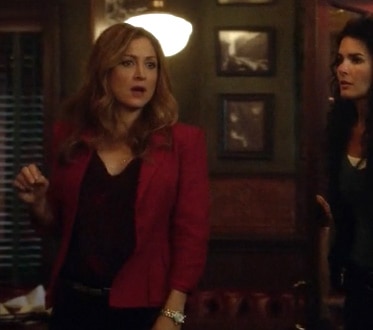 Rizzoli & Isles is a TNT show that follows Boston detective Jane Rizzoli and her best friend, coroner Dr. Maura Isles as they solve murders. Jane is serious, sarcastic, tough, and boyish, while Maura is very feminine and slightly nerdy. The series is based on the very popular Rizzoli/Isles novels by Tess Gerritsen.
This episode focused on Maura's first meeting with her birth mother, which occurred over the coroner's table during a murder consultation. It wasn't exactly a tearful reunion, but Maura, as always, looked fabulous. She favors sky high heels and tailored blazers for a very professional, put together look, and I immediately made a mental note to stock up on blazers when I saw this episode.
Outfit Inspiration: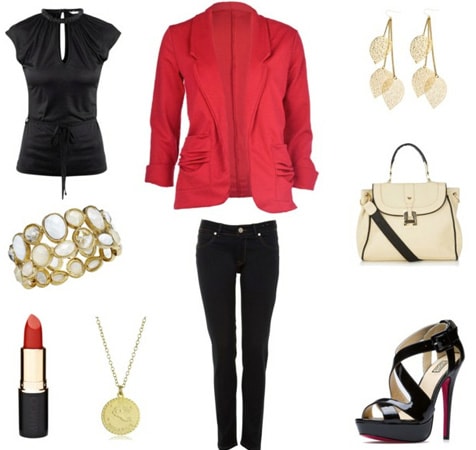 (Product Information: Shirt – H&M, Blazer – Desire Clothing, Earrings – Diva, Bracelet – Macys, Jeans – Awear, Purse – Warehouse, Lipstick – Mimco, Necklace – Endless, Shoes – Shoedazzle)
In this episode, Maura paired a predominantly black ensemble with a bright red blazer. She added classic details like a shiny gold watch and dainty pendant necklace, and finished with her trademark high heels. (Fun fact: Maura adores skyscraper heels, and refuses to take them off, though she often limps across crime scenes.)
This look centers around the red blazer: This one is beautifully tailored and has interesting slouchy side pockets, which add a fun element to the traditional piece. Pair the jacket with black jeans and a silk blouse – the contrasting fabrics add dimension to this primarily black outfit. Next, it's time for shoes. These strappy, Louboutin-esque platforms are absolutely to die for and will go with just about everything. Grab a white bag for contrast and complete the look with classic gold jewelry and a bold red lip.
Your thoughts?
What do you think of these looks? Which one is your favorite? Did we miss any amazing outfits from the past week of TV? Which shows do you think deserve a spot on the next TV Fashion Recap post? Leave a comment below and tell us what you think!