TV Fashion Recap is a biweekly column featuring the best of TV fashion. Every other week, we recreate our favorite outfits from the most recent episodes of all of the hottest shows. Stay tuned; we may feature your favorite show next!

Every other week, I break down the best of TV fashion, featuring my favorite looks from the last two weeks. This week, I was inspired byPretty Little Liarsand Graceland. Read on to check out the outfits!
1. Pretty Little Liars (Season 4, Episode 10): Aria's Cropped Jacket and Floral Dress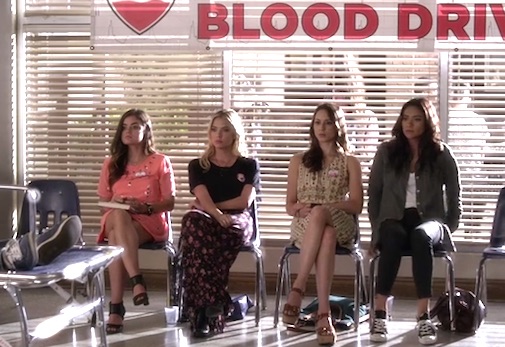 (Photo Credit – Screenshot)
Pretty Little Liars may just be the most suspenseful show on television right now. I don't want to give away anything if you haven't caught up, but it keeps getting better and better. Hanna and Caleb, a.k.a. "Haleb", are probably my dream couple (mostly because Caleb is really ridiculously good-looking), the Aria and Ezra drama is thickening, and "A" is getting more diabolical every episode.
PLL is one of my must-watch shows for the summer, but it also helps that the fashion is getting more amazing each episode. Seriously, when I was watching the last episode, I decided that I needed a whole new wardrobe inspired by the Liars – they just look so flawless and trendy.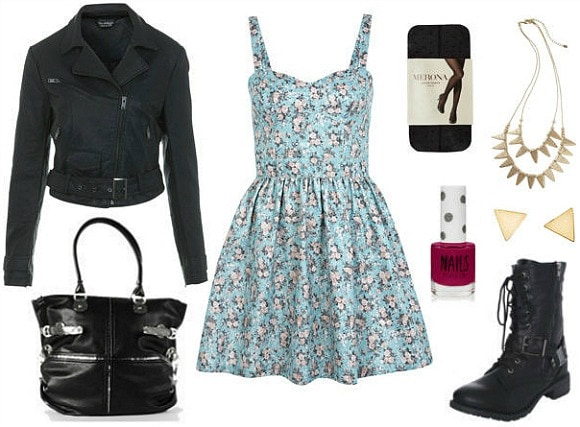 (Product Info: Jacket, Dress, Tights, Necklace, Nail Polish, Earrings, Purse, Boots)
Aria's outfit is perfect for a dressy day in class or a shopping trip with friends. To recreate her edgy, yet feminine look, start with a pretty floral dress and a cropped jacket — this fitted leather one is perfect, since Aria's known for mixing girly and edgy pieces.
Next, slip on a pair of slightly sheer tights and some combat boots. Sling an oversized tote around your shoulder and add some edgy gold accessories like this cute pyramid necklace and matching earrings. Aria always has her nails painted and looking flawless, so for the finishing touch, add a few coats of your favorite dark-hued nail polish.
2. Graceland (Season 1, Episode 8): Charlie's Laid-Back Plaid Top and Sneakers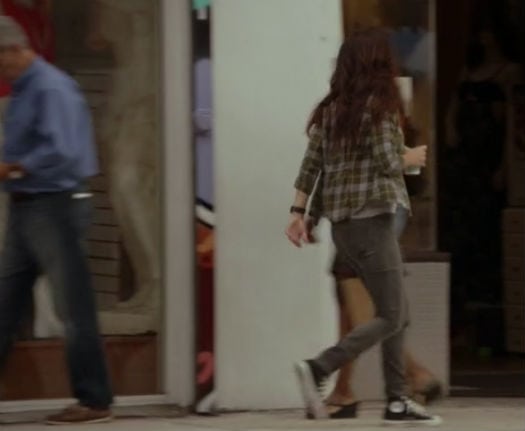 (Photo Credit – Screenshot)
Due to many requests and the fact that the fashion on this show is so fun and casual, I had to do another recap of Graceland. In my last post on Graceland fashion, CF readers and I both gushed about Aaron Tveit, one of the main cast members. (Get a load of that smile.) That said, the action and complicated plots are what really make it one of the summer's best new shows.
Charlie is an undercover FBI agent with an amazing talent for blending into any crowd. She's stubborn, passionate, and also very witty. Her style is eclectic due to her various undercover roles, but no matter what, she always looks effortlessly glamorous. (This, by the way, seems colossally unfair to me! I could spend hours getting ready in the morning and I would still look like a ragamuffin compared to her. Ugh.) However, she's definitely one of my favorite characters on the show because of her style and unique personality.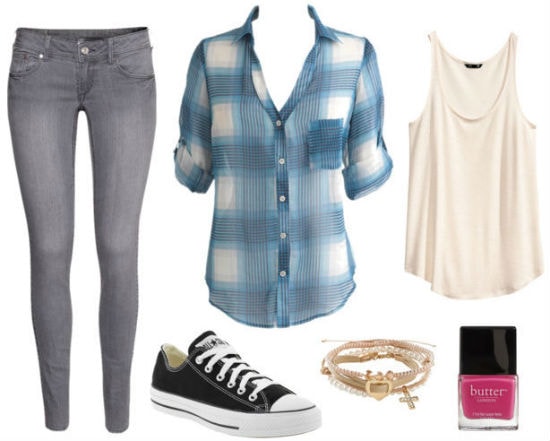 (Product Information: Jeans, Plaid Shirt, Tank, Shoes, Bracelets, Nail Polish)
To recreate Charlie's casual yet chic outfit – which would be great for a sporting event, lunch with friends, or walking across campus – start with a muted plaid button-up shirt worn over a white tank. Slip on a pair of jeans and some classic black sneakers to enhance the laid-back vibe.
Charlie's ensemble works because it's understated yet stylish, so a wrap bracelet or a small necklace would be a great touch. If you want an unexpected pop of color, put on a few coats of a bright nail polish to complete this cute, girl-next-door look!
Your thoughts?
What do you think of these looks? Did we miss any amazing outfits from the past week of TV? Which shows do you think deserve a spot on the next TV Fashion Recap post? Leave a comment below and tell us what you think!