TV Fashion Recap is a biweekly column featuring the best of TV fashion. Every other week, we recreate our favorite outfits from the most recent episodes of all of the hottest shows. Stay tuned; we may feature your favorite show next!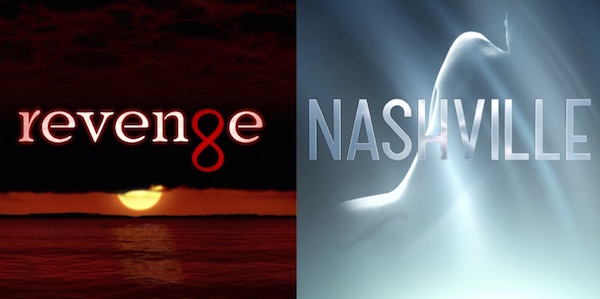 Every other week, I break down the best of TV fashion, featuring my favorite looks from the last two weeks. This week, I was inspired byGracelandand Baby Daddy. Read on to check out the outfits!
1. Graceland (Season 1, Episode 7): Paige's Scarf and Black Tank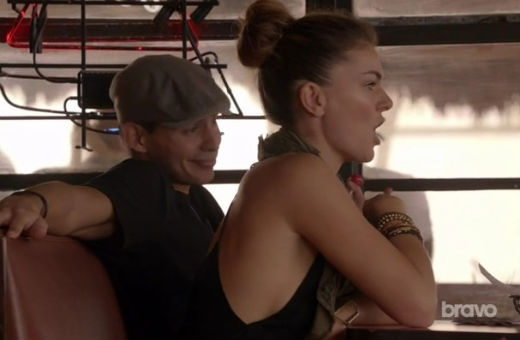 (Photo Credit – Screenshot)
When CF reader Eve recommended USA Network's Graceland to me, I was intrigued — mostly because she raved about one of the cutest guys in the show. (Turns out, he's possibly one of the cutest guys on television. Seriously, check out this picture of him holding puppies. Too cute to handle.) After a few episodes, I'm definitely raving too.
Graceland is a great police drama about undercover law enforcement agents living together in a gorgeous house in California as they work on various cases. The agents each have their own secrets and scars from undercover work, and I really enjoy learning about all of them. It's a relatively new show, so if you're looking for a shorter show to start, I'd definitely recommend giving this a try!
Paige, one of my favorite characters, is an undercover DEA agent. She's tough, determined, and willing to go to any lengths to get the bad guy. She does have a softer side, though she doesn't like to admit it. Plus, all of her police work doesn't stop her from looking fabulous. She's got a great sense of style — it's very hip, casual, and on-trend.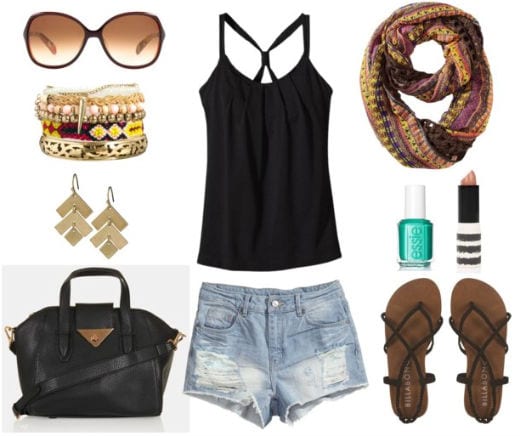 Sunglasses, Top, Scarf, Bracelets, Nail Polish,Lipstick, Earrings, Purse, Shorts, Sandals
To recreate Paige's boho outfit, which is perfect for a casual summer day with friends, start with a black tank and distressed jean shorts. Paige's ensemble is all about the accessories, so don't be afraid to dress up the look with bolder pieces. To start, drape a patterned infinity scarf around your neck and slip on a pair of cute leather sandals. Sling a large purse over your shoulder and put on a pair of oversized sunglasses. Slip on several different bracelets to get that casual, fun vibe, then add a pair of gold earrings.
Don't forget a coat of bright nail polish for an unexpected pop of color. For the finishing touch, swipe on some pinky-nude lipstick and put your hair into a sock bun to get Paige's summery look.
2. Baby Daddy (Season 2, Episode 10): Amy's Blue Dress and Teal Cardigan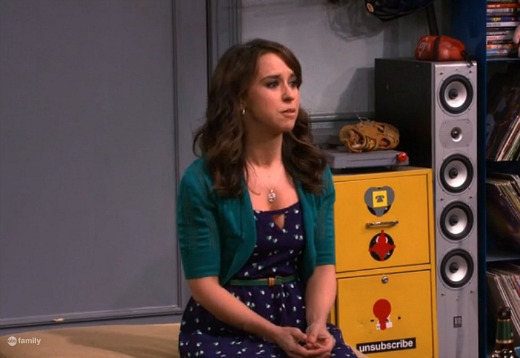 (Photo Credit – Screenshot)
ABC Family's Baby Daddy is a cute sitcom about Ben, whose ex-girlfriend leaves a baby on his doorstep. After getting over the initial shock, he's been trying to raise his daughter with the help of his mother and his similarly clueless friends. The show is very funny and relaxing — perfect for when you just want to unwind or take a quick study break!
Amy is dating Danny, Ben's brother. She gets in the way of Danny and Riley, who both have feelings for each other, so sometimes I get frustrated, but her style is just too adorable for me to dislike her. Her wardrobe is very classic and sophisticated, but also very cute and girly. She's a big fan of dresses and delicate accessories.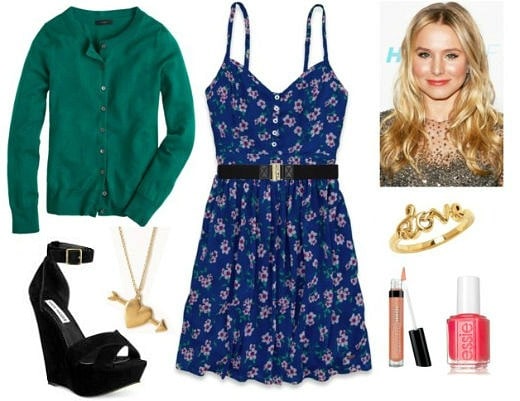 Cardigan, Dress, Belt, Shoes, Necklace, Ring, Lipgloss, Nail Polish, Hair Photo: ELLE
To recreate Amy's date-ready ensemble, start with a blue patterned dress. Cinch a belt around your waist and add a brightly colored cardigan over top; the pop of color adds a flirty, fun element to the outfit. Next, slip on a pair of black wedges. Amy's style is very simple and classic, so keep the accessories light. To enhance the outfit without taking the focus away from the dress, add a pretty gold necklace and a delicate ring.
Paint a few coats of a colorful coral nail polish to create a fun color contrast and swipe on some lipgloss. To complete the cute, girly look, curl your hair in loose, romantic waves.
Your thoughts?
What do you think of these looks? Did we miss any amazing outfits from the past week of TV? Which shows do you think deserve a spot on the next TV Fashion Recap post? Leave a comment below and tell us what you think!