This post may contain affiliate links, which means we may receive a commission if you purchase through our links. Please
read our full disclosure here
.
TV Fashion Recap is a biweekly column featuring the best of TV fashion. Every other week, we recreate our favorite outfits from the most recent episodes of all of the hottest shows. Stay tuned; we may feature your favorite show next!

Every other week, I break down the best of TV fashion, featuring my favorite looks from the last two weeks. This week, I was inspired byPretty Little Liarsand The Newsroom. Read on to check out the outfits!
1. Pretty Little Liars (Season 4, Episode 6): Aria's Embellished Tee and Skater Skirt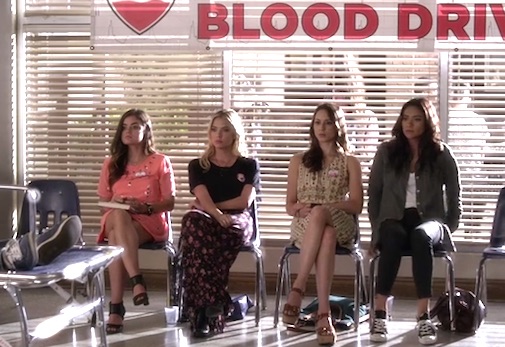 (Photo Credit – Screenshot)
I'm a bit of a Pretty Little Liars fangirl, so I squealed a little bit when CF readers requested even more PLL recaps. (See here and here to get your fill of season four fashion!) In the past, I've been focusing on Hanna's fashion, but Aria really wowed this episode. She looked flawless, even when she was weeping uncontrollably… which just isn't fair. When I cry, it's hideous. But no matter how hard Aria is crying, she still looks like she stepped out of a fashion magazine.
Aria's style is edgy and trendy. She loves wearing dresses and mixing bright colors with black pieces, as well as wearing contrasting patterns. (Be sure to check out our post on Aria's style for a more in-depth look at her fashion sense.)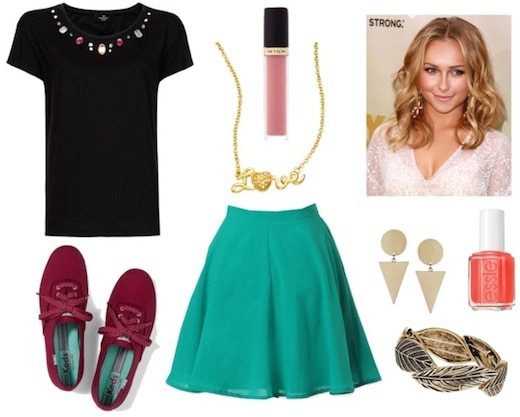 (Product Information: Tee – Mango, Lipgloss – Amazon, Necklace – Max & Chloe, Hairstyle – Elle.com, Shoes – Keds, Skirt – Ruche, Earrings – Dorothy Perkins, Nail Polish – Amazon, Bracelet – Dorothy Perkins)
To recreate Aria's cute, flirty outfit, start with a black embellished t-shirt; Aria's had colorful gems that added a playful element to the outfit. Next, add a bright blue skater skirt and slip on a pair of sneakers, which Aria is well-known for pairing with most of her outfits. For accessories, add a pair of simple dangly earrings and a detailed bracelet or two. Don't forget a word necklace — Aria's spelled her name, but this "Love" necklace is an adorable alternative.
Aria's hair and makeup always ties her outfits together, so a few coats of a pinky-mauve lipgloss and a bright watermelon pink nail polish will help complete your Aria-inspired look. To finish, curl your hair in soft waves with the curls facing away from your face.
2. The Newsroom (Season 2, Episode 1): Mackenzie's Silk Blouse and Pencil Skirt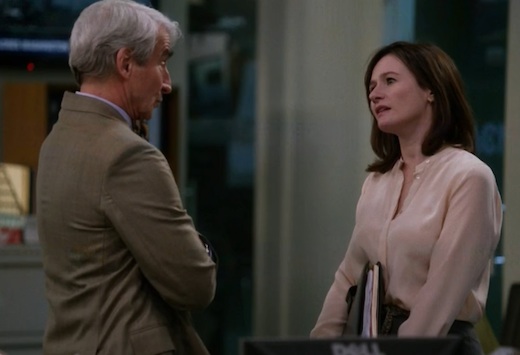 (Photo Credit – Screenshot)
HBO's hit show The Newsroom is a political drama about a news anchor and his team. It was created by Aaron Sorkin, who also worked on The West Wing and The Social Network. The show is fascinating, inspiring, and provides a lot of information on current events. The show's cast is fantastic, including some adorable nerdy guys, strong women, and cute, funny love interests. I think it's one of the best shows on television, which is saying something, because I watch a lot of TV.
Mackenzie is the producer of the news show and was formerly romantically involved with Will, the main news anchor. She's passionate about journalism and can be incredibly stubborn. She's also easily flustered and a lot of fun to watch. Even though she's (lovably) awkward, she always looks very professional and put-together in the wardrobe department.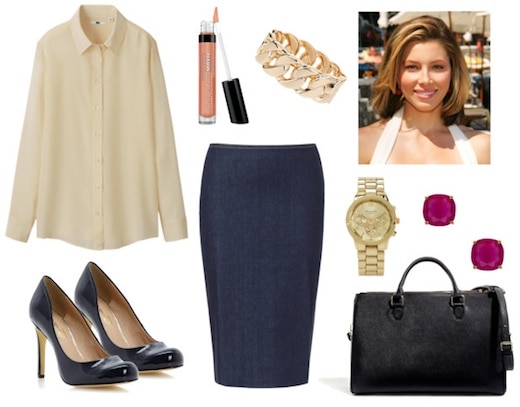 (Product Information: Shirt – Uniqlo, Lipgloss- Amazon, Bracelet – Dorothy Perkins, Hairstyle – Elle.com, Shoes – Debenhams, Skirt – Zara, Watch – Aeropostale, Earrings – Kate Spade, Purse – Zara)
I'm in an internship fashion slump — lately I've been wearing the same boring business attire every day. So when I saw Mackenzie's professional, elegant look, I was immediately inspired to switch it up.
To recreate her ensemble, start with a cream button-up blouse and a dark grey or black pencil skirt. Add a pair of low black heels — a fashion staple of Mackenzie's. Sling a simple black briefcase-like purse over your shoulder and slip on a sophisticated watch and gold bracelet. Add an unexpected pop of color with a brightly-colored pair of studs to complete the outfit.
As far as hair and makeup go, put on some natural beige lipgloss, then blow out your hair, focusing on creating volume by drying your hair upside down and using a volumizing product like Aussie Aussome Volume Styling Mousse or TIGI Catwalk Root Boost.
Your thoughts?
What do you think of these looks? Did we miss any amazing outfits from the past week of TV? Which shows do you think deserve a spot on the next TV Fashion Recap post? Leave a comment below and tell us what you think!