TV Fashion Recap is a biweekly column featuring the best of TV fashion. Every other week, we recreate our favorite outfits from the most recent episodes of all of the hottest shows. Stay tuned; we may feature your favorite show next!

Every other week, I break down the best of TV fashion, featuring my favorite looks from the last two weeks. This week, I was inspired bythe VMAs and Teen Wolf. Read on to check out the outfits!
1. MTV's Video Music Awards: Mary Lambert's Sequins and Long Pendant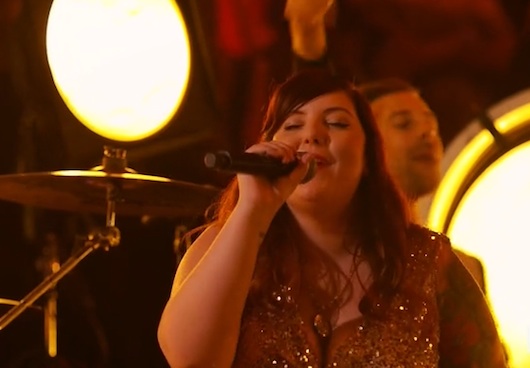 (Photo Credit – Screenshot)
This year's MTV Video Music Awards was, as always, incredible. There were some great performances by Katy Perry, Macklemore, and a ton of other hot artists. 'NSYNC also briefly reunited, which made all of my childhood dreams come true. Were you guys as obsessed with them as I was when you were younger?
Everyone looked gorgeous and glamorous, but Mary Lambert stood out when she sang "Same Love" with Macklemore, Ryan Lewis, and Jennifer Hudson. She ended up with a Best Video with a Message award, which I would have given to her solely because of her dress.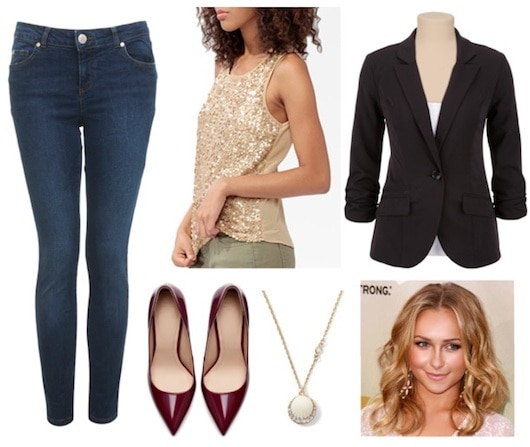 Jeans, Top, Blazer, Shoes, Necklace | Hair Photo: ELLE
Unfortunately, as college girls, we aren't attending many events that require floor-length sparkly dresses. For a more campus-friendly outfit that you could wear at a party, slip on a gold sparkly top, ensuring that all eyes will be on you. An unbuttoned blazer adds structure to the outfit and keeps you from getting cold. Slip on some dark wash jeans and a pair of heels to add a slight pop of color.
This look focuses on the sparkly top, so keep the accessories simple like Mary did. Add a simple pendant necklace, and to complete the ensemble, curl your hair into tousled waves.
2. Teen Wolf (Season 3, Episode 12): Allison's Neutral Cardigan and Bright Tank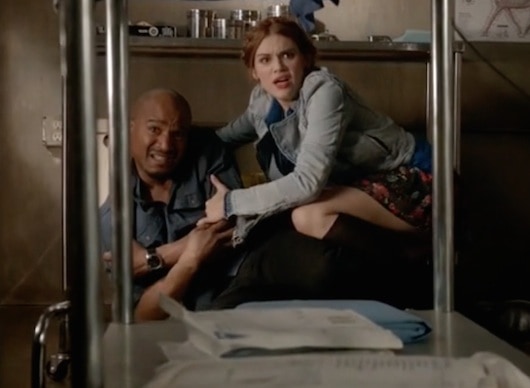 (Photo Credit – Screenshot)
MTV also scored another fashion hit with the latest Teen Wolf episode. I've covered the show before (see here and here for more looks), and have gushed repeatedly about the eye candy, great storyline, and suspense. It's one of my favorites, and if you aren't already addicted to it, I'd highly recommend watching it — even if it's just for the fashion, which is always amazing.
Allison, Scott's love interest and a fledgling werewolf hunter, always looks perfect. Her outfits are always cute, feminine, and comfortable, meaning they're perfect for class, studying, and walking around campus.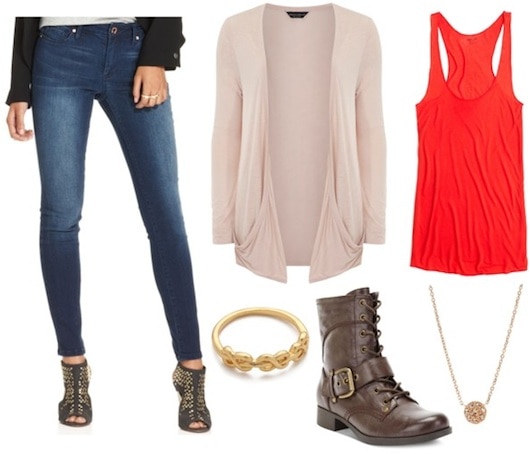 Jeans, Cardigan, Tank, Ring, Shoes, Necklace
To recreate Allison's ensemble, start with a neutral-colored, oversized sweater. Layer it over a bright red tank for an unexpected pop of color, and slip on a pair of skinny jeans. Add a pair of distressed leather boots, which are one of Allison's wardrobe staples.
Allison's outfit works because it looks effortless and casual, so for the finishing touch, put on some delicate gold jewelry. To really tie the look together, curl your hair into loose waves or put it in a messy bun – definitely one of my favorite hairstyles while I'm studying!
Your thoughts?
What do you think of these looks? Did we miss any amazing outfits from the past week of TV? Which shows do you think deserve a spot on the next TV Fashion Recap post? Leave a comment below and tell us what you think!