Growing up, I wasn't allowed to watch much television. Though it has left me conversationally stunted when it comes to discussing '90s pop culture, there was one glorious exception to the no-TV rule: Sailor Moon.
So far, the Geek Chic column has focused predominantly on science fiction and fantasy, but the world of geek definitely extends far beyond those two genres.  This time, we're boldly exploring a medium we haven't covered before: animation (specifically, Japanese animation, commonly referred to as anime). Though there are scores of notable anime series, Sailor Moon is among the most popular.
Note: This post is about the English adaptations of the anime only, so I'll be using the translated character names/terms, e.g. "Sailor Scout" instead of "Sailor Senshi."
Need more Geek Chic? Check out previous posts about Doctor Who-inspired fashion (plus part 2 and part 3), BBC's Sherlock-inspired fashion, Star Wars-inspired fashion, The Hunger Games-inspired fashion, The Big Bang Theory-inspired fashion, The Lord of the Rings-inspired fashion, and Star Trek-inspired fashion.
Know Your Geek: About Sailor Moon
Created by Naoko Takeuchi, the Sailor Moon franchise began as a manga (printed animation) and has branched into various media forms including: TV anime series, live-action series, stage musicals, movies, and video games.
The anime aired from 1995 to 1996 in the United States and was later picked up by Cartoon Network.  The show is often credited with helping anime enter mainstream Western culture; indeed, Sailor Moon, with her iconic golden pigtails and red odango, is one of the most recognizable anime characters ever.
Millions of years ago, Princess Serenity was the princess of the moon. However, she was sent into the future to be reborn as a defender of the Earth. In the present day, the princess has been reincarnated as Serena, a ditzy 14-year-old who has no memory of her celestial past.
After Serena learns of her alternate identity as Sailor Moon, she is tasked with finding the other Sailor Scouts (who are the reincarnations of her royal guardians) and ultimately, to find the Moon Princess and restore unity to the galaxy. Of course, neither Serena nor her advisers realize that she is the princess.
Outfits Inspired by Sailor Moon
Get ready to fight some evil by moonlight and win some love by daylight in these looks inspired by the world of Sailor Moon!
In Civilian Guise
When they're not fighting crime, the  girls are typical junior high school students; Amy, Serena, and Lita attend the same school but Raye and Mina study at different academies. They have vastly different personalities but become close friends.
Going from left to right (above), mature, studious Amy is the brains of the group and aspires to become a doctor. Raye is studying to become a Shinto priestess and wields psychic power, even in her civilian form. She has a fiery, hotheaded personality. Serena prefers the normal life of a preteen girl to fighting crime — she adores all things pink and fluffy and loves bunnies. Lita might be the toughest and most athletic of the group, but she also loves romance novels and shopping. She's a recent transfer to the junior high and is too tall to fit into the uniform, so she wears her old one. Mina, who always wears a red hair bow, dreams of becoming a pop star.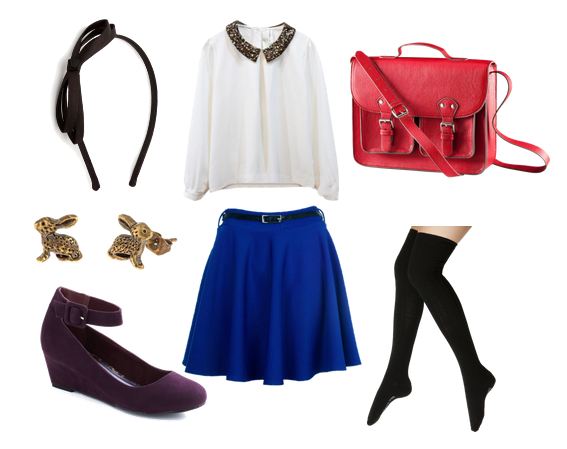 Product Information: Blouse, Skirt, Shoes, Socks, Satchel, Earrings, Headband
Although my friends who attended private school assure me that mandatory school uniforms were no fun, I've always liked their polished look. If you missed out on (or just miss) wearing uniforms, try out this Japanese schoolgirl-inspired look.
Pair a blouse with an embellished collar and a full cobalt skirt for a sweet and pretty combination; the collar detail and trendy color keep it from looking too much like an actual uniform. For a fun pop of color, carry your books in a bright red satchel that's scholarly but not stuffy. If you haven't tested out the trend yet, try slipping on a cute pair of over-the-knee socks that go perfectly with ankle-strap wedges. Finish with adorable extras like bunny earrings and a bow headband!
Sailor Scouts
As my newfound obsession with Buffy the Vampire Slayer confirms, I'm a sucker for the student-by-day/crimefighter-by-night premise… and these girls are the coolest champions of good around! When their powers are activated, Amy, Raye, Serena, Lita, and Mina respectively transform into: Sailor Mercury, the Soldier of Justice and Wisdom; Sailor Mars, Soldier of Flame and Passion; Sailor Moon, Soldier of Love and Justice; Sailor Jupiter, Soldier of Thunder and Courage; and Sailor Venus, Soldier of Love and Beauty.
They all have individual powers and defenses that correspond to the virtues that that they represent, their personalities, and the Roman mythology behind their planets. For instance, Sailor Jupiter wields lightning, which references the god Jupiter and his lightning bolts. Sailor Moon (who of course does not represent a planet) has the most special powers, which usually involve magic and moonlight.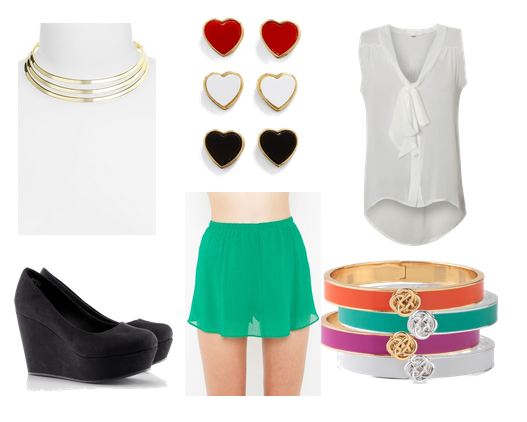 Product Information: Blouse, Shorts, Necklace, Bangles, Earrings, Shoes 
Admit it: whenever that transformation segment came on, you totally twirled around your living room along with the Sailor Scouts. (Or perhaps that was just me…) What's not in question is that the Sailor Scouts have the coolest crime-fighting outfits ever!
Sailor Moon and company can get away with tiny, floaty skirts because they're 1) fictional and 2) animated, but you probably shouldn't traipse around campus sporting such microscopic hemlines. Enter another '90s mainstay: the skort, 2012 edition. These chiffon tap shorts have a sheer panel in the front, so you get the look of a skirt but the coverage of shorts. Pair it with a bow blouse and cute, walking-friendly wedges.
Now for accessories. A gold torque necklace is a trendy update on the Scouts' ribbon chokers; it also resembles their metallic headbands. Since opera-length gloves would probably look a bit odd, reference their bright elbow cuffs with an armful of colorful bangles. The forces of evil had better beware!
Tuxedo Mask
When the Sailor Scouts are in trouble, they are often assisted by a mysterious masked man known as Tuxedo Mask. Tuxedo Mask is the reincarnation of Prince Endymion, the crown prince of Earth and Princess Serenity's lover.
In everyday life, Serena clashes with a boy named Darien. (Surprise, surprise: he's Tuxedo Mask in civilian form!) While their early encounters resulted in the exchange of insults, they eventually develop feelings for one another. Although their alter egos frequently fight crime together, Serena and Darien are initially unaware of each other's secret identities.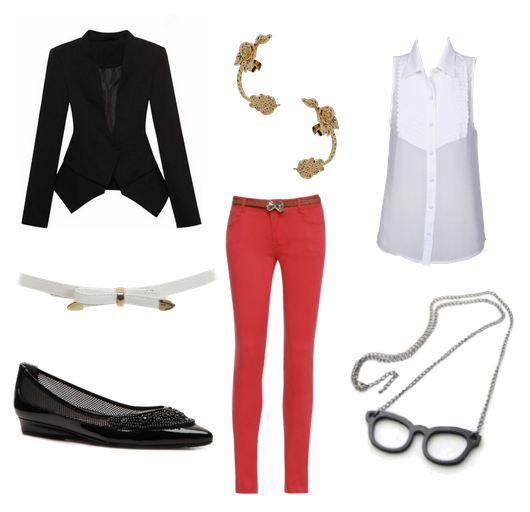 Product Information: Blazer, Shirt, Trousers, Shoes, Belt, Earrings, Necklace
Since I was around four years old when Sailor Moon aired, I don't really recall much about that time period. What I do remember is that I had an insane crush on Tuxedo Mask. Even at that young age, I appreciated a well-dressed man! With his sleek waistcoat and crisp white gloves, this caped crusader is as dapper as they come.
Snag his polished look with an onyx blazer, pintucked blouse, and patent flats. Scarlet trousers that recall the lining of Tuxedo Mask's cape add some color. Reference his signature accessories with golden rose ear cuffs and a quirky necklace that resembles his mask.
Artemis and Luna
Any archetypal hero(ine) worth her salt needs guidance from a sage mentor, and Sailor Moon gets that from…cats. Artemis, a male white cat, is Mina's pet, while Luna, a female black cat, lives with Serena. They're no regular felines, though — not only can they talk, but Artemis and Luna are also reborn celestial beings who were once the Queen's advisers. In the present day, they guide the Sailor Scouts on their quest to protect the galaxy from evil.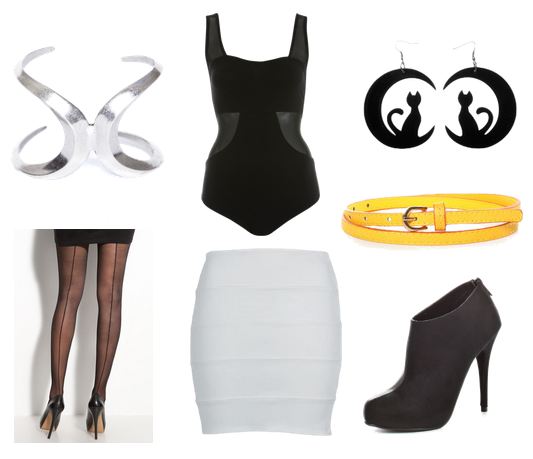 Product Information: Bodysuit, Skirt, Shoes, Stockings, Belt, Earrings, Cuff
Cats are sleek, graceful creatures, so why not channel that aesthetic into a sassy outfit for a night out? Slip a white bodycon mini over a bodysuit (or should I say "catsuit"?) for a streamlined and sexy look. If there's still a chill in the air, cover up a bit with hosiery — it's my opinion that back-seamed stockings are somehow much more alluring than plain ones.
A yellow belt spruces up the black and white outfit, while cat + moon earrings are a direct reference to Artemis and Luna. This graceful silver cuff, in the shape of two fused crescents, alludes to the original home of the two advisers.
What did you think?
Would you wear these looks?  Did you watch Sailor Moon? Who was your favorite Sailor Scout? (I really liked Sailor Jupiter and Sailor Mars!)  Do you agree that the Sailor Moon theme song is one of the greatest in television history? Ahat other geeky inspirations would you like to see? (Next time, we'll assemble for some Marvel-ous inspired-by fashion!) As always, let me know in the comments!