All movie images courtesy of the Walt Disney Company
After I camped out for almost 20 hours to see the Marvel panel at San Diego Comic-Con, there was no way I was missing the newest addition to the Marvel Cinematic Universe, Guardians of the Galaxy.
I'll admit I was pretty incredulous about the movie back when the first previews came out (a talking raccoon and a tree version of Hodor? What?) but like you've no doubt heard, Guardians of the Galaxy somehow makes it work.
The film stars Chris Pratt, Zoe Saldana, Bradley Cooper, Vin Diesel, Dave Bautista, Lee Pace, Djimon Hounsou, Karen Gillan, Benicio Del Toro, Glenn Close, and John C. Reilly. (Uhura, Thranduil, Amos Hart, andAmy Pond? Sign me up!)
Know Your Geek: About Guardians of the Galaxy
In Guardians of the Galaxy, a ragtag team of outlaws must band together to save the planet Xandar when Ronan the Accuser goes on a crazed genocidal spree. He's backed by Thanos and his adopted assassin daughter duo, Gamora and Nebula (There are a whole lot of names to keep track of in this movie!)
The Guardian team consists of Peter Quill, Gamora, Rocket Raccoon, Drax the Destroyer, and of course, the incredibly lovable Groot. Together, they save the day by utilizing the unstoppable powers of friendship, loyalty, and, of course, dance.
A Guardians of the Galaxysequel has already been announced for 2017. I know I can't be the only one hoping for the Guardians and the Avengers to team up!
Outfits Inspired by the Guardians
Pop your most awesome mixtape into that Walkman and stay tuned for outfits inspired by the Guardians of the Galaxy!
Peter Quill
In 1988, Peter Quill, played by Chris Pratt, was abducted as a child from his Missouri home by aliens and raised as an outlaw. When he skips out on his companions after stealing a mysterious silver orb, they put a bounty on his head. Adding to Peter's troubles is the fact that Ronan the Accuser is also in hot pursuit of the orb.
Peter is a brash, lovable guy with a heart of gold, awesome taste in music, and excellent comedic timing. He'd like to be known as Star-Lord (stop trying to make "Star-Lord" happen, Peter! It's not going to happen!) and cruises around space in the Milano, a ship named after his childhood crush.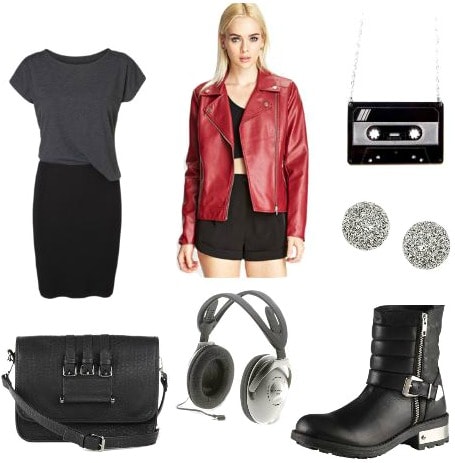 Product Information: Jacket, Dress, Boots, Necklace, Messenger Bag, Headphones, Earrings
Ah, the gruff yet secretly compassionate space rebel. Where have we seenthatbefore? Peter forgoes sweeping brown coats and black vests for a snazzy red leather jacket and jeans: get his look with a moto jacket and a draped t-shirt dress.
A pair of quilted boots and a buckled messenger bag are perfect for all that running from the law and stashing priceless alien treasures. Peter's most beloved possession is his Walkman, so make sure to reference that with a cassette-shaped necklace and your favorite pair of headphones.
Gamora
Gamora, played by Zoe Saldana, is quite possibly the most dangerous woman in the universe. She's the adoptive daughter of Thanos, who's apparently the most super-villainous super-villain to ever grace the Marvel-verse, and was raised to be a perfect weapon.
Something must have gone wrong with the training, though, because Gamora's sense of moral justice leads her to betray both Thanos and his ally Ronan. First, though, she must confront her adoptive sister and fellow assassin, Nebula.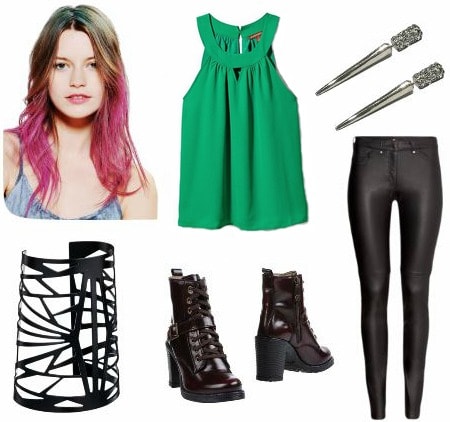 Product Information: Blouse, Pants, Boots, Cuff, Earrings, Hair Chalk
Every fictional lady assassin worth her salt knows that she must wear an outfit composed of at least 95% leather. Gamora is no exception. Since you're hopefully just channeling and not actually becoming an assassin, your outfit only needs to be, oh, 12% leather. (A pair of leather-look pants and lace-up ankle boots will satisfy that quota!)
Slip on a cutout green tank to soften up the look and to reference Gamora's skintone. For a temporary take on her maroon-tipped hair, why not try out the hair chalk trend? Finally, accessorize with a cool graphic cuff and a pair of dagger earrings.
Rocket Raccoon & Groot
Rocket Raccoon, voiced by Bradley Cooper, and his sidekick/bodyguard Groot, voiced by Vin Diesel, are an unlikely pair. Rocket, the result of countless genetic experiments, is a cynical, wise-cracking bounty hunter; his partner, Groot, is a sentient tree creature whose speech consists solely of the words "I am Groot."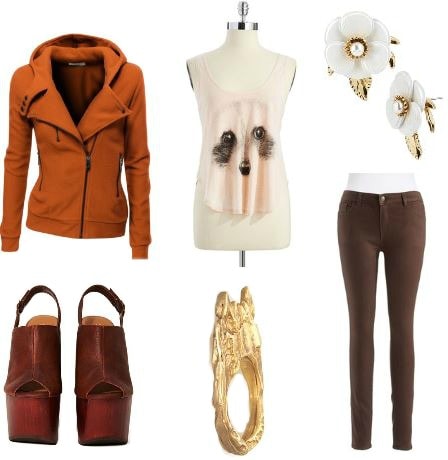 Product Information: Jacket, Top,Pants, Earrings, Ring, Shoes
I certainly never thought that I'd one day write a fashion post about a tree and a raccoon, but here we are. Follow in the footsteps of this unstoppable duo with a raccoon-emblazoned tee and an orange motorcycle jacket reminiscent of Rocket's flight suit.
You, too, will be Groot with a pair of a brown jeans and towering wooden platforms. Finally, slip on a golden bark ring and a pair of white flower earrings as a reference to one of the most heartwarming scenes in the movie.
What did you think?
Would you wear these outfits? Have you seen Guardians of the Galaxy? What did you think? What other geeky inspirations would you like to see? As always, let me know in the comments!