I'm going to be honest with you guys: I feel like the least devoted Tolkien fan ever, because I still haven't gone to see The Hobbit: The Desolation of Smaug. (Dear Peter Jackson and New Line Cinema: please stop having premieres right before finals week!)
What I have done, however, is fawn over the photos of Bilbo knee-deep in dragon's gold, dwarves barreling down a river, Legolas's brand new slightly-scary blue contact lenses, and Thranduil's absolutely magnificent crown. (I also got mildly grumpy at the addition of what appears to be a random elvish love interest, but then I fawned over the pictures of Tauriel anyways, because hey, looks like Kate made it off the Island and into Middle Earth!)
Haven't seen any of the Hobbit movies yet? Read our article about fashion inspired by the first movie,  The Hobbit: An Unexpected Journey, to get caught up!
Know Your Geek: About The Hobbit
The Desolation of Smaug is the second installment in Peter Jackson's The Hobbit trilogy, based on the book by J.R.R. Tolkien.
Bilbo and Thorin's company of Dwarves continue on their quest to reclaim the Lonely Mountain. Along the way, they must face goblins, Elves, spiders, and a particularly nasty dragon.
Meanwhile, Gandalf and the White Council investigate the mysterious shadow in the east that threatens the safety of Middle-earth.
The Hobbit: The Desolation of Smaug stars Martin Freeman, Ian McKellen, Richard Armitage, Evangeline Lilly, Lee Pace, Luke Evans, Ken Stott, James Nesbitt, Orlando Bloom, and Benedict Cumberbatch.
Outfits Inspired by The Hobbit: The Desolation of Smaug
Ready to head back into the fray with Bilbo Baggins, the bravest little hobbit of them all? Check out these four outfits inspired by the events of The Hobbit: The Desolation of Smaug!
Men of Lake-town
Bilbo and company's quest to Erebor takes them through Lake-town, a kingdom of Men. There, they encounter Bard the Bowman, a skilled archer with royal heritage, and the Master of Lake-town.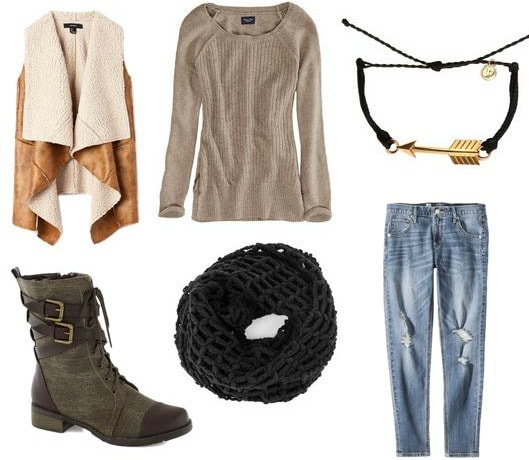 Product Information: Sweater, Vest, Jeans, Scarf, Boots, Bracelet
The residents of Lake-town seem to wear clothes similar to those found in Rohan: furs, homespun wools, and homespun fabrics in autumn hues reign supreme. Take inspiration from the rustic textures and color palette with a comfy tunic sweater and a cozy shearling vest. Slouchy boyfriend jeans and canvas boots add to the rugged vibe. Finally, slip on a black arrow charm bracelet as a reference to Bard's eventual role in the dwarves's quest.
Thranduil's Realm
Dwarves have never been on very good terms with the elves, ever since Thranduil, Elvenking of the woodland realm of Mirkwood, refused to help them while Smaug desolated the kingdom of Erebor. However, the quest brings the company of dwarves into Mirkwood, where Silvan elves promptly apprehend them and toss them into Thranduil's dungeons. Orlando Bloom fans around the world cheer, because Thranduil just so happens to be daddy to everyone's favorite Fellowship elf: Legolas. (Sadly, there is no taking of hobbits to Isengard in this movie.)
Look, Legolas and Tauriel, you're both really pretty and all, but Thranduil is by far the most fabulous elf of all time. Just look at those perfectly groomed brows, those silky platinum locks, and that absolutely majestic crown!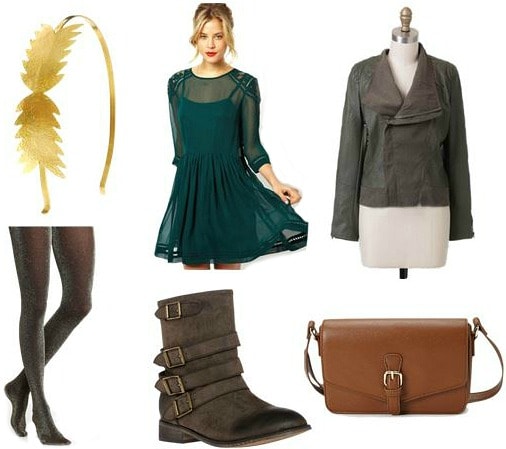 Product Information: Jacket, Dress, Boots, Tights, Bag, Headband
While we mere mortals could never hope to match the spectacular sight that is the Elvenking, we can definitely add a little elven style to our looks.
Pair a hunter green frock that resembles Tauriel's outfit with an olive suede jacket reminiscent of Legolas's garb. Metallic tights recall Thranduil's sparkling robes, while buckled boots are perfect for traipsing through the dark forests of Mirkwood. Top it all off with a gleaming headband. If you can find one, be sure to make dramatic entrances while riding astride an enormous elk.
Just Grin and Barrel
One of the most memorable scenes from The Hobbit features the dwarves making a daring escape from Mirkwood. With the help of Bilbo, they stow away in barrels and make a treacherous journey down the river.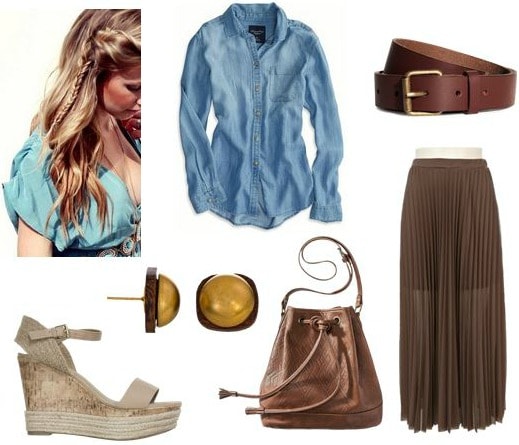 Product Information: Shirt, Skirt, Shoes, Bag, Belt, Earrings | Photo
Take inspiration from their watery escapade with a chambray top and a brown midi skirt. (Other option: wear an actual barrel around your waist. This is not recommended.) A pair of jute wedges reference the rope on the barrels, while a bucket bag is reminiscent of the dwarves's impromptu escape vessels. Dwarves have extremely impressive beards: follow this awesome tutorial to get your own…or perhaps just incorporate a few braids into your daily 'do.
In The Dragon's Lair
Smaug the Dragon has taken over Erebor, the ancient home of the dwarves. Surrounded by troves of gold, he slumbers within the Lonely Mountain. As the company's "burglar", Bilbo is tasked with entering Smaug's lair and retrieving the Arkenstone, a glorious gem and important Dwarven heirloom.
However, it's not as easy as one might think to heed the Hogwarts creed, Draco Dormiens Nunquam Titillandus (that's "Never tickle a sleeping dragon," for you Muggles), and Bilbo finds himself facing a terrifying adversary.
Say what you will of Peter Jackson's adaptations of Tolkien's work, but it's pretty irrefutable that Weta Workshop has done some absolutely incredible work with their CGI creations. (Gollum is a veritable masterpiece.) While my beloved hobbit-turned-Ring-junkie doesn't make an appearance in this film, Smaug is quite impressive. Plus, he's voiced by Sherlock/Khan!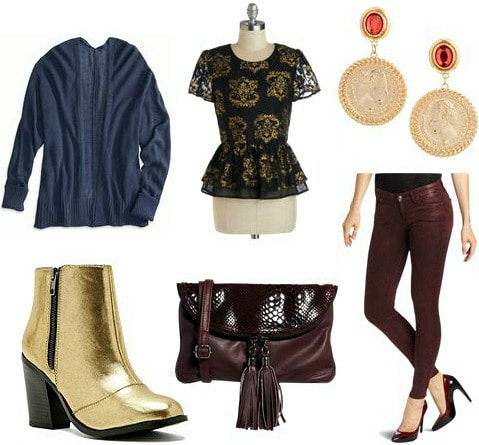 Product Information: Top, Cardigan, Shoes, Pants, Earrings, Bag
Burgle the smoldering elegance of Smaug and his glittering lair for your own with luxurious pieces like a jacquard top and gilded ankle boots. A gleaming snakeskin bag and textured jeans are reminiscent of Smaug's dragon hide, while a navy cardigan reference's Bilbo's burgling outfit. Slip on a pair of coin earrings as a reference to the enormous horde of dwarf gold that drives the company's quest.
What did you think?
Would you wear these outfits? Have you seen The Hobbit: The Desolation of Smaug? Are you excited for the final movie of the trilogy? What other geeky inspirations would you like to see? As always, let us know in the comments!