This post may contain affiliate links, which means we may receive a commission if you purchase through our links. Please
read our full disclosure here
.
The Avengers: Endgame premiere is quickly approaching and with it the end of a cinematic era. To pay homage to this enormous franchise, we're covering the style of core members of the Original Avengers. Last week, it was Thor's turn.
This week the spotlight belongs to the first and most heroic Avenger, Captain America.
About Captain America
The character of Captain America was created by Jack Kirby and Joe Simon and was first published by Timely Comics (predecessor of Marvel Comics) in 1941. Cap was immensely popular during the World War II, but was discontinued by 1950. The character has remained in publication since he was revived by Marvel Comics in 1964.
Captain America is the alter ego of Steve Rogers. Steve was enhanced with the super soldier serum, which makes him stronger and faster than normal humans. He's also an expert tactician and field commander, and one of the best hand-to-hand fighters around. This combined with his strong ideals and moral has kept him as the long-time leader of the Avengers.
He is considered one of the best comic book superheroes of all time and is highly respected and admired both in and out of the comic book universe.
Captain America in the Marvel Cinematic Universe
Captain America has been portrayed by Chris Evans since the release of Captain America: The First Avenger in 2011. Cap has two more solo movies: Captain America: The Winter Soldier and Captain America: Civil War, with Winter Soldier being regarded as one of the best MCU movies.
Evans has reprised his role in Avengers, Avengers: Age of Ultron and Avengers: Infinity War as a main character and has made cameos in Ant Man, Spiderman: Homecoming and Captain Marvel.
Chris Evans has confirmed he intends to retire from the role after Avengers: Endgame which has sparked rumors of his character being killed during the film.
Captain America's Style in the MCU
Steve's style can be best described as American classic. He's originally from the 1940s so he wears simple silhouettes, neutral colors, and classic cuts. He uses Oxford shirts mostly in blue and white, fitted pants in neutrals and boots.
Captain America's Style in the MCU: Outfit #1 "I can do this all day"
Products: Pants – Nordstrom, T-Shirt – ShopBop, Shoes – ASOS, Bag – Nordstrom, Jacket – Kohl's
Steve Rogers became a soldier in spite of his frail health and small frame. He wanted to fight bullies, no matter where they came from. This first outfit is inspired by his soldier uniform.
To emulate this era of the Captain, pair green linen joggers with a simple white t-shirt to create the base of the outfit. Throw a military green duster on, especially if it gets too chilly. A pair of black ankle boots with a heel are a stylish alternative to combat boots to dress the outfit up.
As an accessory, use a leather backpack in the same color of the joggers to tie everything together and carry your things to an early class.
Captain America's Style in the MCU: Outfit #2 "I'm way past permission"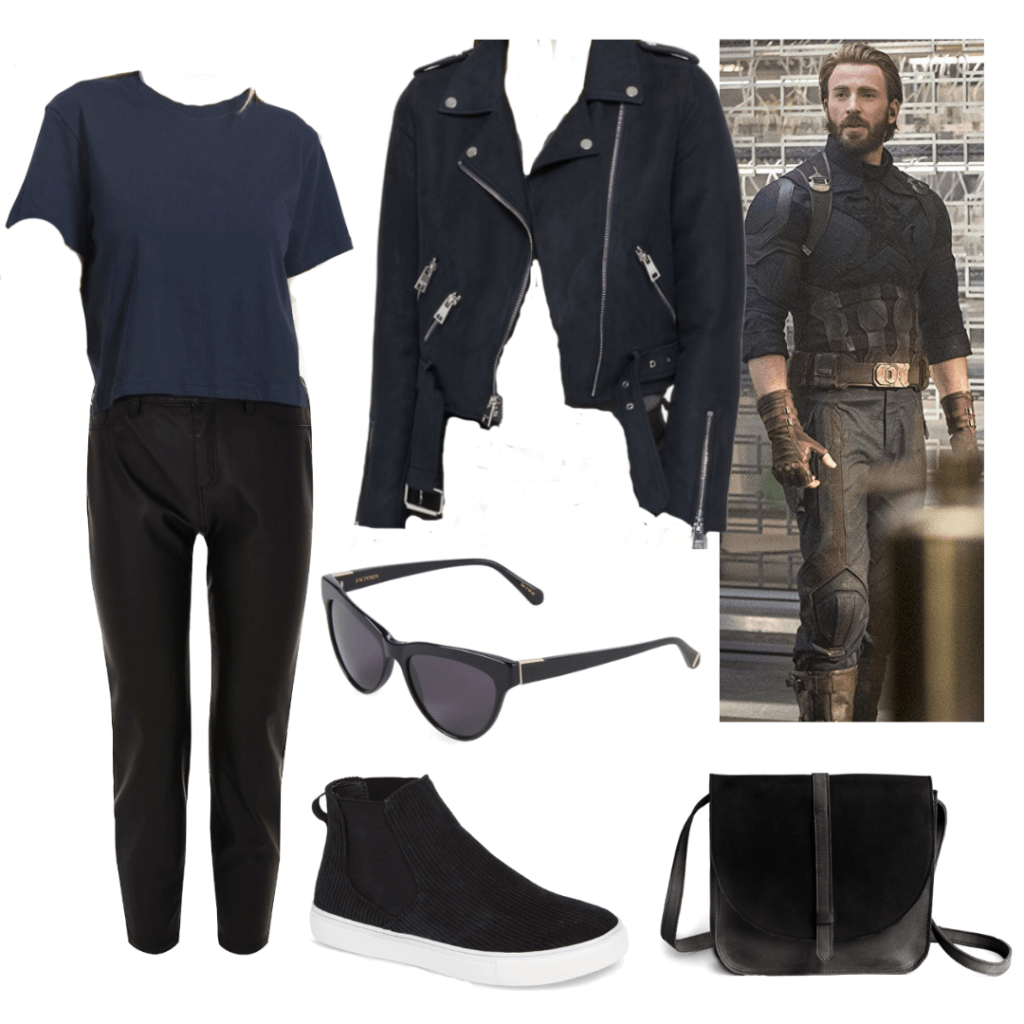 Products: Pants – River Island, T-Shirt – Orchard Mile, Sneakers – Nordstrom, Jacket – Levi's, Bag – ABLE, Sunglasses – Saks 5th Avenue
After Civil War, Steve Rogers became a fugitive and had to live under the radar. He had been disillusioned with the country and government he thought he was protecting. This became apparent when he resurfaced during Infinity War and his classic suit was painted dark blue and black.
To get his edgiest look to date, use a pair of black coated jeans and a navy blue top. Rock a moto suede jacket in navy for more of that edgy feel. For shoes, go for some black high top sneakers, both comfortable and fashionable. Use a black cross body bag in suede and leather to tie in with the materials of the jacket and jeans.
Steve let his beard grow when he was on the run to hide his face, so accessorize by using black frame sunglasses to emulate this stage in his life.
Captain America's Style in the MCU: Outfit #3 "My faith's in people, I guess"
Products:  Romper – Mango, Jacket – Nordstrom, Sneakers – Vans, Heels – Steve Madden, Purse – Draper James
In spite of his last appearances in the MCU, Cap's most iconic look is still his red, white and blue suit, with stripes and stars.
To channel his look in a wearable way, start with a blue romper in a breathable material and white details. On top of that, rock a red drapey cardigan to emulate the red detailing on his suit. For shoes, opt for white high top Vans for class and errands or a pair of red heels for a night out.
The blue bag ties in with the romper and its shape is reminiscent of Captain America's iconic vibranium shield.

What do you think?
Do you like Captain America? Which outfit would you wear? Who do you think it's going to be our next hero?