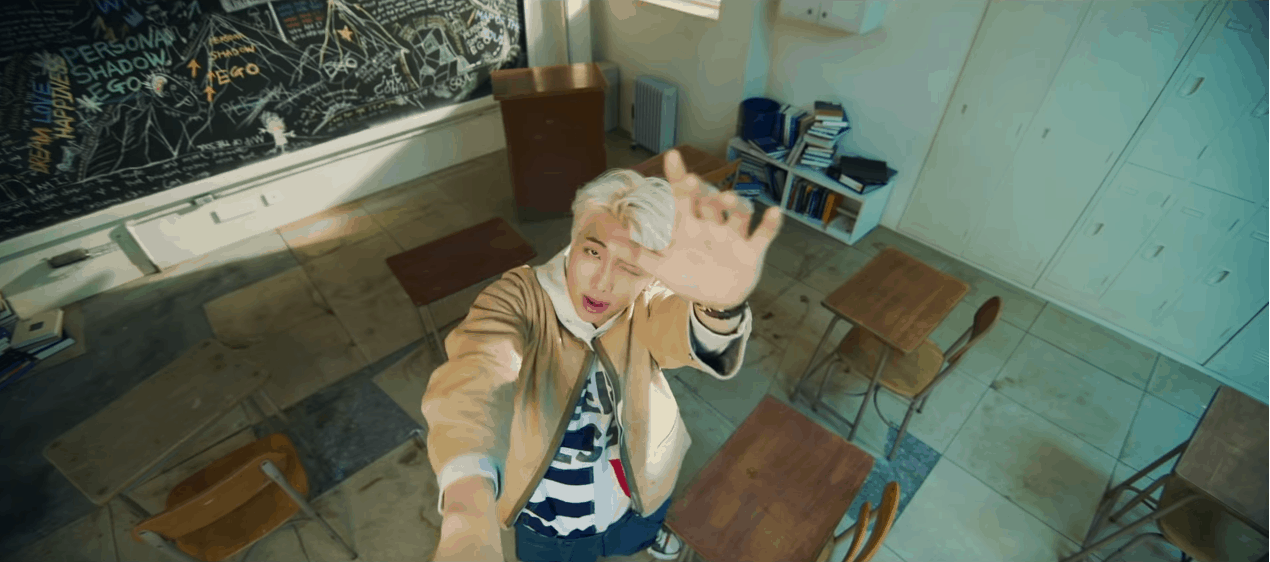 As you probably know, I've already completed a fashion inspiration series on the individual members of global boyband sensation BTS. Check them out here: Fashion Inspired by BTS' Love Yourself in Seoul Concert Movie, BTS leader RM, singers Jin, Taehyung and Jungkook, rapper Suga and dancers J-Hope and Jimin.
This week I'm back with another BTS-centric post and with good reason: the band have just released the comeback trailer for their new album Map of the Soul: Persona, coming April 12th!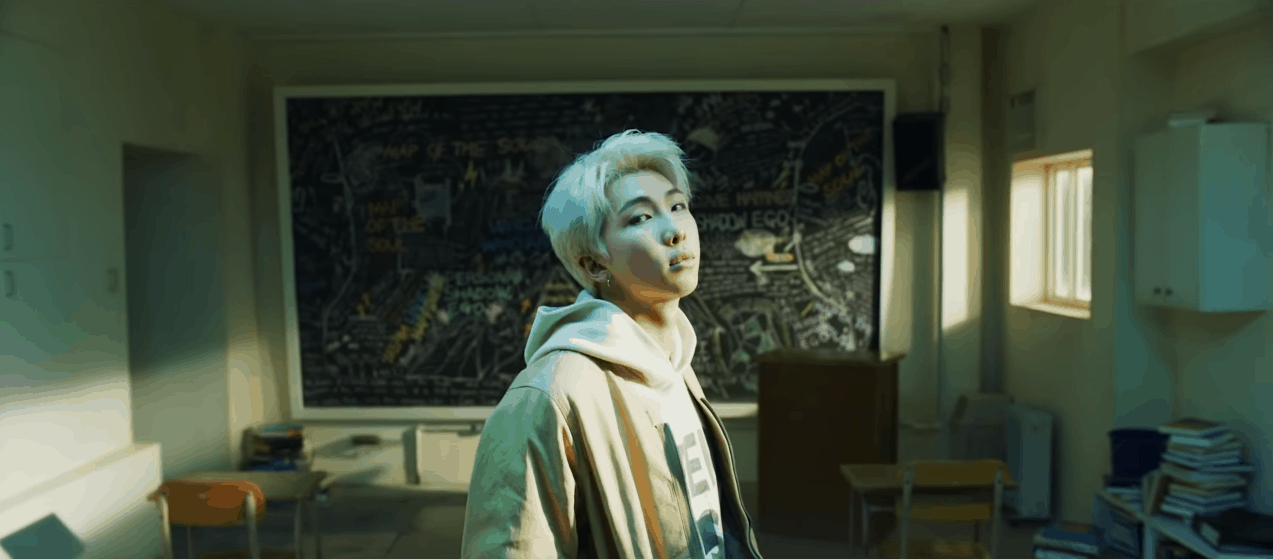 The mere 3-minute music video features RM, leader of BTS, performing Persona. The solo rap track is actually a remixed version of one of BTS's 2014 songs, Intro: Skool Luv Affair. Check out the full trailer below!
For BTS fans paying attention, Persona is an obvious ode to the group's past music videos. Given that BTS basically have their own storytelling universe, it's no surprise that the follow-up to their highly-successful Love Yourself series sees them return to their hip-hop roots.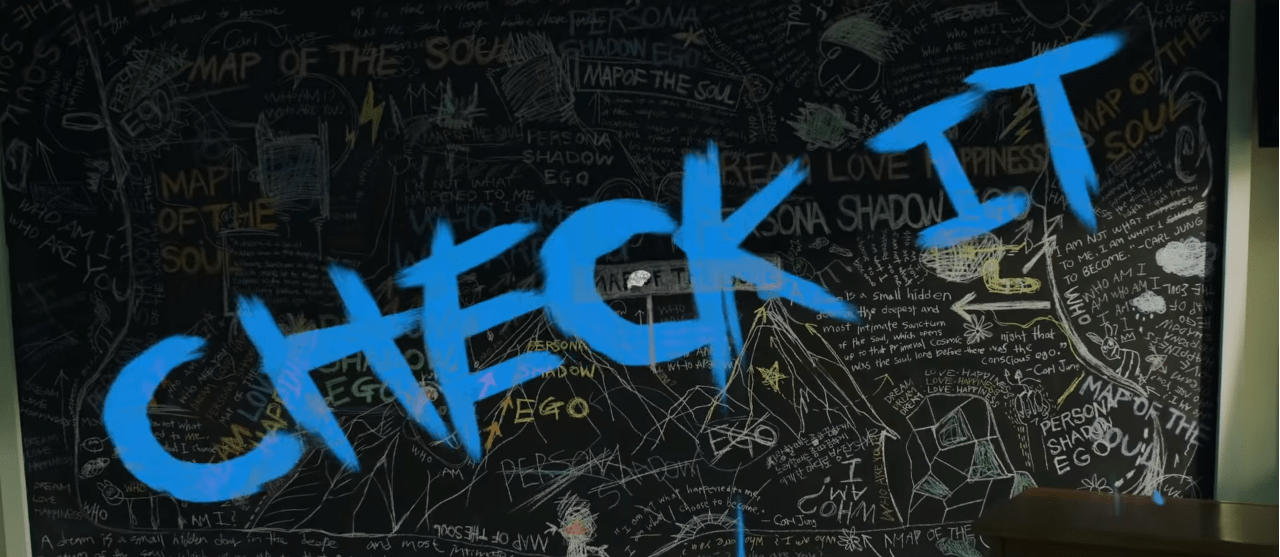 RM delivers a sound that will be familiar to O.G. BTS fans with Persona. The track is unusual for BTS in that it is a straight rap track with no definite chorus – showcasing RM's flow, wordplay and rapping abilities perfectly. As theories run rampant on Twitter as to how Persona fits into the BTS universe, my personal favorite theory concerns RM directly.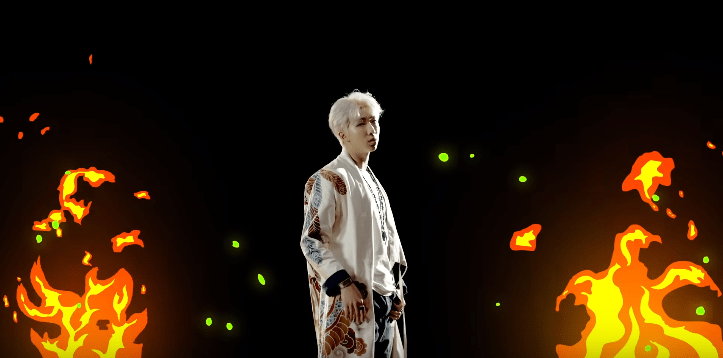 This theory states that the various outfits RM wears in the music video indicate the different aspects of his own Persona. Intrigued yet? You should be! Read on to find out more…
BTS Persona Fashion: Look 1 – Keeping It Neutral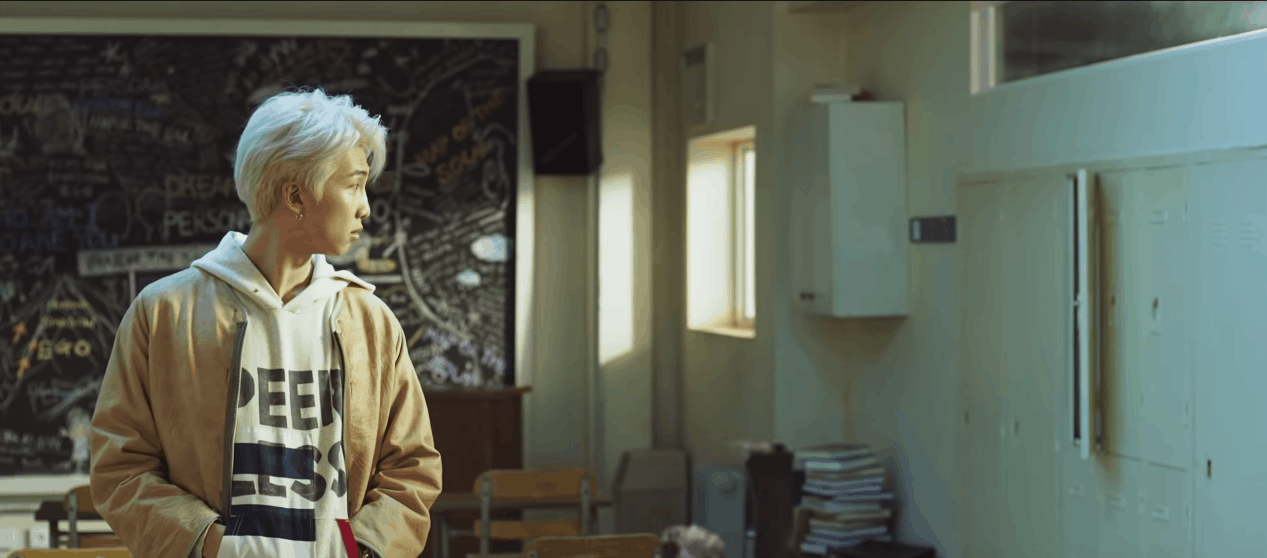 If each of RM's Persona looks represents a different aspect of his own, well, persona, then I can only take this first outfit as representing the authentic Namjoon.
As covered in my previous post on RM's individual style aesthetic, he is a big fan of neutrals and denim. Therefore, this first Persona look encapsulates Namjoon's everyday favorite pieces: the neutral jacket, blue slacks and converse just scream #KimDaily.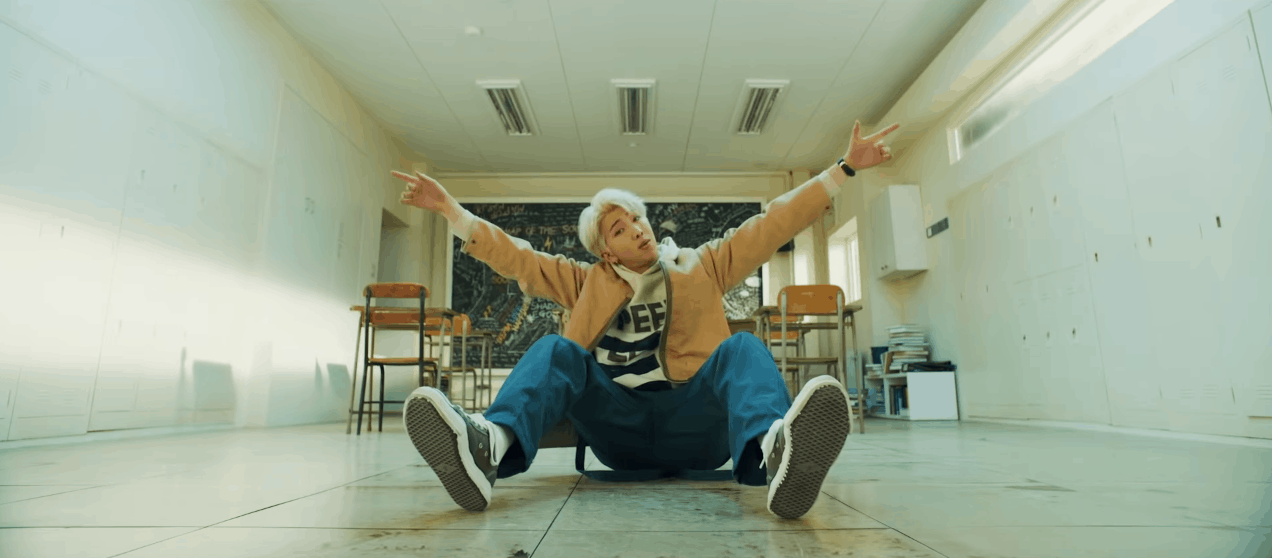 To make the look more feminine, I decided to swap out the slacks for a pair of on-trend detail blue jeans. I paired these closet staples with a simple white hoodie layered under a cream jacket.
To complete the outfit, I paired some cute tube socks with a pair of green Chucks similar to the pairs Namjoon wears both on and off-screen.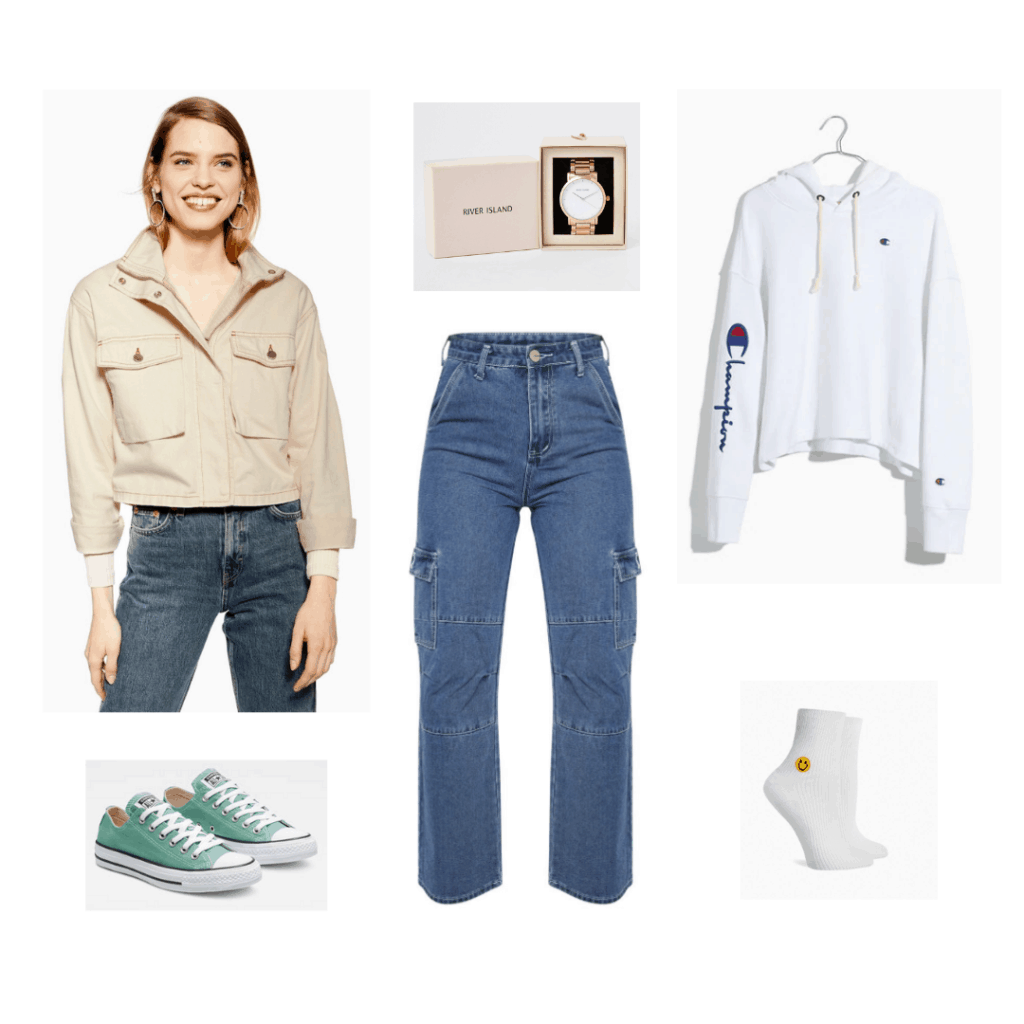 Products: Hoodie – Madewell, Jacket – Topshop, Jeans – Pretty Little Thing, Shoes – Converse, Socks – Richer Poorer, Watch – River Island.
BTS Persona Fashion: Look 2 – Skool Chic
For this next look, RM showcases an updated, mature take on the classic school uniform look that characterized BTS's school trilogy. This outfit most likely represents an RM of the past, with a few crucial details amended.
Notice that although he is wearing a uniform, Namjoon's subversive take on the classic look is obvious: note the casual pants, the untucked shirt and the unruly tie. This aspect of RM's persona is a rule breaker, an ode to the past that remains relevant in the present, much like the song itself.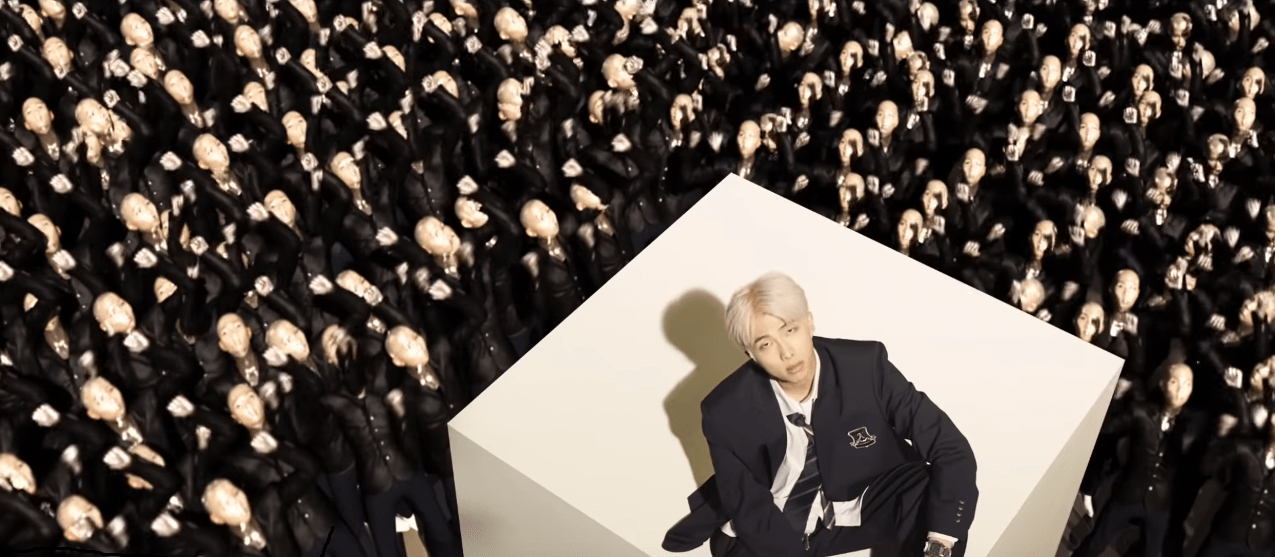 Instead of directly copying this look, I decided to break the rules a little myself too!
As you all know, blazer dresses are having a moment, so what better way to switch-up your evening wear than with an interesting LBD?
If a casual look is more your vibe, channel Skool Luv Affair-era BTS by layering your blazer dress under a turtleneck. Add a pair of ugly trainers and you've got a cute daytime look that's bound to turn heads.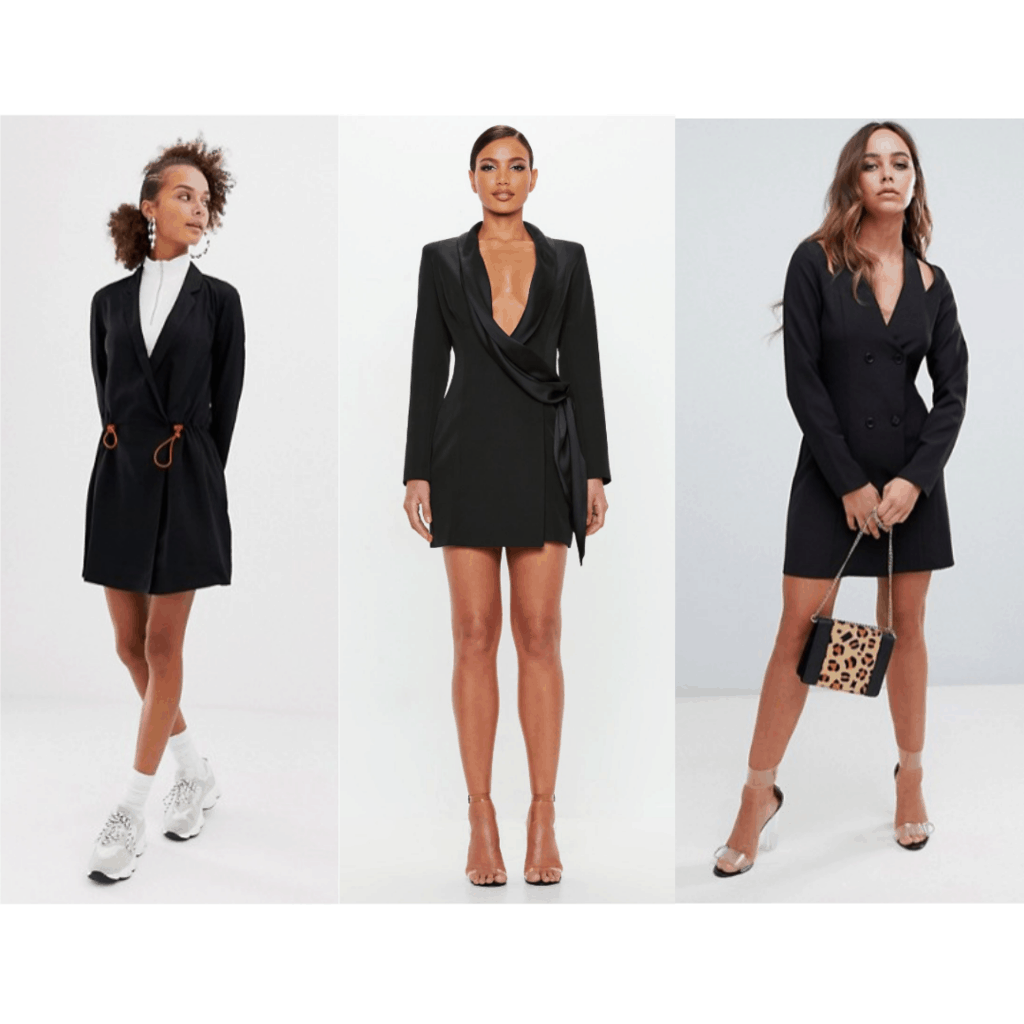 Products L-R: Dress 1 – ASOS, Dress 2 – Missguided, Dress 3 – ASOS.
BTS Persona Fashion: Look 3 – All White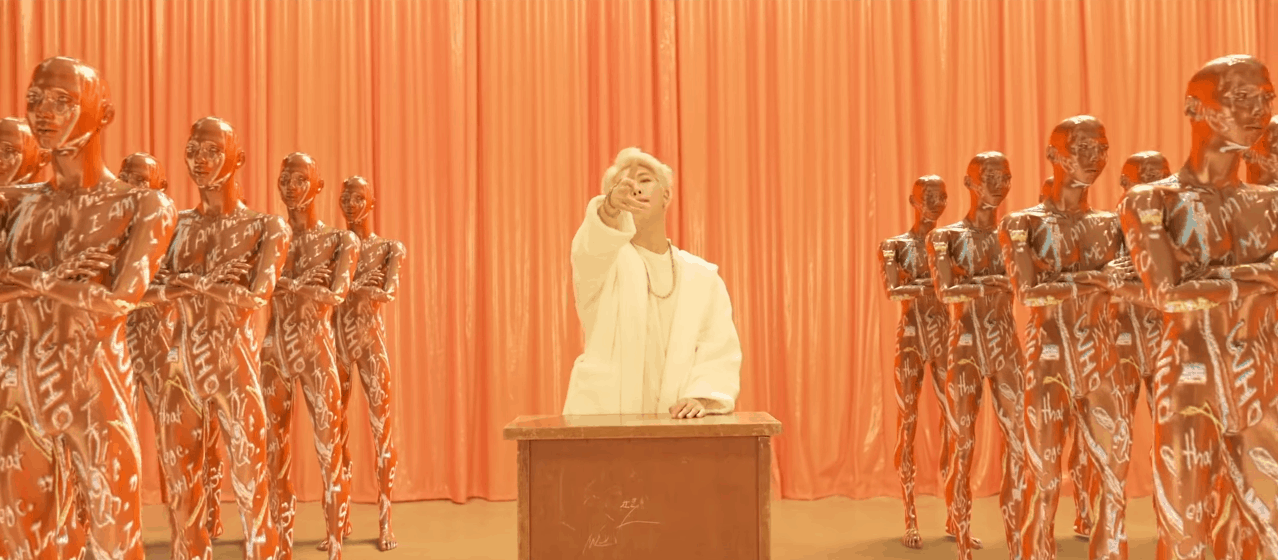 This final, all-white monochromatic look is the simplest of RM's Persona outfits to replicate. Towards the close of the trailer, we see Namjoon standing at a podium surrounded by anonymous, mannequin-like robots.
This could be a subtle ode to the long-running joke within the BTS fandom that Namjoon should run for president. Alternatively, this scene could be speaking to BTS's sense of duty to their fans that drives them to talk about social issues through their artistry.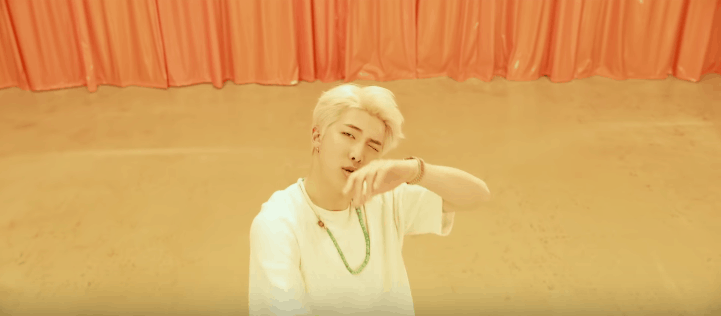 I decided to replicate this look as accurately as possible by creating an all-white outfit that would be perfect for long Summer evenings in the sun.
This ASOS co-ord embodies Namjoon's casual, neutral and oversized aesthetic. The turquoise necklace and red sandals add a much-needed pop of color to this otherwise clean and simple look.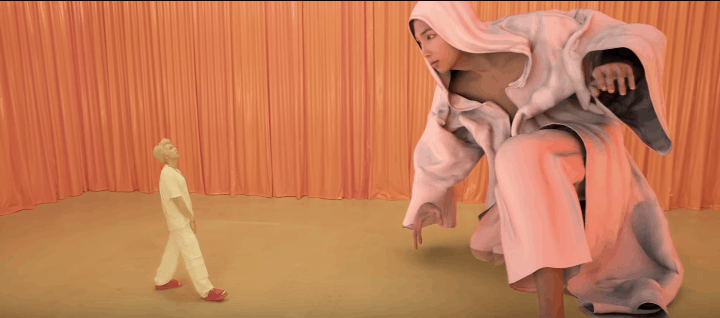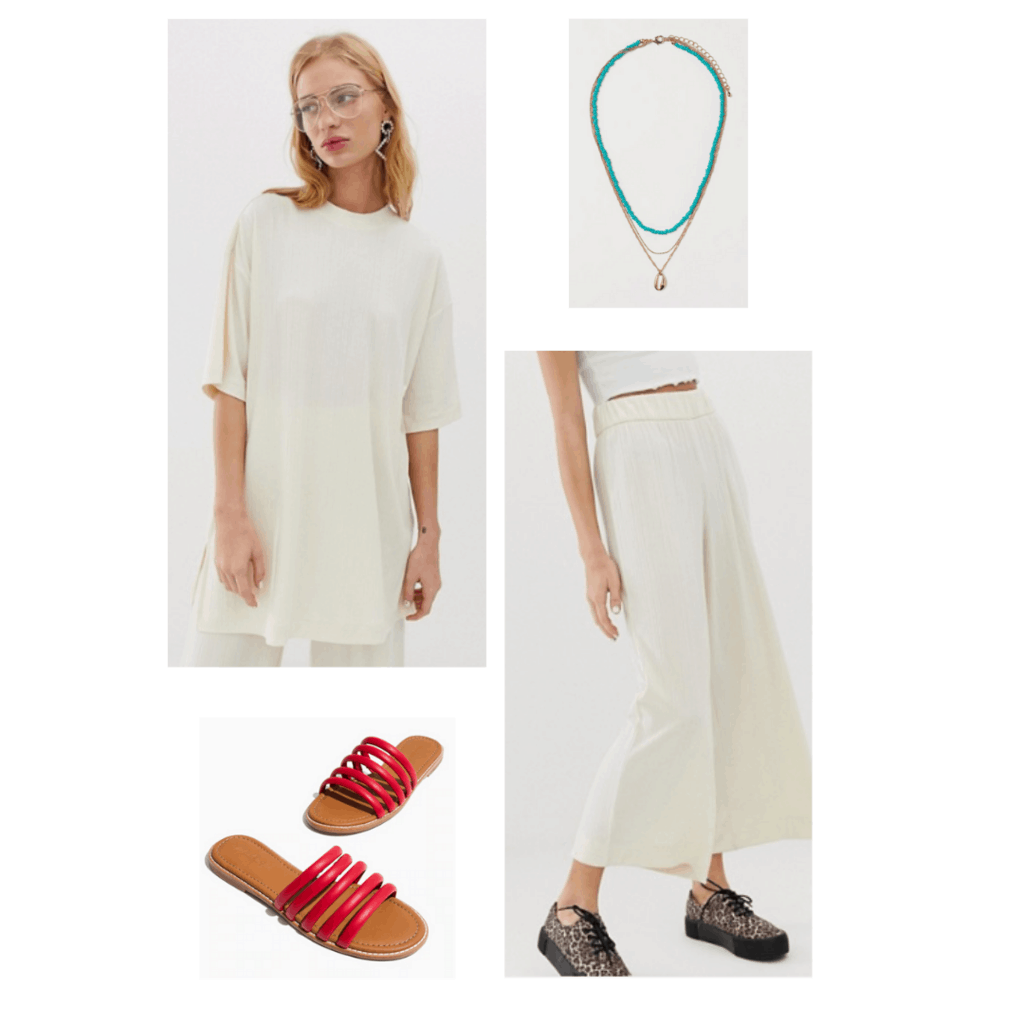 Products: Co-ord – ASOS, Sandals – Madewell, Necklace – H&M.
What do you think of our BTS Persona fashion guide?
Which of these Persona-inspired looks did you like the most? Are you excited to listen to the new album? Are you going to the Speak Yourself stadium tour? Which K-pop groups or music videos should I cover next?
Sound off in the comments below, I can't wait to hear from you!