For the past month, we've covered the styles of different DC Comics heroes. Last week, I covered Wonder Woman's style based on her first cinematic appearance.
This week, I'm jumping ship and going straight to Marvel Comics and taking inspiration from Natasha Romanoff, A.K.A Black Widow.
About Black Widow
Natasha Romanova or Black Widow was created by Marvel Comics and debuted on 1964. She started out as a Russian spy, but later defected and became an agent for S.H.I.E.L.D and a member of The Avengers.
Since 2010, she has been portrayed by Scarlett Johansson and has appeared in seven of the Marvel Cinematic Universe films with an eighth one scheduled to premiere in April and a solo Black Widow movie project in development (finally!).
Natasha is one of the best hand-to-hand fighters in the Avengers, if not the best. She is not the most powerful Avenger and she's not even close in power to the rest of the super heroines in Marvel Comics or the Marvel Cinematic Universe, but still, she has become an icon and one of the most beloved female characters in popular culture.
Black Widow's Style in the MCU
Since she's a spy, we don't get to see a lot of Black Widow's personal style in the films. Additionally, her appearances in the MCU movies are usually action-packed scenes. Because of this, her outfits through the movies are pretty straightforward: jeans, leather jackets, tank tops and boots are a sort of uniform for her civilian looks, usually in neutrals, especially black.
Black Widow Style: Outfit #1 – International Woman of Mystery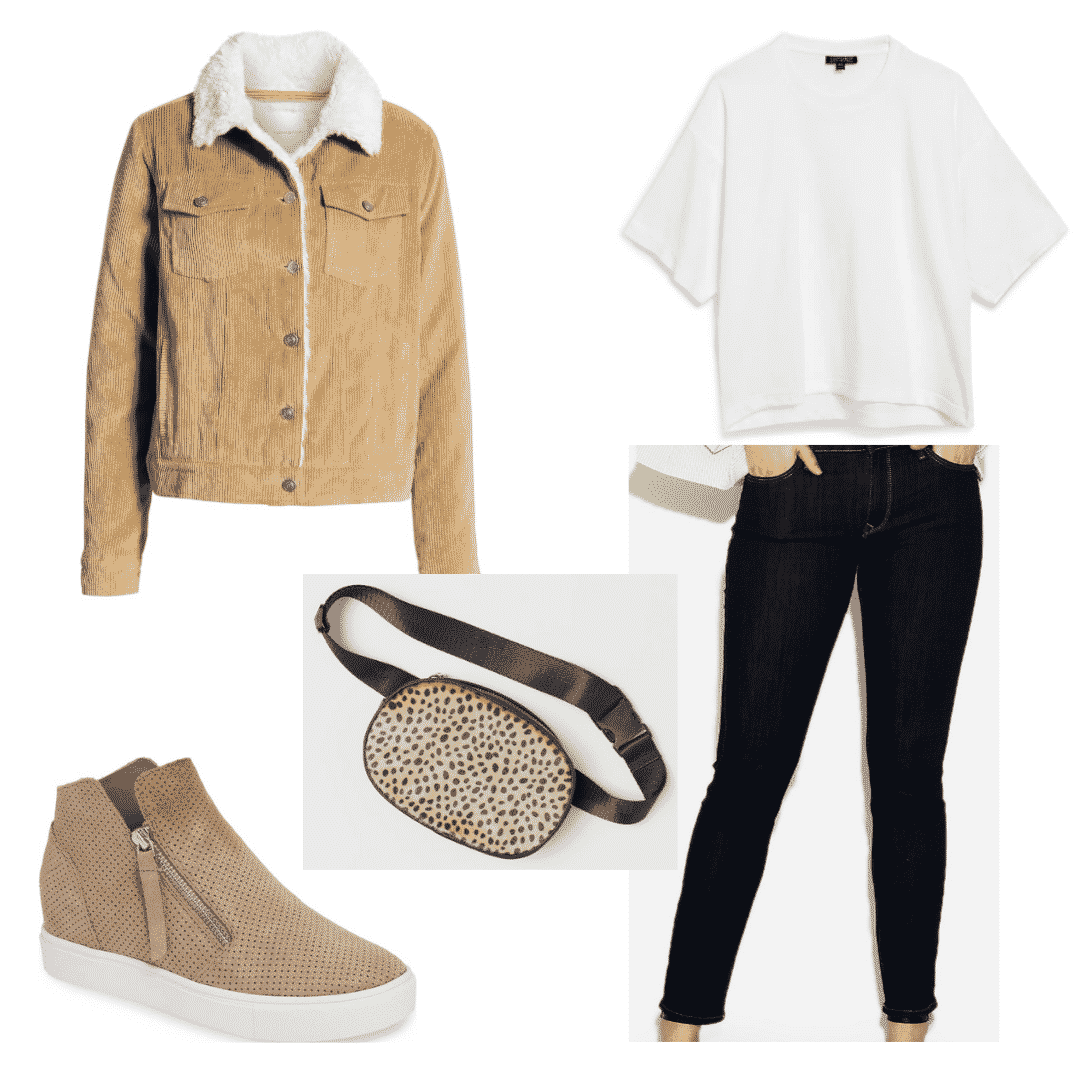 Products: T-Shirt – Topshop, Jeans – Express, Jacket – Nordstrom, Sneakers – Steve Madden, Belt bag – H&M
This outfit is inspired by Black Widow's scenes in Avengers: Age of Ultron as an undercover agent.
The base of the outfit is simple: dark wash jeans and a white t-shirt. In the film, Black Widow wears a belted, beige jacket — switch it for a corduroy jacket in a tan color to give the outfit texture and warmth. Belt the jacket with a cheetah print belt-bag. Bonus: this accessory will act as your trendy piece.
Natasha wears knee-high lace-up boots in the film, but since the weather is getting warmer, the suede sneakers are a more comfortable and wearable option for the season.
Black Widow Style: Outfit #2 – "I'm always picking up after you, boys"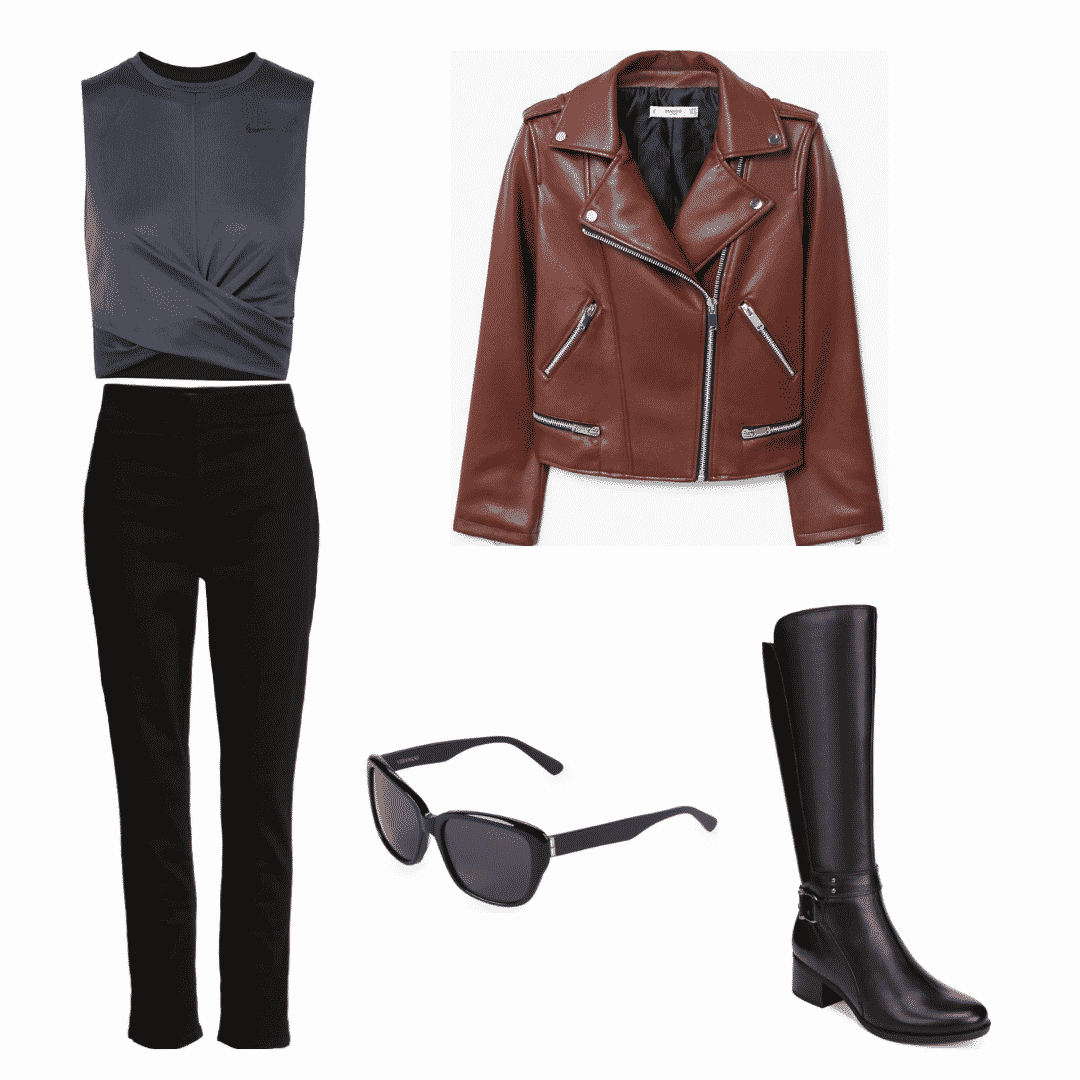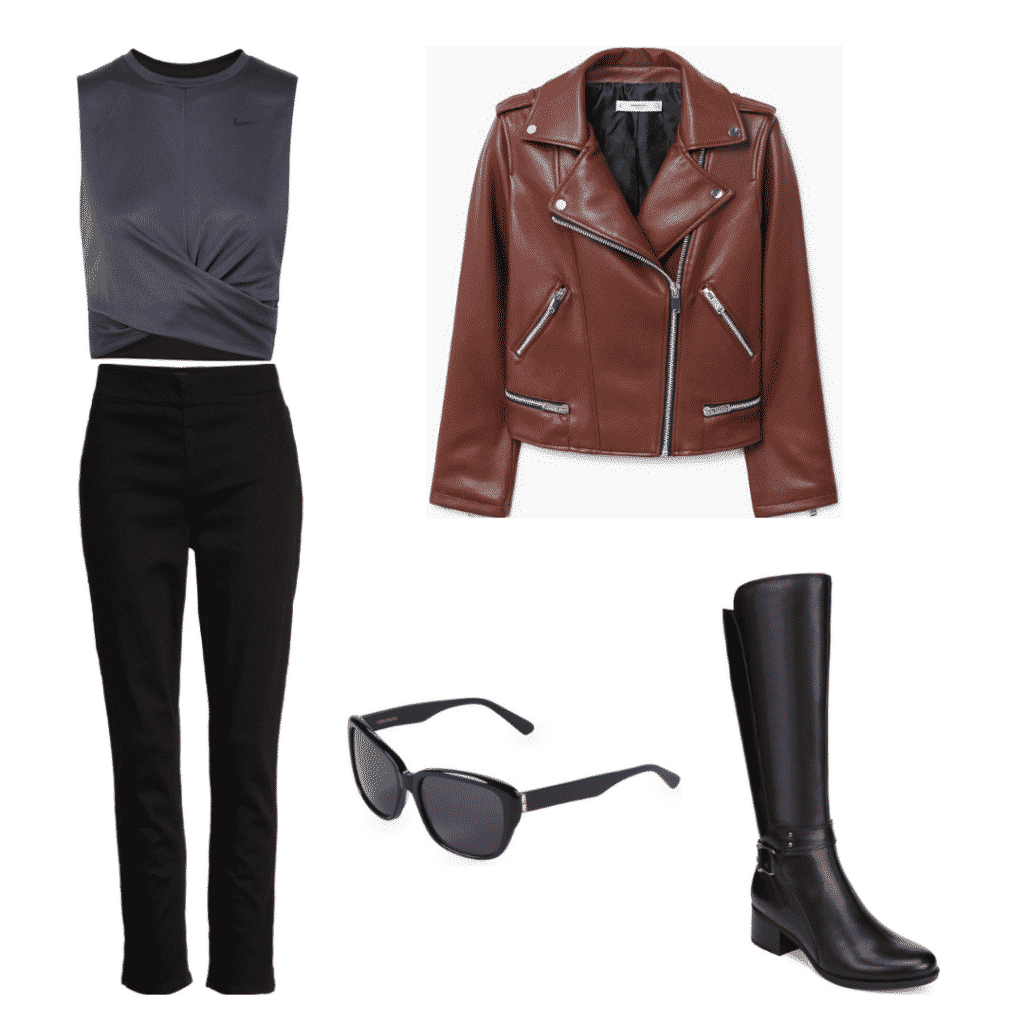 Products: Jeans – Nordstrom, Top – Nike, Jacket – Mango, Boots – Nordstrom, Sunglasses – Vera Wang
No matter the movie, Natasha almost always wears a leather jacket with a basic outfit underneath. For our second outfit, I'm taking inspiration from one of her fighting scenes in Captain America: The Winter Soldier.
For this outfit, pair your skinny black jeans with a dark grey crop top, instead of the black one Natasha's wearing. The black riding boots are comfortable for class or going out and will elongate your legs. The cognac leather jacket adds color and completes the outfit.
The black sunglasses are not a part of her outfit, but they're an homage to her role as a spy.
Black Widow Style: Outfit #3 – Black Widow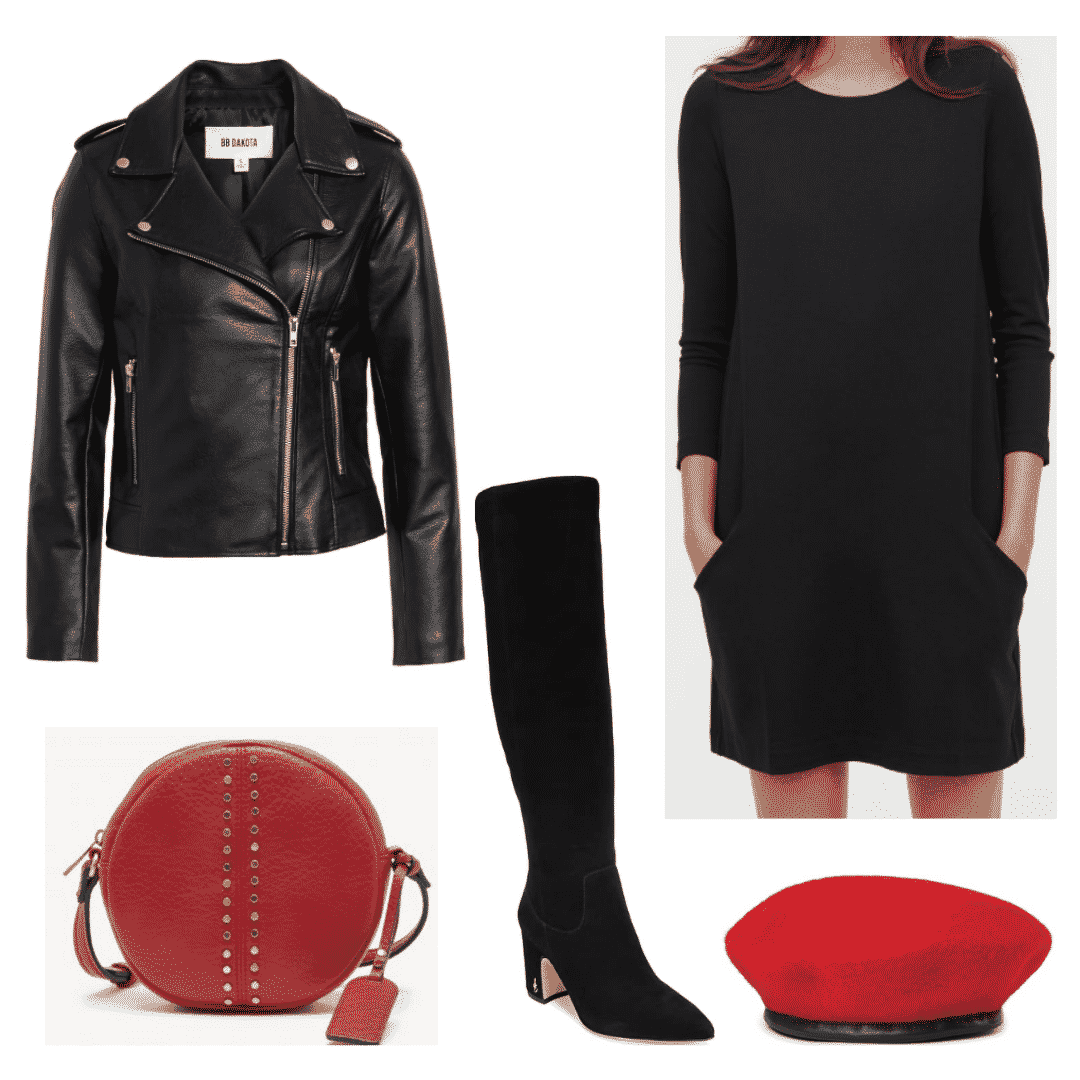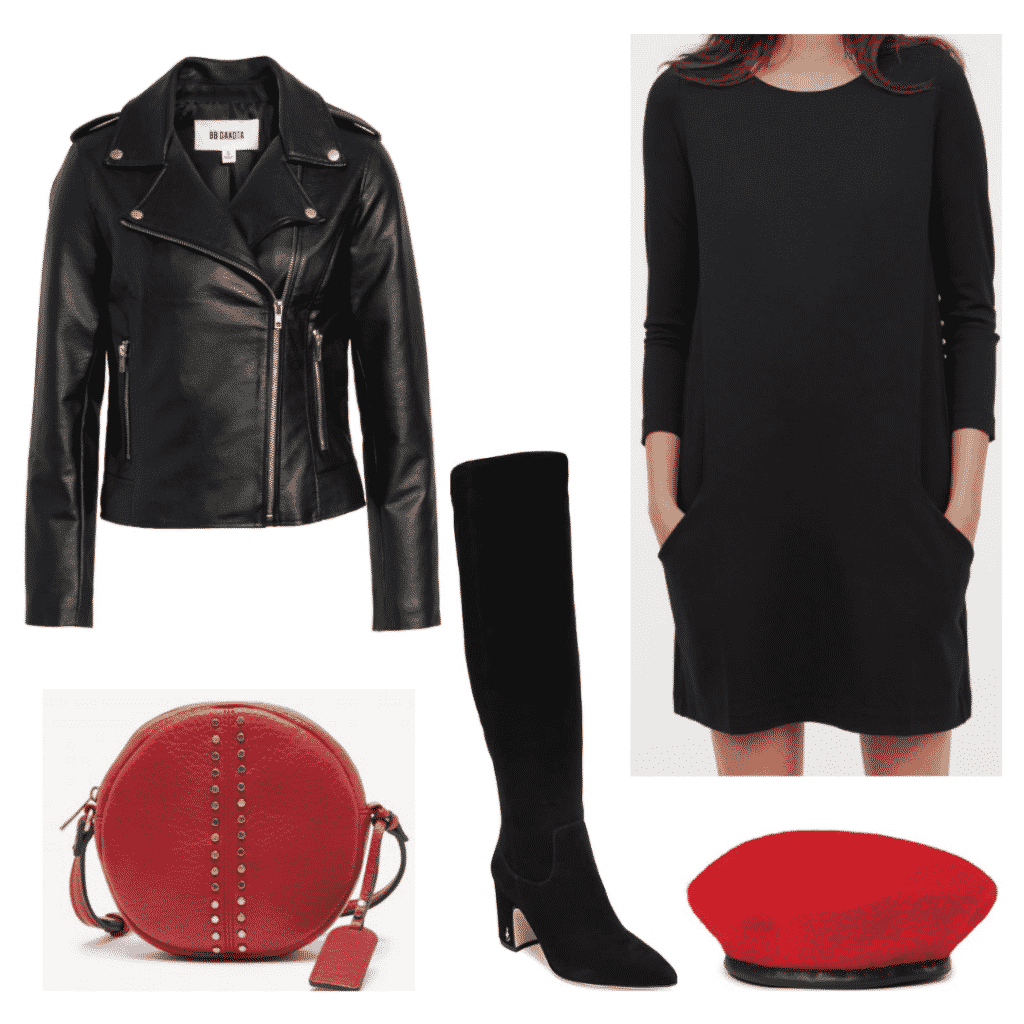 Products: Dress – H&M, Jacket – BB Dakota, Boots – Nordstrom, Bag – Sole Society, Beret – Nordstrom
Since none of us would actually wear a leather catsuit to class (or almost anywhere), I switched Black Widow's signature catsuit for a simple, long-sleeved black dress. Add a black leather jacket to emulate her suit and her badassery.
The knee high boots give the outfit the sleek, elegant vibe Natasha always has around her.
To finish off the look, the red in the cross body leather bag and beret are a nod to her belt and Black Widow moniker.
What do you guys think?
What do you think of Black Widow's style? Are you excited for her solo movie? Which outfit would you wear?