Before this quarantine I worked out on average once a month, so I never really got tired of my one workout routine. But with nothing to do and pent up energy, I've found myself looking for new activities to try out. So today I'm sharing my favorite workouts for women that I recommend you try during quarantine.
While usually working out is at the bottom of my to-do list, lately my to-do list has two things on it: eat and "show up" to my online classes. So it turns out I do, in fact, have time to exercise.
I've actually had a lot of fun trying different at-home workouts and hope it's a habit I can continue after quarantine is over. Also, it's given me an excuse to buy some new workout clothes because "Mom, I need to stay healthy".
Turns out Youtube is full of free online classes on pretty much any activity possible. Here are a few of the ones that consist of minimal equipment and can be done either inside your house or allows for social distancing. Because not all of us have an indoor tennis court like Kylie.
Pilates/Yoga/HIIT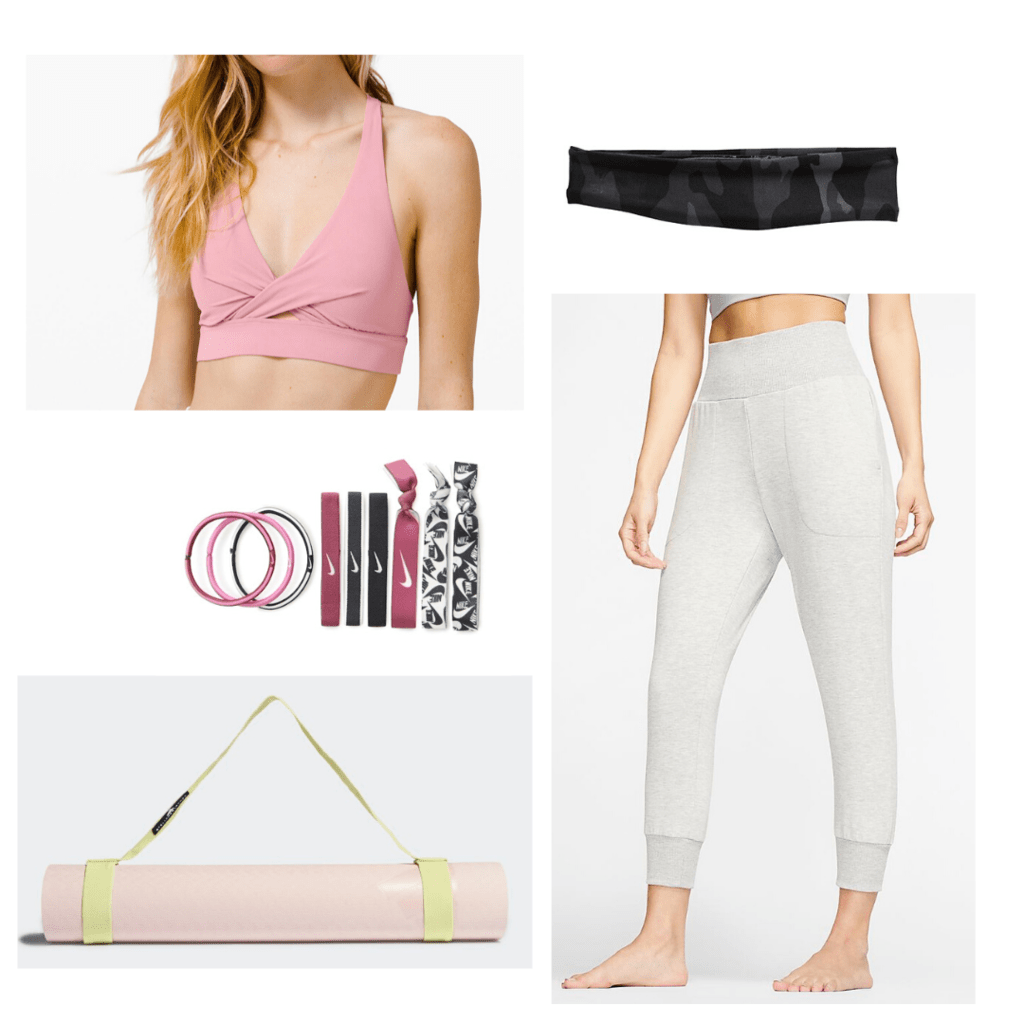 Products: Sports bra – Lululemon, Headband – Athleta, Hair ties – Nike, Yoga pants – Nike, Mat – Adidas
I've got to be honest, I never even thought of taking a yoga class because I didn't see how it was a "real" workout. But listening to my mom follow Yoga with Adriene every day for two weeks inspired me to try it out with her. I'm so glad I did.
Maybe it's Adriene's "Find what feels good" motto but I can't start my day without a yoga routine. It's my new favorite workout for women and I can't recommend it enough.
There are so many 10 minute yoga routines you can do even in between classes. So it's perfect for college students!
What to wear? Of course Lululemon is the reigning champion of yoga clothes, but these Nike pants are also super comfy. This look is also perfect for me to lounge around the house before, during and after my workout.
Barre/Dancing/TikTok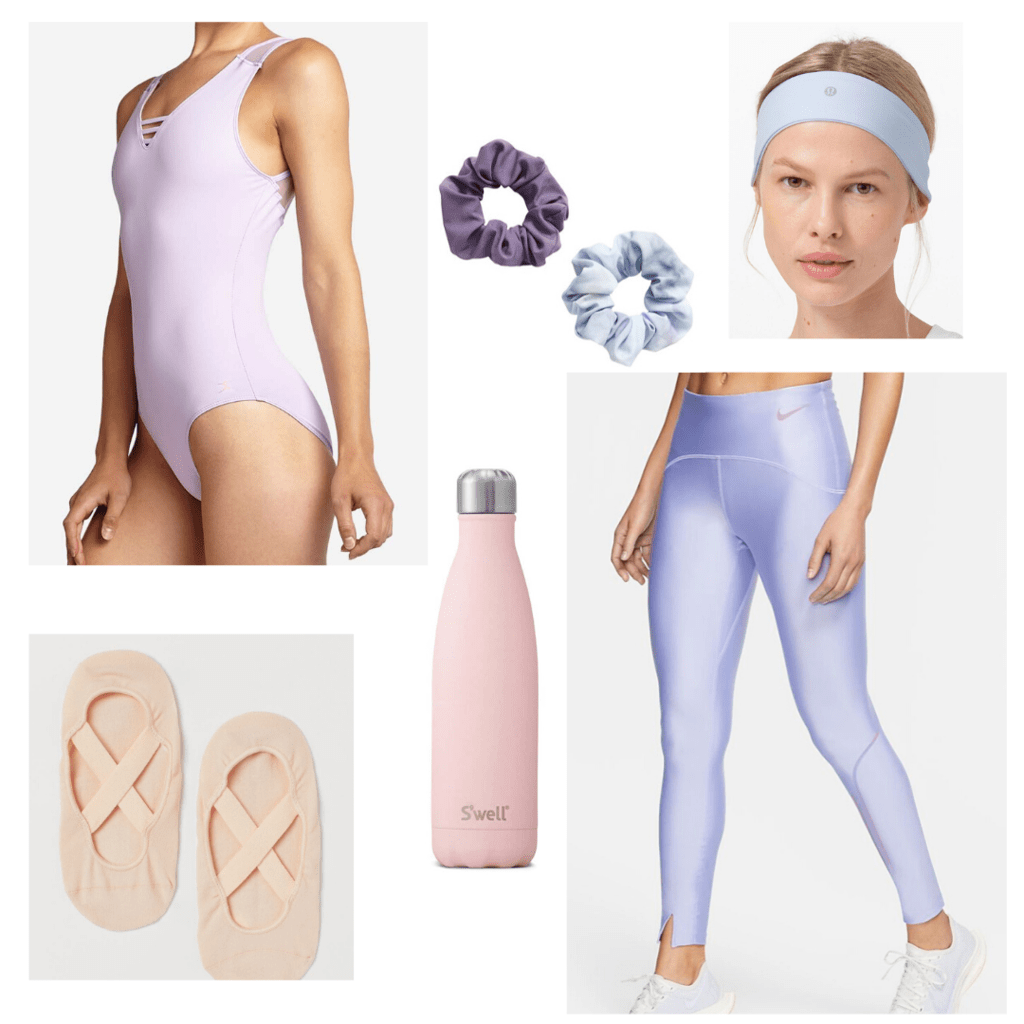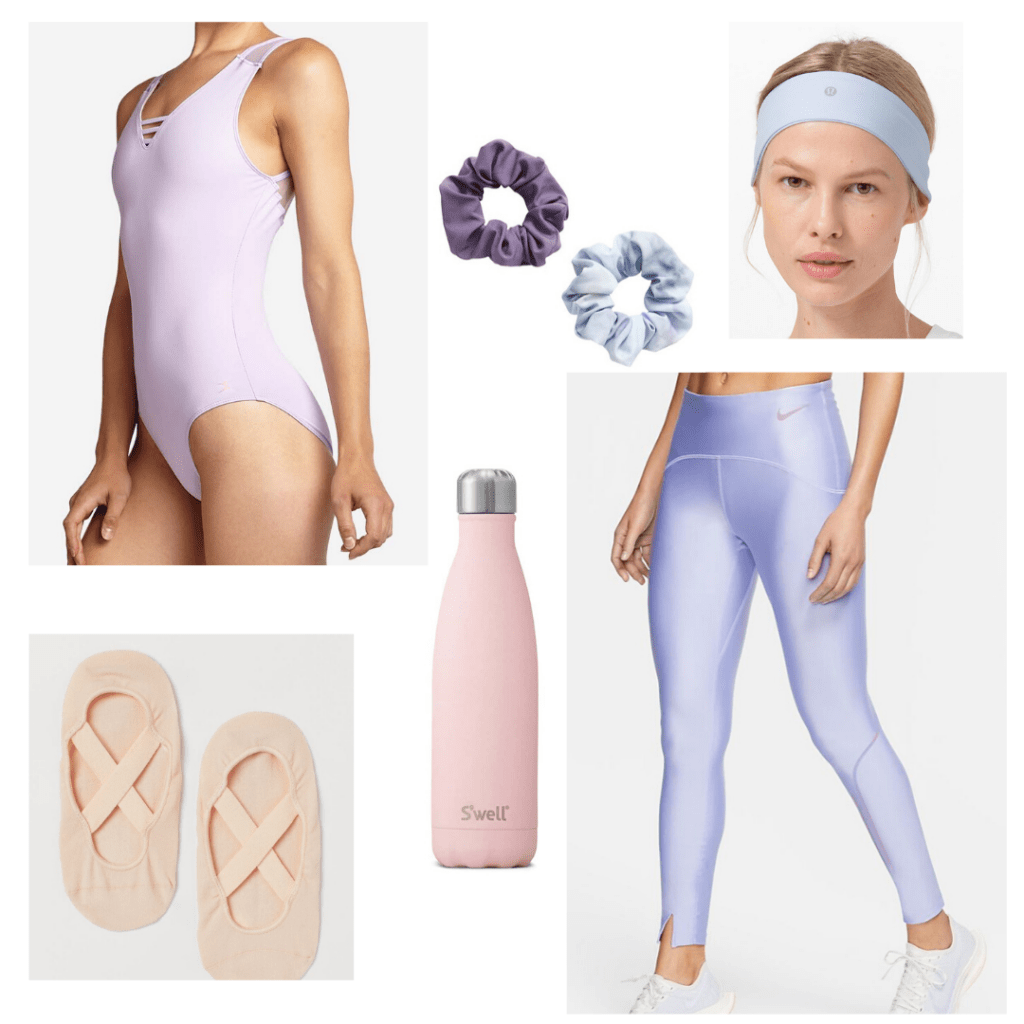 Products: Leotard – Danskin, Scrunchies – Athleta, Headband – Lululemon, Barre socks – H&M, Water bottle – S'well, Leggings – Nike
As a ballerina for the past fifteen years, and aspiring TikTok dancer for the past fifteen days, this is my favorite outfit (and workout) of the bunch.
Dancing is all about flexibility and comfort, plus it's just fun — which is why it's such a popular workout for women. A lot of people go the other way with dancing in terms of using loose clothing. Personally tighter clothing makes it feel like it's a second skin, but in the end it's all about what you feel comfortable dancing in.
Either way, you should wear a full pastel look, why? Well since spring fashion was basically cancelled, I have too channel it somehow. Top off your look with a headband to keep your hair out of the way as you pirouette your way into TikTok stardom. Lastly, don't forget some grip socks to avoid any injuries and a water bottle to keep yourself hydrated.
Running/Walking/Hiking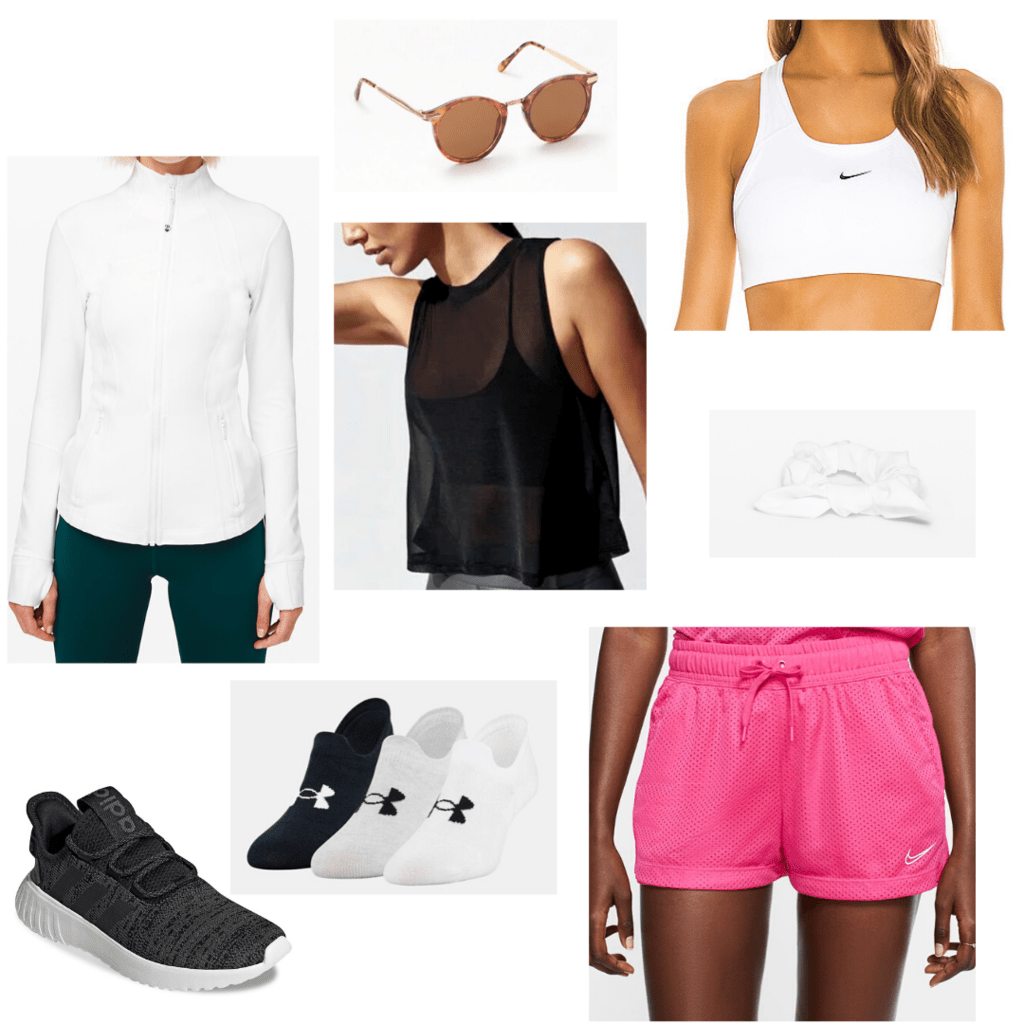 Products: Sunglasses – Pacsun, Sports bra – Nike, Jacket – Lululemon, Top – Carbon38, Scrunchie – Lululemon, Running shoes – Adidas, Socks – Under Armour, Shorts – Nike
If you are in a region where you are allowed to go outside for exercise, I encourage you to do so at least once a week while maintaining social distancing protocols. It's a great way to exercise and get outside and breathe some fresh air. If you can't go out but have access to a treadmill, you can do that instead.
When running I think it's all about support, a supportive sports bra, supportive shoes and a supportive hair tie. I strongly encourage you to wear loose shorts so you aren't bothered while you run.
My personal favorite item is the Lululemon Define jacket. I've convinced all of my friends to invest in one of these because not only are they super comfortable, they keep you cozy and are extremely lightweight.
I'd also encourage you to wear a face mask or cover your face with a bandana or scarf.
Surfing/Swimming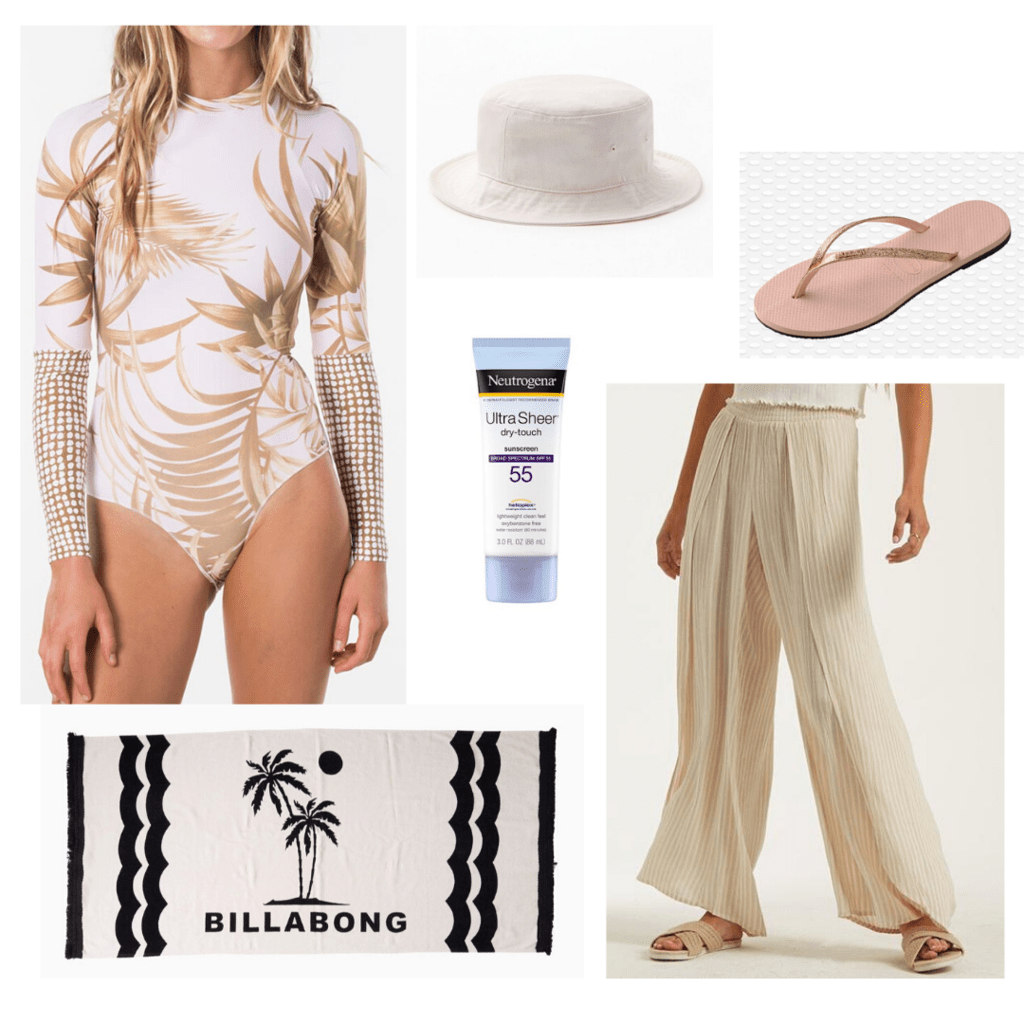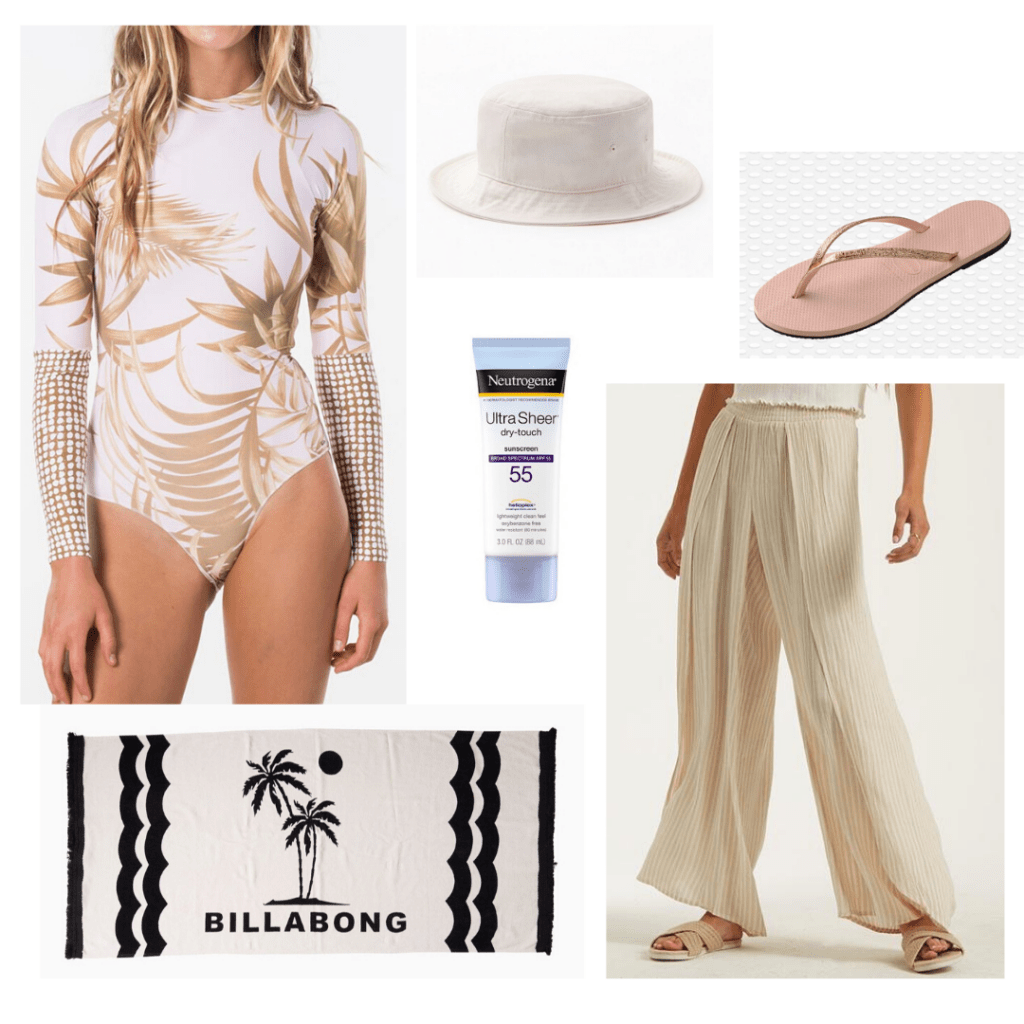 Products: Surf suit – Rip Curl, Hat – Pacsun, Flip flops – Havaianas, Sunblock – Neutrogena, Pants – Billabong, Towel – Billabong
For the few of you who are lucky to live near a body of water, ocean, lake, pool, jacuzzi, that is open to the public, please maintain social distancing protocols. But that's what I love about surfing, get too close and you'll end up hurting each other.
You shouldn't be hanging out on the beach for too long so just take what you need.
These surf suits are perfect for so many water activities and the pants make it a full outfit for your way back home. Don't forget a hat and some sunblock no matter the weather.
These are hard times for us all, and it's easy to get stuck in a funk, but working out is a proven way to boost your mood. If you're doing it at home or outside (while social distancing) give yourself another activity by styling a perfect workout outfit.
What is your favorite quarantine workout?
What do you wear to workout? Did we miss any at home workouts or workouts for women? Whats essentials do you need to stay healthy? Let us know