This post may contain affiliate links, which means we may receive a commission if you purchase through our links. Please
read our full disclosure here
.
Most of us struggle with finding time to get to the gym. I know I do. Not only does the gym get crowded when I'm usually free, it also takes a degree of planning and preparation that can quickly drain my motivation to work out in the first place.
The solution? At-home workouts! Although you may think you need an entire living room or a bunch of home equipment to get a decent workout in, there are so many practices and routines you can do in a dorm room–things that won't break the bank buying gear or upset your downstairs neighbors.
Dorm room workouts are great because you can squeeze them in between studying or hanging out and do them whenever you please; no traveling necessary. Here are a few of the easiest ways to get started:
YouTube: Yoga with Adriene
Yoga is a discipline that incorporates aspects of meditation and physical postures to calm the mind and keep the body healthy. Is it as effective as cardio or weight-training if you're looking for drastic physical results? No, but the health benefits, both physical and mental, of practicing yoga are enough of a reason to get started.
Not only is it stress relieving, but it also improves balance and flexibility. It can even help prevent injury, improve blood circulation, build strength, and boost your energy.
To get started at home, Yoga with Adriene is one of the more popular online yoga channels around. Adriene has been making videos for years, so her back catalog is extensive and handily organized with playlists. She even makes playlists customized for each month, so you don't have to spend a lot of time thinking about what you want to do — just do the next video on the list!
I'm really enjoying her 10-Minute Yoga for Self-Care routine (above) right now. It's short and simple, and really easy to do right before bed or when I first wake up just to really stretch everything out. 
It also works great as a cool down after some more intense cardio, like some of the videos on this list.
The best part? Sometimes her dog is in her videos with her. 
Youtube: Sarah Beth Yoga
Youtube Yoga gurus aren't in short supply, which is great because you can find the perfect one to fit your exercise style. Another Youtube yogi I love is Sarah Beth Yoga.
Sarah Beth's videos are designed to fit into your busy schedule with practices ranging from quick 10-minute sessions to morning detoxes to full-length power yoga classes, designed to make you sweat and tone the body.
Her videos are accompanied by relaxing music, and she keeps her instruction mainly focused on the poses themselves, leaving you plenty of space to relax your thoughts and embrace some quiet time.
She also likes to leave in moments when she falls out of poses, making her instruction even more relatable and fun. There's no pressure to get it all right. Her approach to yoga is inspirational and worth looking into if you want to relax the mind while getting healthier.
YouTube: Adam Rosante
On the complete opposite end of the spectrum is Adam Rosante fitness — nothing low-energy here! His videos are all about getting maximum results in minimal time.
Adam's videos are more cardio-focused, with HIIT (high intensity interval training) but come in shorter bursts so you can squeeze a workout in whenever, or mix and match with other videos. 
My favorite right now is his 7-Minute Cardio Fat Burning Workout, which is quick and dirty. It doesn't come with a cool down, but many of Adriene or Sarah Beth's videos would be a perfect match for stretching out the body after going hard.
He doesn't have any new videos (sad!), but there are still plenty of older videos in a variety of options so you can find what works for you!
YouTube: Blogilates
Perhaps the most famous and celebrated Pilates Youtuber, Cassey Ho, aka Blogilates, posts videos regularly with routines for people of all levels. The inventor of Pop Pilates—a unique way to practice that pairs Pilates workouts with fun, upbeat pop music—Cassey is a legend in the fitness world.
From beginners' workouts for those just getting started to full-length classes and HIIT workouts (which she calls PIIT), the best part about Cassey's videos is that so many of them are equipment free and apartment friendly! This means all you'll need is a yoga mat or a towel and enough free space to lay out. The rest is up to you.
Blogilates has short and long length workout videos for virtually anything you're looking for, from cardio to stretching, even equipment free arm workouts (this was super exciting to me because I literally can't hate lifting weights).
For instance, if noise is a concern for you in your apartment/home/dorm room, then I would highly recommend Blogilates' Silent Death Cardio video:
Specifically designed to give you a high-intensity cardio video without any jumping or running, it's perfect for not waking up roommates or the cranky neighbor downstairs.
Cassey's instructions are pretty straightforward and the music is high-energy and positive, so her videos are a great way to start your day — or turn it around after a long day of classes and work. 
She also has several calendars to help you get started complete with daily workout schedules and healthy recipes to try. You've got to give the Blogilates lifestyle a try if you're looking for an easy-access workout plan you can take with you from the dorm room to wherever you go next.
YouTube: Fitness Marshall
If traditional workouts aren't your thing, then I suggest trying some dance tutorial videos as your workout. My current fave is the Fitness Marshall, which uses current pop music as the backdrop for high-energy, music-fueled dance videos.
Since the videos run the length of one song, these are also quick and easy ways to get your heart rate up, and give you some new moves along the way. They also have a playlist, updated regularly, with a selection of a few songs, to get a full workout.
There are also options for getting more engaged with the workouts, like getting dance tutorials and more information by subscribing to their newsletter.
One of my favorite songs right now is "Without Me" by Halsey, and Fitness Marshall has a video for that (above)!
Youtube: Leilah Isaac Belly Dance
Belly dance, also known as Arabic dance, originated in Egypt and has spread across various regions. Being a professional belly dancer is going to require a lot more training and artistry than practicing in your dorm room; but fortunately, belly dance can be incorporated into workouts for a fun, innovative, and sexy way to exercise and build confidence.
Belly dance requires an incredible amount of strength and flexibility in the core and legs, as well as a great deal of focus to layer together multiple moves. So, it's a fantastic way to simultaneously loosen up from stress and tone your muscles.
If you're looking to give this feminine and artful form of cardio a try, there are instructors online who can help!
Leilah Isaac, professional belly dancer and actress, has a fitness channel where she teaches cardio and toning by combining fitness moves with belly dance.
Great for beginners, Leliah's infectious personality is inspiring and motivating. Even if you've never danced at all before, she has videos for all levels teaching you the basics, encouraging everyone to do their best and just have fun.
The point of her videos isn't to make you a pro dancer but to enjoy yourself and love your body while getting in a good workout. So, don't worry if you're completely new. You'll definitely get stronger and more confident as you follow along with Leilah's amazing tutorials.
Her equipment-free workouts are perfect for doing in a dorm or apartment or with friends and also don't require any specialized workout clothes. However, you may want to pick up a colorful hip scarf or two once you get really into it!
Amazon Prime: Erica Vetra
Going up slightly in the cost tier and fitness level, Amazon Prime has a lot of workout options for people who are subscribers (and students get a discount on Prime!).
These are generally longer videos than the Youtube videos mentioned above, so they're great for when you've built up your fitness level and want to tackle something more difficult.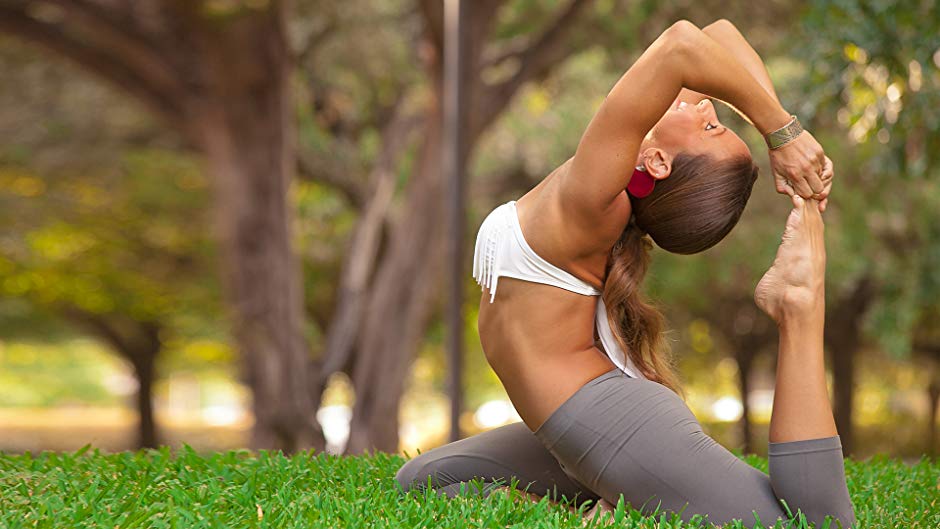 My favorites are the videos by Erica Vetra, in her Weight Loss Yoga Workout series. There are a few different videos, at varying stages of skill and familiarity with yoga poses, but they're all guaranteed to give you a great workout. Like, sore-for-the-next week-great workout.
As mentioned, the run time is a little long, with most videos over an hour long, so sometimes I'll watch half and then skip to the cool down. I highly recommend these if you're trying to work on flexibility, weight loss, breathing, or toning without bulking. 
Bonus: What to Wear When You Work Out at Home
The great thing about these at-home workouts is that they don't require any expensive gear and you can wear whatever you want. That said, I find that wearing some cute workout gear can get me in the right mindset and motivate me to work out harder.
So here are a couple of ideas for cute workout gear you can wear when you work out at home: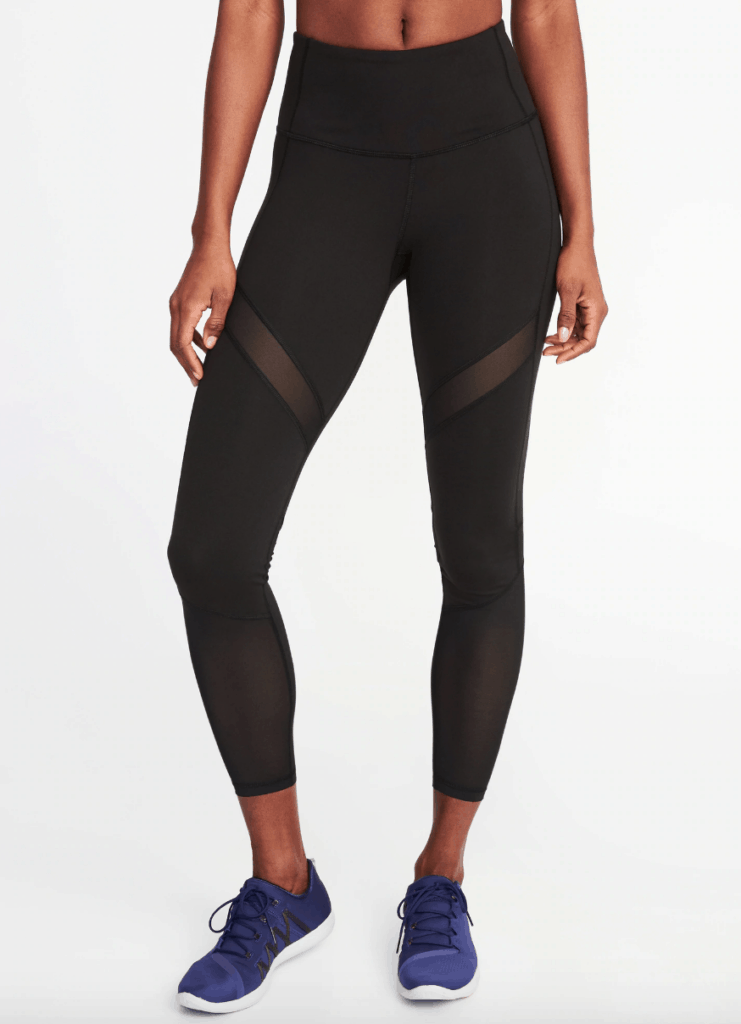 To start, I love to get affordable workout clothes are Old Navy (a favorite amongst me and my friends for leggings) and Target. They're cute and won't break the bank, plus the performance is more than adequate for working out at home.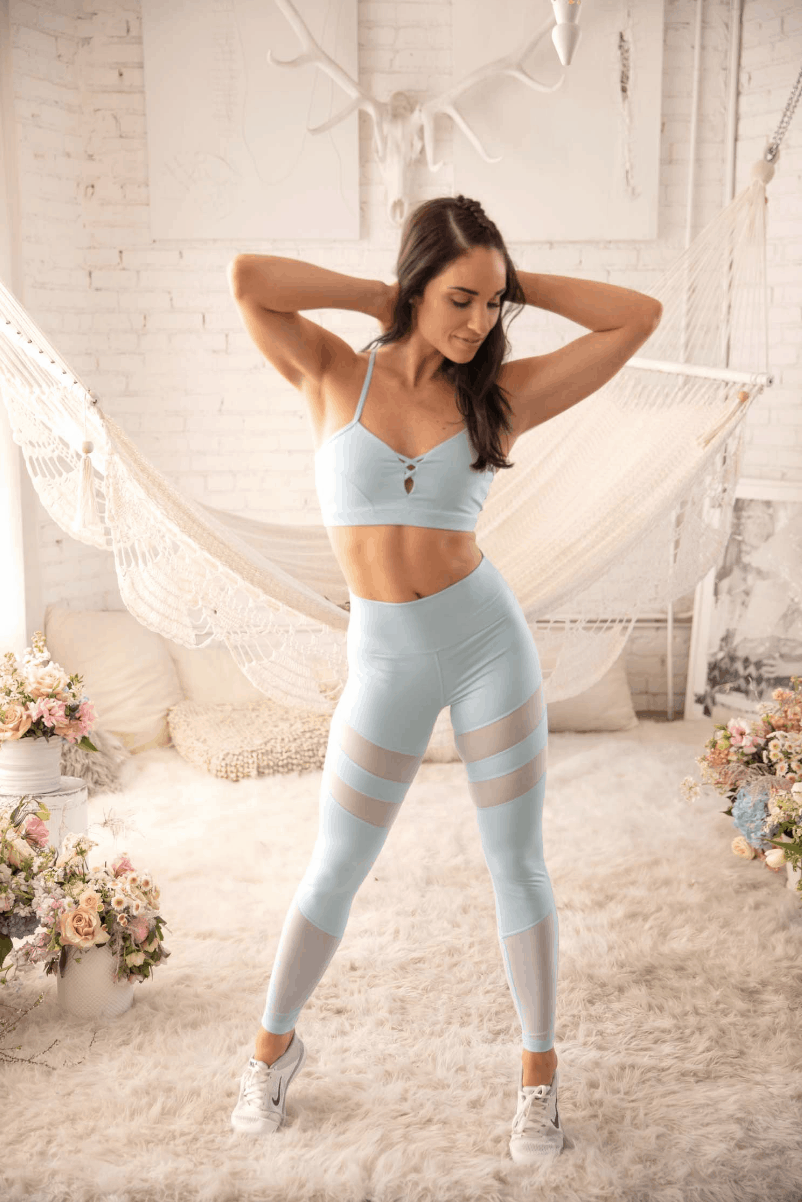 If you want to spend a bit more, Cassey Ho (of the aforementioned Blogilates workouts) has some insanely adorable at home workout gear for sale.
Cassey's online shop sells workout mats, leggings, sports bras, and other active gear that's cute, durable, and bound to inspire you to keep working harder. If you fall in love with Cassey's Pilates training, you'll definitely want to pick up a few.
The options are endless…
Finding ways to get in shape and stay fit doesn't have to be expensive or even time-consuming. There are plenty of options online, and I've only just scratched the surface. Feel free to explore and find what works for you, and then share with us!
What do you like to do for exercise? Do you have any secrets for wellness on the cheap? Let us know!