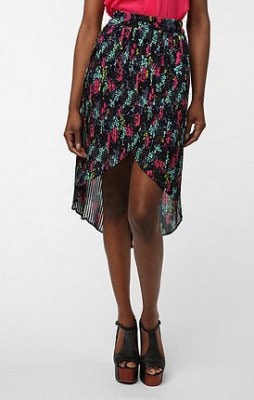 High-low skirts: 1. Urban Outfitters, 2. Forever 21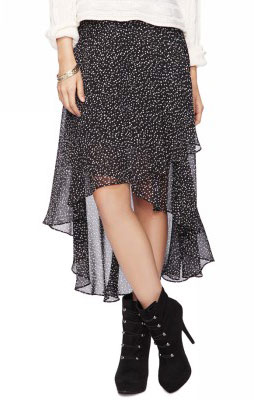 I'll be honest, when I first heard of high-low skirts, I was not exactly interested: I had no idea how to style them, and I thought they looked like they were straight out of a bad hipster tumblr post.
However, I've started to come around. Though the high-low hemline seemed weird to me at first, it's actually perfect for breezy summer weather, and offers a great way to highlight your favorite footwear. If you're like me and are just starting to warm up to this trend, read on, because I'll be showing you how to style a high-low skirt for class and a night out.
Here is my only word of warning: if you want to try out this trend, don't splurge – buy a skirt at Forever 21 or a similar fast fashion store – because I have a feeling these won't have the longest shelf life. Enjoy the trend now, while it lasts!
High-Low Skirt: Class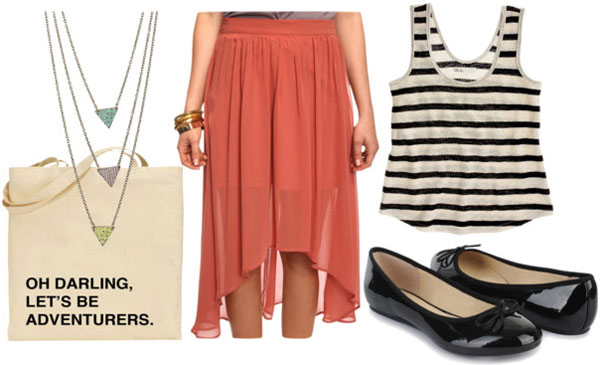 Skirt, Tank, Flats, Bag, Necklace
For class, play up the boho feel of the skirt by pairing it with a loose knit striped tank. This creates a casual, interesting look that is still class-appropriate. To make the outfit a bit more polished, pair it with black ballet flats and a classic beige tote. Finish the outfit with a cool, layered geometric necklace to create contrast.
High-Low Skirt: Night Out
Skirt, Tank, Wedges, Clutch, Earrings
It might sound weird to pair just a simple gray tank with your skirt for night, but simplicity and structure on top is necessary to balance out the skirt and make sure the focus stays on it. Dress the look up a little more with black platform wedges and simple but elegant silver earrings. Add a pop of color with a bright aqua clutch and you're ready to go!
What do you think?
Would you wear a high-low skirt? Do you have one? How do you style it? Let me know what you think of the outfits in the comments; I'd love to hear your thoughts!