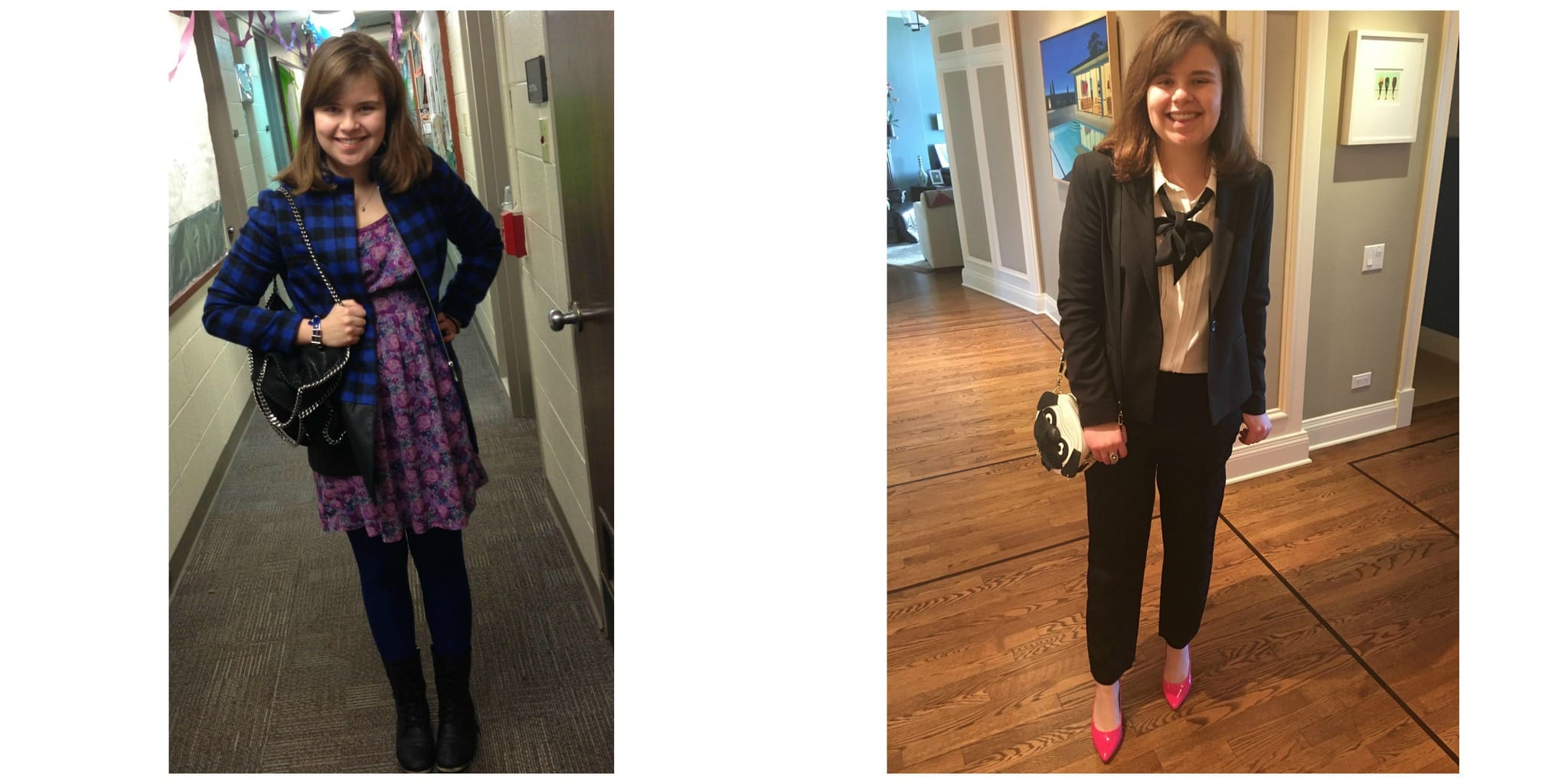 Four years ago, I entered college with a suitcase stuffed with clothes and a newly acquired "Best Dressed" high school superlative title. In many ways, my current style and personality are not that different from what they were in 2013. Mixed prints, a fit-and-flare floral dress with combat boots, my prized Stella McCartney bag–yep, I'd definitely still wear that outfit on the left today.
Yet I've come a long way, and there are little stories hidden in both of the looks above.
I vividly remember picking out that freshman year look. The night before, I'd confessed my unrequited feelings to a guy friend. I knew I needed to face the next day with the confidence that could only come from the most unapologetically me outfit imaginable, complete with my then-favorite dress. Though you can't tell from the pic, the bracelet on my wrist reads "fearless," which about sums it up. This grainy iPhone picture taken hastily by my hallmate marks a moment in time when I decided that I wasn't going to let things embarrass me anymore, especially when they had to do with my true feelings.
That's one of my greatest lessons learned in college, right up there with intersectional feminism.
Meanwhile, the picture on the right, taken this past winter break, represents where I am right now, both mentally and sartorially. This is what I wore to go see "Hamilton," which I would not have been interested in were it not for the influence of my brilliant college BFF. I chose this picture to be published in the college archives alongside my thesis, the essay I've poured my soul into over the past year.
Fun fact: The top I'm wearing was originally part of my Blair Waldorf Halloween costume from junior year. What would my style be today if I hadn't binged on the inspirational Gossip Girl when I was a sophomore? Anyone's guess.
Most importantly, my "now" outfit shows how my style has become more adult and more polished, but how I haven't veered from my love of fun, quirky, and personal details (a.k.a, will never say no to a pug purse). So in many ways, this look represents my journey over the past four years.
The way I dress has become inextricable from who, and where, I am at a given time. Now that I've graduated, here's how I believe college has influenced my style.
How My Style Has Changed in College, 1: The Little Things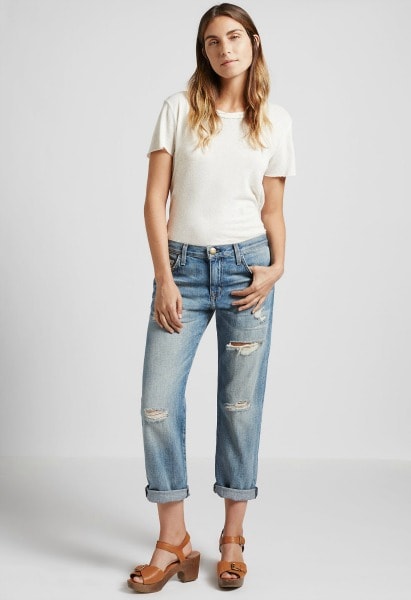 The most obvious elements of my college style evolution are the tangible ones — what I've started wearing more and less of.
While I'm still a sucker for statement accessories, as I've gotten older I've found myself wearing my simple hoop earrings or my less colorful bags most of the time.
Don't get me wrong, my outfits are still bold, but I've started to strike a different balance between wild and classic. Some days it's still about the huge earrings or leopard shoes, but I also feel more like myself in straight-leg jeans and a cool top than I ever thought I would (yeah, that's simple for me).
Some of my favorite clothes and looks are things high school me would never have worn. Think graphic pullover sweatshirts, chunky slide sandals, shirtdresses over jeans, sweaters over slipdresses, red lipstick. While I still love my old "uniform" of a dress and boots, I'm just as likely to be seen in a half-tucked blouse and boyfriend jeans. Just this year, I've been getting really into creative layering, like wearing crop tops over or under other shirts.
I hope my style will never stop evolving, which is why I want to record what I'm into right now.
My college-and-immediate post-grad style is a product of myriad influences: Man Repeller, 1989-era Taylor Swift, Nordstrom mannequins, Rihanna, Glamour magazine, Emmas Stone and Watson, Christian Siriano's bridal collection, TV heroines ranging from Aria Montgomery to Norma Bates. And I feel like I've learned just as much studying all of those cultural influences as I have in my academic work.
How My Style Has Changed in College, 2: How Fashion Feels
So how has being in college changed my style? I think it comes down to three things: practicality, mood, and maturity.
First, practicality. I simply had more free time and fewer responsibilities in high school, so every little addition to my to-do list didn't feel huge. In college, I still laid out my outfits the night before and put just as much thought into them, but I began relying on favorite, more basic accessories due to my limited time and storage space.
Practical concerns, like more walking between classes, also caused me to opt for lower heels and discover that comfy options, like loose dresses or sweatshirts, could be just as stylish as their more tailored counterparts.
My mood in college was also very different than in high school. Days seemed more stressful, and I needed the mood boost that comes with great style more than ever. My plans could have been objectively blah–a rainy day full of classes and meetings–but my outfit never was. Having an exam called for fuchsia lipstick or embellished jeans. When I loved my outfit, I was able to strut, not slouch, into a morning class.
Finally, maturity. I always want my style to get better and better, especially as I grow into whoever it is I am supposed to become. I've started to think of myself as a grown woman. For me, that doesn't mean that I stop wearing dresses emblazoned with cats, but rather that I continue to emphasize the relationship between fashion and empowerment. I feel like just as much of a femme fatale in my sexiest dress and highest heels as I do in a cutesy pastel midi skirt–it just depends on the day.
Being a friend, a leader, a college student, a family member, and an aspiring fashion editor all at once has made me realize that every different role I play is equally a part of who I am, and I think my style has come to reflect that.
How My Style Has Changed in College, 3: Writing About It All
Of course, one thing that made my experience with both college and fashion special was writing for CF for the past three years. I still remember the day I heard I got the job. I had finished all my freshman year finals and was coming back from the gym. I pumped my sweaty fist in the air and did a little happy dance in the parking lot behind my dorm when I saw the email pop up on my phone. Freshman year was a crazy, emotional, fun blur, and finishing it with a new job at CF was like a sign that the rest of college was gonna be okay, too.
There's no question that writing about fashion every week has influenced my personal style. Keeping on top of trends and street style is not only what I love, it's my job. I still can't believe that people want read my ramblings about my latest style obsessions. And having to actually put my aesthetic into words has made me way more in touch with what my style is and what I want it to be.
And don't worry–this isn't goodbye. I'm still going to be writing for College Fashion. But now that I've graduated, I just had to thank you guys for going on this crazy, stylish journey with me.
What do you think?
Do you feel like being in college has changed the way you dress, or think about fashion? What has your style evolution been like? What inspires you right now? Let me know in the comments!