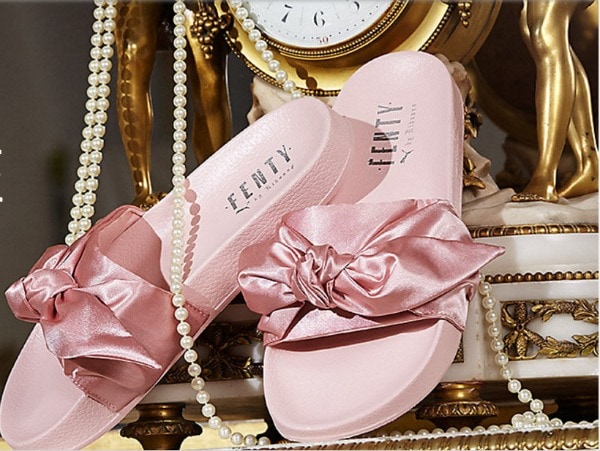 When flat slide sandals–also known by such appealing-sounding names as "pool slides" or "ugly flats"–started becoming popular last spring, I was skeptical. Why would I choose to wear something that looks so clunky and unfeminine? That seems to be the antithesis of fashion, not the height of it?
But slowly, I was convinced, by everything from fashion blogs to Rihanna's fuzzy and bow-embellished takes for Puma to finding my own super comfy pair in the Target shoe department.
I am now not merely on board, but obsessed with slides, and I will tell you why. It is precisely because the style had been previously deemed sloppy that they seem so fabulous. The contrast they create with dressy pieces makes an outfit so interesting, much more so than basic flats or flip flops.
And now that they're so trendy, you can even find pairs that embrace this contradiction between grungy and girly, like slides embellished with pearls, rhinestones, or flowers. These days, slides are everywhere, in a myriad of styles and price points. To get you set for summer, I've rounded up ten fabulous pairs, all under $100. Slide on.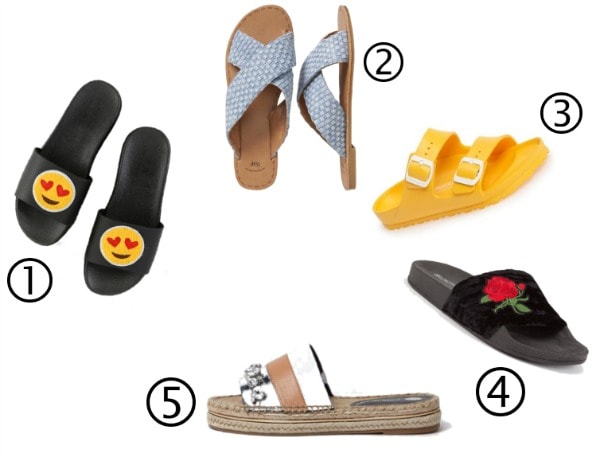 Product info: 1. Make Me Chic, 2. Gap Factory, 3. Nordstrom, 4. Tilly's, 5. River Island.
1. These heart-eyes slides have been on my wishlist for a while. They will be the stars of every tee and shorts ensemble you rock this summer, and would also be to-die-for with comfy black jumpsuit. The emoji appliqué perfectly captures my feelings for this pair, especially since they're just $22.
2. Every summer, I end up with one pair of sandals that I throw on with basically everything. You need something you can just slip on and go anywhere, be it a picnic or an air-conditioned movie theater. This summer, these babies fit the bill. They're trendy but in the most effortless of ways.
3. I never thought I'd say this, but I've found a pair of Birkenstocks that I actually like. Scratch that — love. And not just because they're vegetarian-friendly, unlike their classic counterparts. These chunky rubber sandals come in seven poppy hues that put an instant smile on your face.
4. These bold slides combine three trends in one: slip-on sandals, velvet, and fun appliqués. Play up their of-the-moment vibe by pairing them with something equally cool, like a black-and-white striped pair of pants. Of course, they would also look awesome with jeans and a basic tee.
5. These River Island espadrille slides are so chic and glamorous! Wearing them will make you feel like you're on a luxe vacay, even if you're just hitting your local farmer's market. While you can totally wear them casually, with the rhinestone embellishment, they're jazzy enough to wear to a party.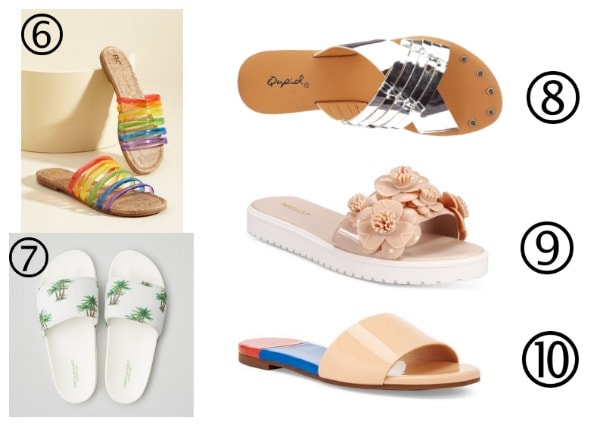 Product info: 6. Modcloth, 7. American Eagle, 8. Charlotte Russe, 9. Macy's, 10. Lord & Taylor.
6. These strappy rainbow slides scream fun, and will complement pretty much everything in your closet. In particular, I bet they'd be a match made in heaven with your fave floral dress.
7. These rubber palm tree slides were made for the beach or the pool, but they work for everyday, too. They'd pair as well with denim as they would a cool one-piece. Oh, and they're under $10. Really.
8. Silver sandals go with everything. The chunky straps and slide shape give these some edge, and I'd love to see them with dark colors, studs, or bold prints that play up that vibe. Yet I can also picture them with a girly pink sundress, so the possibilities are endless.
9. The lug-sole bottom and 3-D floral appliqués of these Nine West sandals make them look so high-fashion, but the nude shade means you can rock them with anything. Particularly perfect styling ideas? A white jumpsuit or a floral midi dress.
10. Even if you can't get your paws on a pair of Fenty Pumas, you can still snag some fab slides designed by a pop star. These slides from Katy Perry's quirky shoe line are versatile but fun. The colorblocking and patent texture give them a slightly retro vibe, but they will finish any outfit in a sleek and modern way — including daisy dukes, bikini on top.
What do you think?
Are you digging the slide trend? Which of these picks is your fave? How would you style them? Let me know in the comments!