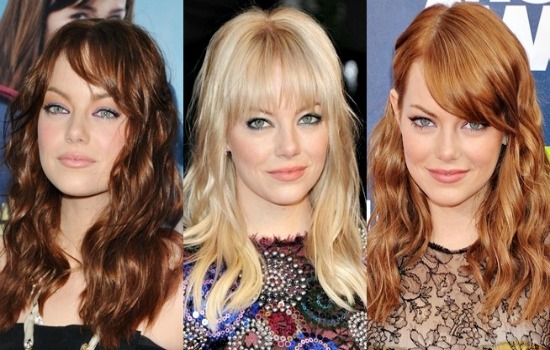 Photo Credit: ELLE
Allow me to state the obvious: Emma Stone is a fashion queen and Hollywood it-girl. She is my favorite actress; not only because of her talent, intelligence and bold personality, but also the way her killer style reflects these traits. When she walks onto a red carpet, she never looks boring. She experiments with different colors, patterns, designers, and hair and makeup looks.
While I could go on and on about how awesome she is, I'll cut to the chase – Emma is a fantastic source of style inspiration for young women because, although she pays attention to trends, she always wears them in her own unique way and simply radiates confidence.
If, like me, you have ever seen a picture of her on the red carpet that has caused your jaw to drop and drool to start falling out of the corner of your mouth, this guide is for you. While Emma's looks are unique and generally super-pricey, you can totally incorporate elements of her style into your day-to-day look without breaking the bank.
Of course, as Emma knows, style is personal, so while these looks are ways to imitate her style, I encourage you to choose the elements that inspire you most and add your own spin to them! Read on to see ensembles inspired by three of Emma's best red carpet looks:
1. Yellow Versace Gown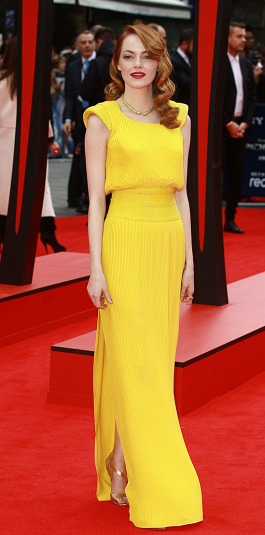 Photo: ELLE
Yellow is such an "it" color right now, and wearing even the simplest piece in this bright hue is sure to brighten your mood and make you stand out in a crowd. Never a wallflower, Emma rocked this cool shade at one of her Amazing Spider-Man 2 premieres.
Gold shoes are dressy but keep the attention on the boldly-hued dress, while cool jewelry, like a collar necklace and cocktail ring, add edge to the potentially casual color and classic shape. A pop of red lipstick is really unexpected and works well with Emma's hair color (the lipstick in the set is my personal go-to red – Bare Minerals rocks!).
This look can inspire you to wear yellow in all kinds of ways and for all kinds of occasions. Choose a bright yellow sundress or romper for a casual summer day, or add a yellow statement necklace to pop against your favorite tee and jeans.
The outfit below is a slightly more casual take on Emma's black-tie look, and is perfect for a dressy brunch with the girls or a festive summer party. Lose the choker and lipstick and wear it shopping or to class!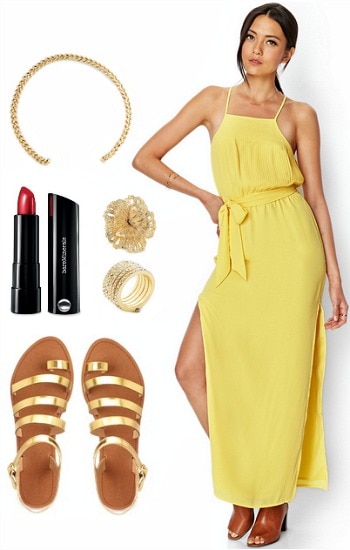 Product Information: Dress–Forever 21, Sandals–Forever 21, Necklace–BCBGMAXAZRIA, Flower ring–Stella & Dot, Stack rings–GILT, Lipstick–Bare Minerals.
2. Dolce & Gabbana Floral Dress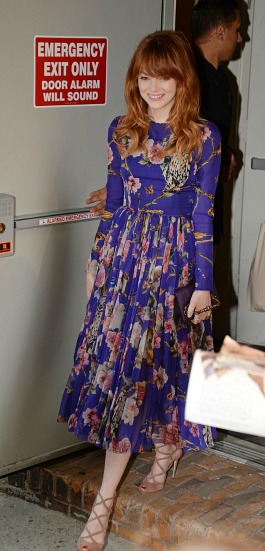 Photo Courtesy of Pacific Coast News
Emma rocked this look just a few weeks ago to a premiere, and the gorgeous purple hue, long sleeves, and midi length all make for a fresh (and formal) take on a go-to floral dress.
Emma did it right with minimal jewelry and bold-but-neutral shoes. The strappy heels make the classic, conservative silhouette modern and sexy, and the gemstone earrings are just plain pretty. A rhinestone ring adds a little more sparkle, while medium pink lipstick fits with the girly look without stealing attention. I also love that she wore her hair down, as it makes the dress feel even fresher and more romantic.
Use this look as inspiration for an early fall dinner date outfit. The long sleeves keep you from getting chilly and show that you're not one to go with the usual spaghetti-strap-bandage-dress crowd. These shoes and bright studs are fun and very similar to Emma's, but cost a fraction of the price.
This dress is super-versatile, and you could also rock it with a belt or moto vest, as well as boots, Converse, or simple pumps. If what caught your eye about Emma's dress wasn't the long sleeves but the long length, check out these similar-yet-affordable maxi dress options from Dorothy Perkins and Mango.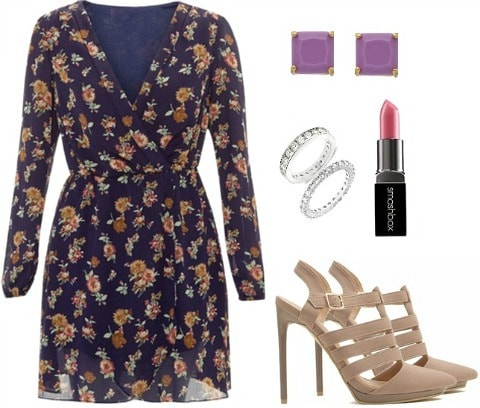 Product Information: Dress–New Look, Shoes–Go Jane, Earrings–Max & Chloe, Rings (from top)–Macy's, Lord & Taylor, Lipstick–Smashbox.
3. Embellished Erdem Ensemble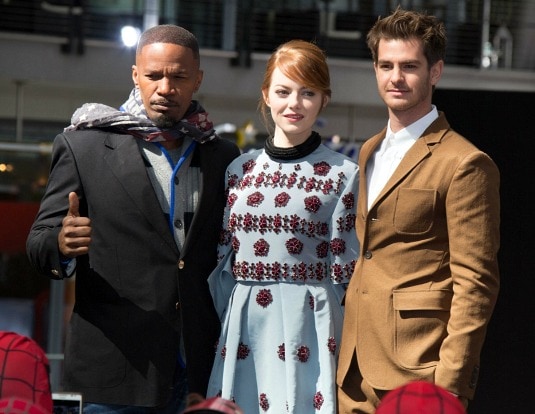 Photo Courtesy of Pacific Coast News
I'm not really sure there are words in the English language to describe the perfection of this Erdem getup. It's possibly my all-time favorite look that Emma has worn. (Here's another look at this ensemble.)
It combines so many hot trends: jewel embellishments, pastel hues, collars, and capes. Since Emma kept her hair polished and her accessories and shoes minimal and sleek, the overall look is elegant and chic rather than over-the-top.
While it's not an exact replica, if you love Emma's designer look, you'll adore the Dorothy Perkins dress below. It features many of the same elements: it's a gorgeous solid blue and has rhinestone embellishments, a collar, and a pleated skirt.
Personally, I think the best way to wear this amazing dress would be by itself with metallic sandals and a maybe a sparkly bracelet and clutch. However, if you want to work in even more elements of Emma's ensemble, you could throw a neutral capelet or cape-sleeve blazer on over the dress (worn open to show off the dress, of course) and minimalist black pumps.
While transparent, silver, or white gem jewelry matches the dress best, if you love the color of the Erdem number's rhinestones, you could give them a little nod with some faux ruby earrings. No matter how you choose to style it, you'll look bold and fashion-forward!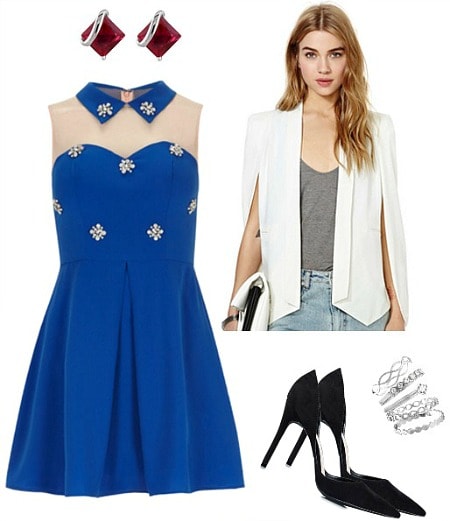 Product Information: Dress–Dorothy Perkins, Cape–NastyGal, Shoes–Nelly, Earrings–Overstock, Rings–Accessorize.
What do you think?
What do you think of Emma Stone and her style? Which of her red carpet looks is your favorite? Would you try any of these looks in real life? Do her outfits inspire you in other ways? I'd love to hear your take, so let me know in the comments!