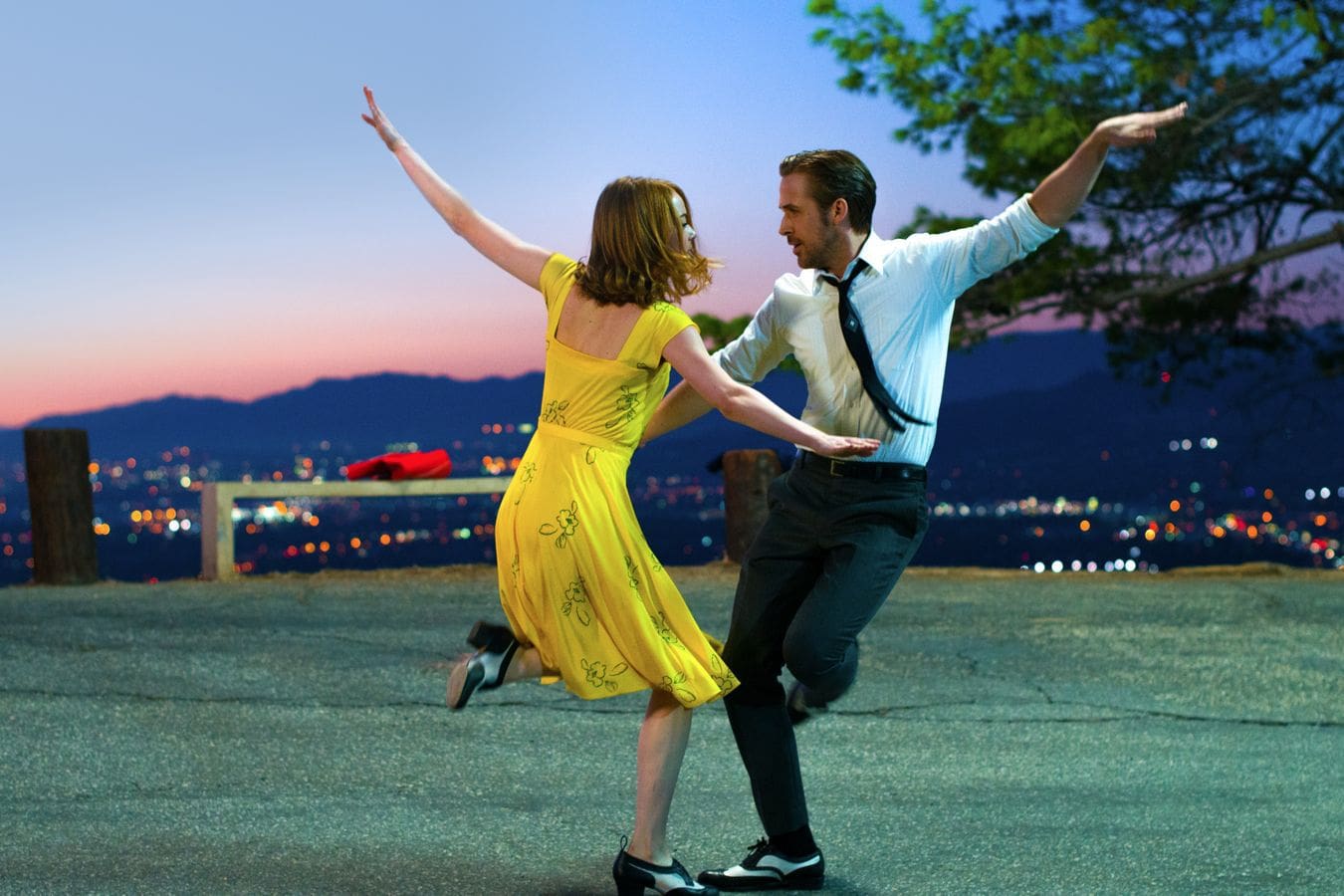 I can't remember a new (non-franchise) movie in recent history that has gained the kind of crazed fan-following La La Land already has. I mean, it was normal for everyone and their mother to go see Rogue One, the latest Marvel movie, or the latest Disney release, but it's so awesome to see everyone going nuts for a previously-unknown romantic movie musical.
La La Land follows the story of Mia, an aspiring actress, and Sebastian, an aspiring pianist, as they find love and chase their dreams in modern Los Angeles. The plot is simple but lovely, and is made interesting by cinematography that pays homage to movie musicals of the past, wonderful acting by Emma Stone and Ryan Gosling, and an ending that will literally make you weep. The movie is successful in part for its accurate depiction of the grind faced by struggling performers, but also for its relatable treatment of the struggle to balance love and career.
One of my favorite parts of this movie was the amazing original soundtrack (seriously, go listen to the album. So. Good.), so today's outfit sets are inspired by some of my favorite songs from La La Land. Spoilers not included. But seriously, if you haven't seen it yet, just go watch the movie. You'll thank me later.
Someone in the Crowd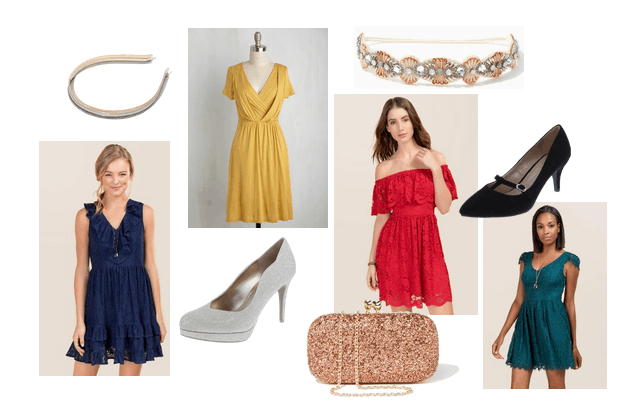 Products: Headband Set – Charming Charlie, Blue Dress – Francesca's, Silver Heels – Payless, Yellow Dress – ModCloth, Red Dress – Francesca's, Gold Headband – Charming Charlie, Rose Gold Clutch – Charming Charlie, Black Heels – Payless, Green Dress – Francesca's
This song takes place when Mia's roommates are trying to convince her to go to a big Hollywood party (which, as actors, is really just a networking opportunity). It's a super cute getting-ready song, and the primary-color palette of the four girls' dresses is adorable and the easiest thing ever to imitate. For a cute date-night look, pick a simple dress in a fun, bright hue, then accessorize with lots of sparkle – try this rose gold clutch, champagne-colored heels, or a gold glittery headband.
City of Stars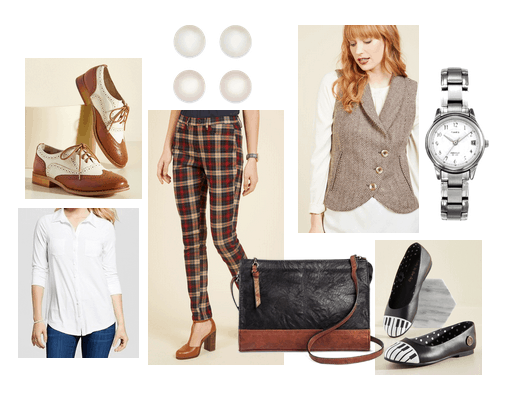 Products: Oxfords – ModCloth, White Button-Down – Target, Earrings – Forever 21, Pants – ModCloth, Bag – Target, Vest – ModCloth, Watch – Target, Piano Key Flats – ModCloth
"City of Stars" is Ryan Gosling's – Sebastian's – solo number from the movie, and is a pretty good representation of the theme of the movie as a whole. For this look, I busted out all the menswear I could find, inspired partly by Sebastian's "cool pianist" vibe and partly by the fact that I will never let menswear die.
Try sleek, tailored silhouettes, and interesting statement pieces for a vintage-y, masculine aesthetic inspired by La La Land's brooding, jazz-loving, pianist. I love these plaid pants, especially when paired with a simple white button-down and a taupe vest. For accessories, I recommend a plain metallic watch in silver or gold, pearl earrings, a bag big enough to fit your sheet music, and brown oxfords. Or, if you want your allusion to Sebastian to be a little less subtle, just wear the piano keys right on your feet with these flats!
The Fools Who Dream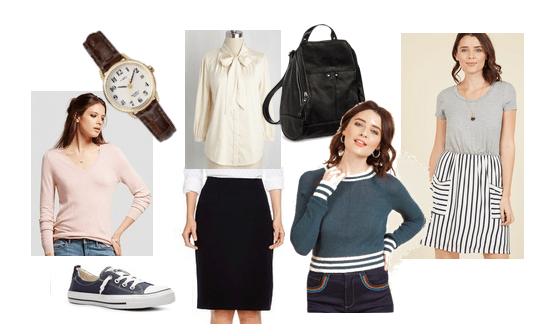 Products: Watch – Target, Pink Sweater – Target, Converse – DSW , White Blouse – ModCloth, Pencil Skirt – Target, Backpack – Target, Teal Sweater – ModCloth, Dress – ModCloth
If you haven't seen the movie yet, you might recognize the achingly sweet "The Fools Who Dream" from the La La Land trailers. Emma Stone's character Mia wants nothing more than to be a successful actress, but finds herself trapped in the L.A. purgatory of failed auditions, coffee shop employment, and loss of confidence.
However, Mia manages to look totally awesome and put-together through all of her setbacks, so this look is inspired by her casual wardrobe and perfect for either work or pursuing your dream job. For a more laid-back approach, try cozy sweaters, anything with stripes, cotton dresses, and Converse. For a more interview/audition-ready look, pair a sophisticated black pencil skirt with a cream blouse for a tried-and-true professional-girl look!
What do you think?
Have you seen La La Land yet? What was your favorite part? And if you haven't, why are you still reading this and not at a movie theater?