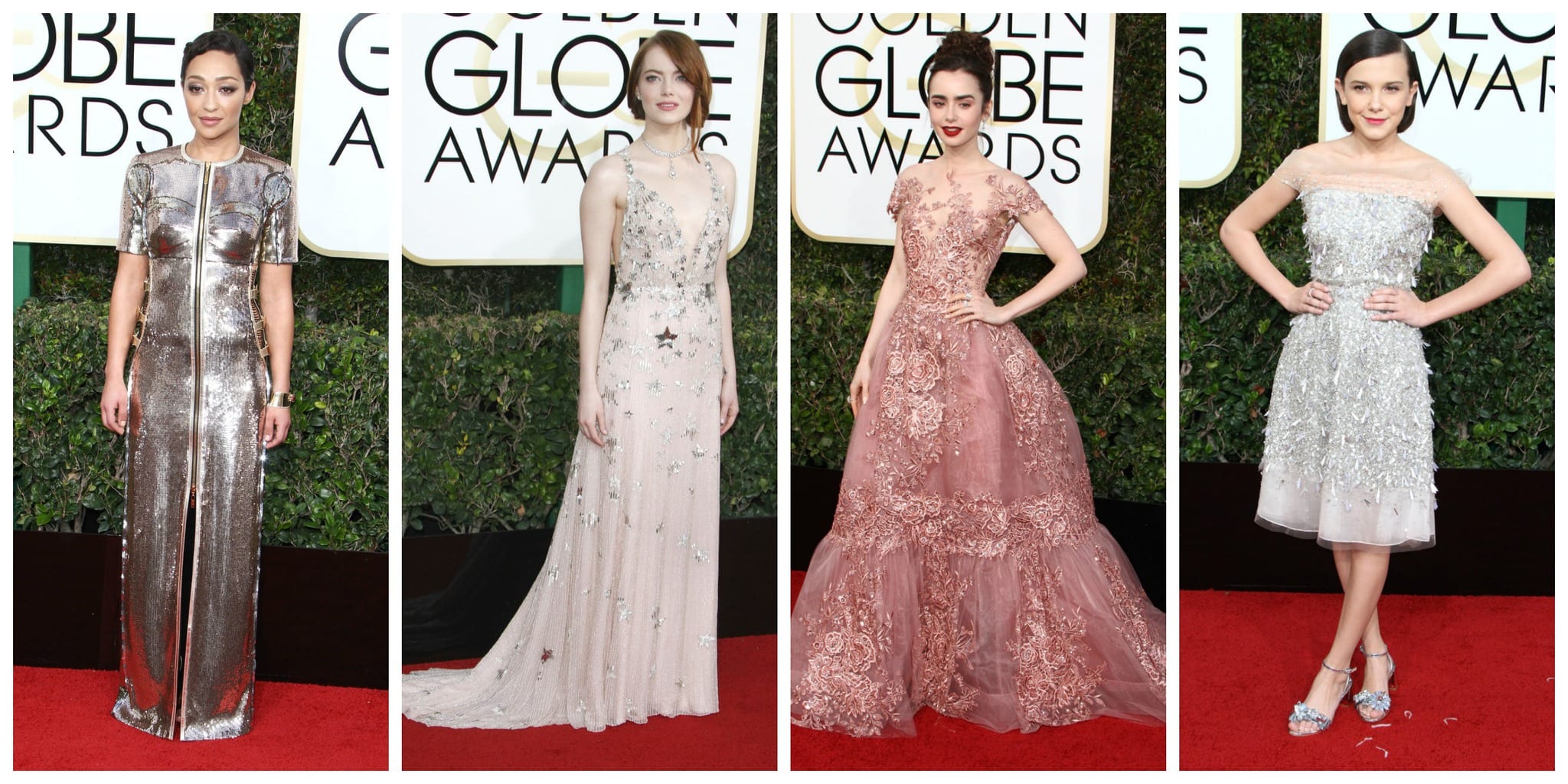 It's finally here! 2017 awards season began last night with the 2017 Golden Globe Awards. If you follow us on Twitter, you know that we were watching the red carpet arrivals with rapt attention. There was SO much good fashion this year – it was truly a night to remember.
So let's get into it. Below, I'll share my personal fashion faves from last night.
Top 5 Best Dressed
It was so difficult to pick just five looks this year! There were so many ensembles to love at the 2017 Golden Globes. However, I narrowed it down to my five best dressed picks:
Lily Collins in Zuhair Murad Couture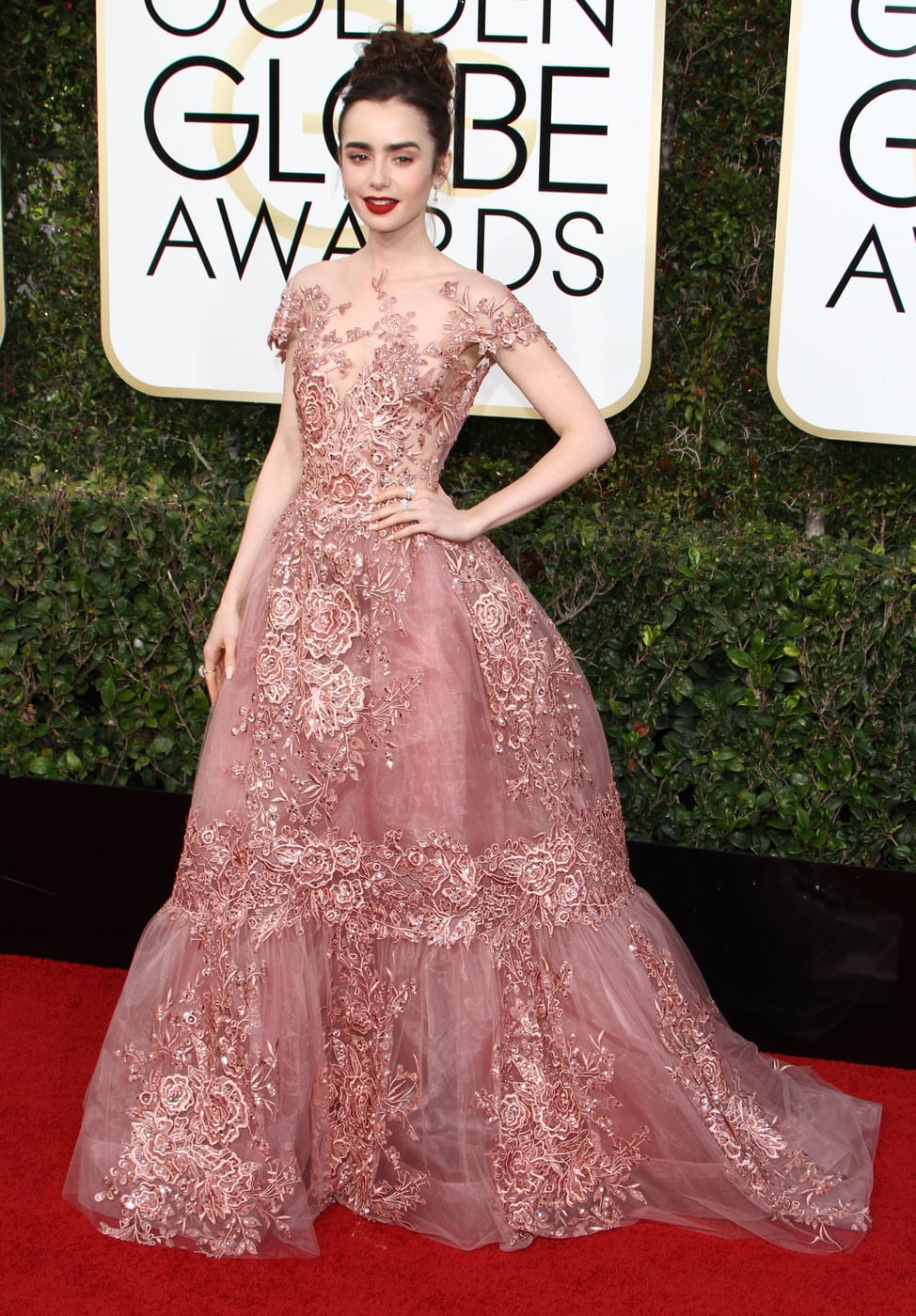 Lily Collins looked like a real-life Disney princess (I feel like we say that a lot, but it's true!) in a shimmering blush Zuhair Murad gown with floral embellishments and an illusion neckline. She accessorized with Harry Winston jewels and finished her look with a deep red lip.
I love how Lily went completely against the trends of the night (low-cut, black sequins) and wore something that set her apart. This princess-y look is so well suited to her style vibe. There's nothing I don't love about it!
Emma Stone in Valentino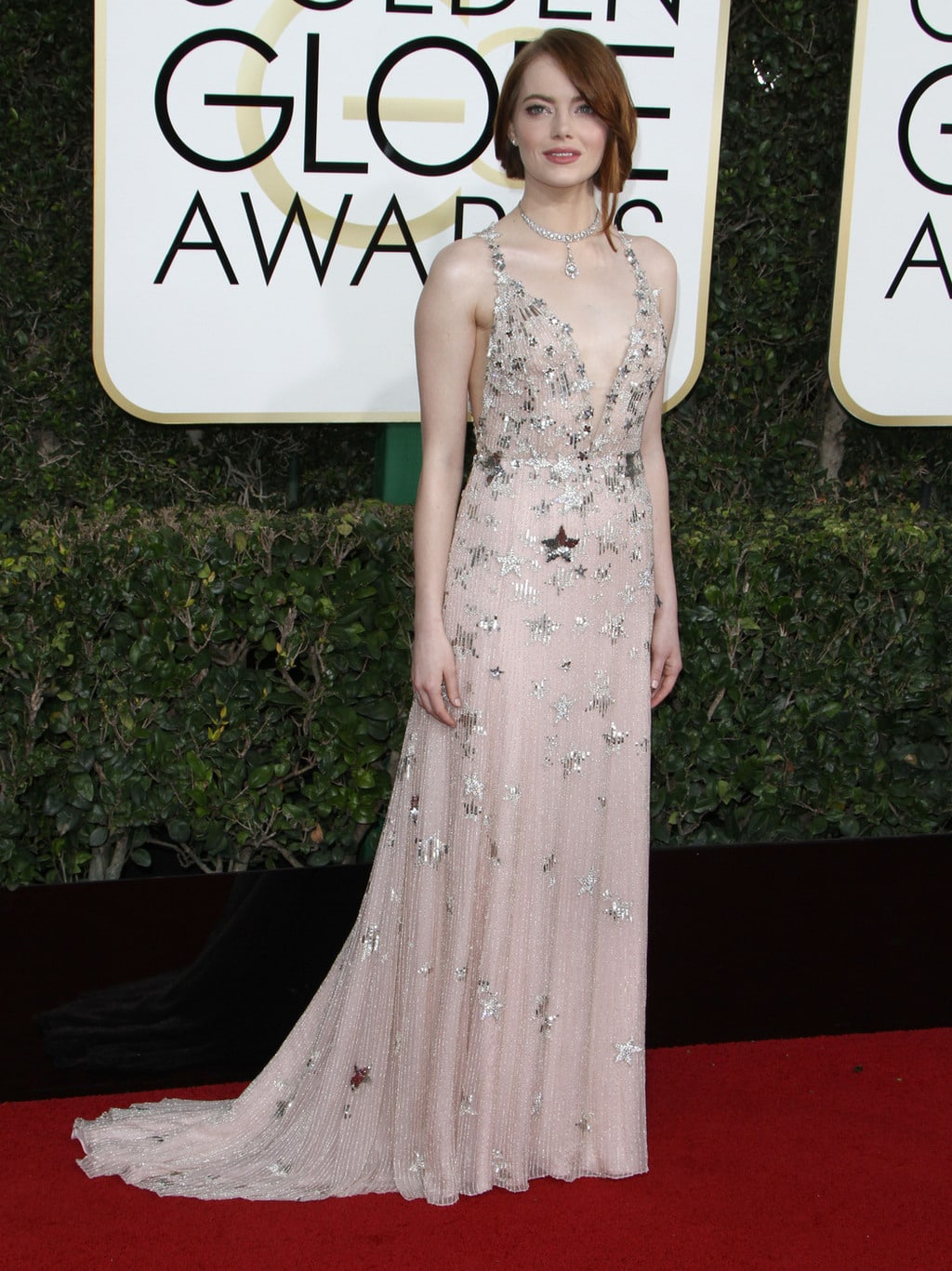 Emma Stone gave a nod to her winning film, La La Land, in this silver star-embellished pale pink Valentino gown. Accessorizing with Tiffany & Co. jewels and a loose updo, Emma exemplified Hollywood glam, while still appearing young and fun.
This look, for me, was perfect in every way. The only thing better than a gorgeous gown is one that perfectly ties in with the personality of the wearer, or in this case, the film the wearer is excited about. It sounds silly, but this dress made me even more excited to finally watch La La Land!
Zoe Saldana in Gucci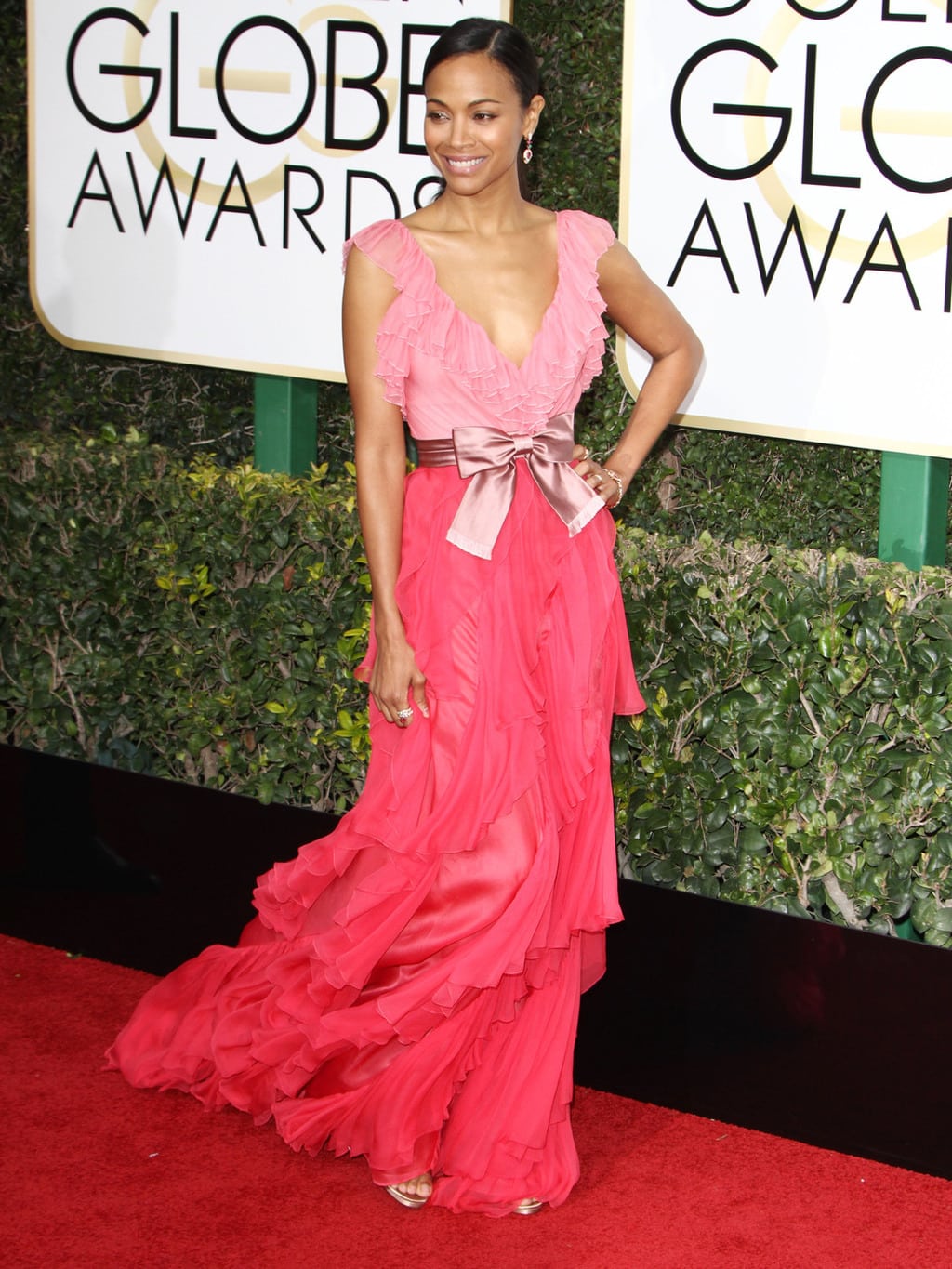 Gucci, though crazy successful right now, can be difficult to wear on the red carpet. Their recent designs by Creative Director Alessandro Michele have a distinct flavor that can be polarizing. Their pieces are anything but conventional, as Zoe Saldana's look above proves.
As I mentioned on our Twitter, I'm not sure I would have loved this look on anyone else. Zoe has a way of pulling off quirky, bold pieces with ease. She never looks overwhelmed by a gown, no matter how many ruffles it features or how bold the color. This was another win for the fashionista.
Millie Bobby Brown in Jenny Packham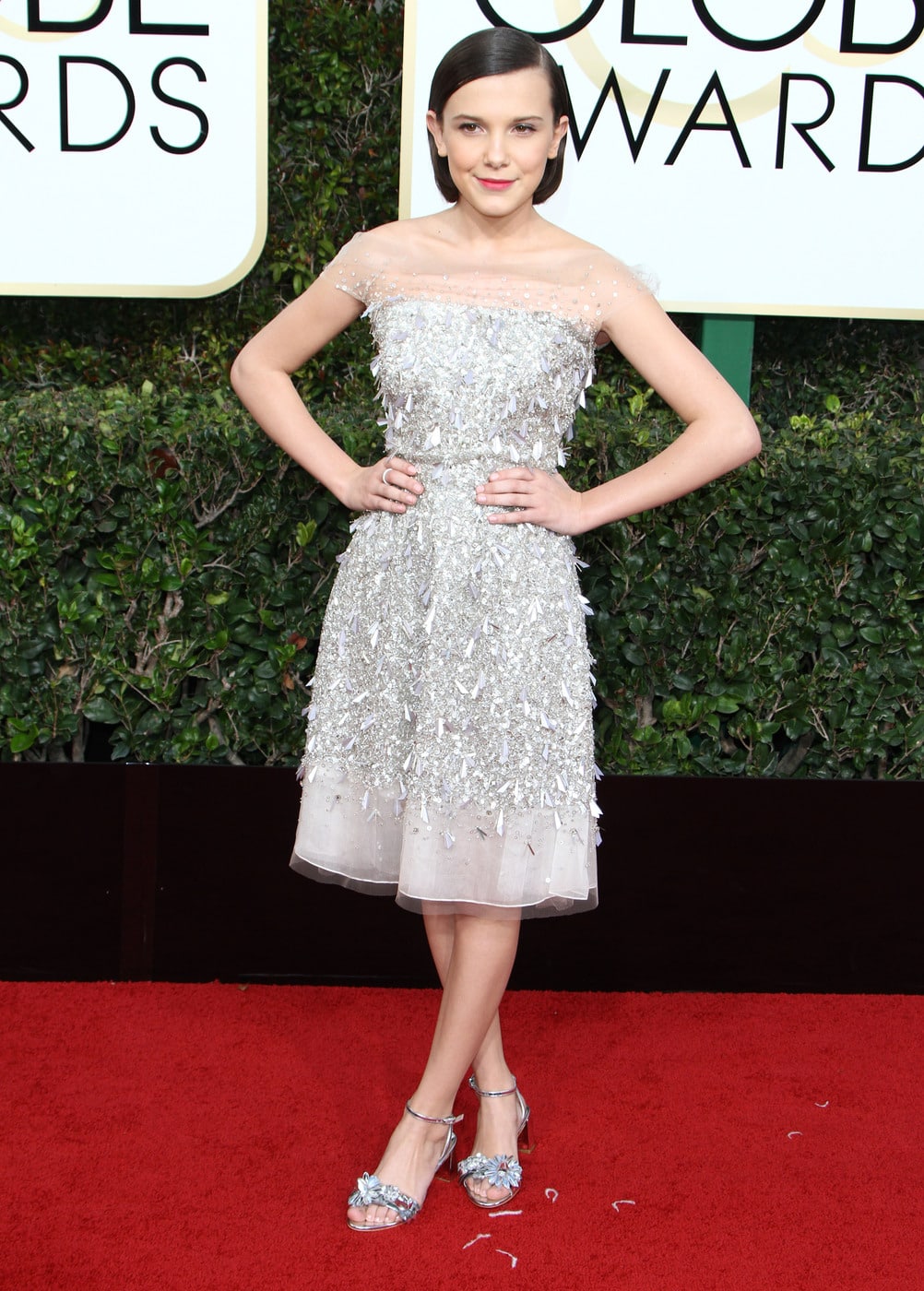 Stranger Things star Millie Bobby Brown stunned on the red carpet in a super cute and super stylish look from Jenny Packham.
Millie's ensemble is perfectly suited to her – it's young, fresh, and so much fun. It also has an otherworldly, futuristic quality that her character Eleven would probably love. I also adored her sleek, parted hairdo – it was the perfect finishing touch.
Mandy Moore in Naeem Khan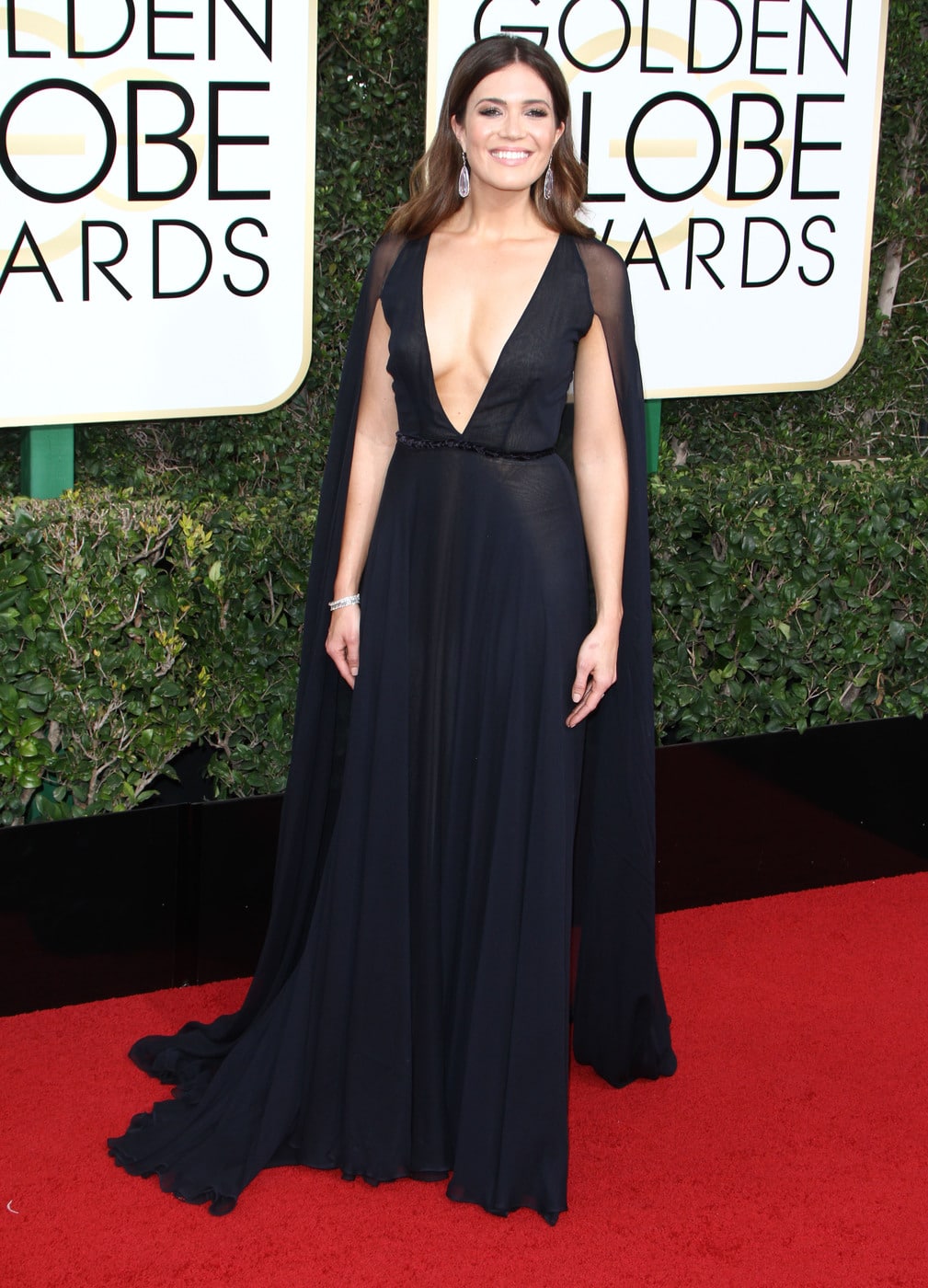 This is Us star Mandy Moore looked incredible last night in a plunging black Naeem Khan gown featuring a sheer cape detail. She accessorized with large Neil Lane earrings and a gorgeous diamond bracelet.
It's so nice to see Mandy Moore return to the red carpet – it's been a while since we've seen her do anything major! She chose a fantastic dress for her comeback. She looked mature and fashion-forward, feminine and edgy, all at once. Bravo!
Other Noteworthy Looks
Here are the other looks that got everyone talking last night.
Natalie Portman in Prada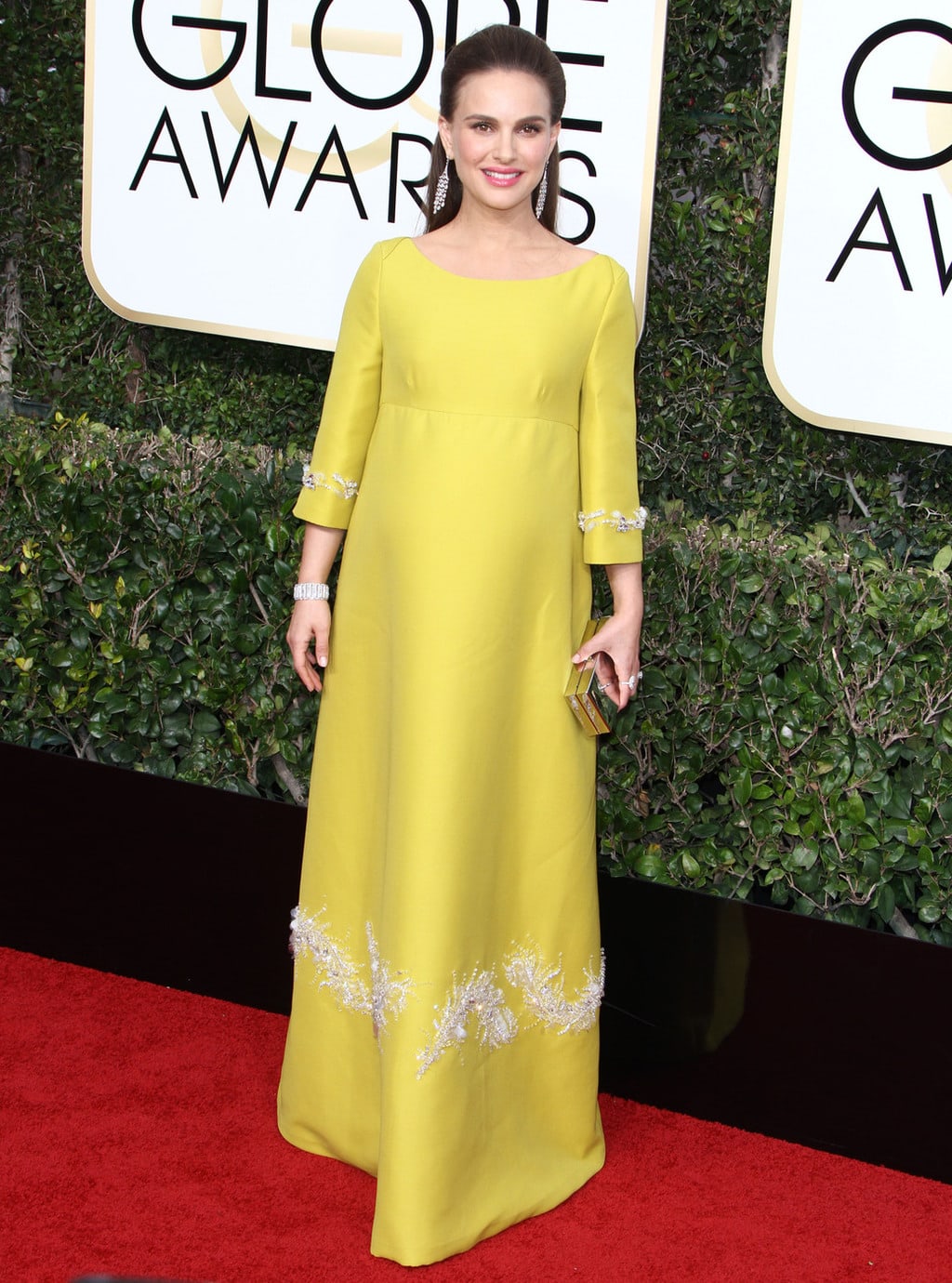 Natalie Portman channeled 1960s Jackie O. in Prada last night. Proving she's THE master at pregnancy style on the red carpet, Natalie looked every bit the retro star with her hair swept back and her lips painted with a pop of pink.
Janelle Monae in Armani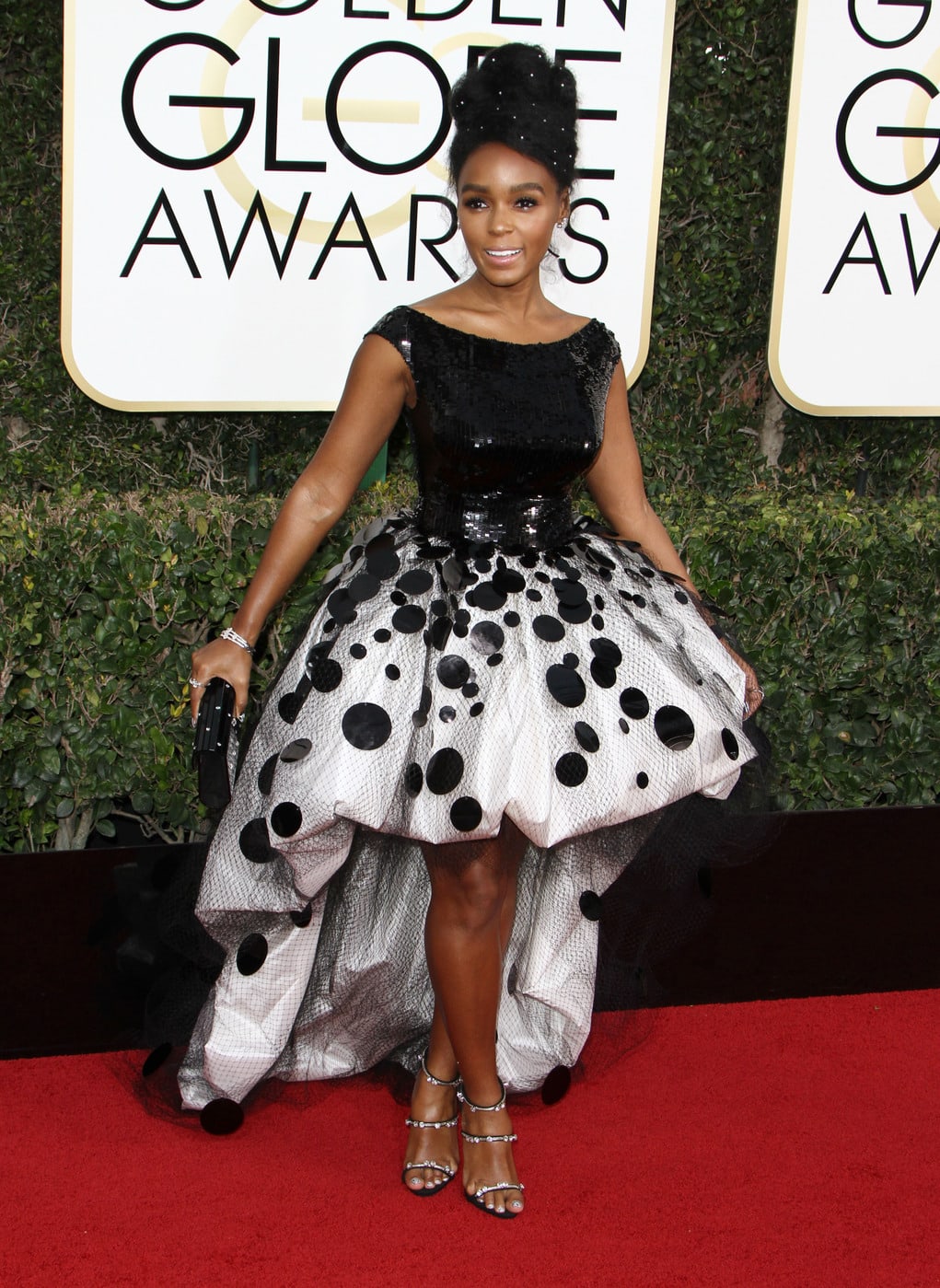 Janelle Monae turned heads on the red carpet in an eye-catching Armani frock, featuring sequins, a high-low bubble hemline, and bold paillette polka dots.
While this look got mixed reviews on social media, you have to admit that Janelle took a serious risk – and that's worth appreciating! I wasn't a fan of this ensemble at first, but the more I look at it, the more I like it. There's a lot going on – from her pearl-embellished hair to her jeweled sandals – but I'm kind of feeling the "more is more" vibe for the globes. What do you think?
Ruth Negga in Louis Vuitton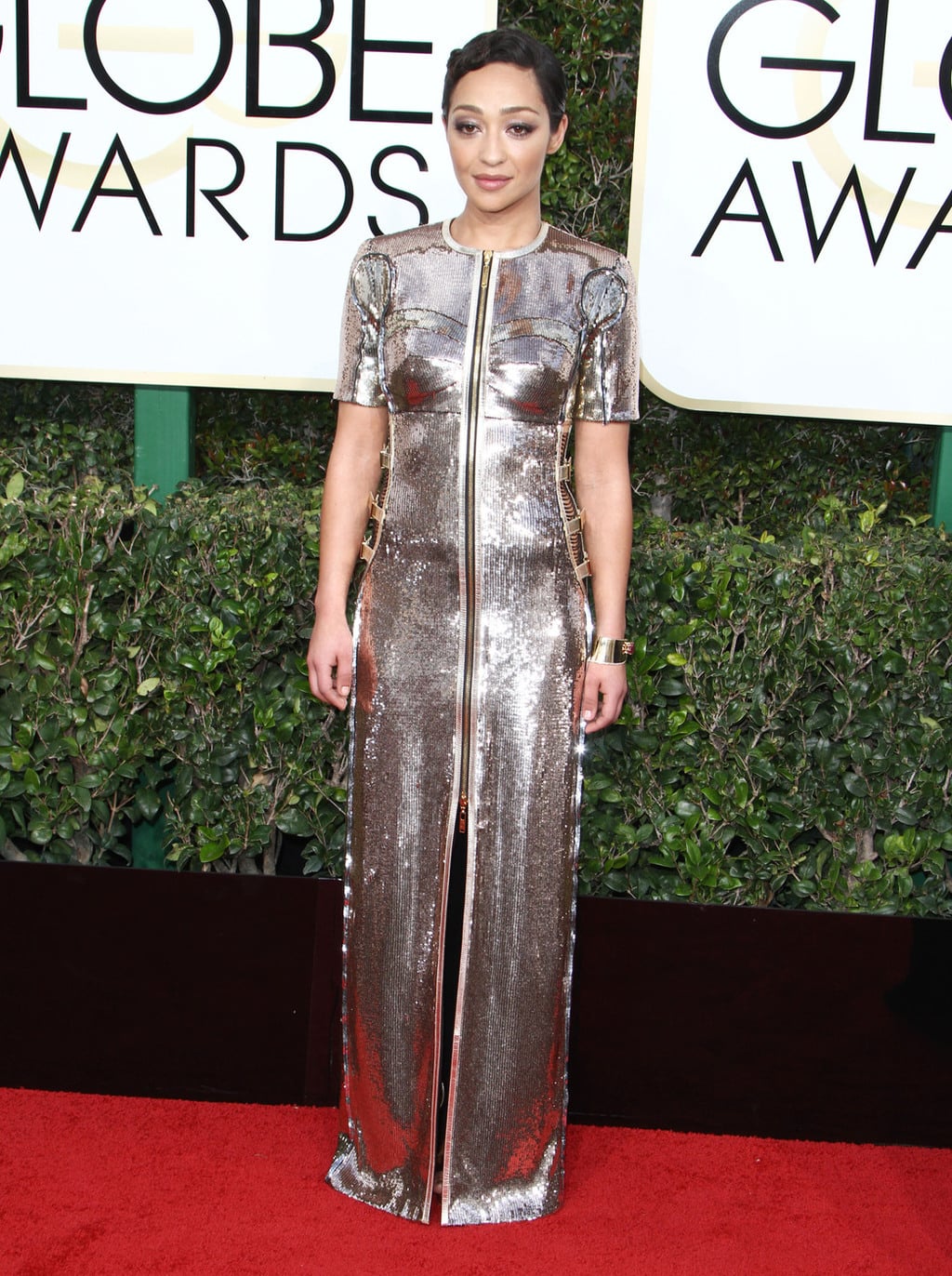 Rising star Ruth Negga caught everyone's attention in shimmering silver Louis Vuitton. Hitting on a hot trend of the moment (silver dresses are going to be everywhere this spring), Ruth looked modern, cool, and incredibly glamorous. I can't wait to see more of her on the red carpet in the future!
Emily Ratajkowski in Reem Acra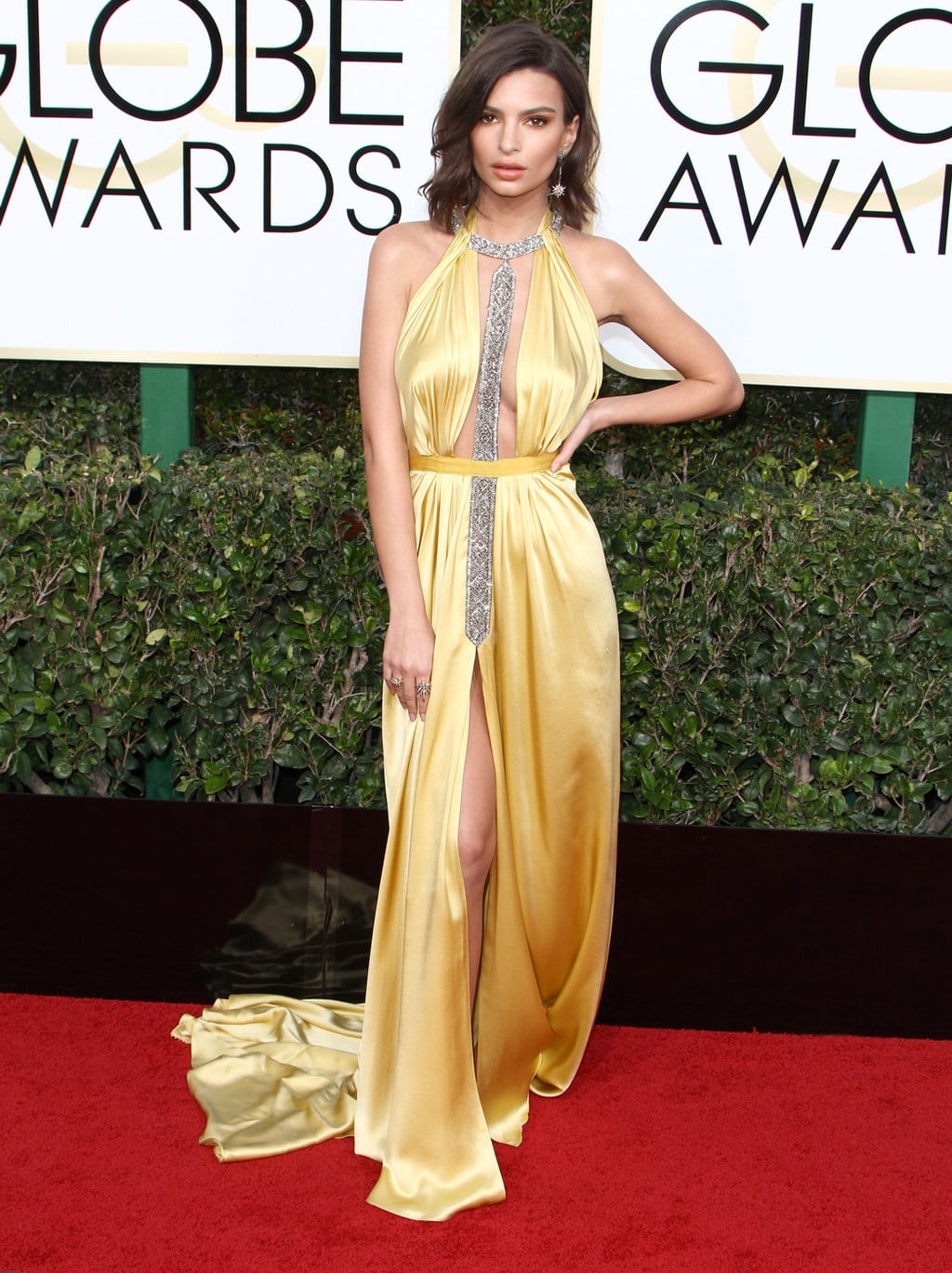 Model and actress Emily Ratajkowski showed off her killer figure in an ultra sexy yellow satin Reem Acra gown. Featuring tons of glitter down the front and a chain-detailed open back, this dress was a total head-turner.
While I wish this gown had been steamed more (it was pretty wrinkled in the back), I absolutely loved it. This color is fabulous on Emily and only she could pull something like this off with confidence. It's a great choice for the Golden Globes.
Least Favorite Look
It was difficult for me to pick a least favorite look last night, too! Everyone stepped it up this year and there truly weren't any awful outfits. I can still see the positives of my least favorite look, which is below:
Felicity Jones in Gucci
Felicity Jones, like Zoe Saldana, wore a pink Gucci gown, but Felicity's look is an example of a gown looking more like a costume than like formalwear. While I think this look can be appreciated in context of what Gucci has been doing recently, I also think it was a strange choice for Felicity. It doesn't do much for her skin tone, nor does it express her personality in a meaningful way. This was just OK for me.
Which looks were your fave and least fave?
Let's talk in the comments! Do you agree with my picks or did you have a different top five? Tell me what you think below.