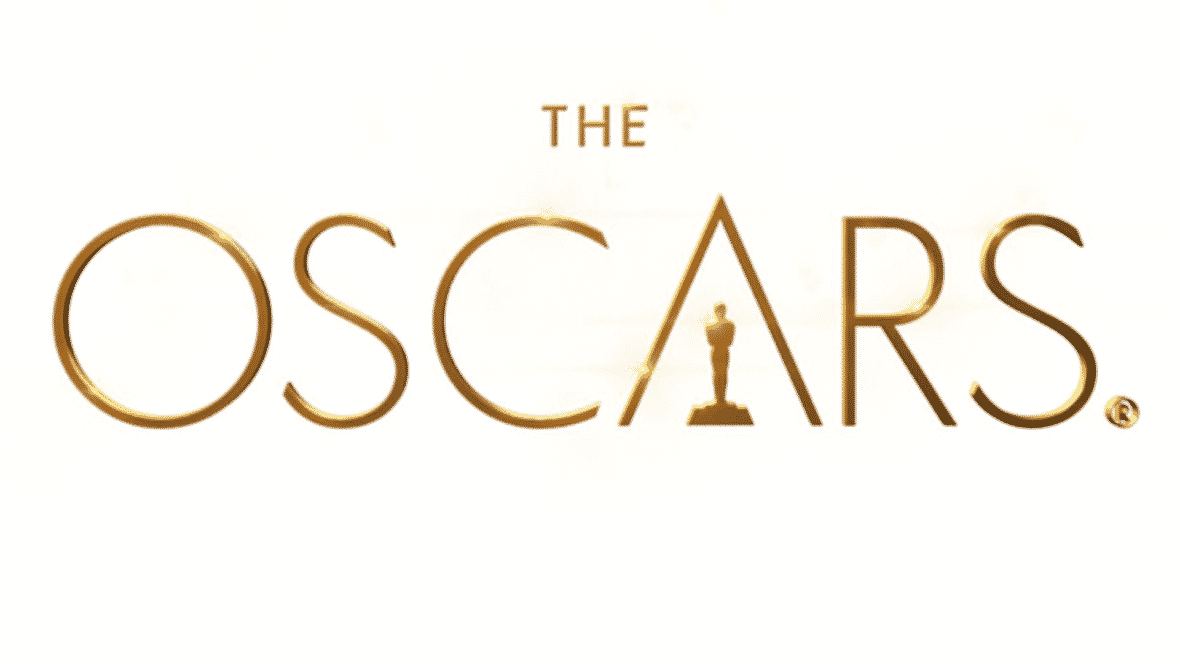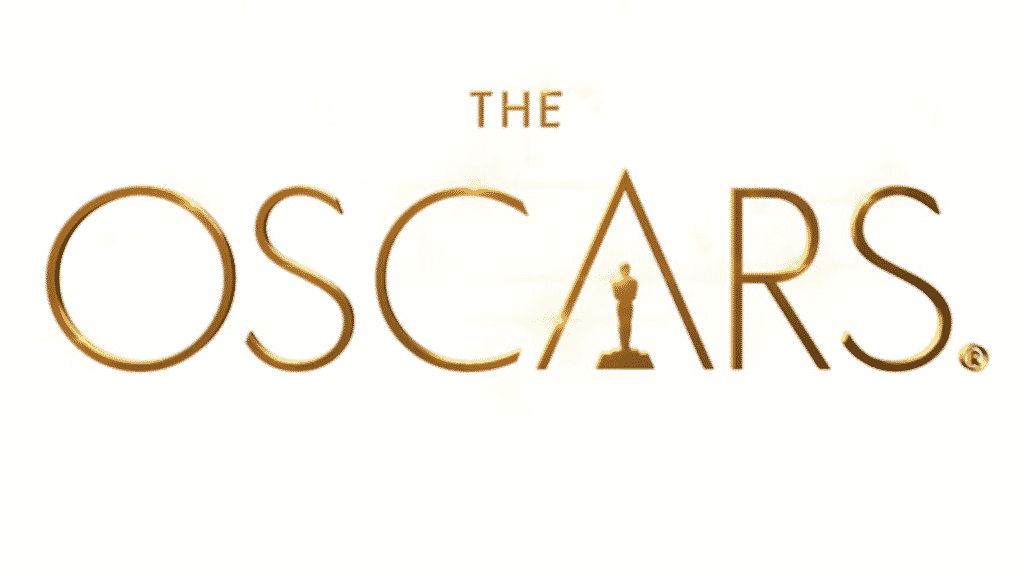 Tonight we celebrate the 91st Academy Awards. In a few hours, celebrities and industry insiders will gather to honor the films of 2018 and award the best film of the year with the Oscar for Best Picture.
It takes a lot for a film to be nominated, from impeccable sound design, to breathtaking performances, to daring music, and so much more. But as every fashion fan knows, the costume designs deserve just as much recognition as the other aspects of the film.
In this post we will be discussing four of the films that are nominated for this year's best picture award and getting inspired by their costumes.
The films we'll be covering are the action-packed flick, Black Panther; the historical comedy, The Favourite; the biopic, Bohemian Rhapsody; and the tearjerker about love and fame, A Star is Born.
Black Panther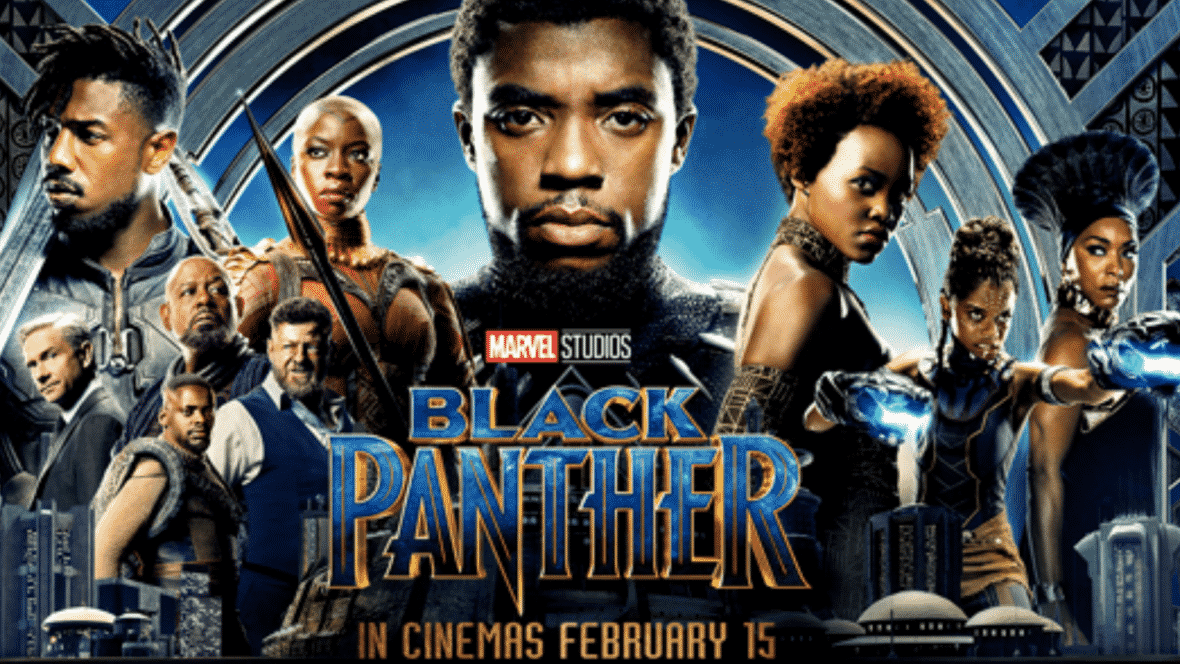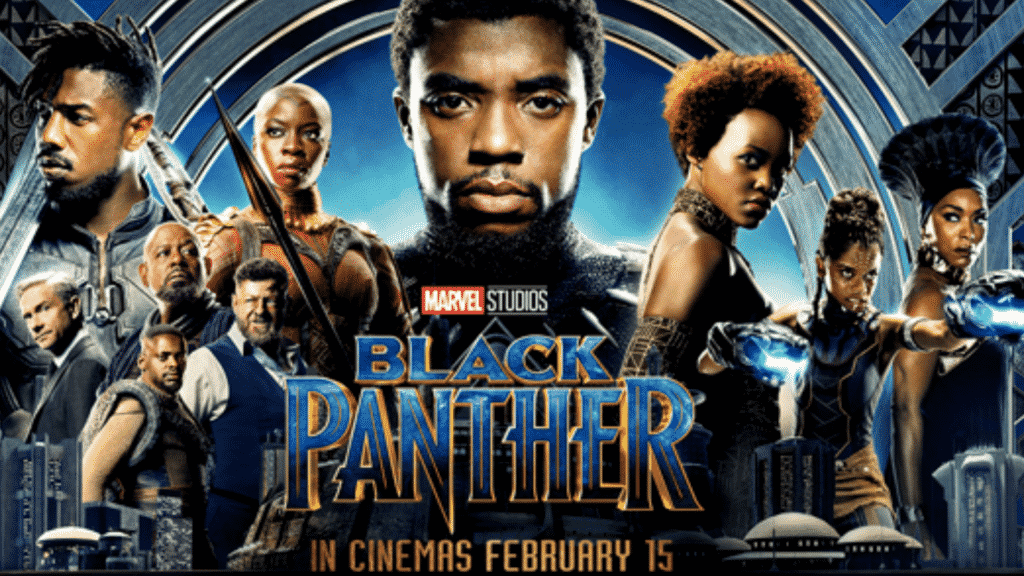 Costume Designer: Ruth E. Carter
First up is the Marvel Cinematic Universe film, Black Panther.
This film tells the story of T'Challa, a warrior who becomes King of fictional country Wakanda. We follow T'Challa as he learns what it takes to rule and take care of a country.
Black Panther has become worldwide phenomenon for its representation of the black community, and how it shows what it means to be black in all areas of the world. It marks a milestone in film history and will be talked about for many years to come.
Black Panther not only breaks Hollywood barriers for the black community, but also for women. It depicts different types of powerful women, from the strong warrior, Okoye, to the intelligent and tech-savvy princess, Shuri, portraying them as complex, interesting characters.
There is no doubt that this film is one meant for the history books. Plus, it's so much fun to watch!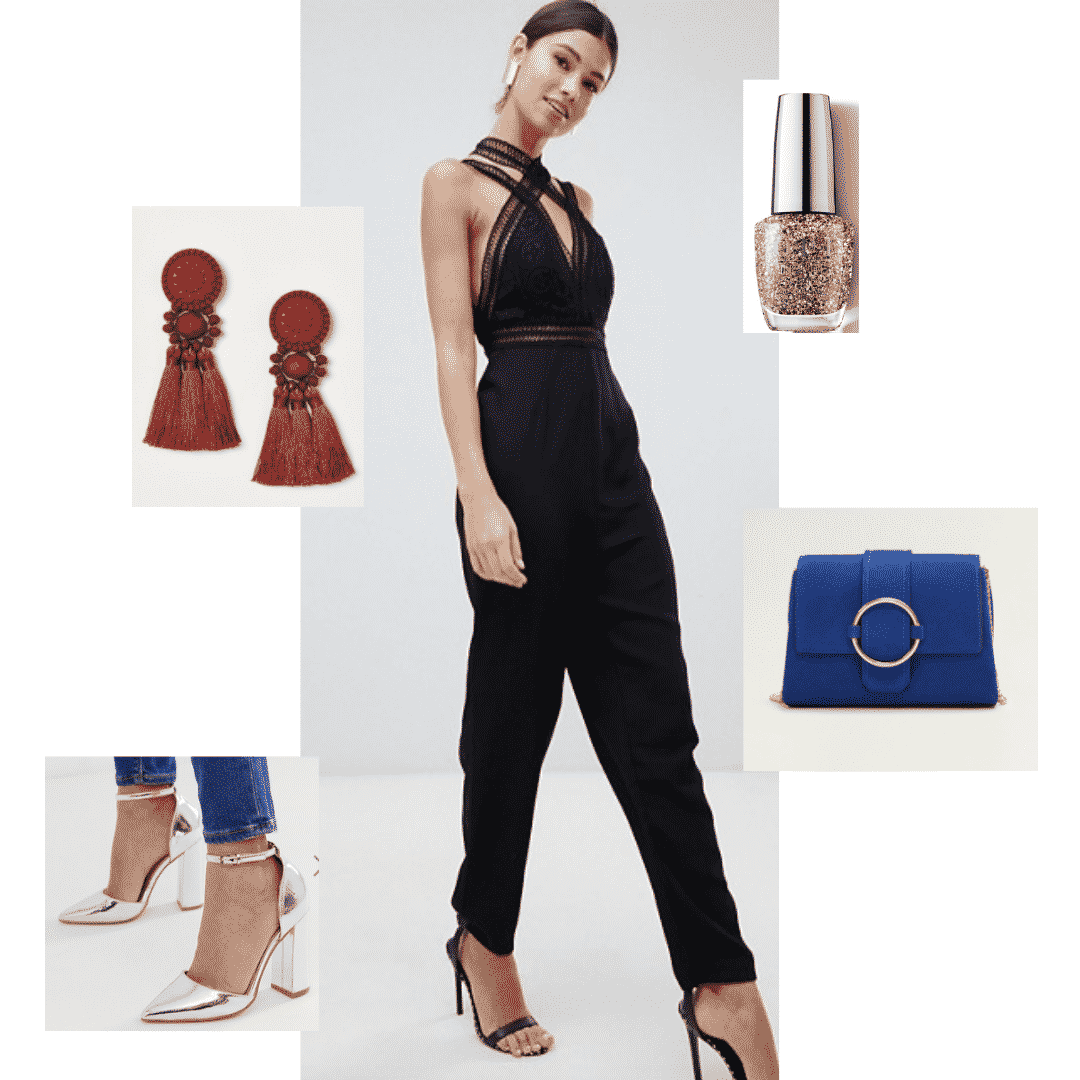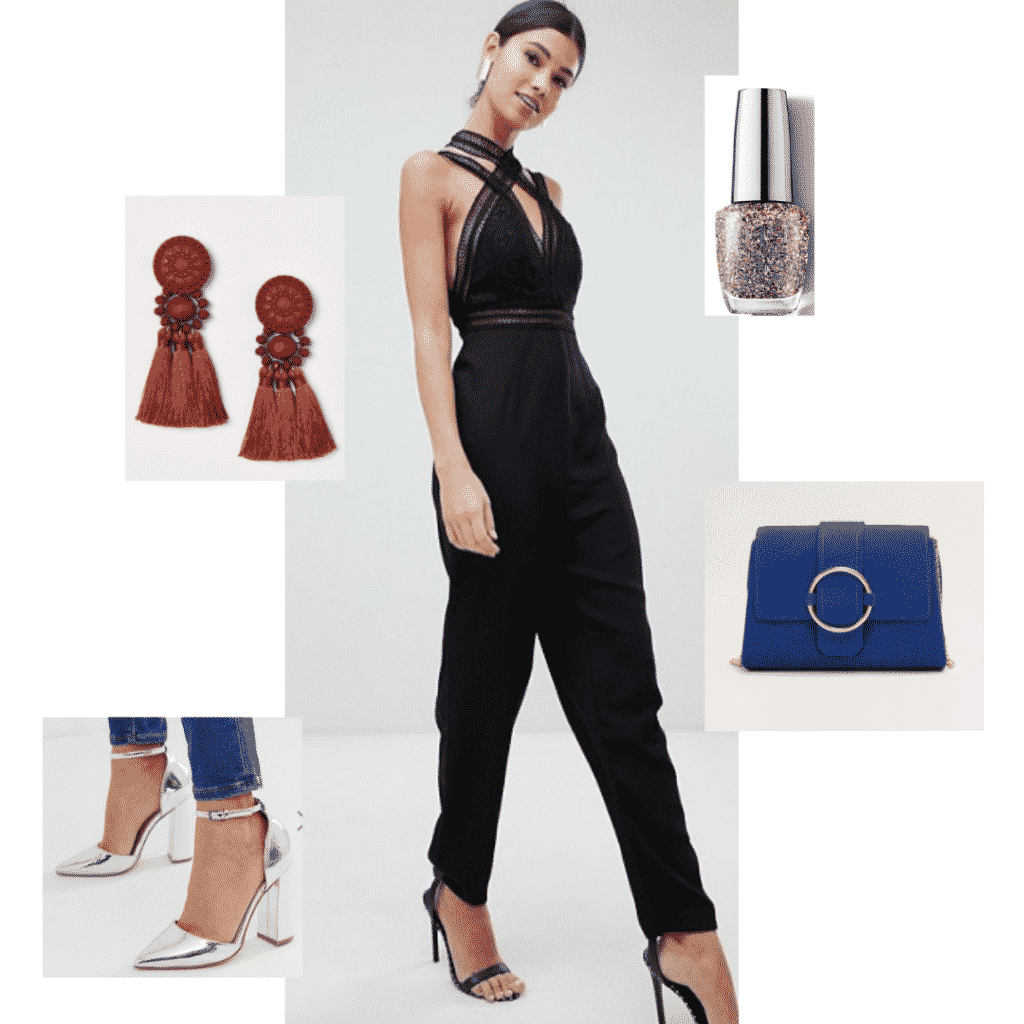 Products: Jumpsuit – ASOS, Heels – ASOS, Purse – Mango, Earrings – H&M, Nail Polish – OPI
Black Panther's costumes were designed by the incredible Ruth E. Carter, known for the film Selma and the TV reboot of Roots.
Ruth's designs for the film mix historical tribal African clothing with the aesthetic of Afrofuturism. The looks evoke a military and royal attitude while also including bits of technology in clever ways.
To capture the looks of characters such T'Challa, Shuri, and Nakia in your own look, start with a simple structured garment and let the accessories do the talking. For this look, I went with a black jumpsuit that is simple in color but complex in design. (A solid colored pantsuit would also work great for a Black Panther-inspired look.)
Have fun and dress the look up with accessories — here, I added pops of bright colors and metallics. I also included some texture with the tassels of the red earrings.
When you rock this look for your next night out, you will surely look like a badass citizen of Wakanda.
The Favourite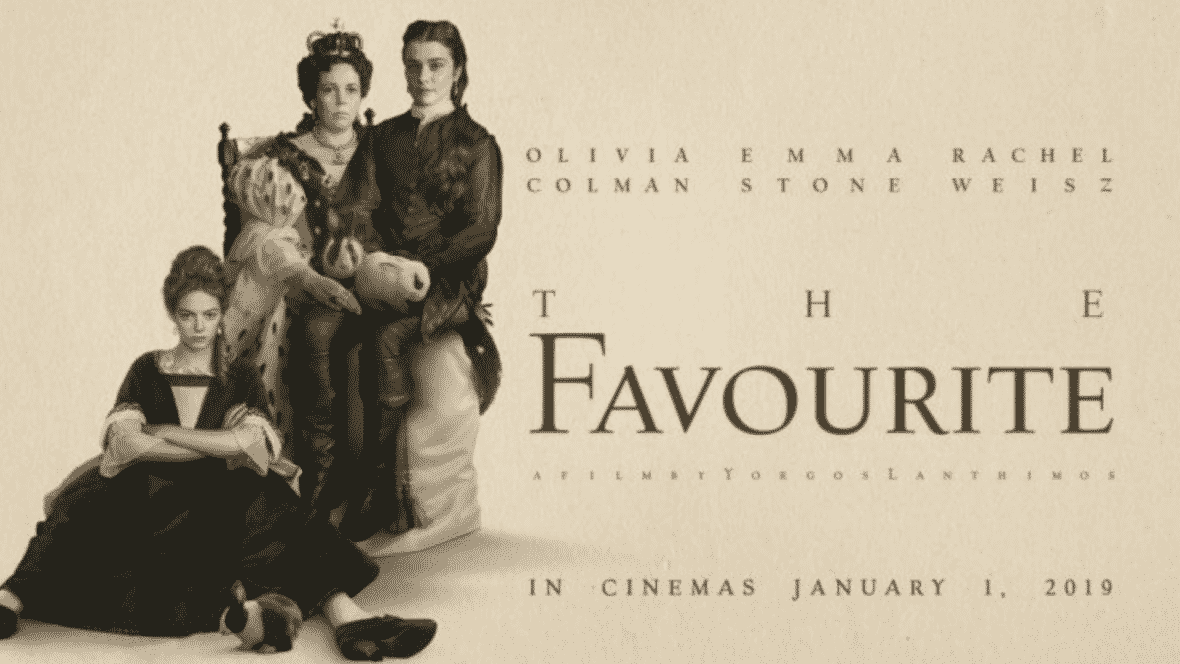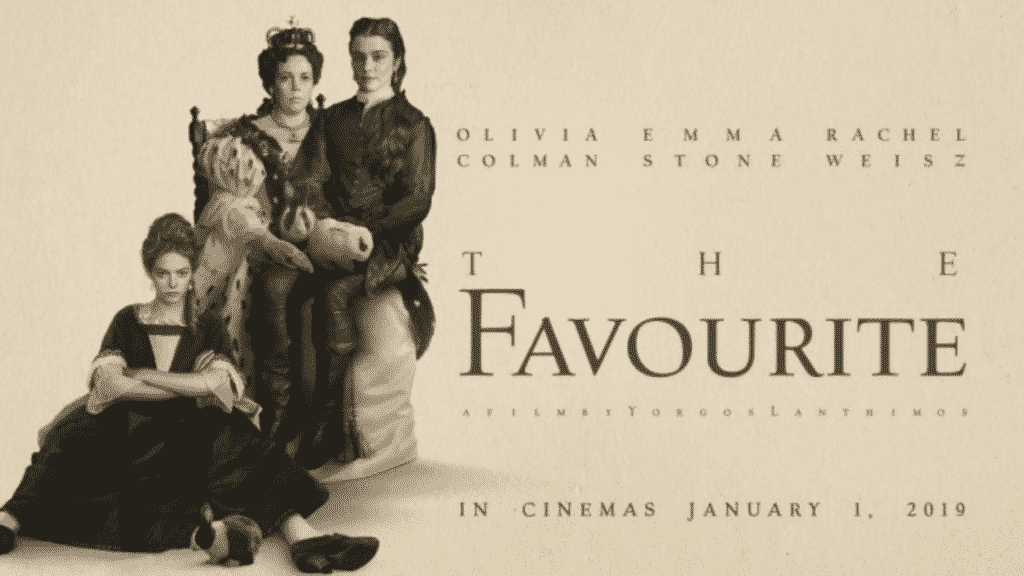 Costumer Designer: Sandy Powell
The Favorite is about two women, Sarah Churchill and Abigail Masham, who are both seeking power in English society. Throughout the film the two fight to position themselves as the favorite of the Queen of England, Queen Anne.
This film is revolutionary in that it focuses on three distinctly different women as the central characters of the story. Each woman is defined through her own personality traits (not her appearance or love life).
Emma Stone's ambitious Abigail goes from being a charming maid to a power-hungry friend of the Queen's. Rachel Weisz's Sarah is clever and understands how to run a country and influence the Queen. Olivia Coleman's Queen Anne is frail and viewed as weak, yet holds all the power that women and men desire to have.
It is satisfying to see such distinctly different women portrayed on the silver screen. If you haven't seen The Favourite yet, make sure you do!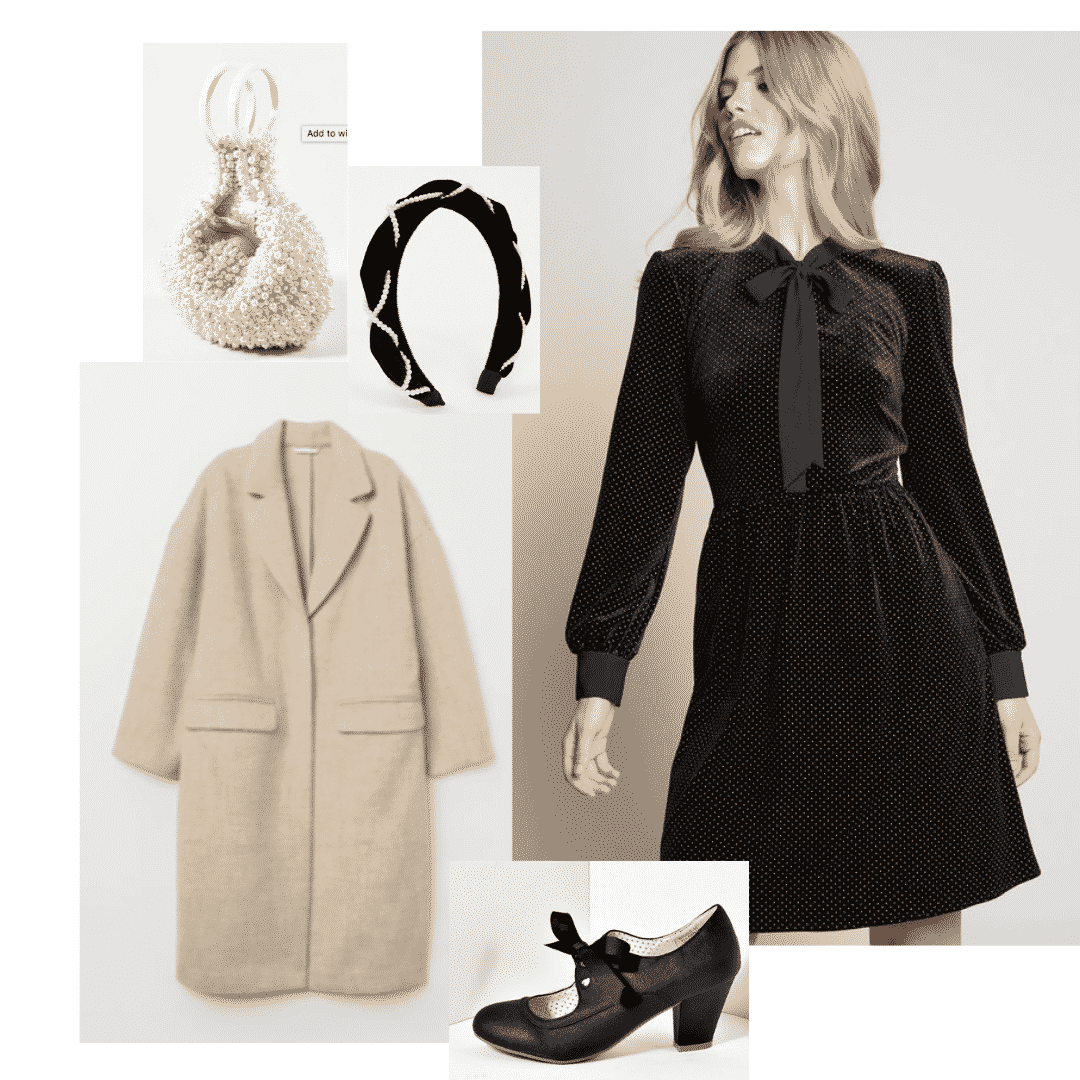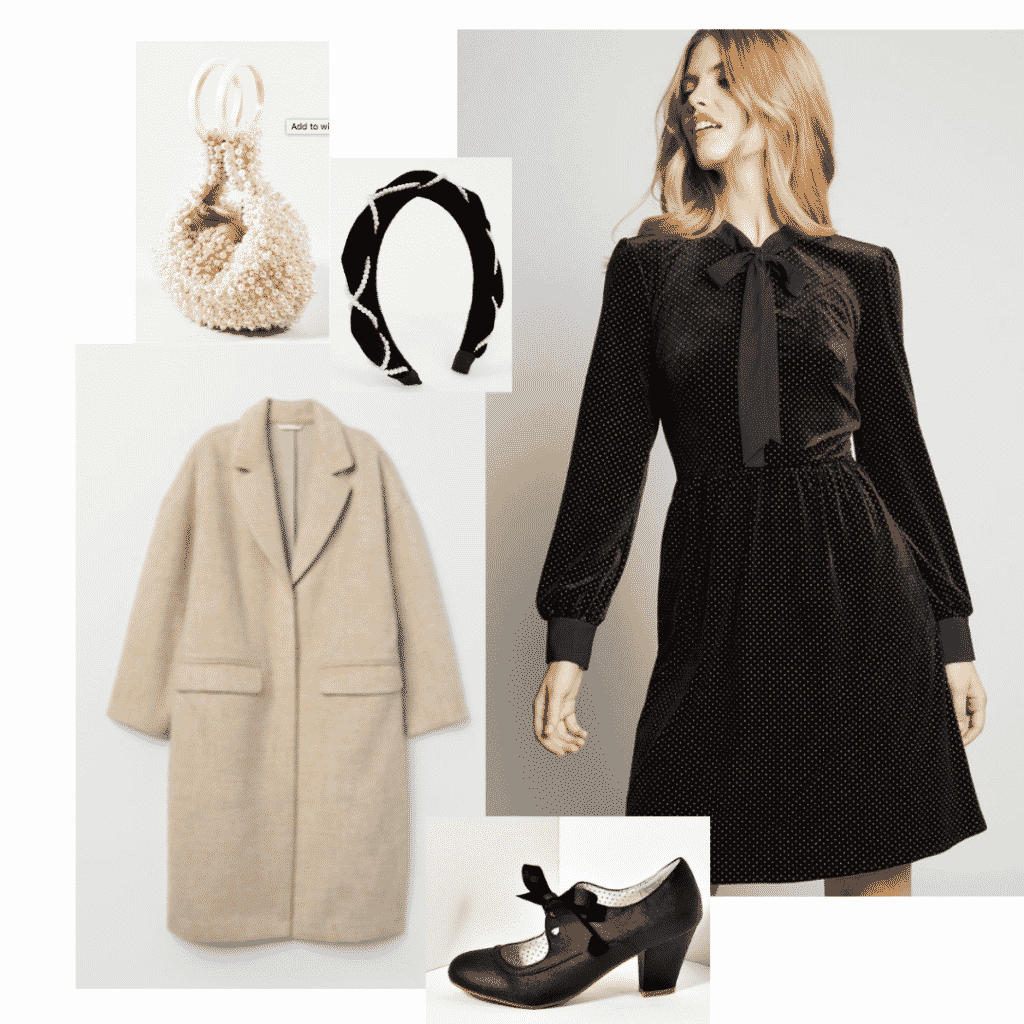 Products: Coat – H&M, Dress – Modcloth, Shoes – Unique Vintage, Handbag – Unique Vintage, Headband – ASOS
Though the costumes of the film are plain in color, with a monochromatic scheme of black and white, they are still tailored to each woman's character.
Costume designer Sandy Powell, known for her designs in Cinderella, Carol, and Shakespeare in Love, used the silhouettes and details of the costumes to speak to each character's personality.
Sarah is often seen wearing black gowns typical of a woman of the royal court, but she also has the pleasure of wearing pants, which she wears to flaunt her position of power and intimidate her enemies. Abigail transitions from a plain maid's uniform to detailed gowns that are frankly over-the-top. Queen Anne, naturally, wears ornate gowns with long trains and elegant furs, but as she is also in a state of depression, she is often seen in nightgowns and robes.
To channel the ladies of the royal court, stick to a monochromatic color scheme. Try pairing vintage-inspired pieces together, such as a little black dress with a long cream coat. Vintage accessories would also be nice — think purses and headbands with pearl embellishments, and lace-up heels. Put those pieces together and you will be looking like royalty.
Bohemian Rhapsody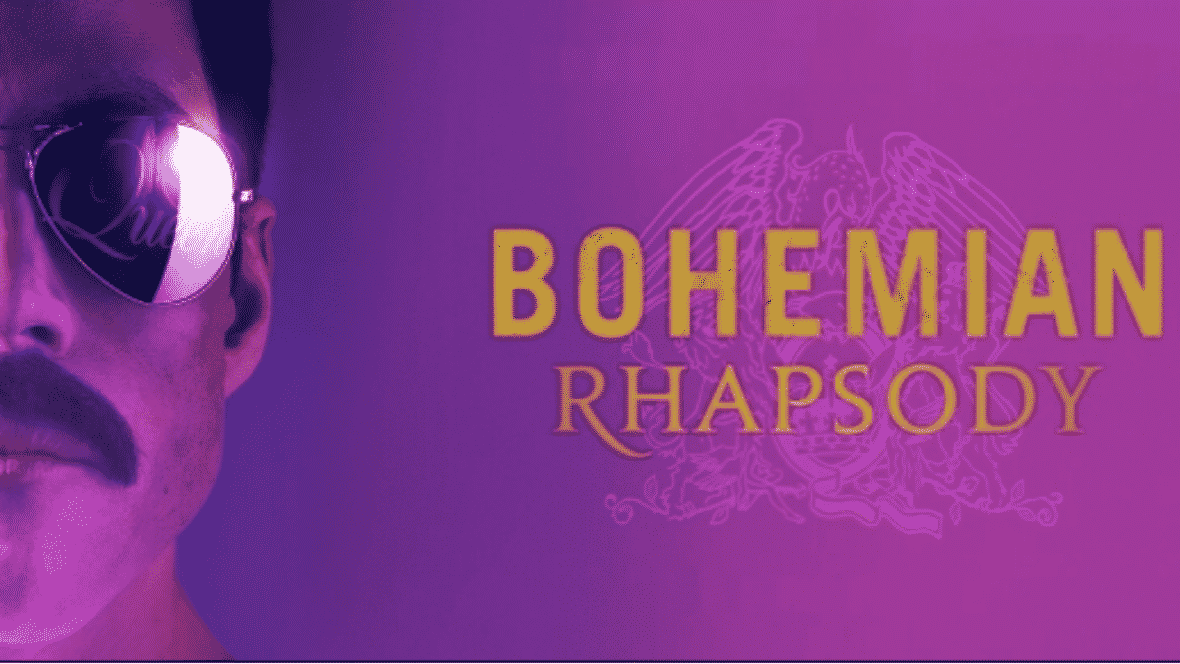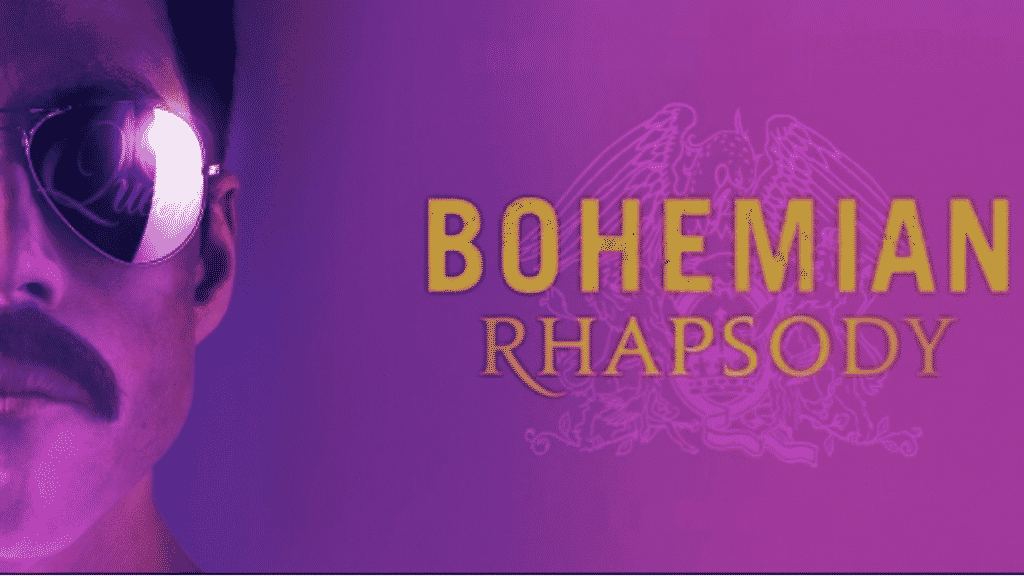 Costume Designer: Julian Day
Bohemian Rhapsody is a film about the rise of the band Queen and its lead singer Freddie Mercury, played brilliantly by Mr. Robot star Rami Malek.
In the film the we follow Freddy on his journey from being one of the most famous singers in the world, to dealing with sexual identity, to bringing his band together and breaking it apart and then putting it back together again.
This film has seen a lot of controversy over the past months, which is beyond the scope of this article. (But you should definitely read up on it if you're interested.) Controversy aside, this is a film that celebrates a band that changed the world of music and a man who was never afraid to be himself.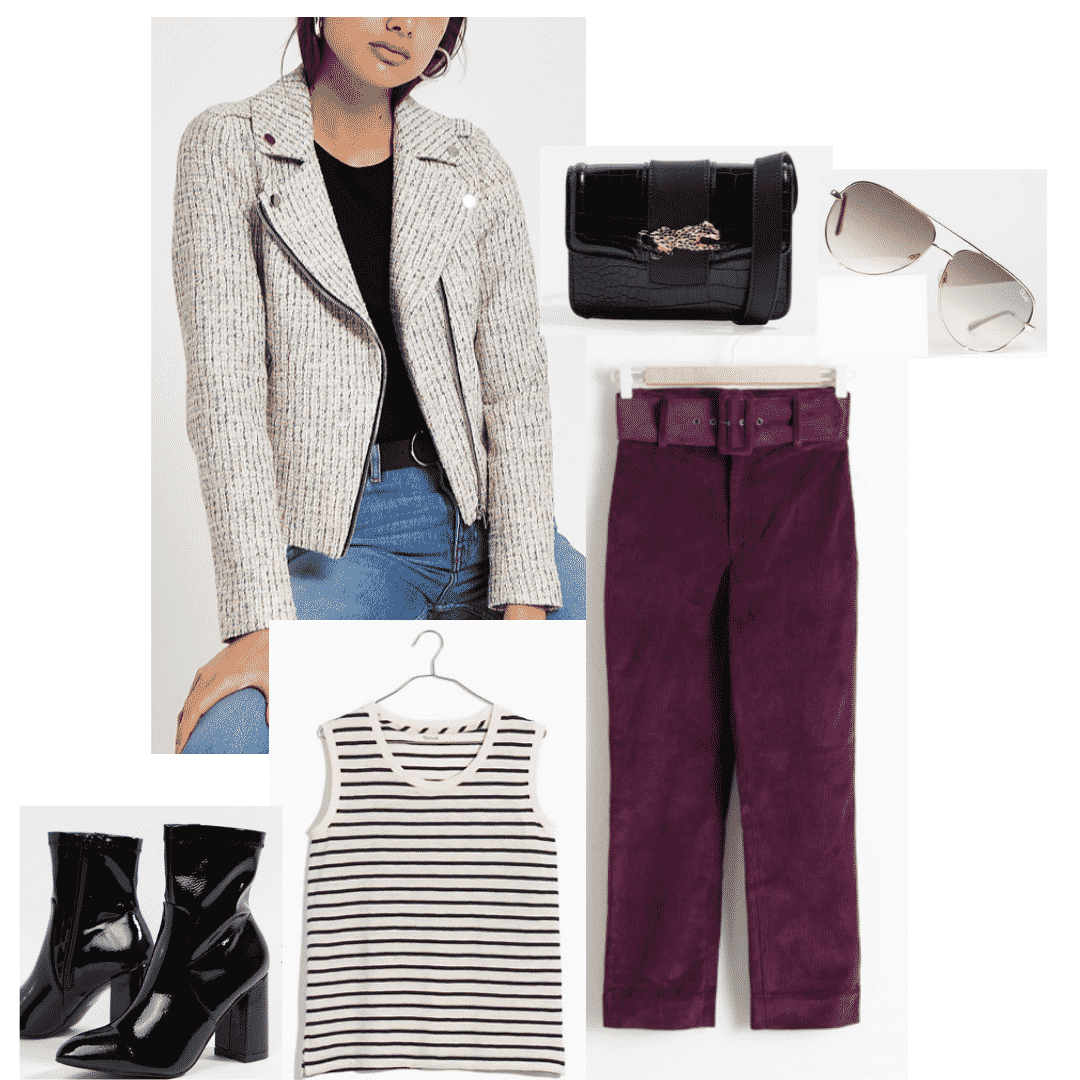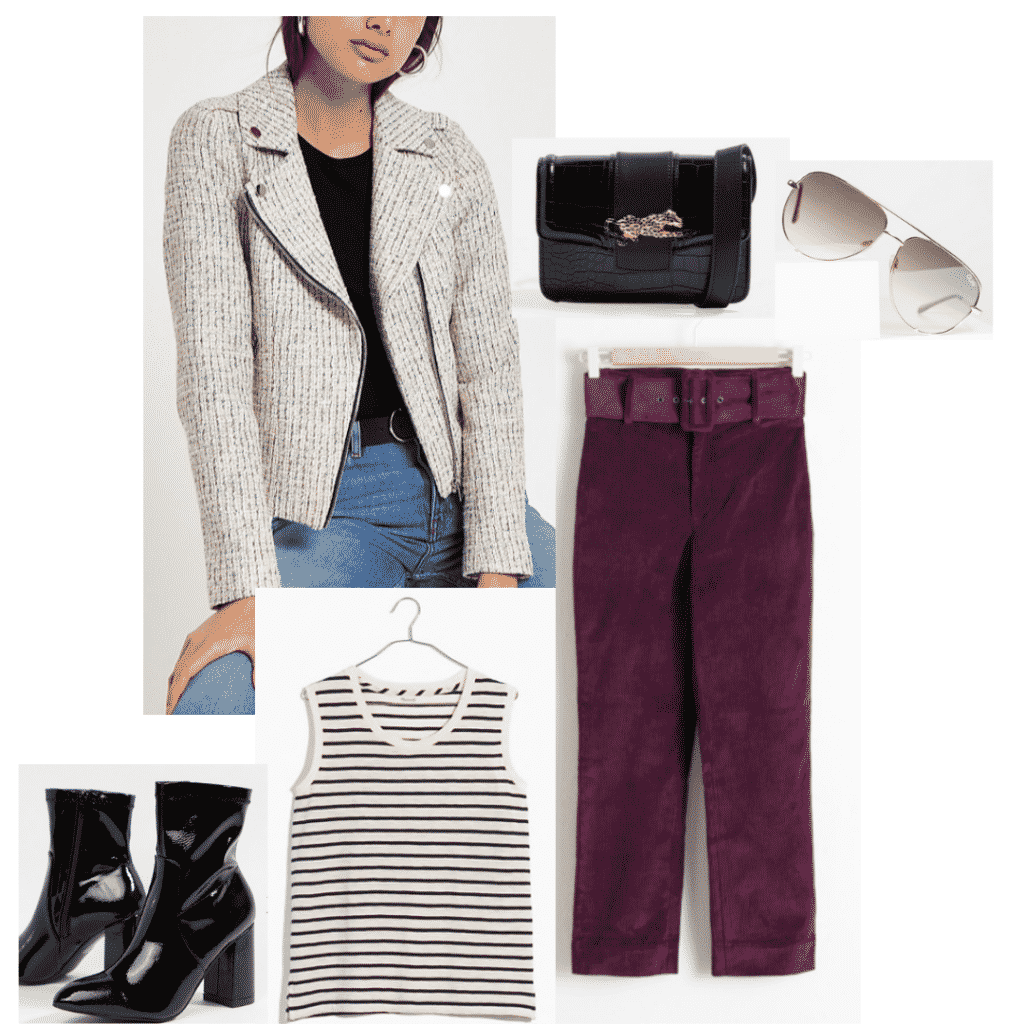 Products: Trousers – & Other Stories, Biker Jacket – River Island, Top – Madewell, Boots – ASOS, Bag – Topshop, Sunglasses – Unique Vintage
Bohemian Rhapsody takes place between 1970 and 1985, when fashions were shifting from bohemian chic to glam rock. Freddie Mercury, one of the most stylish men in music history, is the central protagonist, and we see his wardrobe change as the film progresses.
Freddy starts out wearing velvet suits and leather jackets, then moves on to full on crazy patterned catsuits, then military styled uniforms, and finally to his trademark white tank top and blue jeans. His wardrobe not only reflects the changes in fashion throughout the '70s and '80s, but shows the transformation Freddie is going through in his life.
For a look inspired by Freddy, mix pieces from each of the fashion eras depicted in the film. Velvet trousers and patent leather boots are a staple of the '70s, while oversized leather jackets, fitted tank tops, and animal-inspired accessories are all '80s.
With this look, you will be ready to belt out some Queen tracks and feel like a rock n' roll goddess.
A Star is Born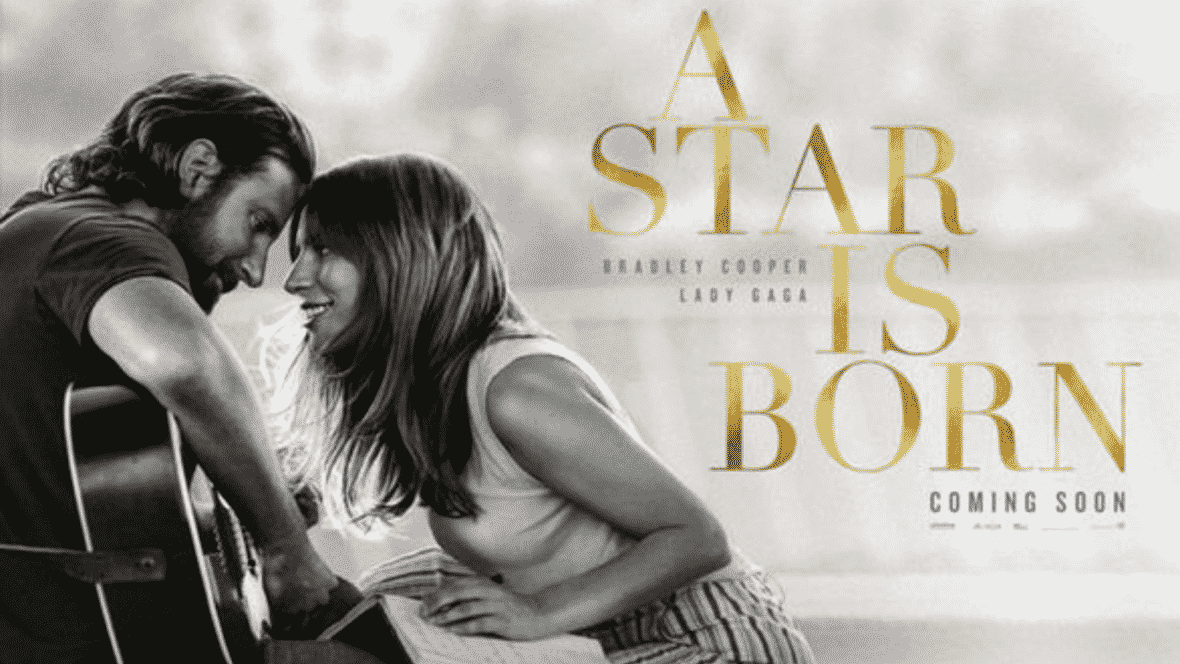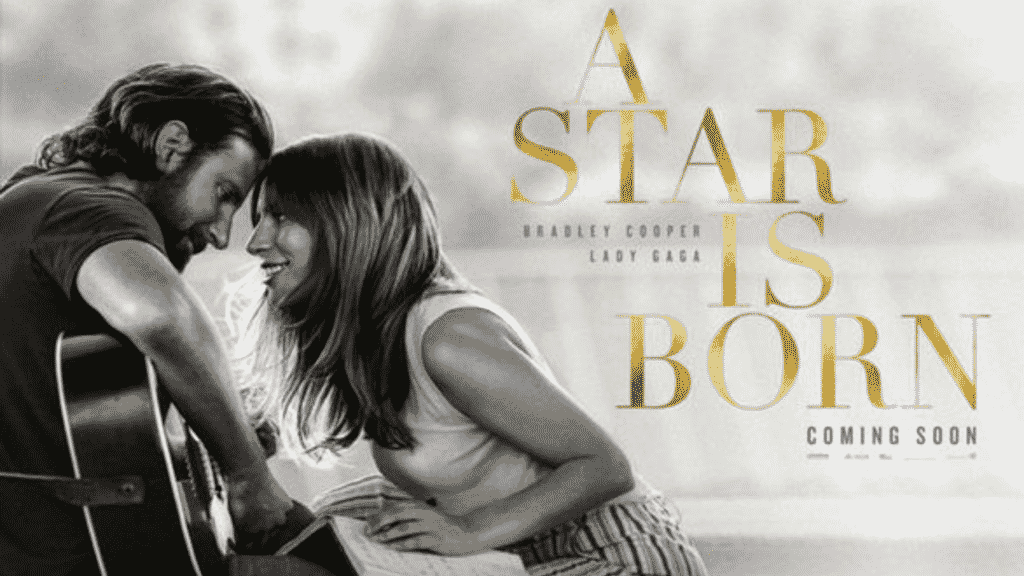 Costumer Designer: Erin Benach
The final film we're covering today is the heartbreaking blockbuster, A Star is Born.
This film tells the story of aspiring singer Ally, played by Lady Gaga, and burnt out country star Jackson Main, played by Bradley Cooper. The two meet by chance and fall in love. The film focuses on Ally's rise to fame, with the help of Jack, as Jack deals with his downfall from the country music scene and ongoing battle with alcoholism.
This film, though wonderful and featuring a standout soundtrack, is not for the faint of heart. It is a story about what it takes to be in a relationship, the sacrifices one must make when choosing between love and fame, and the heartbreak of choosing to let your loved ones shine while your light dims out. It will make you cry, and then some.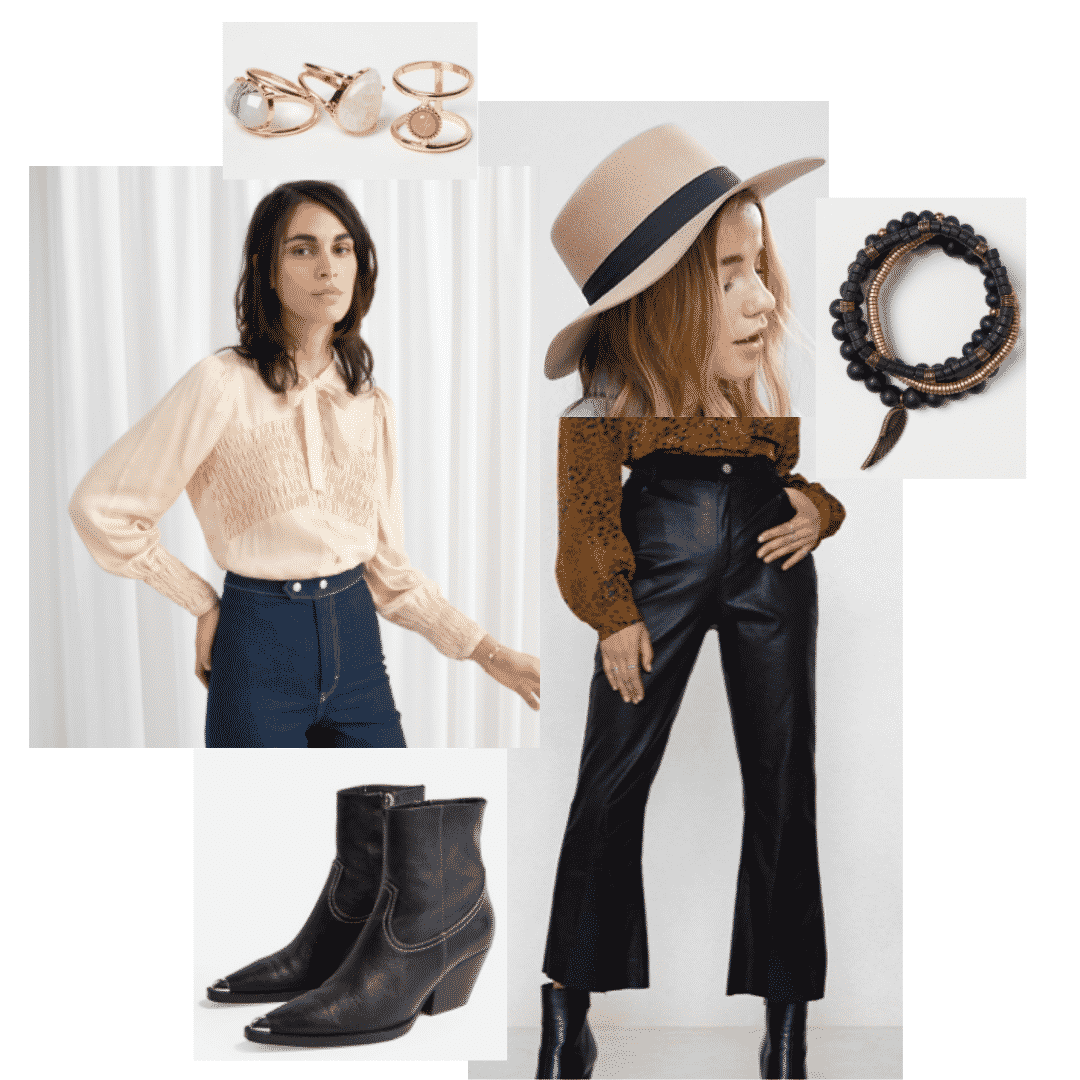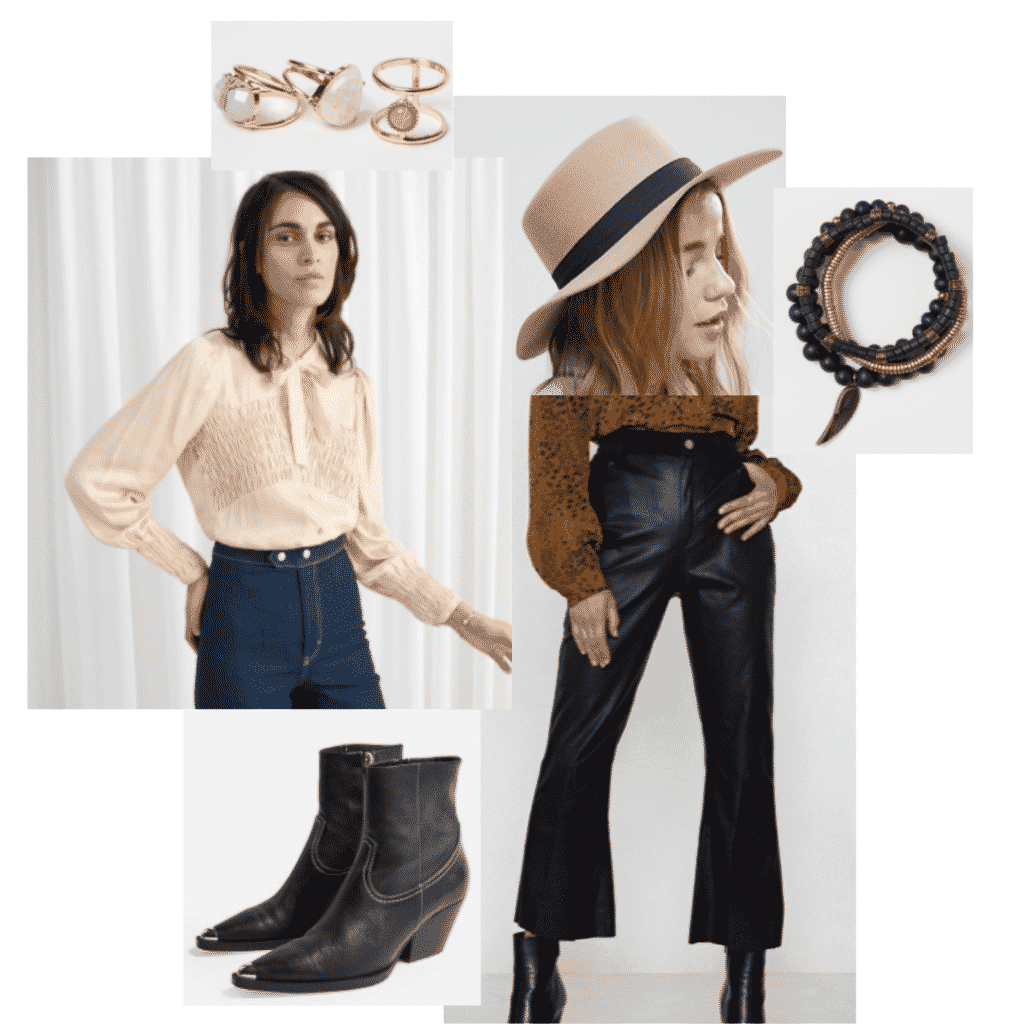 Products: Blouse – & Other Stories, Pants – Pretty Little Thing, Boots – Topshop, Hat – ASOS, Bracelets – H&M, Rings – H&M
A Star is Born has the most modern costuming out of our four films. The clothes are very much what you would see a star like Lady Gaga wearing in the streets today.
Since the two main characters are musicians, their clothes reflect their rock and country lifestyles. Ally starts off wearing very simple outfits consisting of t-shirts and crop tops with fitted jeans or leather pants. But as she rises to fame, her style changes to be more glamorous and pop-centric. Though her pop style is a bit over the top, she is still able to incorporate styles of rock into her everyday wardrobe and performance outfits.
This outfit is based on Ally's style in the film. To get it, stick with her staples from the first half of the film — leather pants and cowboy-styled ankle boots. Next, add a cream silk blouse featuring a bow neck tie, which is reminiscent of some of the looks she wears when touring with Jack.
The accessories in this outfit are inspired by the character Jack, whose wardrobe is rooted in country music. Western-inspired pieces such as a cowboy hat and beaded bracelets help finish off the look.
How did you like these Oscar nominated film-inspired looks?
Which of these looks was your favorite? Which film are you rooting for in the Best Picture race? Tell us your thoughts in the comments!