It's Thursday, which means it's time for another countdown list. Because of the popularity of our post on rock goddesses, I thought it'd be fun to count down the top 10 most stylish men of classic rock to supplement that post.
Fashion and rock and roll go together like peanut butter and jelly. It's all about a creative outlet, and, oftentimes, the way an artist dresses helps them convey an overall look and feel to the music they produce. It's actually pretty cool when you think about it.
Note: because this countdown focuses on artists who peaked on the charts several decades ago, it was hard to find pictures we could license on CF. So, to supplement everyone on the list, I've linked to a Google Image search that will give you an awesome, collective visual of their style.
Let's jump right in!
10. Jimi Hendrix
Jimi Hendrix Star Spangled Banner Woodstock 1969
Jimi Hendrix, master guitarist and whimsical songwriter, unfortunately met an early death, but shined brightly during his time in the spotlight.
Jimi Hendrix's ensembles utilized very bright and colorful palettes, and heavily featured hippie chic staples such as bell bottoms, tie dyed scarves, fringe vests, chunky jewelry, and wide brimmed hats.
He artfully mixed more classic pieces — like suit jackets and chinos — with paisley scarves, moccasins, loud floral shirts, and beaded vests. Jimi frequently mixed loud, clashing prints and also owned several awesome military-inspired jackets. As I'm sure you've gathered, Jimi Hendrix is synonymous with his signature look: a hippie hairband tied across his forehead.
To steal some of Jimi's style, try mixing bohemian pieces with more structured items. Bell bottoms paired with a military jacket or a menswear vest mixed with a patterned scarf will give you the right look.
Songs to check out:Purple Haze, All Along the Watchtower, The Wind Cries Mary, Little Wing, Voodoo Child
9. The Ramones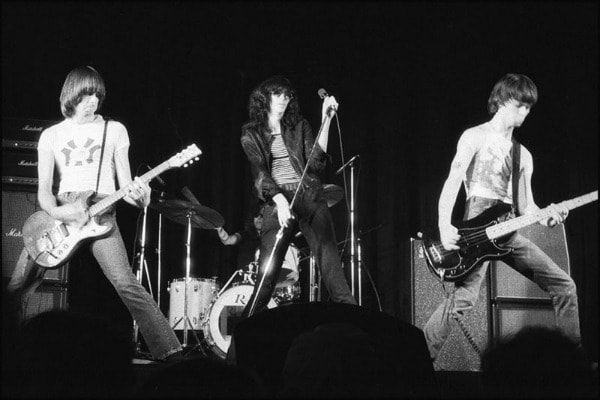 The Ramones hit the punk rock scene in the mid-'70s, but their legacy still lives on today. Although many of the core original members have passed on, Marky Ramone is currently touring and playing their classic songs with professional partier Andrew WK as the lead singer. Pretty cool, if you ask me!
The Ramones typically hit the stage in acid washed jeans, ratty graphic tees, and fitted cropped leather jackets. They were also huge fans of wacky sunglasses, black-and-white striped shirts, and canvas sneakers.
For a snazzy outfit that pays homage to the Ramones, rock your favorite graphic tee (preferably a concert t-shirt) with skinny jeans, your trusty leather jacket, a pair of Converse, and your favorite fun sunglasses. Leave your hair a little undone and smudge your eyeliner for a subtle punk-inspired touch.
Songs to check out:Blitzkrieg Bop, I Wanna Be Sedated, Judy is a Punk, I Wanna Be Your Boyfriend, Rockaway Beach
8. Black Sabbath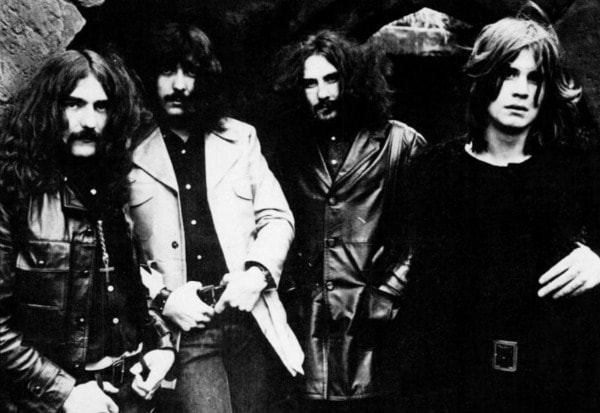 Black Sabbath started as a bluesy British rock band in 1968, but decided to incorporate occult themes into their sound and lyrics. Over the years, this evolved into a deep guitar sound that eventually became what we all know today as heavy metal.
The members of Black Sabbath peppered their British fashions with a Gothic, hardcore vibe that's still relevant with today's heavy metal fans. The band often wears black jeans, long dark duster coats, leather jackets, pointed shoes, velvet blazers, rosaries, and dark sunglasses. They also polish their nails black and typically opt for monochromatic black outfits.
To steal some of Black Sabbath's style (without looking like a walking Hot Topic ad), try wearing head-to-toe black, but incorporate modern styles and silhouettes. Alternatively, you could wear a black velvet blazer or duster with a pair of skinny jeans, a cami, and cute ankle boots.
Songs to check out: Iron Man, War Pigs, Crazy Train (by Ozzy Osbourne), Age of Reason, End of the Beginning
7. Steven Tyler of Aerosmith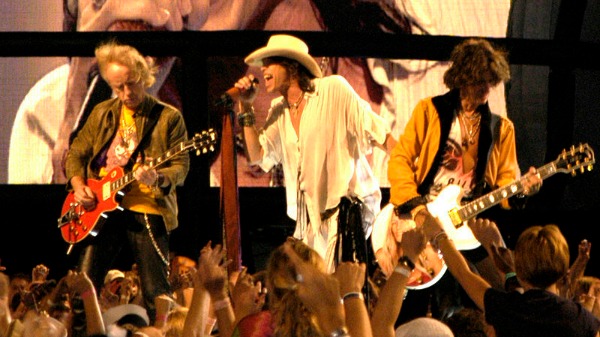 Aerosmith is an exceptionally long-lived band, thanks in part to singer Steven Tyler. Although they hit it big in the '70s, they experienced a sort of renaissance in the '90s, with several top 10 hits on the mainstream charts. Recently, Steven Tyler judged American Idol, which introduced him and his music to a younger generation.
Steven Tyler has a very whimsical style that incorporates many girly pieces, but somehow doesn't end up looking feminine at all. He's known to rock leopard print, fedoras, fur vests and coats, patterned blouses, platform shoes, feathered earrings, and floppy brimmed hats. Steven Tyler's signature, though, is his huge collection of long patterned scarves. He usually sports one and always ties several to his microphone stand during concerts.
To incorporate some of Steven's style into your wardrobe, don't be afraid to wear several of your boho chic and hippie items together at once. Bell bottoms, platform sandals, a silky blouse, a fur vest, and a pair of feathered earrings would be a chic way to pay homage to Mr. Tyler's unique fashion aesthetic.
To learn more and see some outfits inspired by Steven Tyler's faboosh style, click here!
Songs to check out: Crazy, Dream On, Crying, Walk This Way, Dude Looks Like a Lady, Janie's Got a Gun, and I Don't Want To Miss A Thing
6. Bob Dylan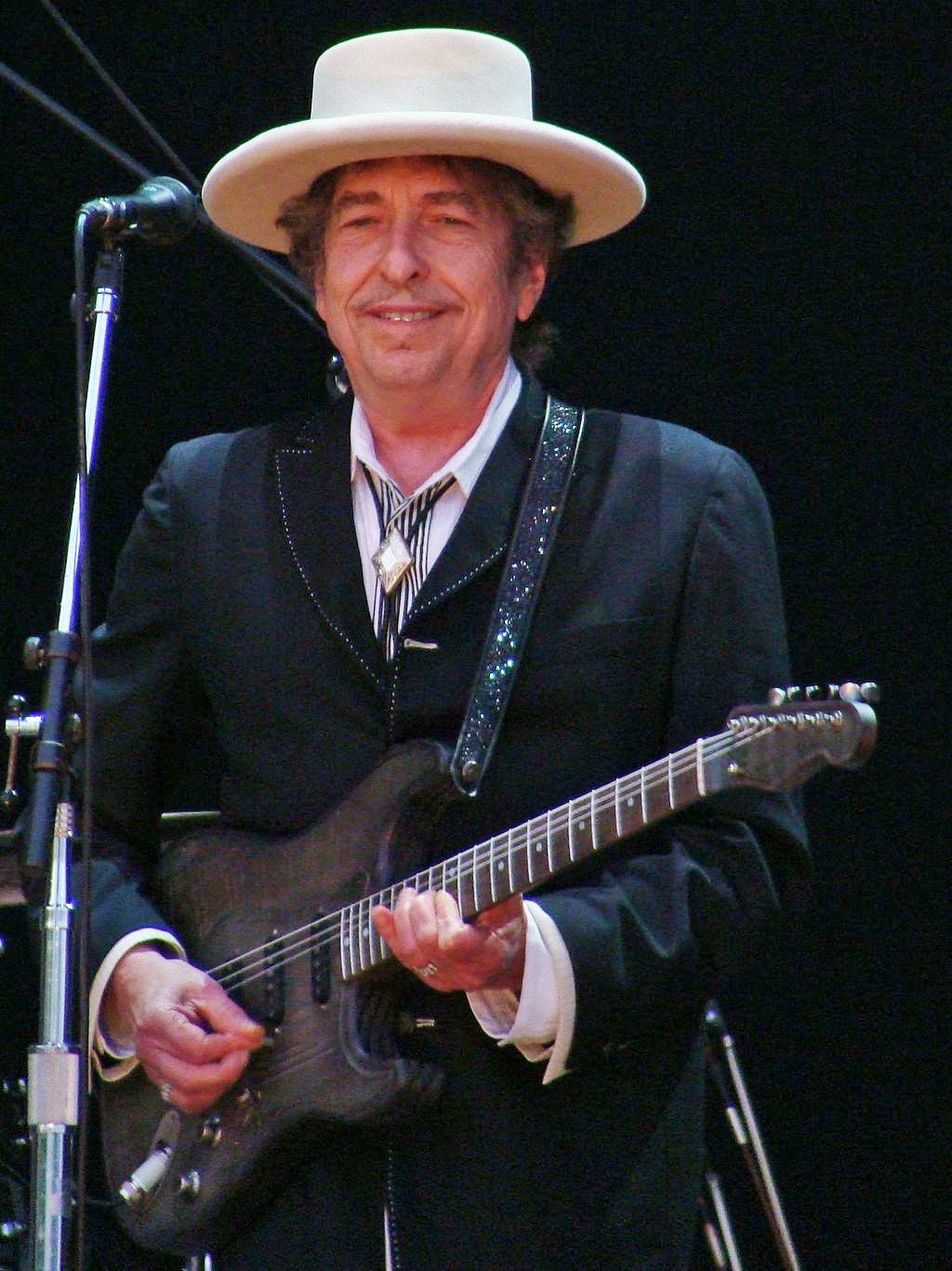 Bob Dylan freewheeled his way across America in the '60s and '70s with his harmonica, guitar, and distinctive voice. His impact on folksy music influenced the oh-so popular Americana genre today that bands like the Alabama Shakes, The Avett Brothers, and Allison Krauss have brought to a new generation. Although this sort of music is what he's primarily known for, Bob Dylan also dabbles in country, blues, rockabilly, English, jazz, and swing influences.
Bob Dylan's wardrobe consists of earthy, sturdy clothes that look down-to-earth and all-American, but are less hippie-esque and slightly rockabilly. He often wears chambray shirts, leather work jackets, corduroys, boots, pointy dress shoes, brimmed hats, and owns dozens of scarves. Bob Dylan has two signatures: his Ray Ban Wayfarers and a large collection of polka dot button down shirts.
For a cute and easy outfit inspired by Bob Dylan, try wearing a silky blouse with tiny polka dots, corduroy skinny pants, and a pair of ankle boots. Finish with a patterned scarf and a cool pair of wayfarers.
Songs to check out: These Times are A-Changin', Dust in the Wind, Like a Rolling Stone, Subterranean Homesick Blues
5. Bruce Springsteen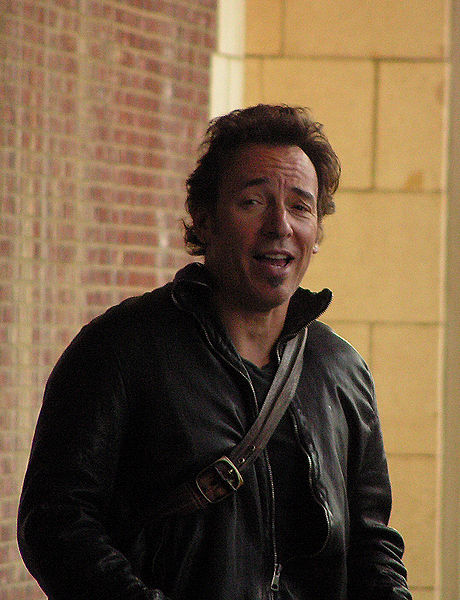 Better known as The Boss, Bruce Springsteen sings songs that capture the middle class American experience. Bruce Springsteen is credited as one of the pioneers of the "heartland rock" genre, and often sings poetically about chasing after the American dream and the family struggles that many suburban Americans encounter. His relatable songs have earned him millions of fans, and he's still regarded as one of the greatest American rock stars of all time.
The Boss's attire reflects his American, "good ol' boy" outlook on life, and he's never seen in anything too over-the-top or trendy. Despite this, he's managed to create a look that's all his own. Bruce Springsteen often wears jeans, denim jackets, striped shirts, work shirts, suspenders, graphic tees, work boots, and has a large collection of hats and bandanas.
For an outfit inspired by The Boss, try wearing your favorite pair of jeans with a button-down shirt made from a heavy material, boots, and a denim jacket. As long as your jeans and jacket are different colors, you'll avoid that "Texas Tuxedo" sort of look.
Songs to check out: Glory Days, Born in the USA, Dancing in the Dark, Born to Run, Streets of Philadelphia
4. The Beatles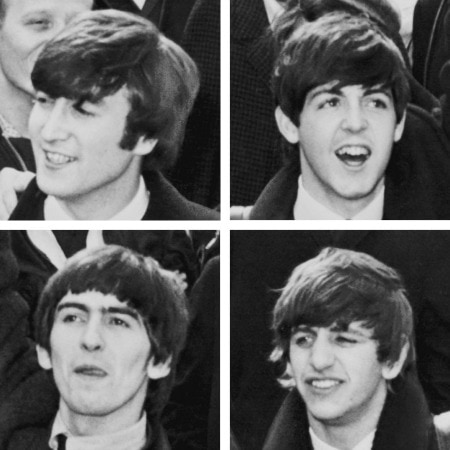 You knew that the Fab Four were bound to make this list! The Beatles are (in my opinion) the greatest band to ever exist, and millions would agree. The Beatles experimented with several different musical styles and influences, and their wardrobes seemed to change along with their musical stylings.
As we all know, The Beatles began their career in matching suits and mop-top hairdos. Today, slim-cut suits and skinny ties are still considered chic (Joseph Gordon Levitt in 500 Days of Summer, anyone?). A few years later, The Beatles released Sergeant Pepper's Lonely Hearts Club Band and wore those iconic technicolor military uniforms both on the album cover and for major performances.
As their music evolved and began to include Eastern sounds, their wardrobe changed to reflect that as well. John Lennon and George Harrison especially rocked peasant tunics, chambray shirts, linen pants, rope sandals, and round sunglasses.
For a fabulous Beatles-inspired outfit, wear your favorite structured marching band-esque military coat with some colored denim and a colorful shirt underneath. You could also reflect their later years with a hippie-inspired outfit, complete with bell bottoms, a gauzy blouse, and groovy shades.
To learn more about the Beatles' rad style, click here!
Songs to check out: In My Life, Martha My Dear, A Day In the Life, Hey Jude, Hard Day's Night, We Can Work It Out, Let It Be….okay, all of them.
3. Freddie Mercury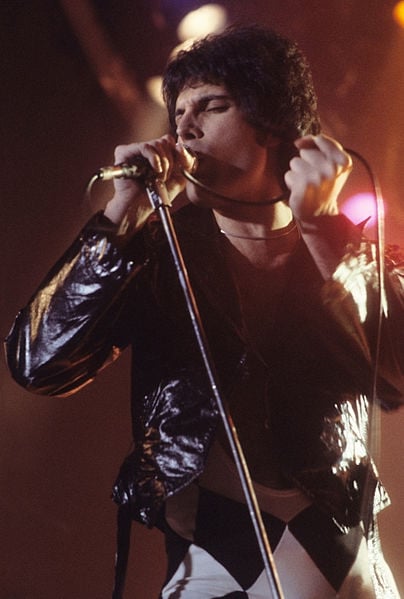 Freddie Mercury did not go gentle into that dark night — or on stage, or to the grocery store, or anywhere he went, or with anything he did. As the flamboyant leader singer of Queen, Freddie Mercury won over huge arenas with powerful rock ballads, energetic performances, and his larger-than-life persona.
Freddie Mercury dressed more, well, glamorously than other rock stars of his time, but he did so in a way that didn't come off as feminine or even androgynous. His look was more badass and tough, sort of like a glamorous biker! Freddie Mercury wore a lot of leather, platform boots, suspenders, stripes, track suits, studded jackets, jumpsuits, and cropped tops (okay, so maybe he looked a touch androgynous).
For a chic outfit that pays homage to Freddie, whip out a pair of coated jeans or lamé leggings, some badass platform boots, and a sequined top. Wearing a cute mustache necklace would be a fun way to give Freddie a shout-out, too!
To learn more about Freddie's Mercury's style, click here!
Songs to check out:Somebody to Love, Bohemian Rhapsody, We Will Rock You, We Are the Champions, Killer Queen, Under Pressure, Who Wants To Live Forever, Fat Bottomed Girls, Don't Stop Me Now, You're My Best Friend
2. Mick Jagger of The Rolling Stones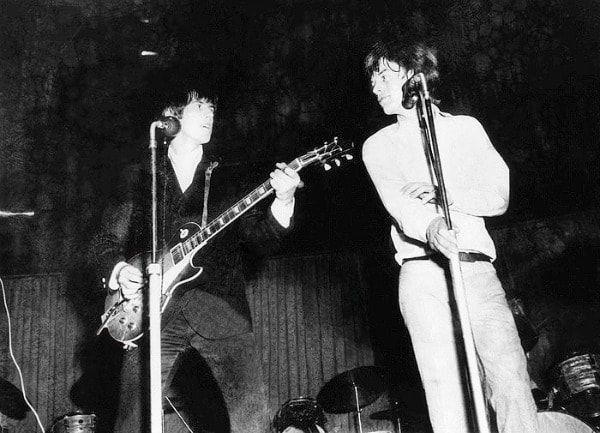 Mick Jagger is the lead singer of rock juggernaut The Rolling Stones. Many people compare them to The Beatles because of their huge influence, staying power, and world-wide appeal, but personally I feel like there's no comparison when it comes to their sounds. The Beatles were completely fabulous in a pop and softer rock way, whereas The Rolling Stones melt faces with a true rock-and-roll sound. However, like The Beatles, they experiment with a wide variety of sounds and influences, which gives their song catalog a giant range.
Before we sang songs about his moves, Mick Jagger created a look and persona that was and is completely unique. He channels proper British garb, and wears things like pussy bows, velvet suits, silk scarves, pointy shoes, and slim ties. He's also a fan of puffy-sleeved blouses, bell bottoms, and blazers. Mick Jagger likes to pepper his wardrobe with over-the-top extras, like Lolita sunglasses, fur vests and wraps, feather boas, and more.
For a cool outfit inspired by Mick Jagger, wear a pair of colored flare-cut pants with a silky pussy-bow blouse. Add some ankle boots, then finish with a cool vest, a head wrap, and a pair of funky sunglasses.
For more fashion inspiration courtesy of Mick Jagger, check out our post here!
Songs to check out:Gimme Shelter, Can You Hear Me Knockin, Jumpin' Jack Flash, Wild Horses, Brown Sugar…I could go on and on.
1. David Bowie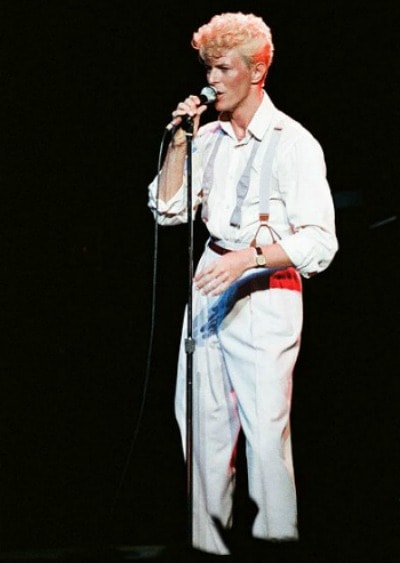 David Bowie had such a distinctive stage persona that he renamed it Ziggy Stardust! Bowie is the king of dancey rock music, and is the ultimate flamboyant glam rocker. Bowie is credited with creating one of the first and biggest musical "cults." You may also have seen him in the creepy/awesome Jim Henson film Labyrinth!
Ziggy Stardust was Bowie's androgynous onstage persona, and unlike some of the other rock stars on this list, his use of feminine pieces indeed ended up looking, well, feminine! His well-tailored suits were always peppered with sequins, neon colors, metallics, feathers, furs, and more.
Back in the day, Bowie often wore platform boots, and painted his face or wore make up. He owned a lot of jumpsuits, too. Bowie has several outer space-themed songs, so having a futuristic vibe was usually a part of his look. Although Bowie's style has mellowed out a bit these days, his iconic rocker look still lives on.
For a fun outfit inspired by David Bowie, go for a pair of metallic or coated jeans, and pair it with a sequined top and a jacket in a bold color. Lightening bolt jewelry, blue eyeliner, or hot pink lips would be a neat way to supplement this outfit as well!
To learn more about David Bowie/Ziggy Stardust's style, check out a post we wrote here!
Songs to check out: Let's Dance, Heroes, Starman, Space Oddity, Cat People
What Do You Think?
Do you listen to any of these rock stars? What are some of your favorite songs? What classic rock bands do you love? Whose style do you admire? What other top 10 countdown lists would you like to see on CF? Leave a comment, let's keep this girl talk going!