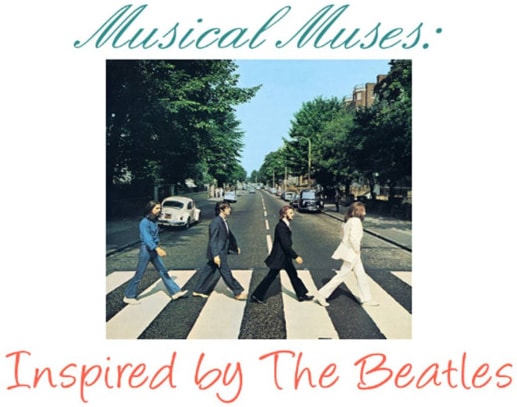 Ever since they took the music world by storm back in 1960, The Beatles have been known worldwide for their cutting-edge rock music and the cultural phenomenon they created in the UK and US. The "Fab Four," comprised of Paul McCartney, Ringo Starr, John Lennon, and George Harrison created music that was so universal and timeless that it continues to be popular today. In honor of Ringo Starr's 70th birthday this week (July 7th), I chose The Beatles' mod style as an outlet for fashion inspiration.
Outfit 1: "Twist and Shout"
When the Beatles arrived in the United States in February 1964, they were mobbed by fans. The fab four looked dapper in black suits and ties. You can achieve the Beatles' clean-cut look by pairing black skinny pants and a button-down shirt with an of-the-moment white blazer. Complete your outfit with menswear accessories like oxfords, a chunky watch, and a bow-tie necklace.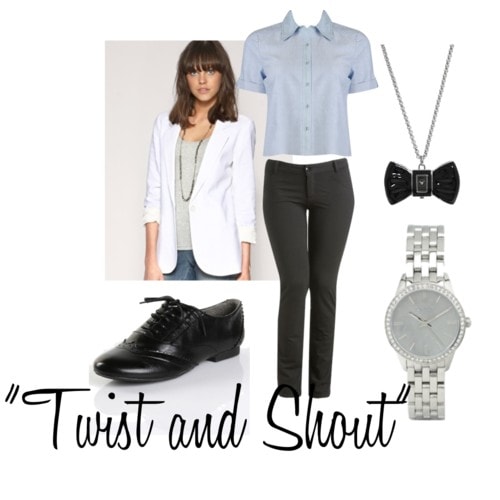 Product Information: Blazer- Asos, Shirt- Forever 21, Necklace- Zappos, Watch- Asos, Pants- Wet Seal, Shoes- Lulus.
Outfit 2: "Sgt. Pepper's Lonely Hearts Club Band"
The Beatles went for a completely different look when they released their album Sgt. Pepper's Lonely Hearts Club Band a few years later. Wearing bold and bright military jackets and sporting longer hair and mustaches, they completely reinvented their image and created trends all over the place.
Take a cue from the Beatles' over-the-top colorful style by pairing a military jacket with colored denim and a rainbow printed tank. Add some hippie-inspired accessories for a bohemian edge.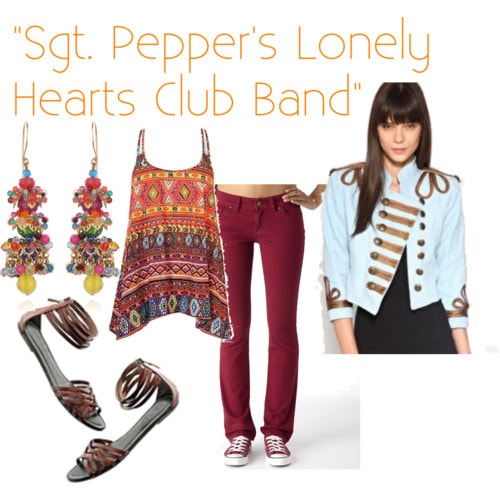 Product Information: Earrings- Charm and Chain, Sandals- Madewell, Tank- Forever 21, Jeans- Delias, Jacket- Asos.
Outfit 3: "All You Need is Love"
One of the most powerful messages in The Beatles' music is that love always prevails and peace can be attained in the world. For a look that evokes the later Beatles of the 1970s, pair a tee with a fringe-trimmed skirt and wooden-heeled sandals. Add some strawberry earrings and a heart-shaped purse for a cute and quirky twist.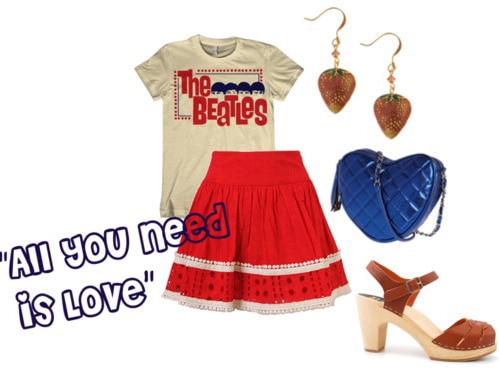 Product Information: T-Shirt- Dress Code Clothing, Skirt- Forever 21, Earrings- Modcloth, Purse- Modcloth, Sandals- Swedish Hasbeens.
Looking for more Beatlemania?
Listen to these songs!
Watch this movie!
"Across the Universe" (2007)– This colorful musical features all the classic Beatles hits as well as an intriguing love story about Jude and Lucy as they try to make sense of the world during the Vietnam War.
While the Beatles sadly do not make music anymore, you can catch Paul McCartney on his An Evening with Paul McCartney Tour this summer. Here are some more Beatles-inspired pieces that span everything from "Strawberry Fields Forever" to "Octopus's Garden."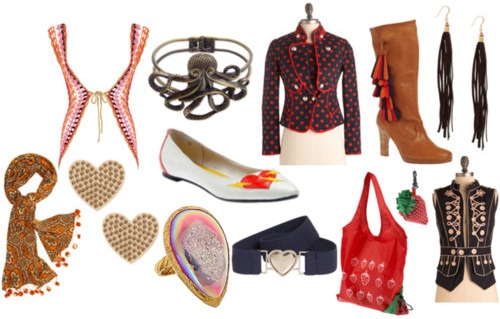 Product Information: Vest- Forever 21, Bangle- Modcloth, Jacket- Modcloth, Boots- Modcloth, Earrings- Modcloth, Vest- Modcloth, Bag- Modcloth, Belt- Modcloth, Ring- Max and Chloe, Flats- Modcloth, Heart Earrings- Modcloth, Scarf- Modcloth.
What do you think?
Are you a Beatles fan? What is your favorite Beatles song? (There are way too many great ones to mention them all in this article!) What other musical artists inspire you? Let me know in the comments!