This post may contain affiliate links, which means we may receive a commission if you purchase through our links. Please
read our full disclosure here
.
Photos: Pacific Coast News
Our parents knew him as the energetic frontman of Aerosmith in the 1970s. We were introduced to him as the guy who sang the catchy theme song from Armageddon. And yet again, a new generation has been introduced to the eclectic singer/songwriter as the new judge on American Idol. Yes, ladies, this week we've got a good one for you — we're breaking down the style of the legendary Steven Tyler!
Out of all the stylish men I've covered, Steven Tyler has me the most excited. His bohemian, rock star style is extremely fashion-forward, yet is so easy to translate to a twentysomething girl's wardrobe. Next time you channel surf, stop for a few minutes on American Idol and take a look — his outfits are often more inspiring than those of all the contestants and Jennifer Lopez combined!
Maybe good taste runs in families, because Steven is the father of two other famous faces in fashion — Liv Tyler, an actress and a model, and plus-sized model and public speaker Mia Tyler.
Excited to steal some of Steven's wild, carefree style? Read on!
(For more post on Stylish Men, check out our breakdowns on Mick Jagger, Freddie Mercury, Kurt Cobain, Andre 3000, Johnny Depp, Seth Cohen from the O.C., David Bowie, Scott Disick, David Beckham, Kanye West, and Michael Jackson.)
Photos: Pacific Coast News
Elements of Steven Tyler's Style
Steven Tyler incorporates many different styles into his own look. His outfits frequently feature many hippie elements, such as feather earrings, suede fringe, leather headwraps, flared jeans, and floppy hats.
Steven is also known for his bad-boy rockstar image as well. He's a fan of tight leather pants, piles of necklaces and bracelets, black nail polish, deep v necks (I like to call them capital V's!), motorcycle boots, and aviator sunglasses.
Steven Tyler's signature is his use of bold, colorful patterns. He likes to rock patterned blouses, and used to tie large printed scarves to his microphone stand during concerts!
The key to getting Steven Tyler's look is really just to wear what you think looks cool. It's obvious that Steven Tyler doesn't follow any fashion rules, and doesn't care if a piece is meant for a man or woman, or meant to be dressy or casual. By throwing an unexpected piece into a regular outfit, you'll create interest and rock your own unique look.
And now for everyone's favorite part…outfit ideas!!
Outfit Inspiration
Dream On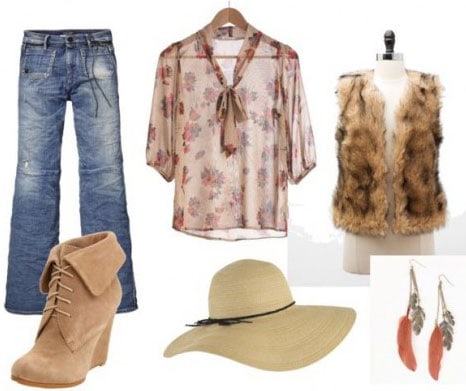 Pants, Blouse, Vest, Shoes, Hat, Earrings
This look channels Steven's flower child aesthetic. Seventies fashion has been back for a while now, and Steven's interpretation of this trend is a perfect example of how to modernize the look! Dust off your old flared jeans from high school and pair them with a floral pussy bow blouse. Add a vest — fur or suede, depending on the season — and finish the outfit with feather earrings, a floppy hat, and a pair of wedges.
Walk This Way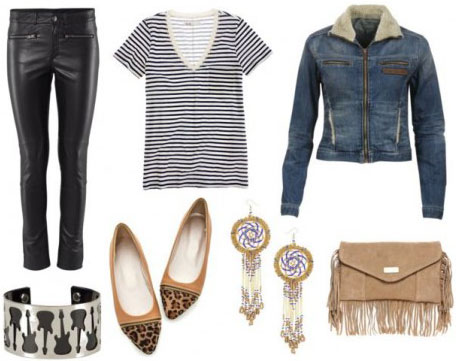 Pants, Shirt, Jacket, Shoes, Earrings, Bracelet, Purse
This outfit is inspired by Steven's look from when he made his comeback in the late '80s and early '90s. Leather pants have a classic, rock and roll look, and are perfectly balanced by a simple striped v-neck. Add a grungy denim jacket, and glam up the look with leopard flats, a fringed clutch, long earrings, and a guitar cuff bracelet.
Cryin'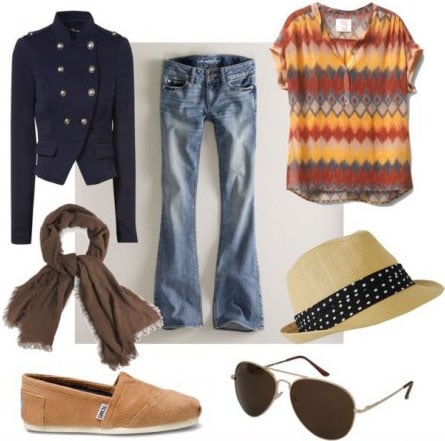 Jacket, Pants, Shirt, Scarf, Fedora, Shoes, Sunglasses
This ensemble is inspired by the types of outfits Steven Tyler has been wearing lately as a judge on American Idol. A bold shirt will look great paired with flared jeans and a military jacket. Add a scarf and a fedora, and finish the look with simple shoes and a pair of aviators.
Thoughts?
Do you ever listen to Aerosmith? What about American Idol – do you watch? What do you think about Steven Tyler's eccentric style? What other stylish men would you like to see CF cover? Leave us a comment and tell us what you think!