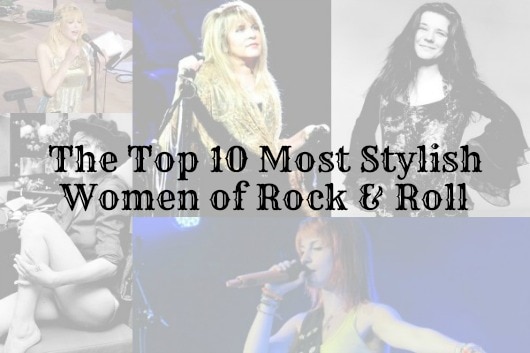 You know what today is – that's right, it's time for another fun Top 10 Countdown. This week, we're focusing on yet another intersection between music and style — the most stylish women of rock and roll.
It never ceases to amaze me how much of our fashion is influenced by musicians. This phenomenon seems to make intuitive sense, though — someone creative enough to produce awesome music probably has the panache and attitude exciting enough to create a memorable aesthetic. It's pretty cool when you think about it. Anyways, let's jump right in!
(Note: Because many of these rock goddesses are from eras of the past, licensing photos for this post was more of a challenge than usual. I've provided a link to a good Google search under each person's name to help you get a better, more holistic idea of their personal styles.)
Marianne Faithfull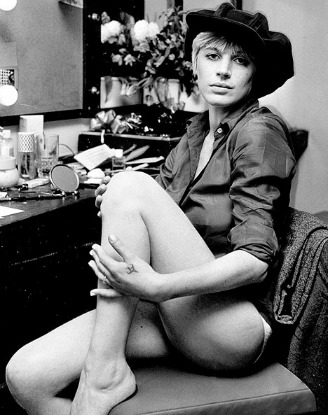 We might all know Marianne Faithfull best as one of Mick Jagger and Jim Morrison's muses, but she was also an accomplished rock singer, songwriter, and actress.
Marianne Faithfull adopted many key hippie items in her time — bell bottoms, platforms, fringe vests, and peasant blouses to name a few — but her style was also heavily influenced by the eccentric and funky accessories worn by her famous boyfriends. She was known to wear feather boas, over-the-top fur coats, heart-shaped Lolita sunglasses, and leather pants and jackets. Marianne also wore lots of mod-inspired pieces, like mini dresses, tights, and mary janes.
To steal her look without looking too costume-y, mix a few statement pieces with an otherwise-simple ensemble. Try wearing crazy sunglasses and a hippie headband with a sundress, or lace-up knee-high boots and a fur vest with skinny jeans and a t-shirt.
Marianne Faithfull went light on the make up, but never went anywhere without her thick and perfectly styled bangs. Even though I love the look of bang, I'm way too scared to try them for myself. So, if you're like me, I hear you can buy reasonably priced clip-in bangs to test the look out. Finish with texture spray throughout the rest of your hair, black eyeliner and mascara along the your top eyelid, and finish with light pink blush.
Songs to check out: As Tear Go By, Angel, Broken English
Karen O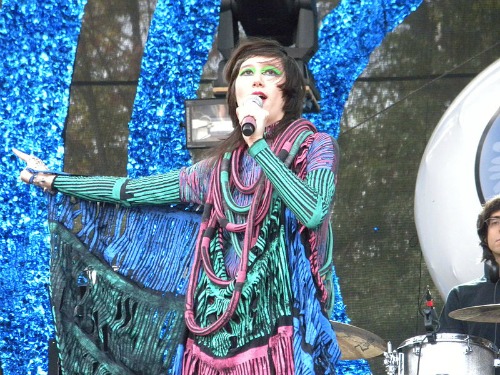 Karen O, lead singer of the Yeah Yeah Yeahs, is practically synonymous with loud fashion. With a wardrobe mostly made up of pieces by her fashion designer friend Christian Joy, we've all grown to expect Karen O to always rock something fantastic.
Karen's wardrobe is known for mixing colors, fabrics and textures, bulky layers, unusual shapes, and a dose of theatricality. She's been seen in jackets made of our pounded leather plates, Beetlejuice-esque black and white suits, geometrically shaped dresses, and more.
Want to snag her style, but still look classroom-appropriate? Try wearing really funky earrings and bangle bracelets with a neutral outfit, or rock a pair of patterned harem pants with a plain tank and a cropped jacket.
Karen O's famous haircut is another thing that makes her stand out from the crowd. It sort of resembles the infamous cereal bowl haircut – but in the best way possible. Her mop top gives her a funky, quirky innocence that she totally pulls off. While I wouldn't recommend this haircut for the faint of heart, you can easily copy this look by pulling your hair into a low ponytail and pulling out face-framing layers. Finish with a bright lip color and eye shadow.
Songs to check out:Maps, Heads Will Roll, Zero
Heart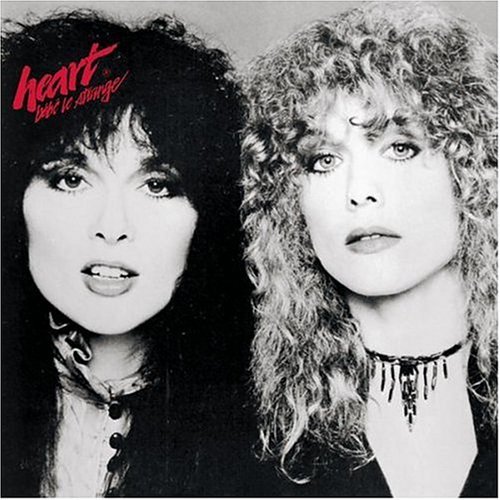 Official Record Artwork
Nancy and Ann Wilson, the (respective) lead singer and guitarist for the band Heart, were considered two of the most badass babes of their time.
These sisters cranked out tons of hits and looks insanely chic while doing so. The Wilson sisters often wore skin-tight leather pants and jeans, suede and leather vests, studded jackets, and flowy blouses. To steal their rock star-glam look, wear skinny jeans with your toughest pair of boots, a silky button-down shirt, and a funky vest.
Nancy and Ann Wilson both also rocked feathered, center-parted hair styles, which were all the rage back in the mid-'70s during Heart's peak in popularity. Their makeup was full and glamorous, both focusing on their big, cat-like eyes.
To copy their look, blow dry your hair away from your face with a round brush, tease the roots, and finish with hairspray. Line your eyes with black eyeliner and smudge some gray eyeshadow on your lids. Finish with two or three coats of black mascara, focusing on the outer third of your lashline.
Songs to check out: Barracuda, Magic Man, Crazy on You
Janis Joplin
Before Rachel Zoe and Nicole Richie made boho-chic the hottest look of an entire decade, there was Janis Joplin, the ultimate hippie chick.
Janis Joplin popularized the classic hippie look that we all think of when we think about the flower children of the 1960s. She often wore bell bottoms, peasant tops, long necklaces, earthy jewelry, hippie headbands, feathers, platform sandals, and round sunglasses.
To copy her look without looking too costume-y, incorporate just one of two hippie elements into an otherwise modern outfit — try small round sunglasses during game day, or a hippie headband and platform sandals on a fun night out.
Janis wasn't big on makeup, but her hair more than stole the show. To recreate her free-wheeling hairstyle, spray damp hair with tons of texturizing spray and blow dry with a diffuser. Flip upside down and douse lightly with hairspray.
Songs to check out: Me and Bobby McGee, Piece of My Heart, Cry Baby
Courtney Love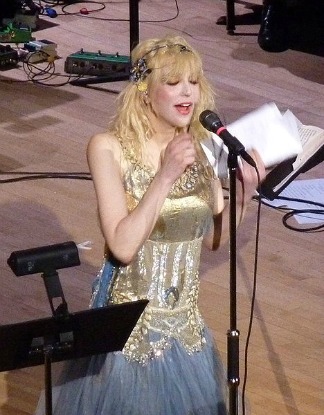 We all know her best as the late Kurt Cobain's widow, but as the lead singer of Hole, Courtney Love created headlines in her own right for her grungy, pseudo-gothic style in the '90s.
Haute couture fashion houses sent Courtney dresses to wear, which she'd immediately rip, fray, and re-pin to create her own interesting look. She was known for adding lace and studs to her outfits when she saw fit, and often rocked clunky Hushpuppies or Doc Martens with otherwise feminine ensembles.
Steal her style by pairing tough leather or denim jackets with frilly dresses, adding a heavy-soled pair of shoes, and spraying salt spray in your hair for a devil-may-care, bed-head sort of texture.
Another major signature of Courtney Love is her smudgy, slept-in makeup. To recreate this look, apply dramatic makeup in a semi-haphazard fashion. Swipe red lipstick along your lower lip and blot your lips together to spread the color. Apply black eyeliner to your upper and lower lids, but don't worry about using primer or setting with translucent powder.
This sort of "anti-fashion" style approach worked for Courtney because of her confident, rebellious spirit. Carry yourself with the same ballsy attitude for an instant confidence boost.
Songs to check out:Celebrity Skin, Malibu, Doll Parts
Hayley Williams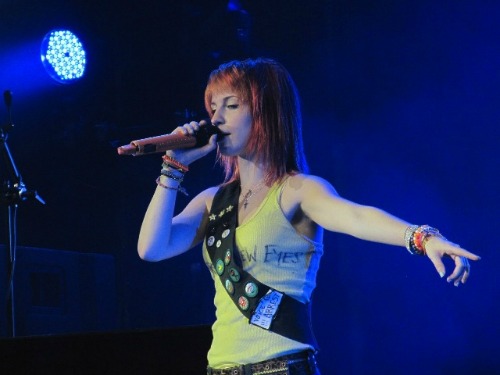 Hayley Williams is the young and spunky lead singer of Paramore. Her youthful and fun attitude is evident in her punky, energetic, and almost mallrat-esque way of dressing.
Hayley's a fan of neon and bold colors, textured and patterned leggings and pants, pumped-up kicks, mini skirts, and graphic tees. She's very petite, and highlights that with form-fitting silhouettes.
To get Hayley's look, pair a graphic t-shirt with a hot pink or electric blue skirt. Finish with a pair of tights and some Chuck Taylors or Nike Dunks.
Hayley's biggest signature is definitely her unnaturally-colored hair. From cotton candy pink to traffic cone orange, Hayley's boldly-hued hair helps casual fans identify her when she's apart from Paramore.
Love the idea of neon hair, but don't want to commit? Try spray-in or clip-in color for a fun way to play on the weekend. As far as makeup goes, Hayley is also a fan of neon-colored eyeliner and lipstick.
Songs to check out: Airplanes, Decode, The Only Exception, Misery Business
Stevie Nicks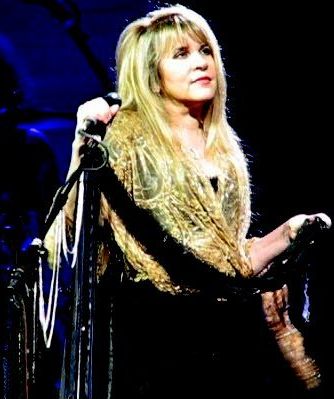 Stevie Nicks of Fleetwood Mac has more than just a pretty face and killer pipes — she's also a fantastic, heartfelt songwriter and has a truly iconic sense of style.
I have two words to describe Stevie's style — gypsy goddess. She was the queen of maxi skirts and dresses, oversized loose-knit sweaters, bat-winged and caped sleeve blouses, slouchy boots, and long scarves. Hats were another huge feature of Stevie's style — from top hats to beanies, Stevie made them all look cool and laid-back.
To steal her look, pair a maxi skirt with a distressed sweater, your favorite pair of boots, and a hat if you're feeling bold. Thanks to boho babes like Vanessa Hudgens and Mary-Kate Olsen, an outfit like this won't look dated at all.
Stevie Nicks' mop of wavy blonde hair is another one of her most beautiful features. To copy the look, spritz dry shampoo and hairspray on dirty hair, then curl by wrapping 1-inch sections around the closed barrel of a curling iron. When you've finished your entire head, shake and brush out with your fingertips and spritz once again with hairspray.
Songs to check out: Rhiannon, The Chain, Don't Stop, Landslide, Dreams
Florence Welch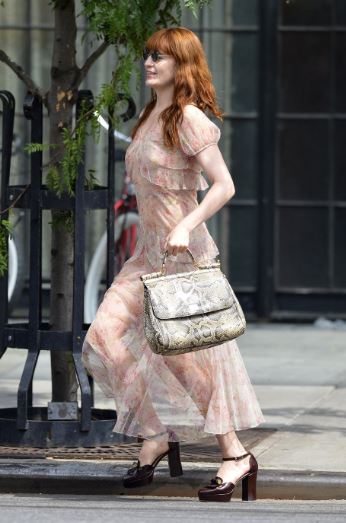 Pacific Coast News
Florence Welch of Florence + the Machine blew our minds on the airwaves as well as the red carpet. Her retro, throwback style is cool because it channels fashion aesthetics from the past, but does so in a very subtle and modern way.
Florence is often seen in lacy frocks, loose-fitting floral sundresses, oxford heels, and pearl jewelry. To steal Flo's look, check out the retro-fabulous dresses on ModCloth and pair them with Victorian-esque shoes, a long necklace, and simple stud earrings. If ModCloth is a little pricey for your liking, be sure to check out vintage stores in your town, or even rummage through a grandma or aunt's closet — you never know what treasures you might find!
Another thing I think is really cool about Florence Welch is her signature look in the beauty department. Her fiery red hair is immediately recognizable, and Florence is rarely seen without her signature cherry-red lips. For a perfect opaque red lip, apply some lip balm, wait 15 minutes, then exfoliate with an old toothbrush. Apply more lip balm, and after another 10 minutes, blot off the residue and carefully apply your favorite shade of red lipstick. Dust with translucent powder, and throw the lipstick in your purse for any late-night touch ups.
Songs to check out: Shake it Out, Dog Days are Over, Spectrum
Debbie Harry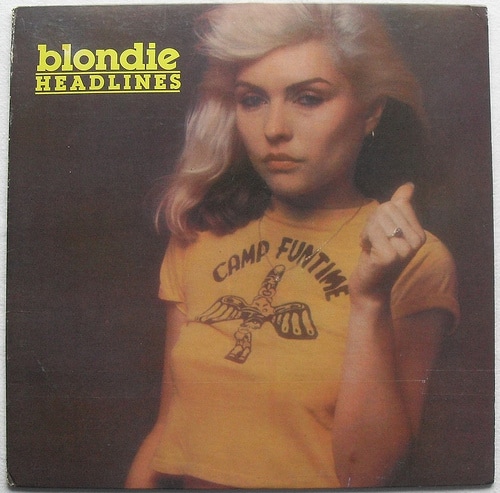 Official Record Artwork
The original punk babe Debbie Harry is also known by her stage name Blondie. Equally as famous as her music were her gorgeous features and killer, rebellious sense of style.
Debbie Harry had an incredible way of making boyish, punky clothes look insanely feminine and sexy. Her graphic tees, mini dresses, hotpants, and cropped jackets were all skin-tight and sexy. She loved high-heel stilettos and boots. Debbie wore a ton of denim, and lots of patterns as well. Replicate her style by wearing a concert tee shirt with a pair of short-shorts, and boots or platforms.
To mimic Blondie's beauty, go for a clean line of black eyeliner on your upper lid, fanning it out slightly for a chic cat eye. Blow dry your hair sleek with a round brush, but rough up the ends with wax or pomade. Finish with matte red lipstick.
Songs to check out:Rapture, Heart of Glass, One Way or Another
Gwen Stefani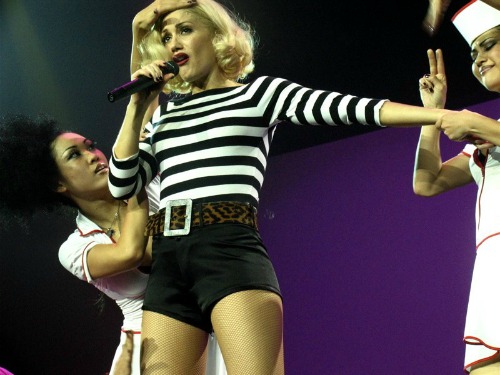 I've had a girl crush on Gwen Stefani since I can remember. Gwen got her start as the lead singer of No Doubt, which has evolved into a successful solo career and a critically acclaimed fashion line.
Gwen Stefani has always had a very eccentric sense of style that seeks inspiration from eastern cultures. In the early '90s, she often rocked Bindi jewels on her forehead. Today, her personal style and even the direction of her clothing line is influenced by Japanese anime culture. A fan of bold, statement-making pieces, Gwen was one of the main reasons why harem pants caught wind (pun intended) a few years ago. She's also been known to wear funky shoes, kimonos, cropped patterned jackets, and more.
Gwen Stefani's hair is a cornerstone of her unique style as well. In her early years, she experimented with blue and pink hair, and tied them into three or four buns across the top of her head. Now, she's very into retro pin-up style hairdos that often involved elaborate rolls and gorgeous soft waves. She looks beautiful no matter what, but I definitely love her current platinum blonde pin-up style. It looks especially chic with her black eyeliner cat-eyes and red lips.
Songs to check out:I'm Just a Girl, Hella Good, Let Me Blow Ya Mind, It's My Life, Holla Back Girl
What Do You Think?
What do you think of the women who made the list? Whose style do you most identify with? Did we leave your favorite rock goddess out? What other subjects would you like to see up countdown? Leave a comment and tell us what you think!