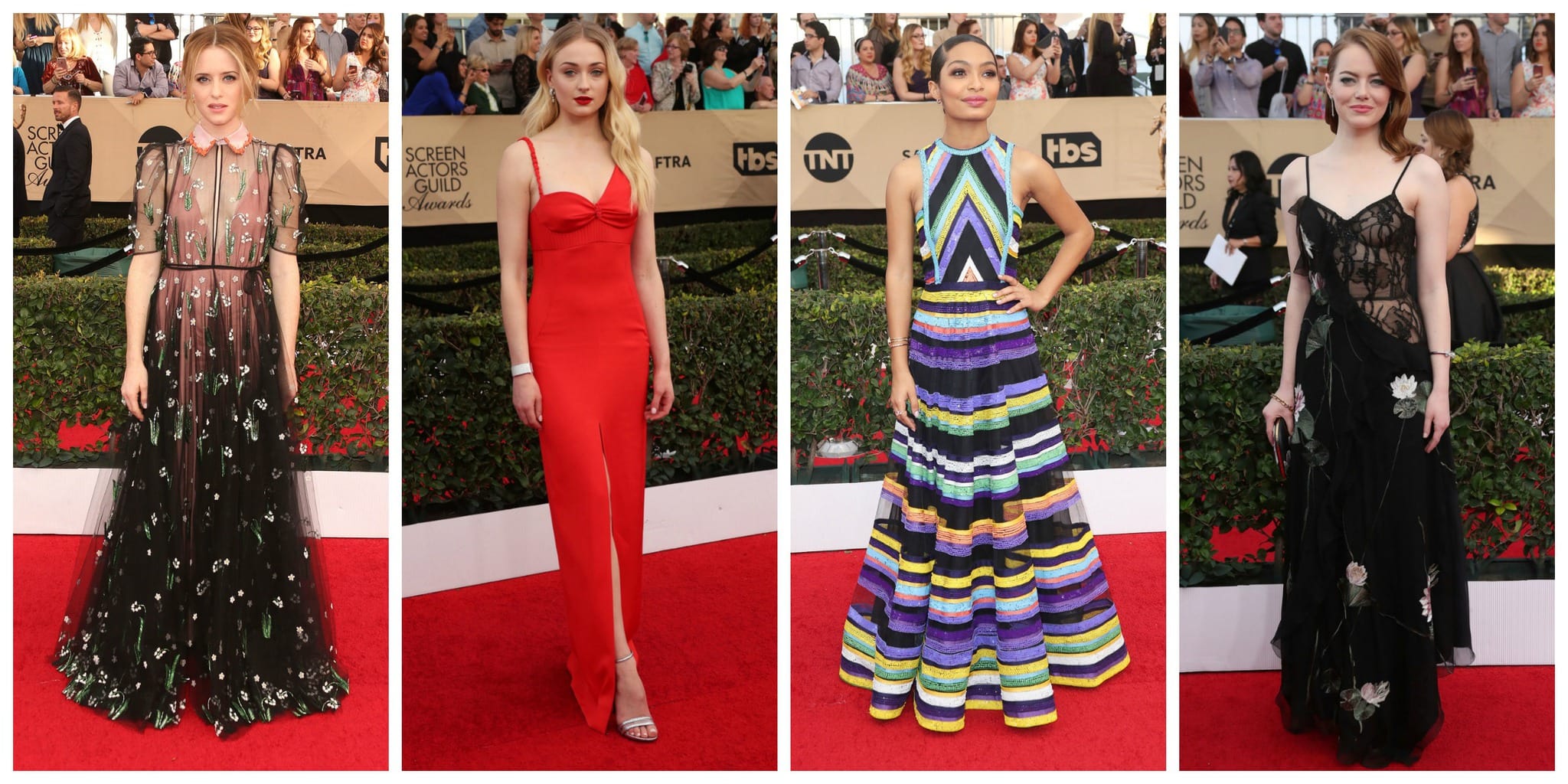 The stars of film and TV were back on the red carpet last night for the 2017 Screen Actors Guild Awards! And, of course, we're ready to talk about the fashion with all of you.
Read on to see which looks we loved from last night's festivities!
Top 5 Best Dressed
First, the best of the best. There were tons of looks to love last night, but I've narrowed it down to my top five faves.
Yara Shahidi in Naeem Khan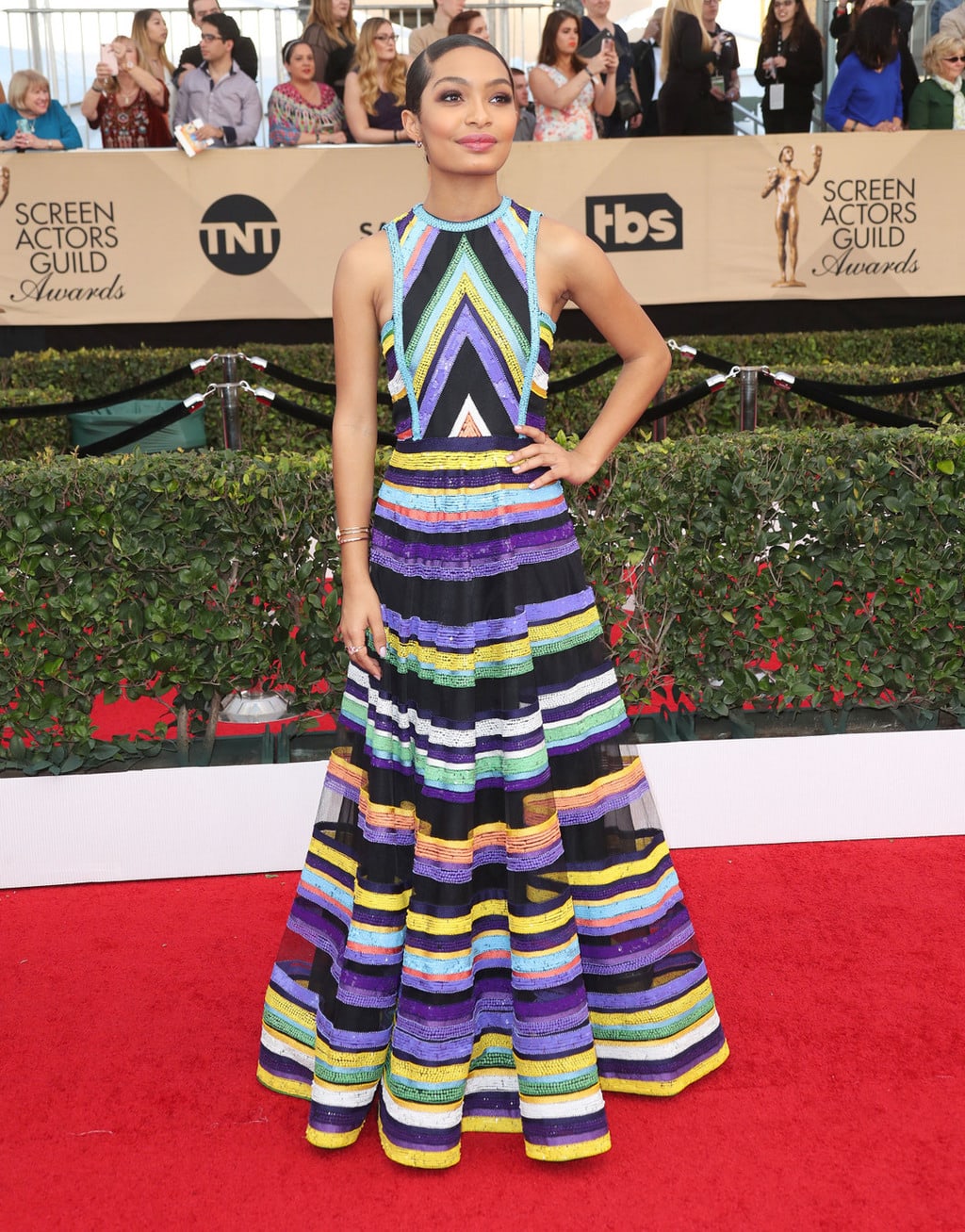 Actress Yara Shahidi stunned on the red carpet in a bold Naeem Khan gown featuring multicolored stripes and sheer panels. She accessorized with Jane Taylor Jewelry and a Onna Ehrlich clutch.
I haven't been watching her TV show Black-ish (though I'm going to start!) so I wasn't familiar with Yara Shahidi previously. However, after last night, she's officially on my fashion radar. This is such a perfect choice for a young actress at an event like the SAG awards. It's fun and fresh, yet still totally sophisticated. Love, love, love.
Evan Rachel Wood in Altuzarra
Westworld star Evan Rachel Wood wore a second suit on the red carpet this season (she also donned one for the Golden Globe awards), and I loved this one even better than the first! She rocked a deep blue Altuzarra suit with Ferragamo shoes and Tiffany jewelry.
Evan told E! that she plans to continue rocking suits on the red carpet all season, saying "I've always wanted to do it. I promised myself this year that I would wear a suit to every awards show." I commend her for this choice! Dresses don't have to be the default for women at fancy events. Why not take a cue from Evan and wear a suit to your next soiree?
Sophie Turner in Louis Vuitton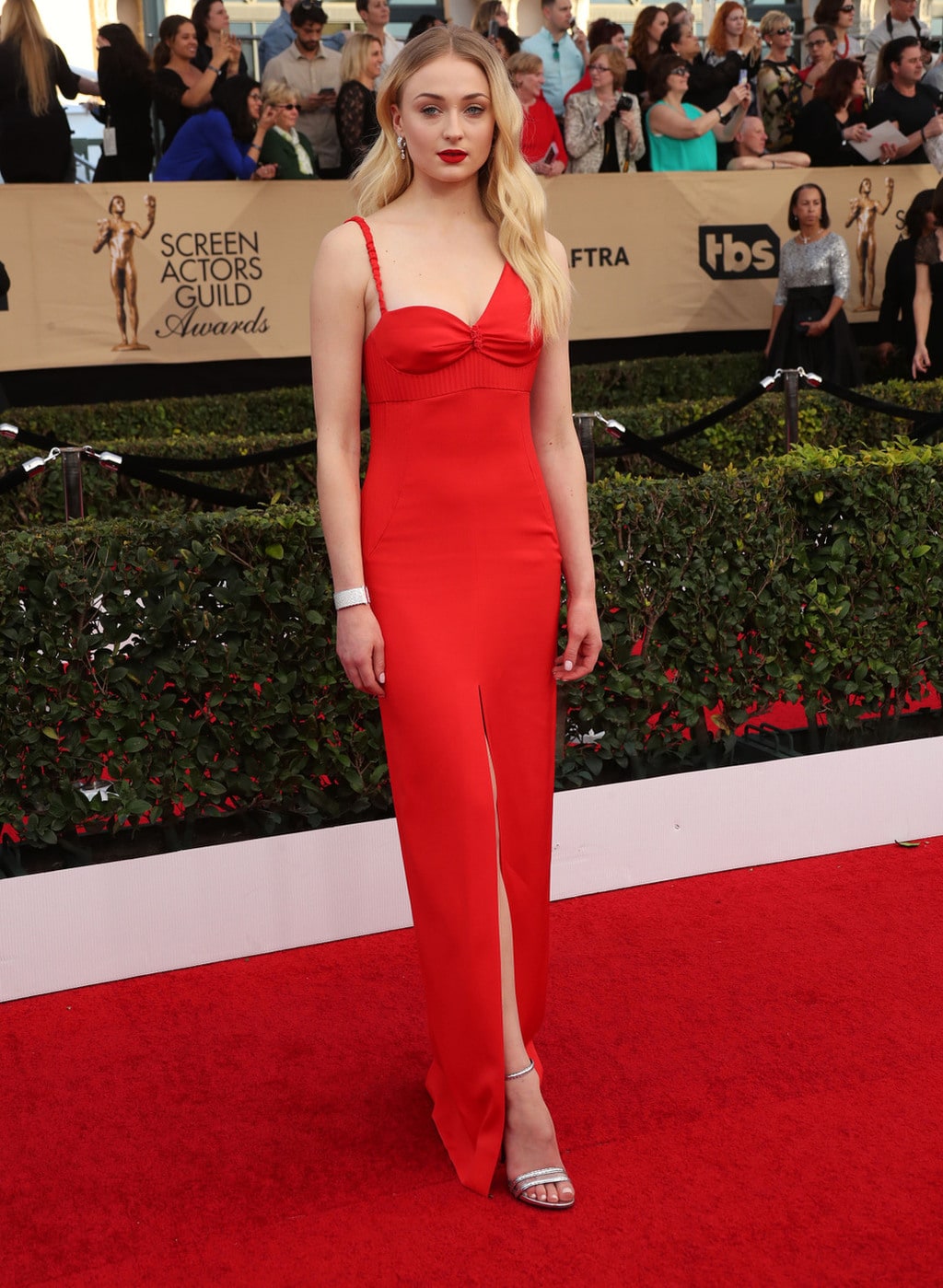 Game of Thrones actress Sophie Turner looked incredible at the show in a bold red Louis Vuitton frock featuring a high slit and asymmetrical straps. She added silver extras in the form of strappy sandals, jeweled earrings, and a thick bracelet, and finished her look with a swipe of glam red lipstick.
This look was such an unexpected choice for Sophie, who usually goes for tamer looks on the red carpet. It was great to see her go for something bold and pull it off so well!
Claire Foy in Valentino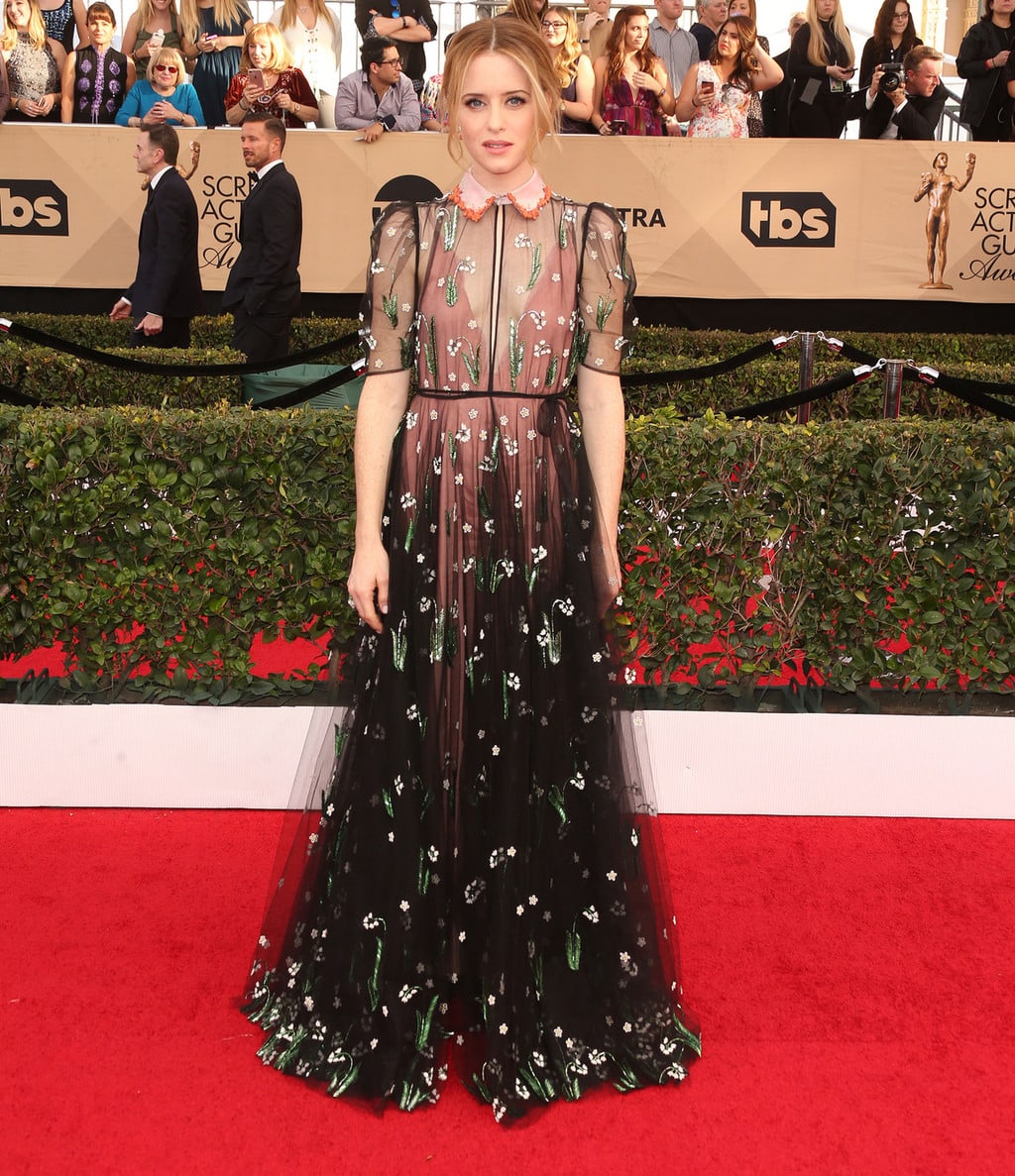 Claire Foy, the star of my personal favorite show this year, The Crown, looked so fashion-forward in a sheer floral Valentino gown, accessorized with Tiffany & Co. jewels.
I love how unique this look is – the neckline is unlike any I've seen on a red carpet in recent seasons. Featuring a sheer black floral gown over a deep v-neck pink slip and a detachable pink collar, there's a lot going on in this look, but somehow it all works. Claire is definitely a fashionista to watch in the years ahead!
Michelle Williams in Louis Vuitton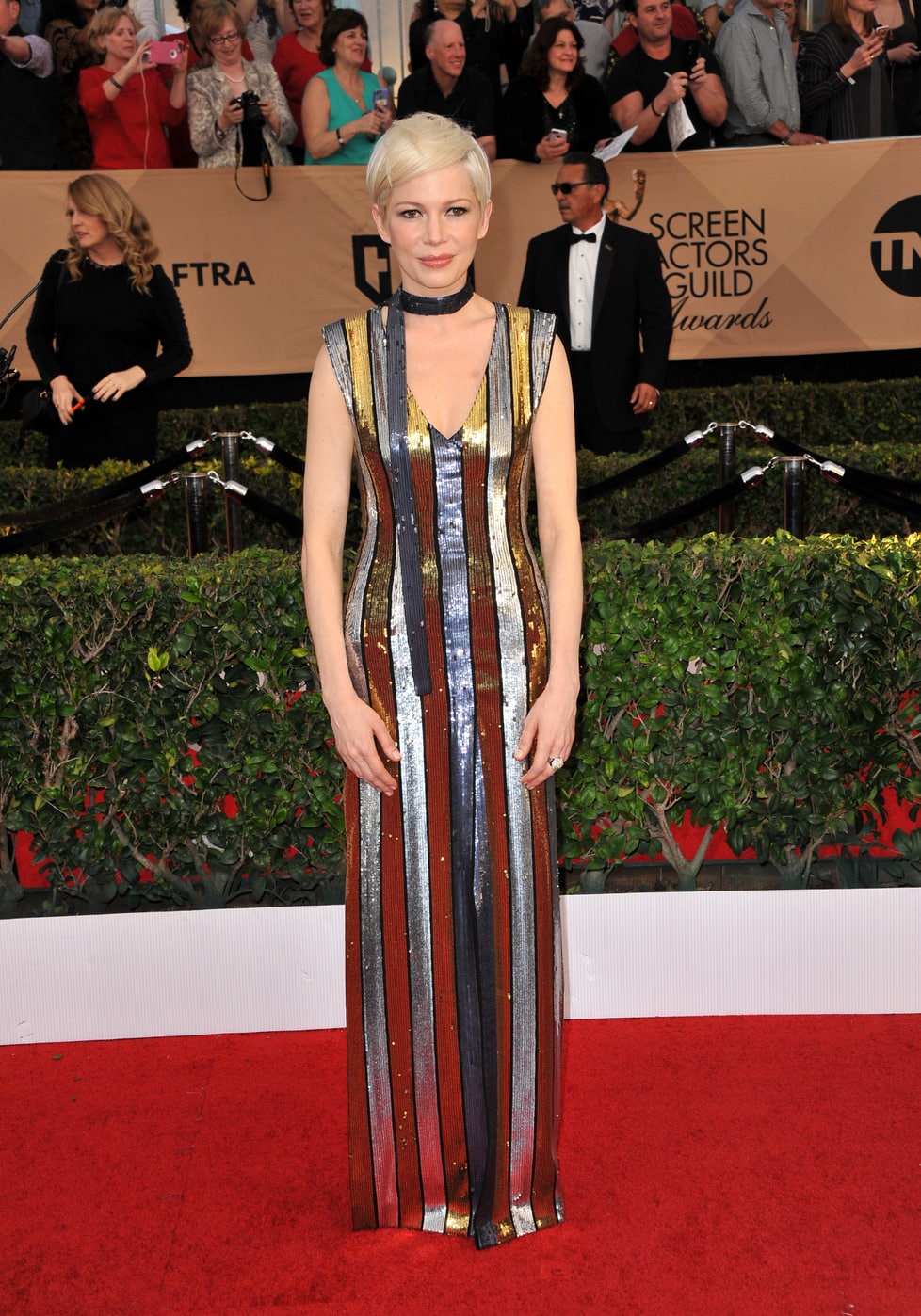 Michelle Williams proved that she doesn't always have to go quirky on every red carpet. Though she loves funky, unique pieces, she can also rock an ultra-glam gown with the best of 'em.
This sequined, striped Valentino gown was perfectly fitted to her body and even came equipped with its own matching skinny scarf. How cool!
Other Noteworthy Looks
Here are some other looks that had us talking last night.
Janelle Monáe in Chanel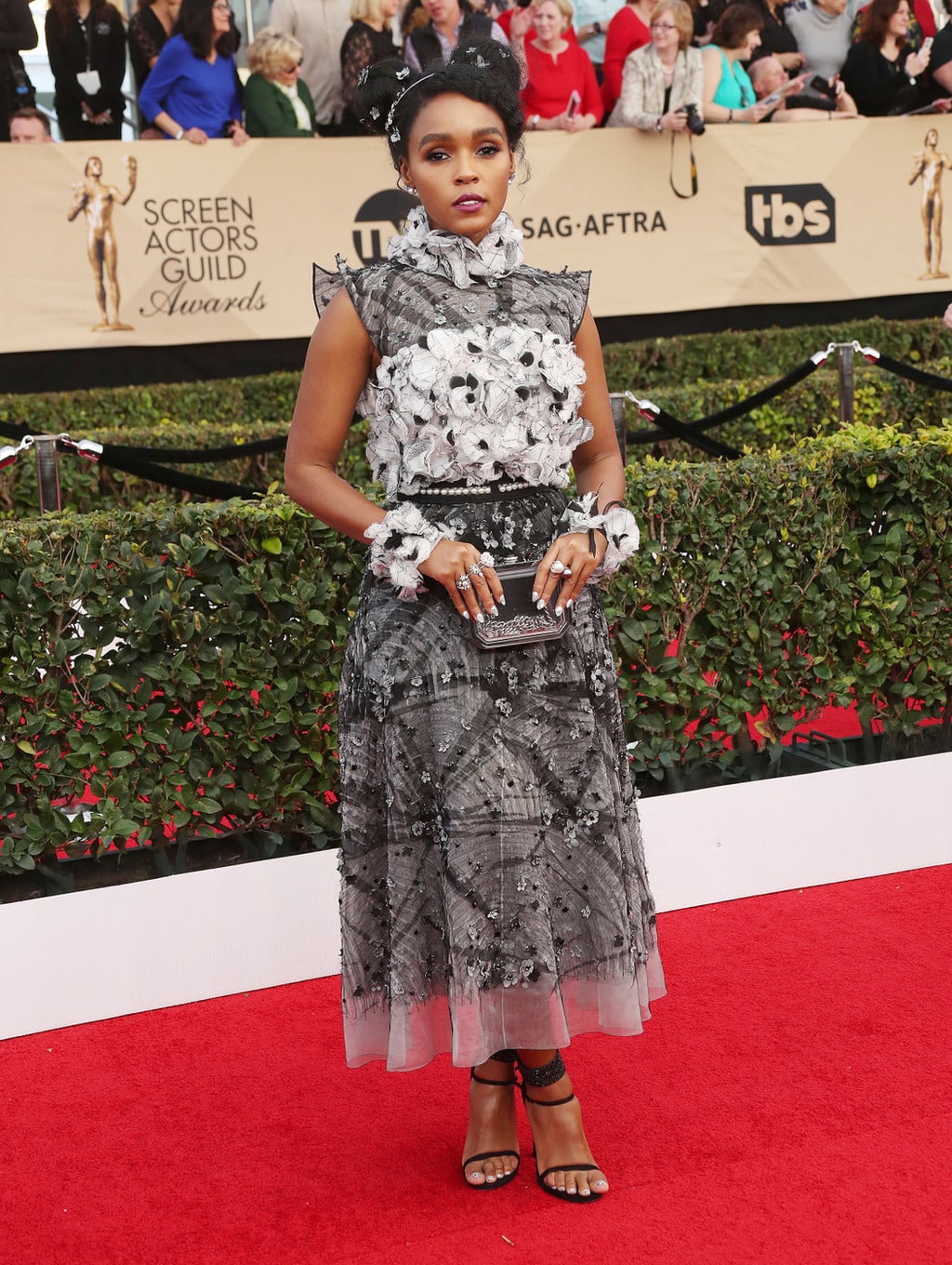 Janelle Monae wore Chanel tonight, specifically a frock in a similar color palette and style to the dress she wore on the Golden Globe Awards red carpet. It's only natural, as has a close relationship with Chanel and is practically the queen of wearing black and white. While I was on the fence about her last Armani look, I loved this one! It's so unique and unexpected, yet quintessentially Chanel – what's not to love?
Sofia Vergara in Zuhair Murad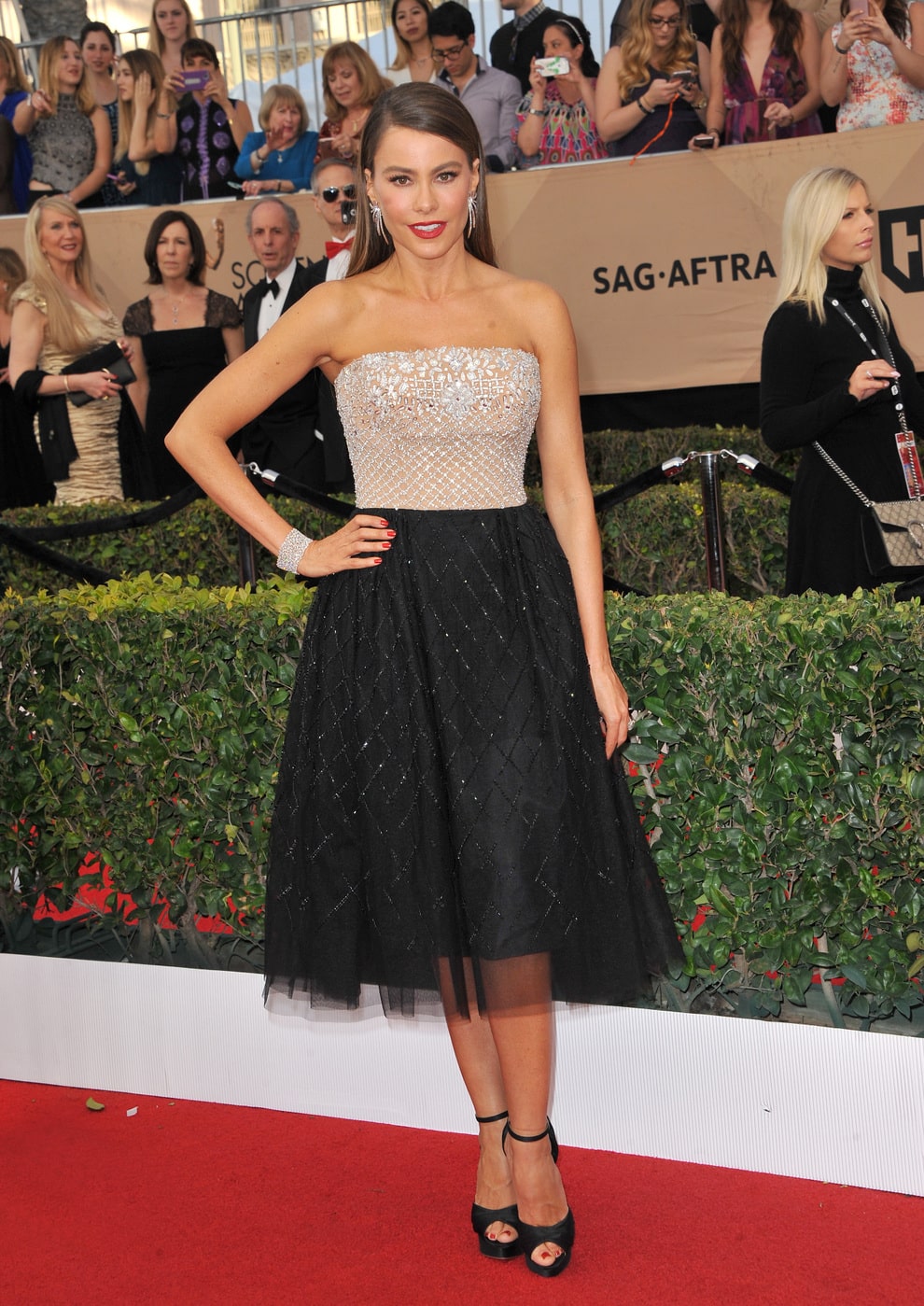 Sofia Vergara surprised audiences last night by showing up in a short, feminine frock by Zuhair Murad. Since she's usually the queen of glamorous, curve-hugging dresses on the red carpet, so it was nice to see her mix it up with something more fun and flirty.
While this wasn't my all-time favorite look of Sofia's, it's always good to see celebrities switch it up with fashion, so I call that a win.
Emma Stone in Alexander McQueen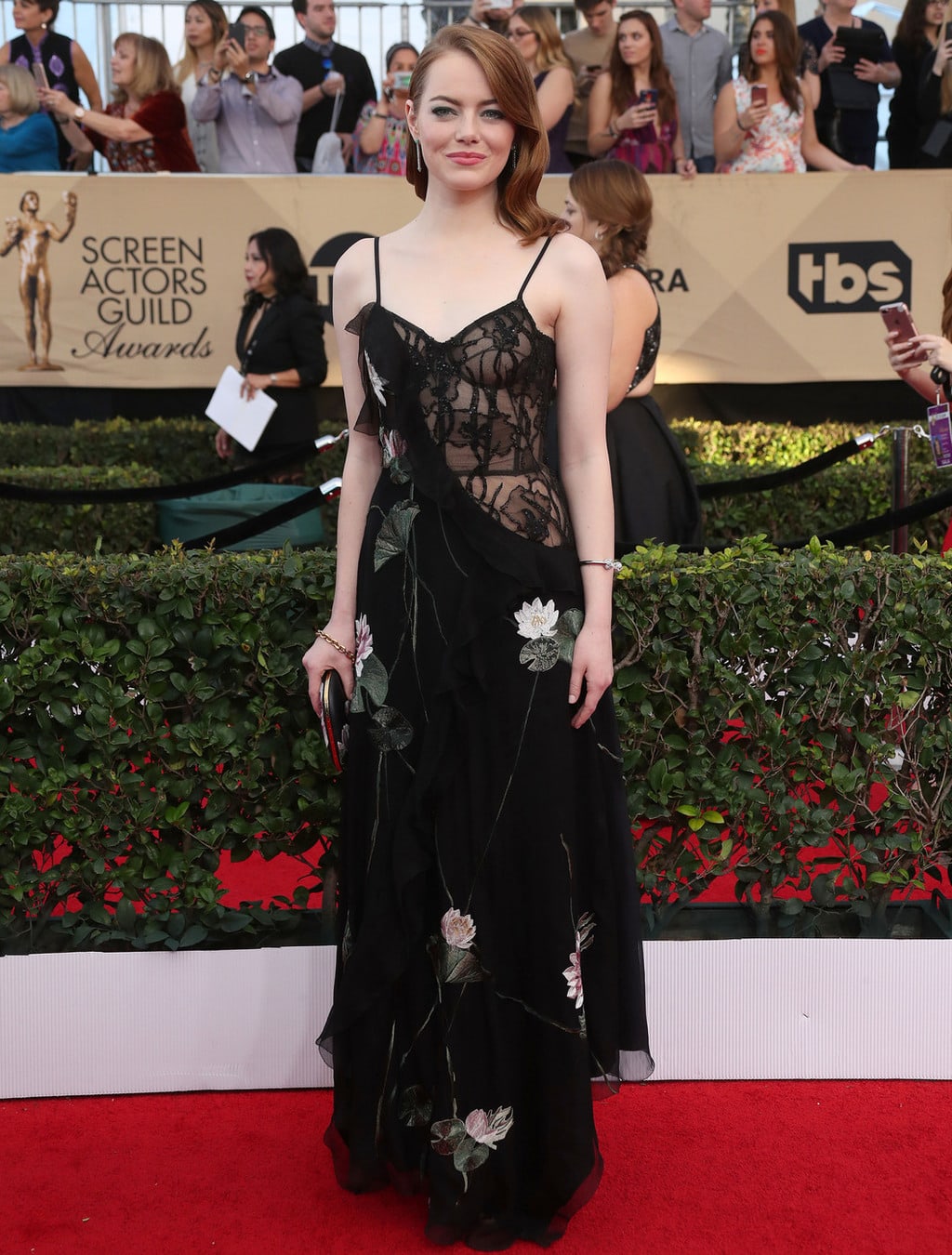 Our forever fave Emma Stone looked gorgeous as always in Alexander McQueen. Her dress featured ruffles, floral print, and a sheer lace bodice, yet it didn't look over-the-top.
While I usually adore everything Emma wears, this was just "nice" for me – it didn't wow me like her Golden Globes look did. Still, Emma looked gorgeous when she picked up a trophy later in the evening!
Taraji P. Henson in Reem Acra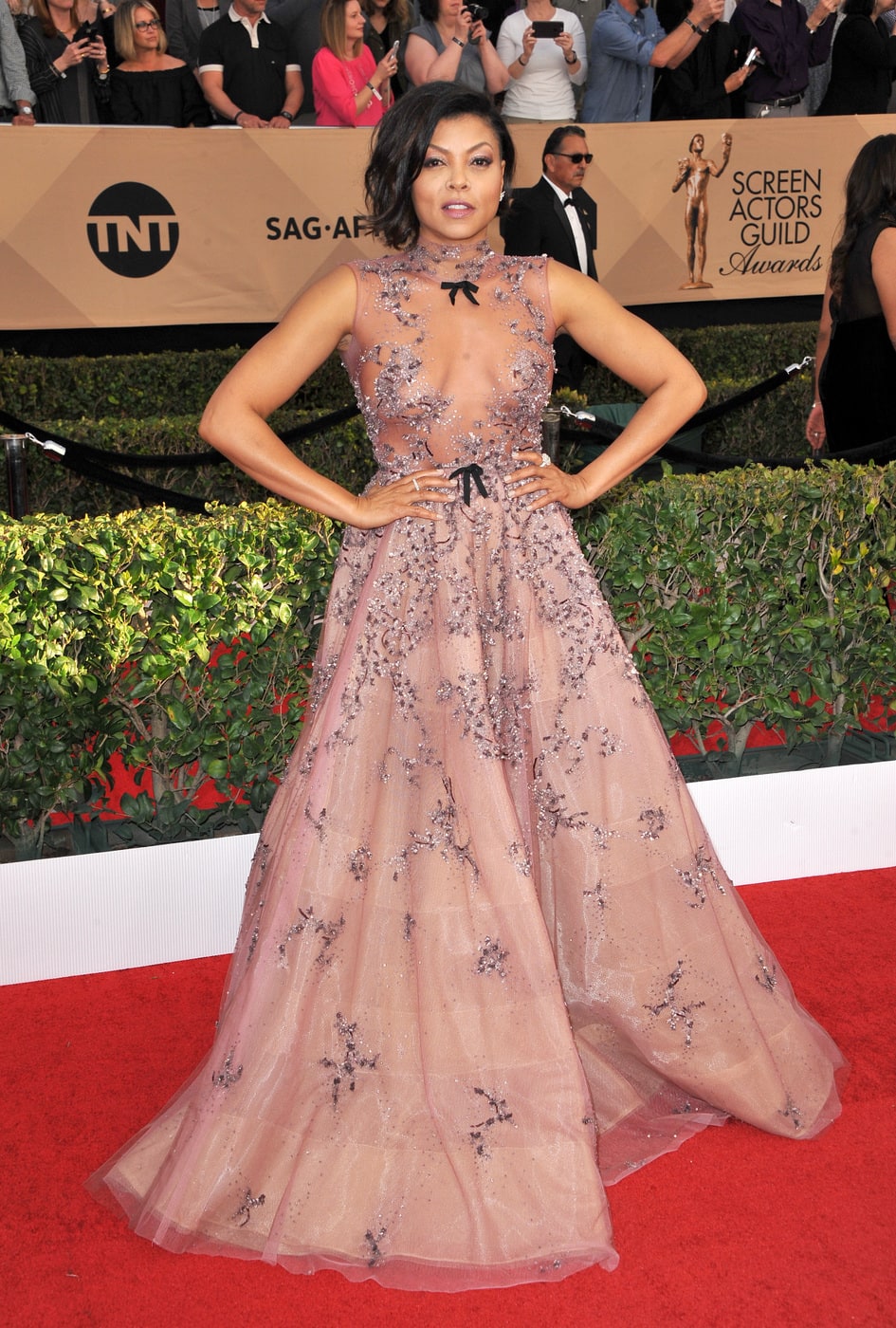 Taraji P. Henson went for something different last night in a nude princess ballgown by Reem Acra, accessorized with Nirav Modi jewels.
It seems Taraji was apprehensive about her ensemble. "I feel like a Barbie doll, look," she told E! reporters. "That kind of dress, you have to prepare yourself mentally." It seems like she took a risk — one that definitely paid off.
Least Favorite Look
Again, it was hard to choose a least fave – celebs stepped it up yet again – but I did find one look that missed the mark.
Rebecca Romjin in Idan Cohen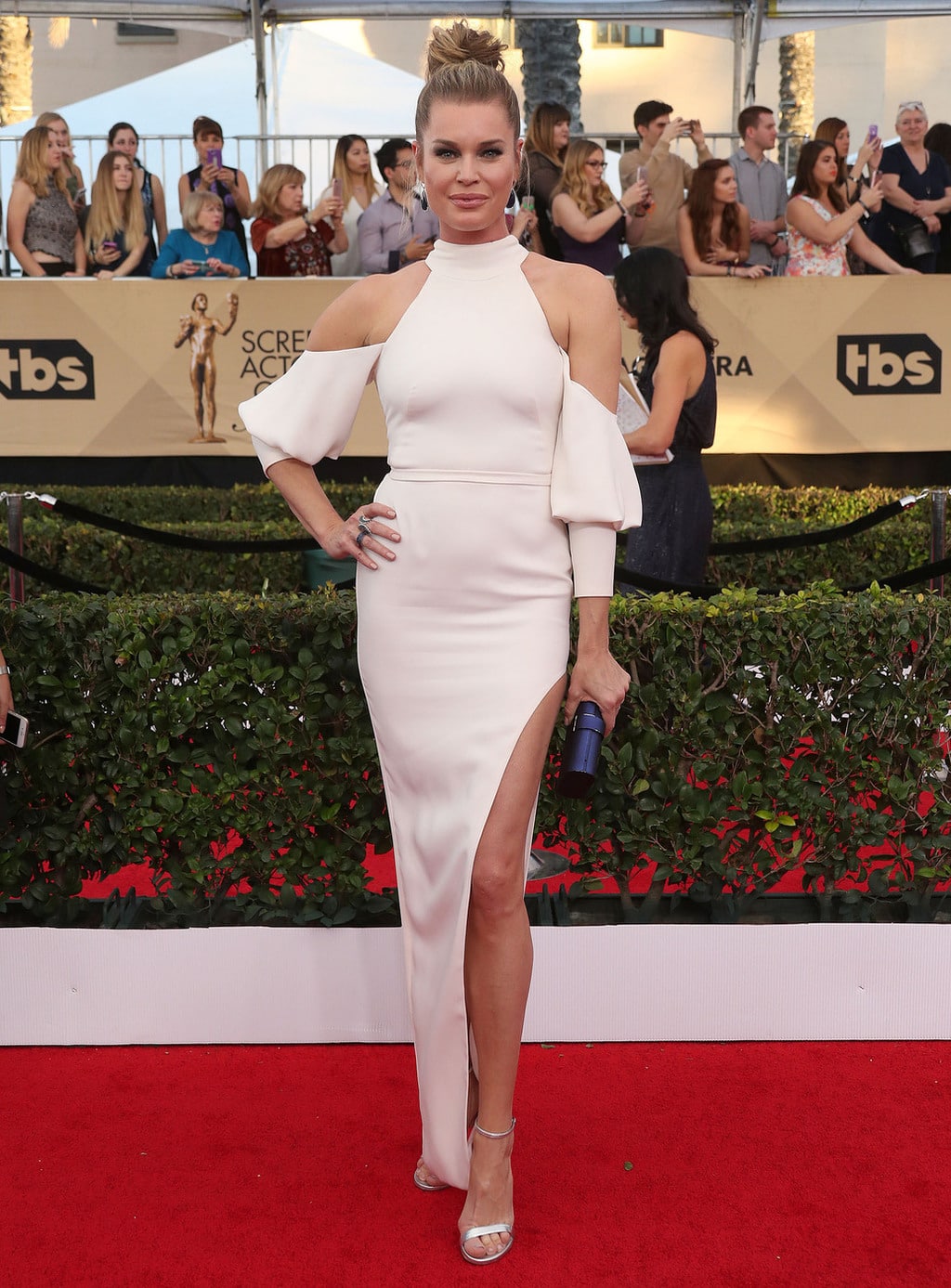 This look, while not terrible or the "worst" by any means, was my least fave of the night. While Rebecca Romjin is gorgeous and looks great in anything, this Idan Cohen look was a case of too many trends interplaying at once. We're talking cold shoulder + high slit + high neck + flute sleeves… whew! The harsh topknot hairdo solidified this as a thumbs down for me.
What do you think?
Do you agree or disagree with my choices? Who was YOUR best dressed of last night? Are the Stranger Things kids just the cutest humans on the planet? (Last one is an obvious yes.) Let's talk in the comments!