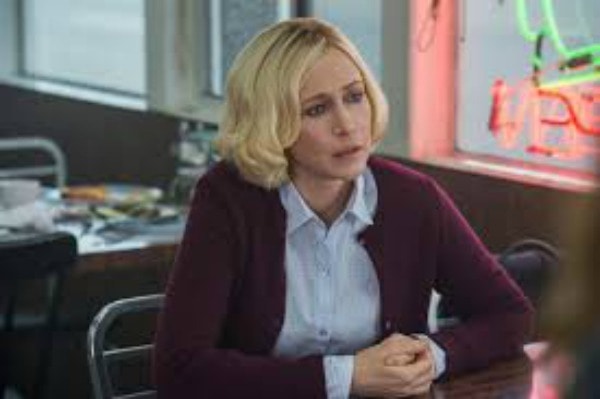 *Bates Motel spoilers ahead*
Last week, I showed you how to dress like Emma Decody, one of the badass ladies of my favorite show, Bates Motel. This week, the spotlight is on the show's matriarch, Ms. Norma Louise Bates. She may not still be alive, but thankfully we still get to see Vera Farmiga give her unbelievable performance every week as the version of Norma inside Norman's head.
Norma's style is a far cry from how most college girls dress, much more mature and classic. But that doesn't mean that we can't take a cue from her. I ooh and ahh over her fierce coats, feminine dresses, and menswear-inspired ensembles in every episode. Plus, her pattern-mixing skills and the way she dresses up every day are definitely things worth emulating.
Most of Norma's clothes are custom made by the show's costume designers, but her wardrobe also consists of pieces from accessible brands like J. Crew, Banana Republic, and Lindy Bop. One of the reasons I find Norma to be such a fantastic female character is how she and her style are so feminine but also so tough, sassy, and strong. It shows that all of those things can go together. As Vera Farmiga was once quoted saying of her character and her wardrobe, "it's a real hoot to fight demons in glass slippers."
Below, I've put together three Norma-inspired looks with a slight college girl twist. Wear them to an internship, to a family dinner, or heck, even class (after all, Norma wears heels just to make breakfast). Wear them whenever you want to feel strong and feminine.
Get ready to look fly as a mother.
Mixed Prints
Products: Dress – Modcloth, Shirt – Abercrombie, Heels – New Look, Earrings – Kohl's.
The look above is my attempt to recreate an ensemble from season four that is my favorite Norma outfit of all time. I love plaid and florals together, so I find a sleeveless plaid sheath belted over one of Norma's classic floral button-ups to be a genius combo.
Jewelry-wise, Norma usually keeps it simple, with small jewel or hoop earrings, a watch, and maybe a bracelet or pearl necklace. I think these sparkly, dainty gems would be right up her alley. And a pale blue pump is a great substitute for a nude one–it's almost a neutral but adds a fresh twist, especially if the hue picks up on one in the floral print.
If it's chilly, wrap up in a long coat and add a pretty scarf when you head outside. This look is fantastic for yelling at people about broken windows, confessing your deepest darkest secrets, or debating whether or not you want to murder someone. Or, you know, going to your next job interview.
Menswear Inspired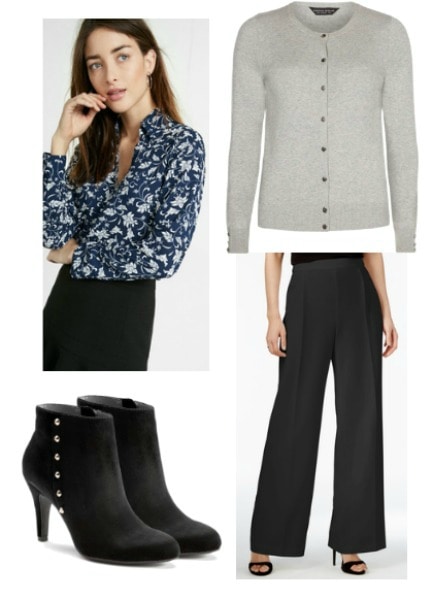 Products: Shirt – Express, Pants – Macy's, Cardigan – Dorothy Perkins, Booties – Kohl's.
I love when Norma switches out her usual floral skirts and dresses for more masculine, tailored pieces. She loves a great blazer-and-skirt suit, and she'll even go all out in pants, a white blouse, and a menswear tie. While I totally encourage such blatantly borrowed-from-the-boys accessorizing, the look above is a good way to dip your toes into the menswear waters, and yet another very Norma combo.
Wide-leg black pants are a timeless classic, but they're also having a moment right now. They totally step up an otherwise basic blouse, cardigan, and trousers look, and the high waist is so flattering.
Norma has cardis in every color, and her favorite way to style them is over her tried-and-true floral shirts, tucked into a skirt or a pair of great pants like these. She also loves a trusty pair of black ankle booties, which could easily be used to finish any of the other outfits in this post, and should certainly be used to kick ass.
Dressed Up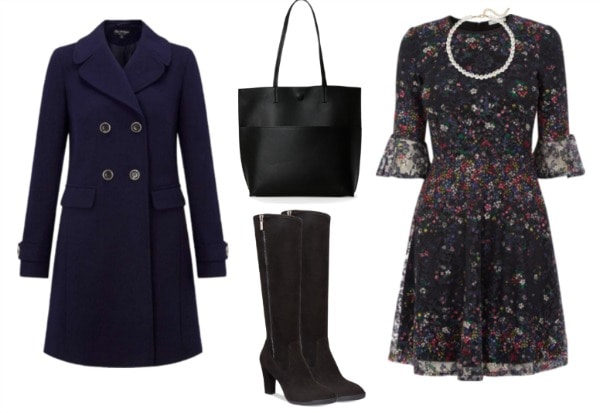 Products: Dress – House of Fraser, Coat – Miss Selfridge, Boots – Macy's, Tote – Century 21, Necklace – Saks Off Fifth.
This post would not be complete without a pretty fit-and-flare dress. Norma has countless dresses in this classic silhouette, in florals, laces, plaids, and polka dots. I love that is one features both flowers and lace, and the ruffles at the sleeve are such a great, girly detail.
Norma likes to pair her dresses with tall, heeled boots, perfect for the current chilly weather. She also has an impressive collection of coats (wrap coats, trench coats, peacoats…) in both neutrals and bolder shades like berry and burgundy. I think she'd love this navy topper.
Pretty pearls complete the look–just don't let Norman steal them. While this look is dressy and totally appropriate for a dinner or party, for Norma, this is casual wear. She'd wear this all day, accompanied by a roomy bag for toting her stuff, or for beating up a real estate agent.
What do you think?
Are you a Bates Motel fan? Do you love Norma's style? Which of her looks inspires you most? Let me know in the comments!