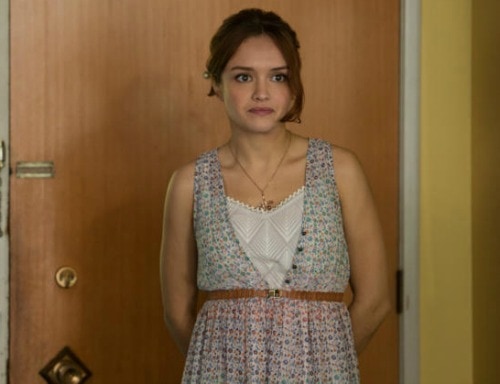 *BATES MOTEL SPOILERS AHEAD*
Over the summer I wrote a bit about how obsessed I am with the show Bates Motel. I've been a fan since it began four years ago–a year before I started writing for CF.
I'm in love with the work of Bates costume designer Monique Prudhomme. Yet, shockingly, I've never done a post dedicated to how to dress like any of the show's characters.That ends now, and it's about time, since the final season just started a few weeks ago and I'm already getting emotional. Get ready for some Bates Motel fashion! We begin with the character Emma Decody.
Emma Decody's Style
Emma Decody (played by the gorgeous Olivia Cooke) is a role model for college chicas in life as well as style. She's smart, sweet, and crazy brave. Not only does she handle her cystic fibrosis with strength and courage, but she always says exactly what's on her mind, even if it's awkward or inappropriate. Have you ever talked to your crush's mom about your unrequited feelings for their child? Or told the guy who saved your life to get the heck out of your house because he's otherwise a terrible person? Me neither, but Emma, a total badass, has.
Fashion-wise, Emma is equally unafraid to express herself. Her style is feminine, quirky, and relaxed, just like her. She mixes prints like a pro, and her style is modern but not overly trendy (though she did rock a floral bomber jacket in 2015, before it was cool). And luckily, the clothes she wears on the show come from stores where you probably already shop, like Zara and Anthropologie.
Emma's style has evolved over the years, as she's gone from offbeat highschooler to (spoiler) a new mom. In the three outfits below, I've tried to reflect all the key elements of Emma's style from the series, so you can pick your fave way to channel Emma, from printed cardigans to boho accessories. The only thing I can't give you is a boyfriend as hot as Dylan.
Classic Emma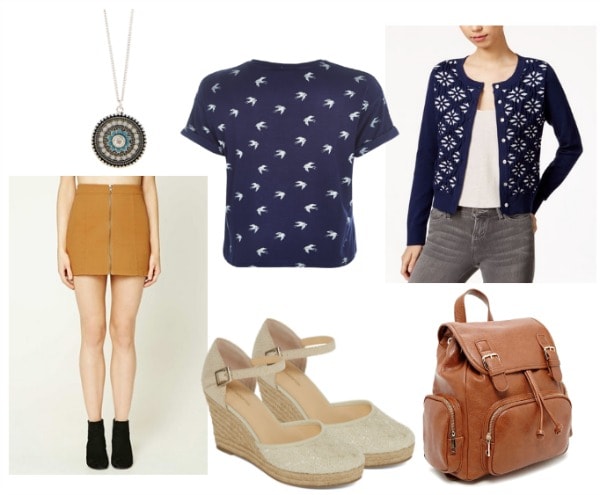 Products: Cardigan – Macy's, Tee – New Look, Skirt – Forever 21, Backpack – Forever 21, Wedges – JCPenney, Necklace – Accessorize.
In my mind, the quintessential Emma outfit formula is a cardi, miniskirt, and a colorful little necklace, with at least two prints involved. Bonus points if the cardigan involves some sort of embroidery or cool texture, like the one above.
Emma likes quirky prints like hearts or the birds on this tee, as well as muted jewel tones like the mustard hue of this skirt (green and burgundy are also Emma faves). She usually finishes off a look with cute-but-practical shoes like little wedges, sandals, or short boots, and some sort of pendant necklace.
Keep the practical-yet-stylish theme going with a roomy backpack, and you've got yourself an Emma-worthy outfit. Bonus: every item in the look above is under $50.
Casual Emma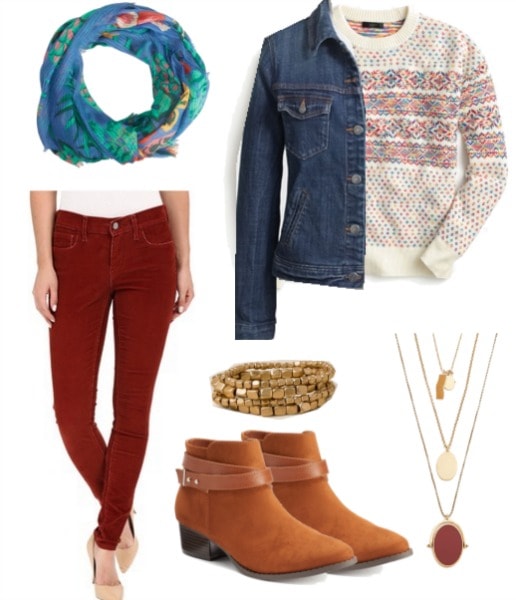 Products: Jacket – J.Crew Factory, Sweater – J.Crew, Jeans – 6PM, Booties – Kohl's, Scarf – Mango, Necklace – Shopbop, Bracelet – Francesca's Collections.
When it gets too chilly for Emma to rock her beloved miniskirts (or when heading into the woods of White Pine Bay is on the agenda) she loves a cozy sweater-and-skinnies combo, especially if the pants are in a fun color. And of course, just because she's going a bit more casual, doesn't mean she backs off her creative layering and pattern mixing game.
A medium-wash jean jacket is a key piece for Emma, as it really should be for any twenty-something girl's wardrobe. The jacket and a scarf that picks up some of the colors in the sweater make this otherwise simple look way more interesting, as does jewelry with a slightly bohemian feel. Finish with cute booties, and you could totally pass for the Bates Motel office girl.
Season 5 Emma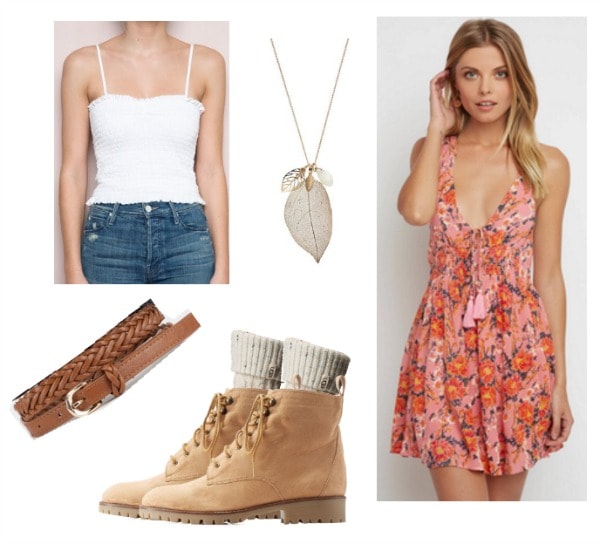 Products: Dress – South Moon Under, Top – Brandy Melville, Socks – Zappos, Boots – Charlotte Russe, Belt – Tillys, Necklace – Kohl's.
At the start of this season, the show skipped forward almost two years, and Emma's new season style totally reflects her happy new life in Seattle.
In the premiere, she celebrated her birthday in an adorable floral ensemble, which I've done my best to replicate here. Layering a little bralette or cropped cami under a low-cut summer dress feels really fresh, and gives a 2017 update to the floral dress and combat boots combo that has become a college girl go-to.
Of course, it wouldn't be an Emma outfit without some unexpected, attention-grabbing little details, like a belt or chunky socks peeking out from her booties. As always, a pretty charm necklace finishes the look.
Want more Bates Motel fashion? Check back next week for my take on Norma's style.
What do you think?
Are you a Bates Motel fan? Do you dig Emma's style? Which of these outfits is the most you? Let me know in the comments!