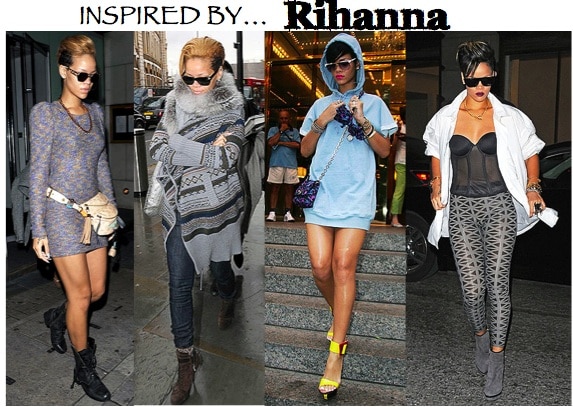 Rihanna is so glamorous and rose to stardom so quickly that it's hard to believe she's only 21! The Barbados native has a very unique sense of style, which makes her a prime source of fashion inspiration for millions of girls. She often mixes prints, colors, and textures, and will always keep you thinking, "I wonder what she's going to wear next."
One aspect of Rihanna's style that I really like as a college student is that she doesn't always wear expensive garments. She's good at mixing high fashion pieces with everyday items. For example, the dress she is wearing in the far left picture above is a $49 sweater dress from H&M! Budget chic at its finest.
Want to learn more about Rihanna's style and how you can get it for yourself? Keep reading.
Rihanna's Everyday Style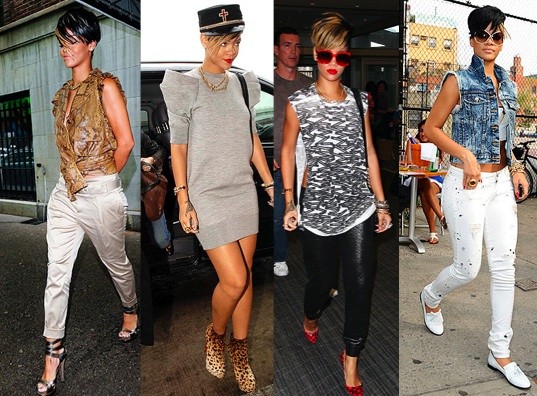 Rihanna tends to choose really interesting silhouettes. For example, the gray Marc Jacobs sweater dress she is wearing above (second from the left) looks like your average cotton sweater; however, the puffy draping in the shoulders creates a really interesting ripple effect in the sleeve. Rihanna definitely pays attention to detail and shape when it comes to her outfits.
Another characteristic of Rihanna's style is the hip-hop influence that appears in her outfits. She often incorporates hints of 80's and 90's hip-hop grunge into her outfits, such as mixing denim separates (far right picture).
Here are two looks that I created based on Rihanna's everyday outfits: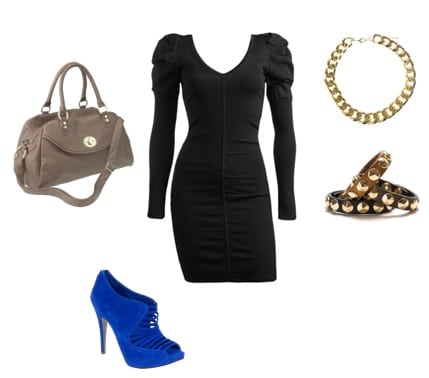 Product Information: Shoulder Pad Sweater Dress- Arden B, Gold Chunky Chain Necklace- Peacocks, Blue Suede Bootie- Aldo, Studded Bracelets- LP Collection, Faux Leather Satchel- Old Navy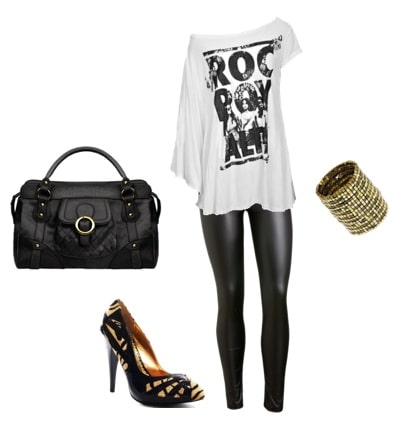 Product Information: Faux Leather Legging- Wet Seal, Rockawear Roc Tunic- Foot Locker, Square Bead Bracelet- Top Shop, Animal Print Heels- Heels.com, Black Bag- Fred Flare
Rihanna's Evening Style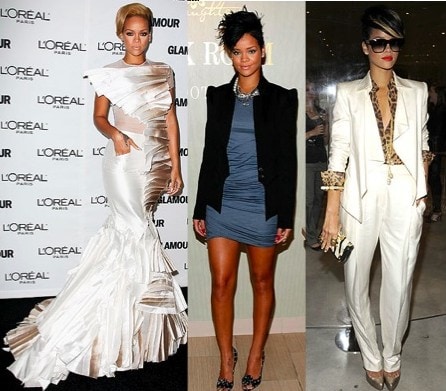 Rihanna's evening looks are all about structure. She tends to wear boyfriend blazers with her dresses, and when she rocks an evening gown, it's often architecturally-inspired. Lately, Rihanna has also been rocking lots of menswear-inspired suits from designers such as Derek Lam (featured above) and Dolce and Gabbana. Rihanna is very up-to-date on the latest high fashion looks, especially because she's not only a songbird, but a model as well! In fact, Rihanna modeled for the Dior Spring/Summer 2010 collection at Paris Fashion Week back in October.
Here's an evening look inspired by Rihanna: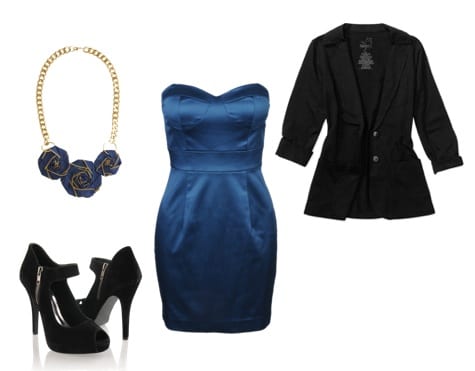 Product Information: Blazer- Wal*Mart, Mary Janes- Forever 21, Dress- Forever 21, Rosette Choker- Arden B
Rihanna's Hair and Makeup
One of Rihanna's signatures is her ever-changing hair. It seems like every time she's photographed, she is sporting a new style! When her hair changes, her makeup changes, too. One aspect of her beauty that I particularly noticed when I was doing research for this piece is how her lipstick color seems to change with her hair, kind of like her lip color and her hair style are a pair.
Here are some examples of a few of Rihanna's hairstyles, with my recommendations for lipstick/gloss if you like the look! If you want to see a timeline of Rihanna's hair…check out this timeline presented by The Hair Insider.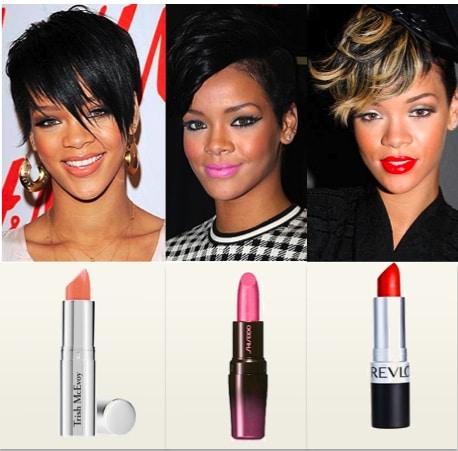 Product Information (left-to-right): Trish McEvoy Sheer Lip Color in Sheer LA – Nordstrom, Shiseido The Makeup Shimmering Lipstick in SL6- Dillard's, Revlon Matte Lipstick in In the Red- Ulta
Your Thoughts?
Now that you've learned about Rihanna's style, what do you think?What aspect(s) of her style can you adopt into your everyday wardrobe choices? I personally think the menswear-inspired suits are such a daring move and applaud her for trying them, do you agree? Let me know with a comment…or two…or three…..!