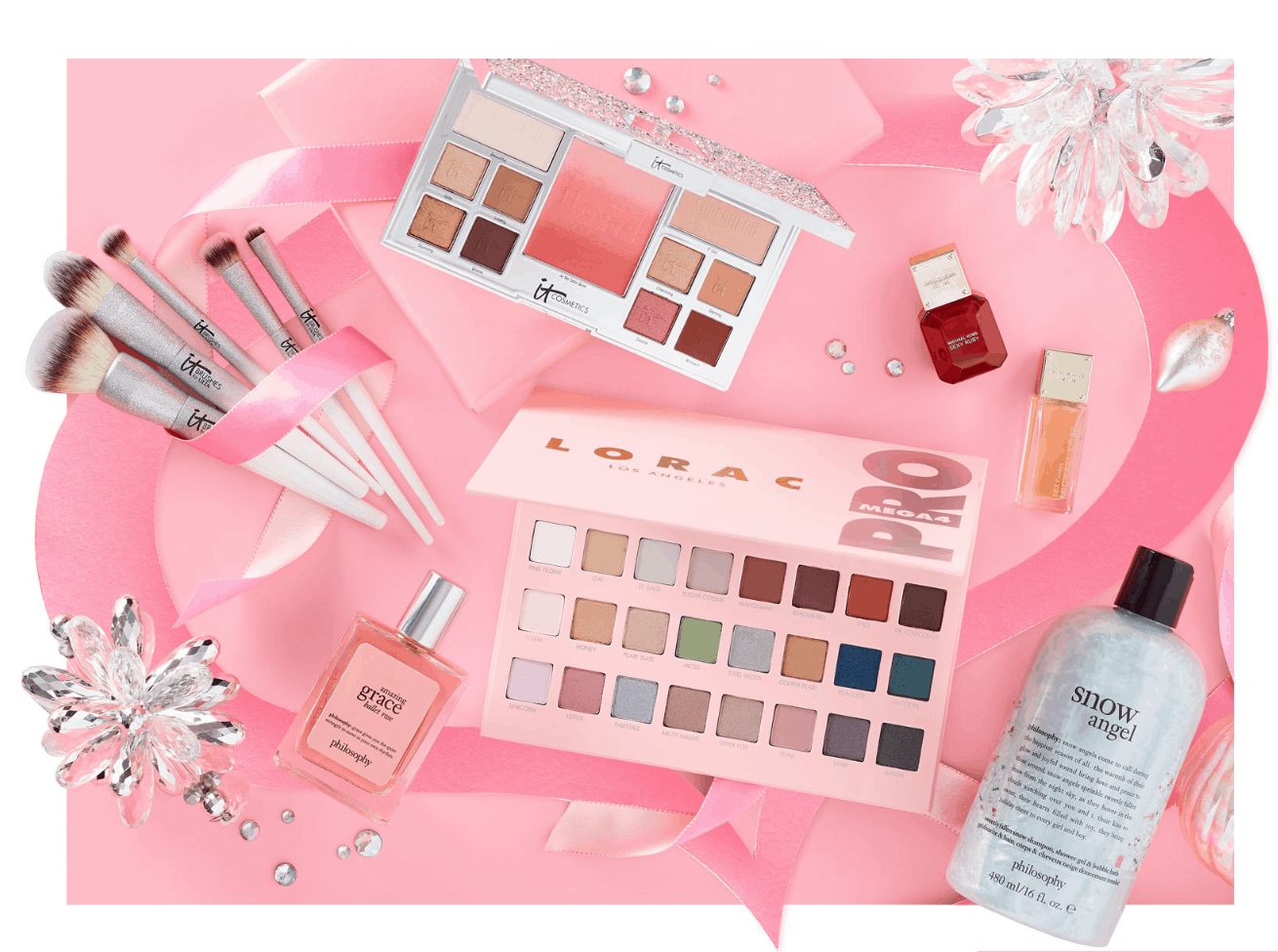 With new holiday makeup coming out for this winter season, it can be hard to figure out which new releases are worth trying and which ones just don't stand up to the rest.
Fear not, because my bad makeup-buying habits mean that you guys reap the benefits of my poor spending habits! Since I've been tempted by many a holiday product this season, I've tried out quite a few new releases. Here are my thoughts on new holiday makeup releases that I've either bought myself or tested in some capacity. Let's get started!
Maybelline Gigi Hadid Collection – Cold, but Lukewarm for Some Products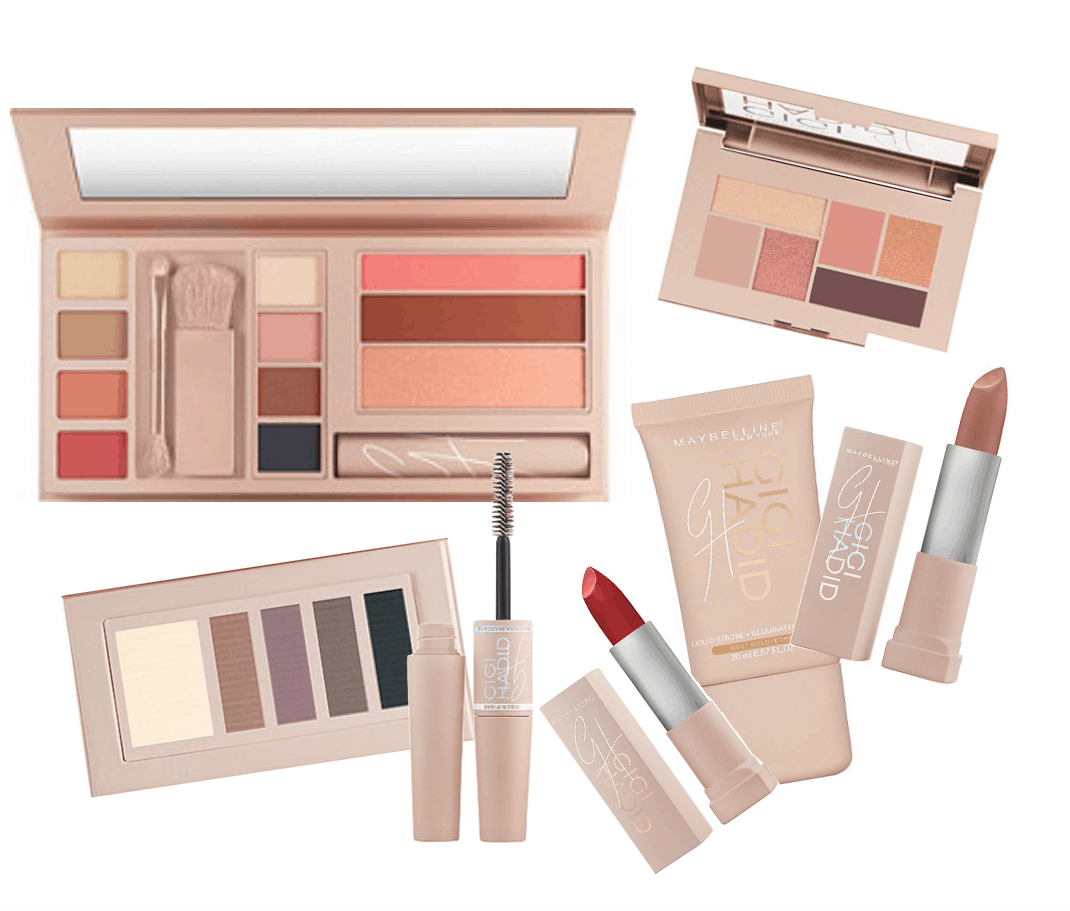 Maybelline Gigi Hadid Collection products: Jetsetter Palette | Glow Eyeshadow Palette | Eye Contour Palette | Fiber Mascara | East Coat Lipstick (Mauve) | Glow Liquid Strobe | West Coast Lipstick (Red)
Even though this is probably the most talked about drugstore makeup collaboration right now, most of the products are sadly busts. There are some decent gems, like the lipsticks, lipliners, and mascaras, but the base products and the giant Jetsetter Palette really don't stand up even to typical Maybelline quality.
My biggest problem is with the new eye contour palettes. The pans are incredibly tiny and my finger can't even fit into each shade to swatch them. They have considerable fallout and are really NOT worth the $16 price tag.
Another point to note is that the price of every product is bumped up a few dollars. Most products fall between $8 and $16. You'll get some makeup in beautiful packaging, but for me, the product quality doesn't justify the higher price. Bottom line: if you like Maybelline products and don't mind spending a few extra dollars, try the collection. Pass for me.
Huda Beauty Obsessions Eyeshadow Palettes – HOTTEST of the Hot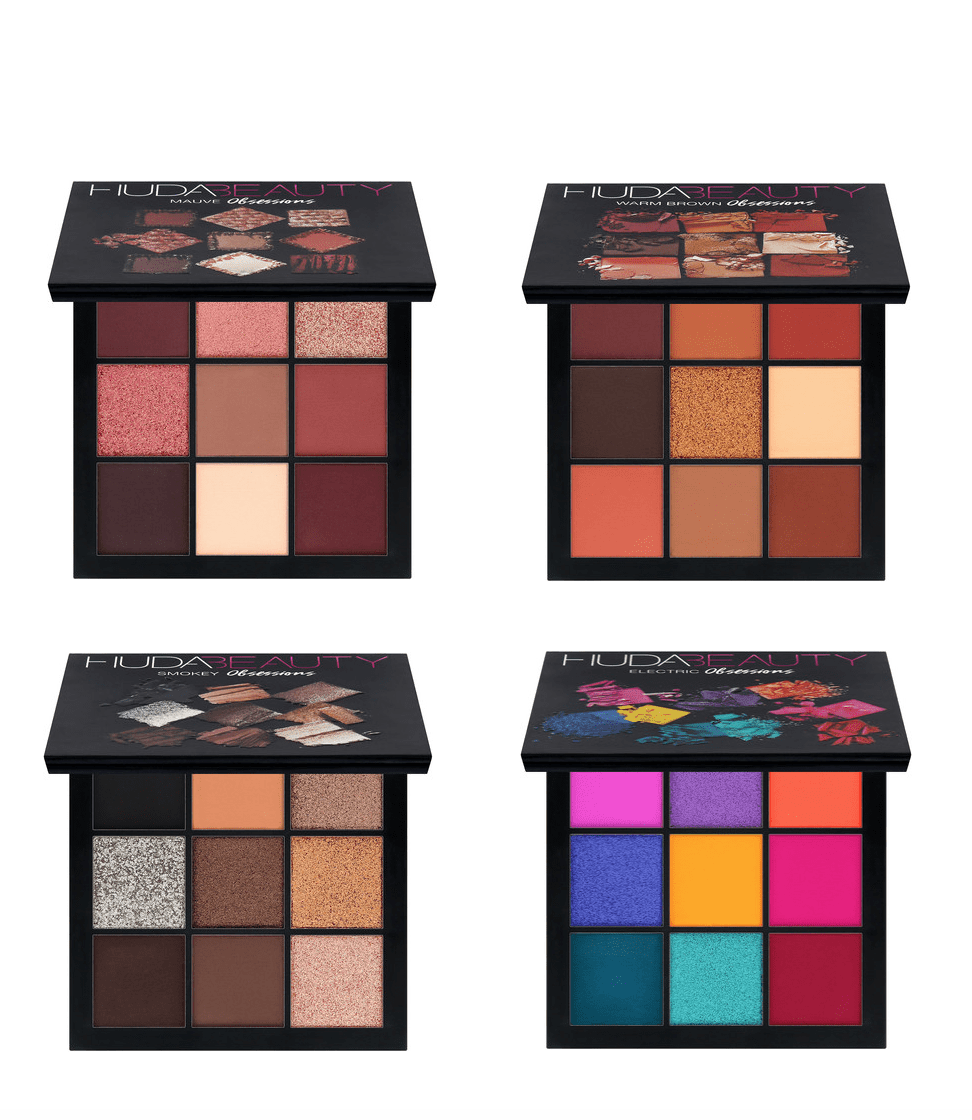 Huda Beauty Obsessions Eyeshadow Palette
Huda Beauty wins the award for hottest eyeshadow palette collection of the year! Their products are known for being expensive and feeling luxurious, but these new palettes manage to keep same high level of quality while costing just $27 each.
The collection includes four palettes in total: three that cover the neutral and more standard shades, and a last one that consists of intense and bright colors. The shadows feel incredibly smooth, and the pigment is top-notch. Best new palettes I've seen from any drugstore or high end brand in a long time. Grab these while you can!
MAC Holiday Snowball Eyeshadow Palettes – Hot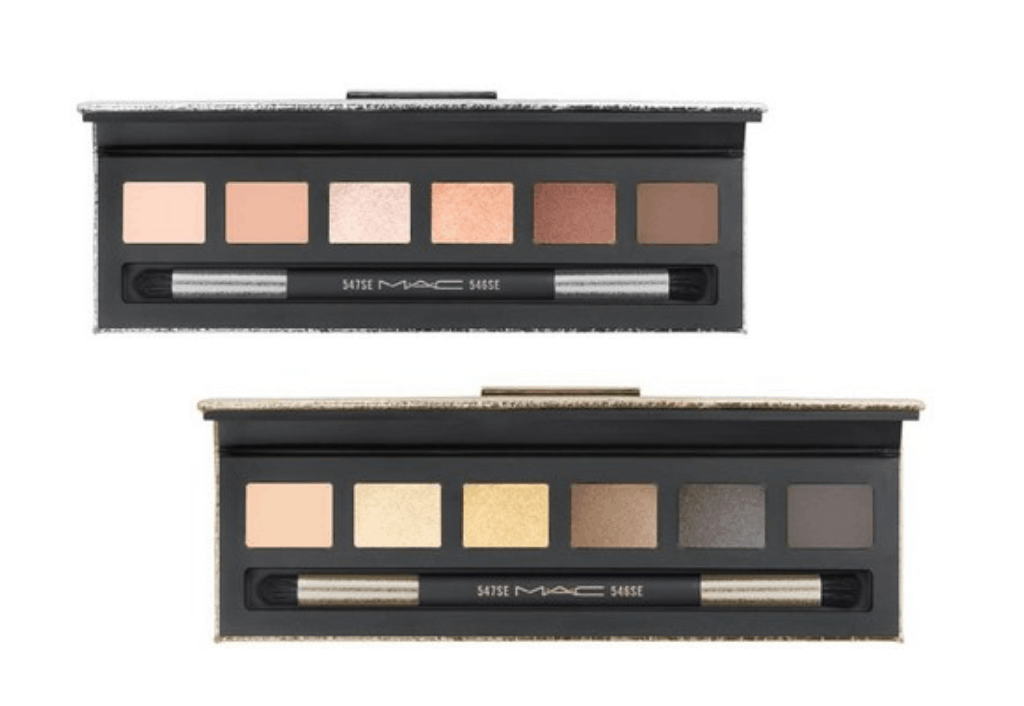 MAC Holiday Snowball Eye Compacts in Rose Gold (Top) and Gold (Bottom)
MAC's holiday collections are always gorgeous, and these palettes don't disappoint! Out of all the holiday items, these two new eyeshadow palettes are the best hidden gems. This new format is a great change from their normal palette layout.
All the shades in these two palettes are on point, and consist of nearly every neutral you'd need! Shadow pigmentation is solid, and they come in at a decently affordable price point at $29 each. Big props to MAC on this one! This gets a solid thumbs up.
Becca Après Ski Glow Eye Lights Palette – Cold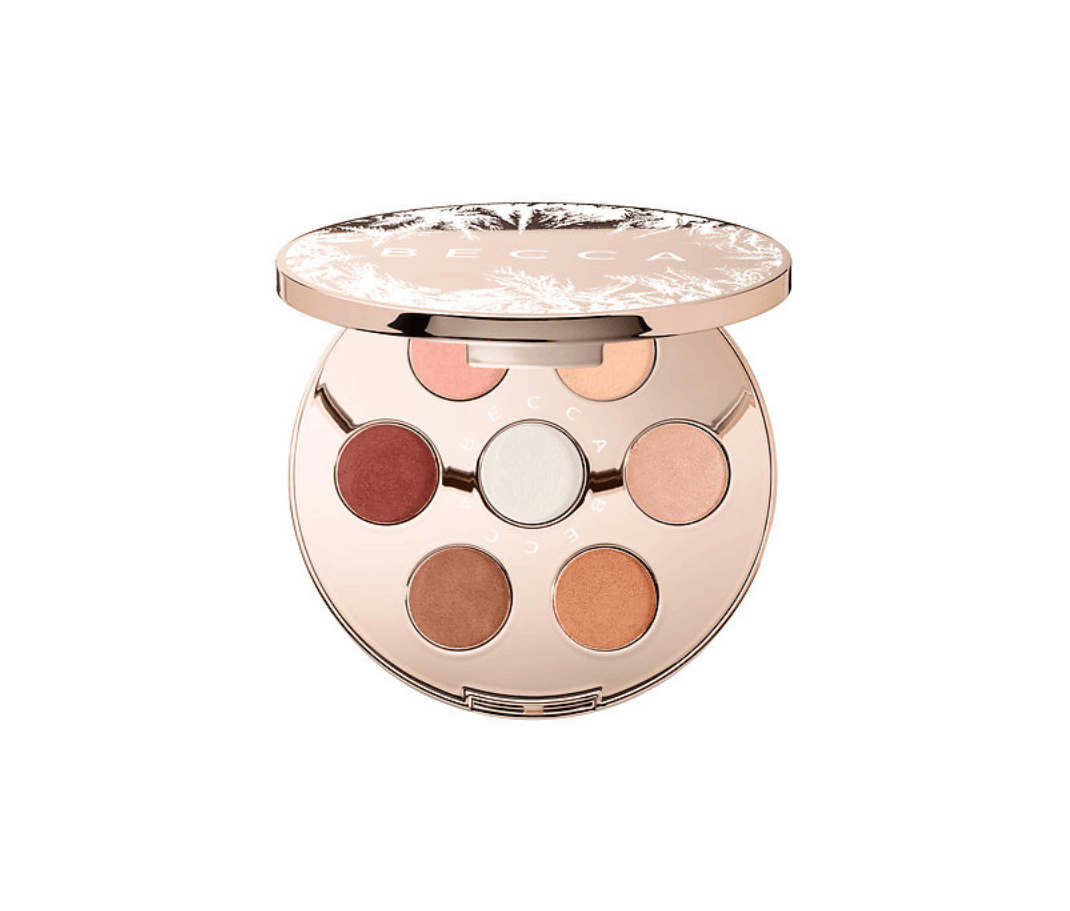 Becca Après Ski Glow Eye Lights Palette
Becca makes some incredibly gorgeous highlighters (Hello, Champagne Pop!), but this palette is a flop. These "eyeshadows" are just insanely tiny versions of the Shimmering Skin Perfector highlighters dumped into an eyeshadow palette.
This product wasn't really needed since so many similar shimmery neutral eyeshadow palettes already exist. Moreover, the quality of these shadows is nowhere near that of the actual highlighters, and the $45 price isn't justified for me.
I'd be more interested in a combined highlighter palette that contains every shade of the Becca highlighters. Now THAT's something I'd buy. Hard pass on this palette.
Fenty Beauty New Galactic Collection – Warm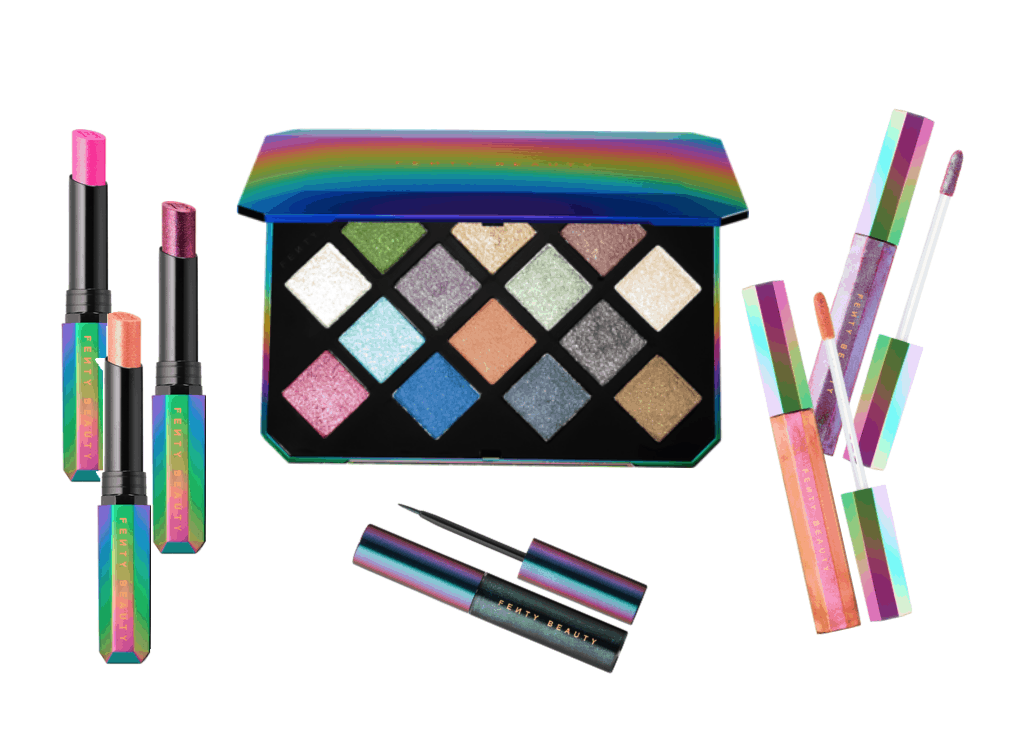 Fenty Beauty galactic collection products: Starlit Hyperglitz Lipsticks, Galaxy Eyeshadow Palette, Eclipse 2-In-1 Glitter Release Eyeliner, Cosmic Gloss Lip Glitters
Everybody went crazy for for Fenty Beauty when it first came out (including yours truly), but Rihanna recently decided to expand the brand with a galaxy-inspired collection of lipsticks, lip glosses, and eyeshadows.
As far as the the idea goes, she nailed it on the head in following the galaxy/holographic/iridescent trend that's becoming common in makeup collections. The palette includes some great colorful shadow options, and the lipsticks and lip glosses come in unique, bright shades that work with a variety of different makeup styles.
My only issue is that this collection lacks neutral shades, but hopefully we'll see those from her in the future. Big thumbs up here!
Thoughts?
What makeup sets are you looking forward to seeing this holiday season? Any great options that have already made your wishlist? Share them below!