This post may contain affiliate links, which means we may receive a commission if you purchase through our links. Please
read our full disclosure here
.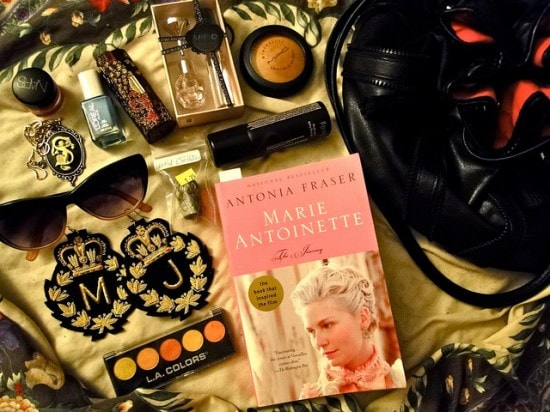 As spring semester begins, we all have to adjust to new schedules, changing classes, and different books. Does the way you carried your things for fall make a seamless transition into spring, or does a back-to-back schedule mean you'll now be toting your laptop all day long?
Whatever your situation this semester, you've got to have the necessities: ID, keys, and phone. Beyond that, though, there are a few other items CF girls should have on hand. Though these five handbag essentials are super basic, there are tons of fun fashionable options for customization. Check out our suggestions (and adorable picks!) for ideas and inspiration!
1. Notebook and pen.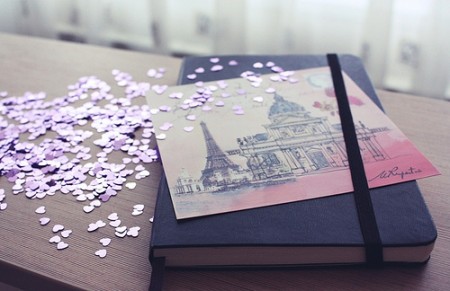 If you're going to classes, you probably already have a notebook and pen in your bag. These two items, however, are just as essential for time spent outside the classroom!
Mini notebooks are ideal for jotting down random ideas, making lists and schedules on the go, and for general distraction! Even if you can't spare the space in your handbag for a notebook, a pen is absolutely non-negotiable! Have you had those times when you really wanted to write something down during the day (an e-mail address, website, whatever!) but couldn't?Having a pen on hand in the same spot in your bag ensures that you'll totally avoid those issues.
Hot Picks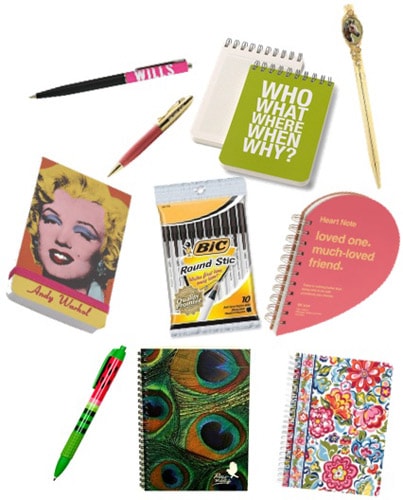 Product Information: Pink Vintage Pen, Jack Wills. Limited-Edition Very Hollywood Scented Signature Pen, Michael Kors. Marilyn Mini Notebook, Crate & Barrel. Watermelon Pen – Sniffly Scented Pen Set, Fred Flare. Bob's Your Uncle Who, What Notebook, Velocity Art and Design. Bic Round Stic Ballpoint Pens, Shoplet. O'BON + Bird A6 Peacock Notebook, Econscious Market. Appaloosa Horse Pen, 1928. Other Half Notebook, ModCloth. Mini Notebook with Pocket in Hope Garden, Vera Bradley.
2. Mints or gum.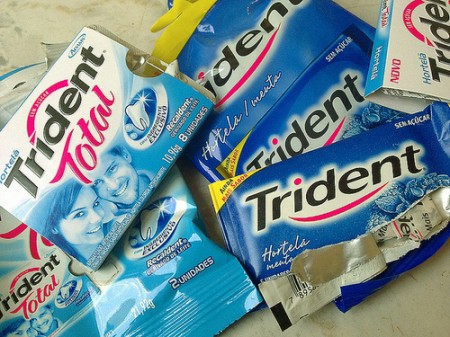 Anyone on the go can attest to the importance of keeping pack of mints or gum within reach. Both are excellent options for consumption pre and post lunch or for freshening up.
Mints are ideal for covering up nasty latte breath, can decrease tummy rumbles, and can even make a good "snack" (if you can call it that!) in your last-class-before-lunch pinch. Chewing gum can keep you awake and alert, remove stains from teeth, and as some studies have shown, increase brain function and memory.
Aside from mental and physical benefits, fun-flavored gum is a great mid-day pick me up! With flavor options ranging from classic mint to strawberry shortcake and mint chocolate chip to tropical fruit, if you're a gum girl, there's enough variety to last an entire year. Whichever breath freshener you choose, it's an essential in your bag.
Hot Picks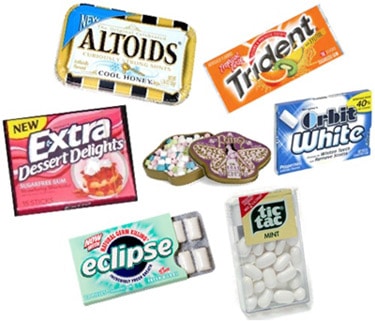 Product Information: Cool Honey Altoids, Walgreens. Extra Dessert Delights Strawberry Shortcake Gum, Amazon. Eclipse Gum, Amazon. Trident Tropical Twist Gum, Buy The Case. Fairy Mints, Archie McPhee. Orbit White Gum, Drugstore.com. Mint Tic Tacs, Candy Warehouse.
3. Hand sanitizer.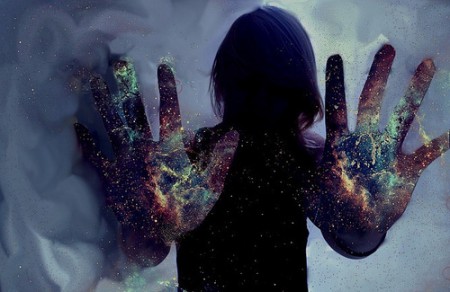 During cold and flu season (…which seems to be every season in college!) it's always a good idea to have hand sanitizer in your bag. On an average day, we touch dirty doorknobs, use germ-filled bathrooms, encounter coughs and sneezes, prepare food and eat, and sit at tables and desks used by many, many students before us. And, since we're constantly on the go, few of us have time to take a hand-washing break after each class.
The solution, of course, is ultra-portable hand sanitizer which uses alcohol or other chemicals to disinfect and cleanse as needed. Far beyond the days of Purell gel, manufacturers now often hand sanitizers in scented spray, lotion, and foam forms that do double duty by killing germs and moisturizing. An item that keep you pretty and healthy? A definite CF do!
Hot Picks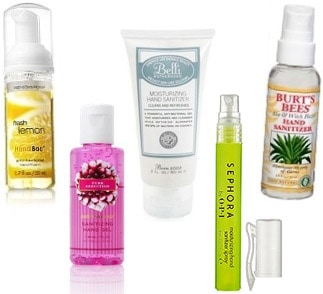 Product Information: Fresh Lemon HandiBac Foaming Hand Sanitizer, Bath & Body Works. Pure Seduction Travel-Size Anti-Bacterial Sanitizing Hand Gel, Victoria's Secret. Belli Motherhood Moisturizing Hand Sanitizer, Petit Trésor. Spehora by OPI Moisturizing Hand Sanitizer Spray, Sephora. Burt's Bees Aloe & Witch Hazel Hand Sanitizer, Walgreens.
4. Sunglasses.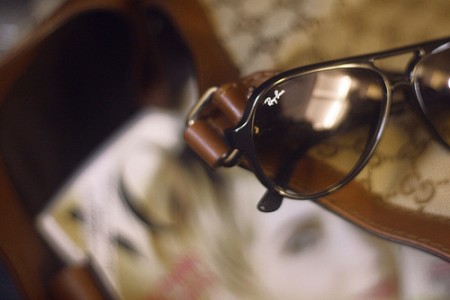 Though often forgotten in snowy and rainy months, sunglasses are a definite handbag essential for CF girls. Not only do they shield your pretty eyes from the sun's rays, but a great pair can create a focal point for an outfit, conceal a tired face, function as an impromptu headband, or just make you look mysterious!
Like a pen, a pair of sunglasses is often only noticed when you find that they are missing from your bag on super sunny days. So pick a go-to pair and keep them on hand at all times! Look for a pair that comes with a protective case or buy cheapie lenses and splurge on a post-market case (I love the ones by Vera Bradley!) to ensure that your shades won't be crushed in your bag.
Hot Picks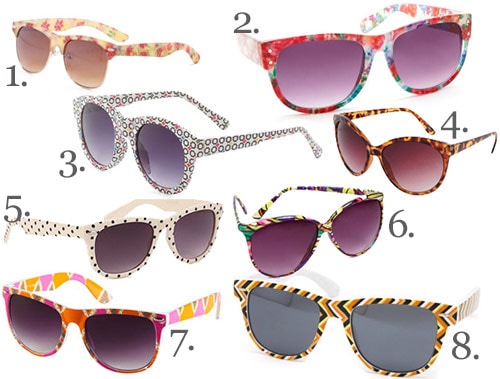 Product Information: Plastic Aviator Sunglasses, ASOS. Côte d'Azur Sunglasses, ModCloth. Heart-Shaped Lolita Sunglasses, Amazon. Floral Print Sunglasses, Forever 21. Karen Walker Eyewear NUMBER ONE Crazy Tortoise Sun Glasses, Gargyle. Blue Wayfarer Sunglasses, Ray-Ban. Michael Kors Updated Aviator Sunglasses, Neiman Marcus.
5. Hair ties.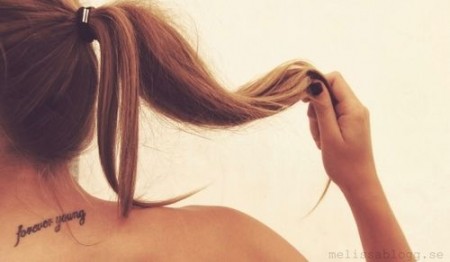 Have long hair? Keep a hair tie or two in your bag! They're great for those moments when you decide you want to put your hair up on the go like going to the gym or keeping hair out of your face during an exam.
They also have many other uses – In a pinch, a hair tie can function as a rubber band to hold school supplies together, cinch regular bra straps into a racerback, or provide secure closure for an open bag or container. I've even heard of girls attempting to squeeze into their skinniest jeans creating an accommodating "loop" with a hair tie woven through their button holes and then secured to the buttons for an extra inch!
From a fashion standpoint, many companies are making stylish alternatives to simple banded and scrunchy styles by offering bands that double as bracelets or hair accessories.
Hot Picks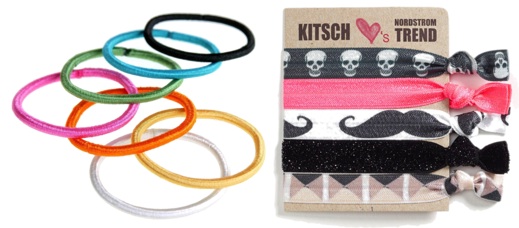 Product Information: Cuteberry Rhinestone Flower Hair Tie, Yes Style. Scunci No Damage Hair Ties, Walgreens. Tortoise Hair Tie, Sephora. Marc by Marc Jacobs Heart Ponytail Elastic, Bloomingdales. Three Green Hearts Leather Feather Hair Tie, Swell. Juicy Couture Multi Thin Elastic With Chain, Zappos Couture.
Your thoughts?
What do you keep in your bag?! What are the top five items that you always have with you? Do your essentials change at night? Let us know with your comments!