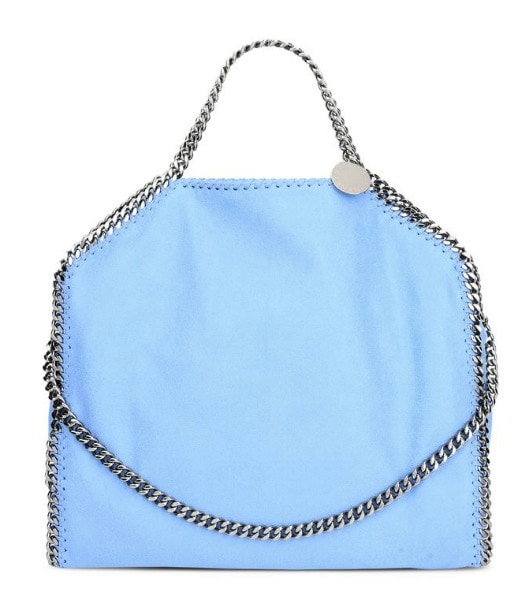 I love my go-to black carryall as much at the next person, and obviously my wardrobe would be incomplete without it.  But sometimes I want my bag of choice to add a shot of whimsical color to my look.
Pastels have been one of my favorite recent trends, because they're so unapologetically bright, feminine, and happy. I'm especially into pastel purses, because I love the contrast of a pretty hue on something practical and structured.
These eight pastel purse picks work just as well paired with other colors as they do with neutrals. They're certainly perfect for summer, but will brighten winter days as well.
Wear these purses year round to get the most bang for your buck, though all of these finds will be easy on your wallet (and great places to stash it, too).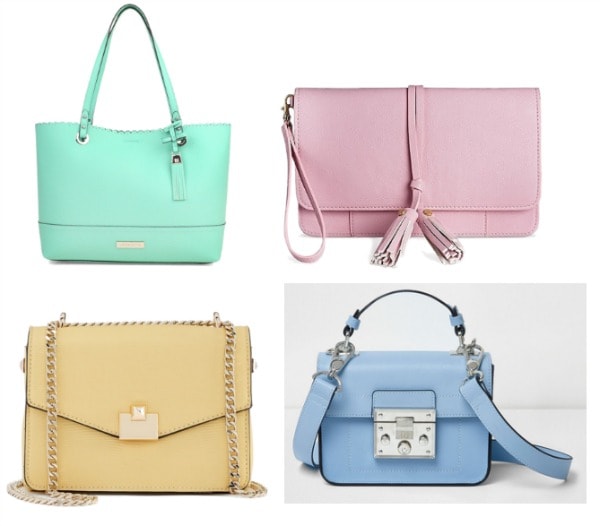 Bags (clockwise from top left): 1. JCPenney, 2. Target, 3. Kohl's, 4. River Island.
1. This mint tote is the perfect work bag for your summer internship, and will stand out in a sea of boring briefcases. Yet it's also great for carrying everything you need for a fun day out, from sunscreen to a water bottle to a little sweater. Finally, it will work for toting notebooks and readings when the school year rolls around again. (Too soon to talk about that? Sorry.)
2. This peony wristlet is so practical — not only does it have several useful pockets, but it comes with a removable pouch for your most important goodies, like your ID, lip balm, and phone. You could use this bag as a clutch on its own or for storing essentials within your beach tote. Plus, the tassels are a trendy touch.
3. This chic chain-strap bag from J.Lo's clothing line may be my favorite in this post. It looks way more expensive than it is, and the pretty pale yellow is such an unexpected shade (though this bag is available in three other pastel hues). Finally, I love how the stud on the clasp and the chain-link strap provide some edgy contrast with the girly color and classic shape.
4. This River Island mini bag (which also comes in pink) looks so high-fashion. It's the perfect finishing touch for any street style look (especially with black and white), but also a great, hands-free bag for a party.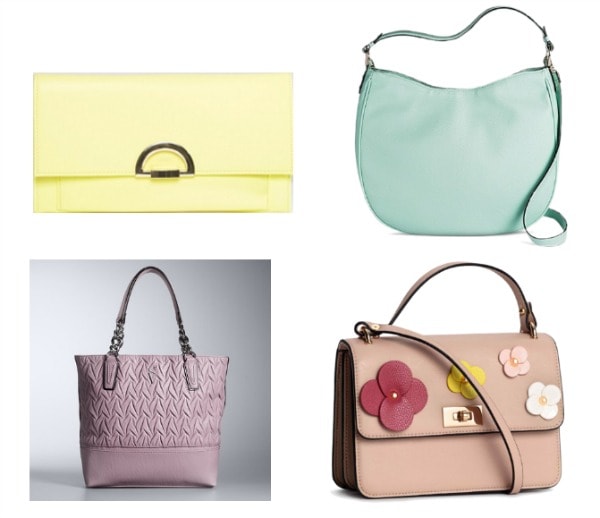 Bags (clockwise from top left): 5. ASOS, 6. Target, 7. Kohl's. 8. H&M.
5. This ASOS clutch is roomy yet sleek. It's big enough to carry during the day with a sundress, but would also be killer with a blue or black jumpsuit at night. The cool metal clasp looks luxe, but you can snap this cutie up for just $24.
6. The classic shape and soft pleather of this crossbody are sure to make this bag one of your new faves. You'll carry it all summer and beyond, because it will hold everything you need without getting in your way. Totally worth $28.
7.  Like #1, this tote (which comes in lots of different colorways) is great for work, class, or relaxing. This bag also has lots of handy pockets and zipped sections for staying organized, so you don't spend half your life rummaging around for that little bottle of lotion you know is in there somewhere. And personally, this lavender hue is my favorite pastel shade.
8. Just like #4, the top handle, square shape, and crossbody strap make this bag look totally high fashion without the high price. The floral appliqués are so trendy, but the pale, neutral pink shade makes it versatile. It will freshen up even the most basic of looks — try it with a white tee, jean shorts, and a red lip.
What do you think?
Are you a fan of pastels? Which of these bags would you most like to carry? What does your go-to summer bag look like? Let me know in the comments!