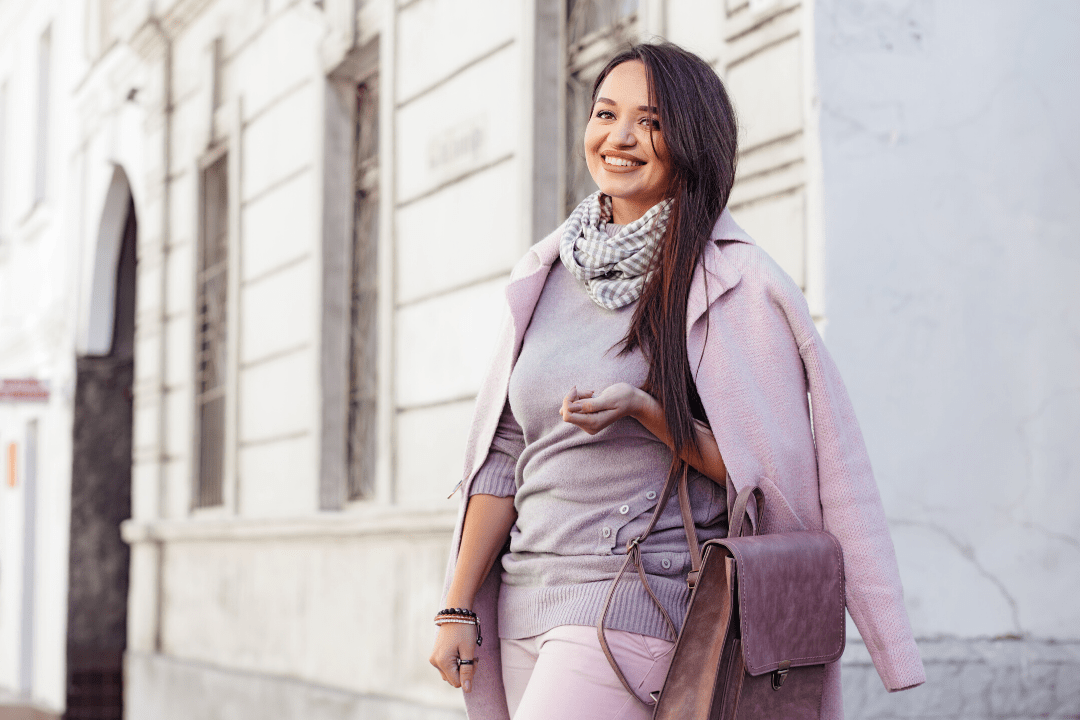 The light of winter may be bleaker and the air might be colder, but wearing white isn't just for the first signs of spring. Winter white is becoming an increasingly popular option, but if you're already mastered the art of wearing white jeans in winter, injecting pastel fashion into your winter wardrobe is a fabulous reminder that the cold weather will eventually end.
I've come up with outfits for a bunch of different wintry climates, but you can definitely add and remove layers depending on the degree of winter you're experiencing. If nothing else, you'll definitely stand out from the waves of black and burgundy that flood college campuses during the colder months of the year Here's how to wear pastel during winter:
1. Just Starting Out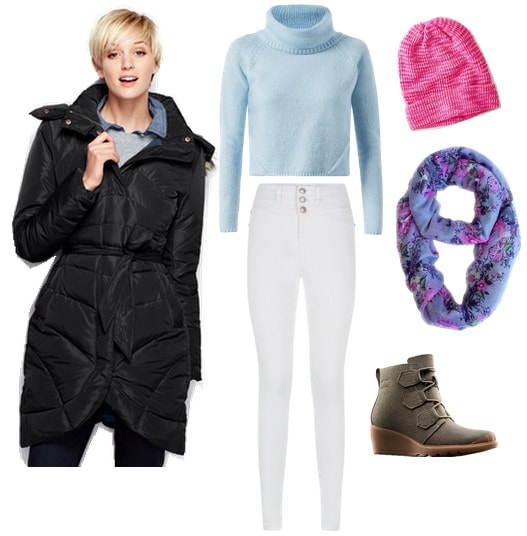 Product Information: Turtleneck – New Look, Jeans – New Look, Coat – Lands' End, Scarf – Overstock, Beanie – American Eagle, Boots – Sorel
If you're not sure how to start playing around with pastel, swapping out pieces in your standard wintery ensemble for Easter egg-colored alternatives is a great way to start.
A black down parka is a must-have, especially if you're experiencing harsh winters. This one from Lands' End is relatively affordable, yet still packs a punch in the style department. A classic baby blue turtleneck and white jeans add a colorful twist to a classic winter combination, and the unique statement print of the scarf adds interest without compromising warmth. These Sorel boots have a wedge heel, but also a rubber sole that is very appropriate for wintry conditions.
2. Pastel and Pleather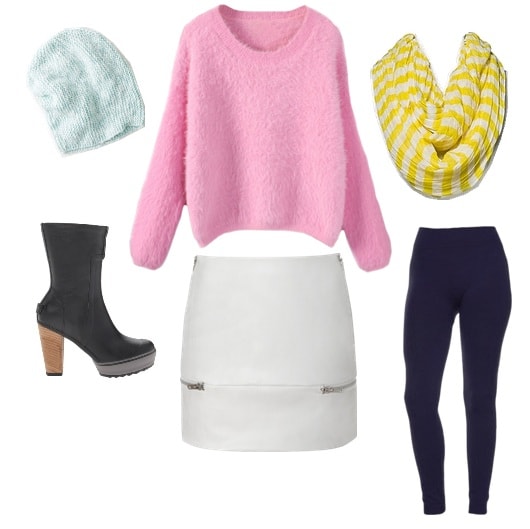 Product Information: Sweater – BlackFive, Skirt – True Decadence, Scarf – Target, Beanie – American Eagle, Tights – Amazon, Boots – Sorel
While I don't advise wearing heels when it's cold and slippery out, I am particularly fond of this pair of Sorel boots. Not only do they resemble Jeffrey Campbell Litas, but these boots also have rubber soles that provide great traction in less-than-stellar weather conditions.
Fleece-lined tights are an essential in my winter wardrobe, but mixing up the traditional black for navy adds a little something special. I went with a white, leather-look skirt to keep the color scheme bright and cheery, but any fitted skirt will work with this slouchy sweater.
3. Textured and Slouchy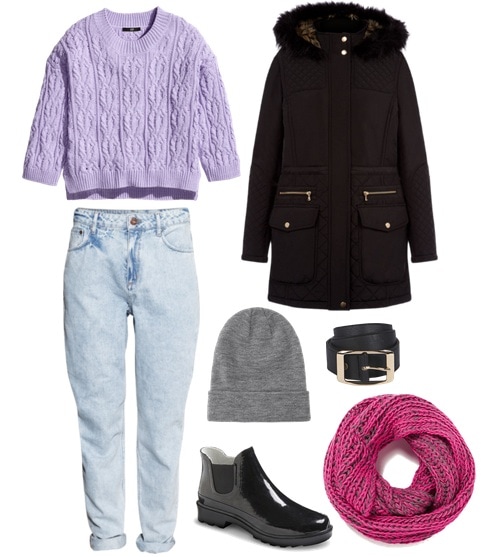 Product Information: Sweater – H&M, Jeans – H&M, Parka – New Look, Beanie – Forever21, Belt – Boohoo, Boots – Target, Scarf – Impulse
If your personal style is slightly more lived-in, textured pastel pieces manage to be simultaneously fresh and slouchy. Mom jeans are set to be a huge trend this year, and pair effortlessly with a chunky belt. The lilac color of this cable-knit sweater is slightly unconventional, but plays well with the cool color palette of this outfit.
Not only are these boots are cute and affordable, but they're also great for slushy snow days and have a classic cut that goes with pretty much anything. I love this hot pink scarf for an additional dash of unexpected color, and throwing on a black parka and gray beanie keep the look from moving into 'too saccharine for snow' territory.
4. Unconventionally Cutesy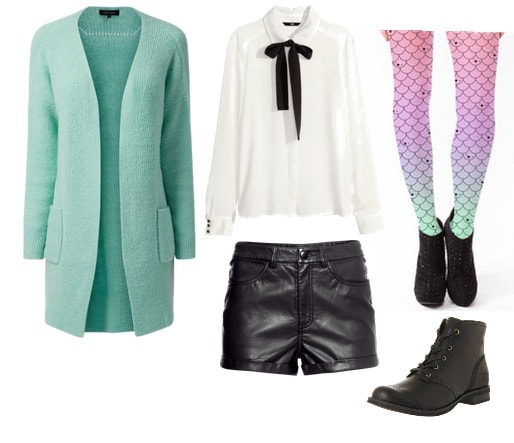 Product Information: Cardigan – New Look, Blouse – H&M, Shorts – H&M, Tights – Etsy, Boots – Timberland
This look is more appropriate for nights out in milder weather, but I couldn't resist mixing faux leather shorts with these eye-catching printed leggings. Again, the mint cardigan is slightly unconventional, but keeping the rest of the outfit monochromatic goes a long way in looking put-together without coming across as overdone.
The bow on the blouse adds feminine flair to the textured shorts and menswear-inspired Timberland boots. A pair of good boots are definitely pricey investment pieces, but well-made boots tend to be more comfortable, weather-resistant, and are likely to last through several years of hiking to class in snowstorms.
What do you think?
What's your favorite way to rock pastel in the dead of winter? Do you save pastels for the warmer months? Would you wear any of the looks above? Let me know in the comments!