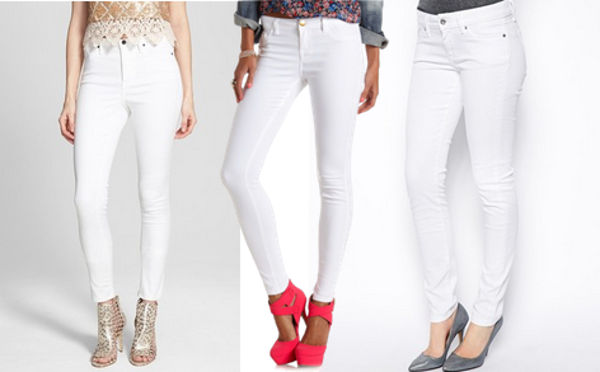 White Jeans: 1. Nordstrom, 2. Charlotte Russe, 3. ASOS
Did anyone else flip when they saw Kendall Jenner rocking white skinny jeans a few weeks back? She looked fabulous, and her outfit was so sartorially inspirational. Winter white is such a bold trend, but a little confidence can help you pull it off with ease.
My favorite way to rock this look is with white skinny jeans, just like Kendall wore – they're a great base for you to add on your favorite tops, shoes, and accessories. No matter what your style is, you can really make this trend your own!
White jeans can easily be dressed up for a night out, but they're casual enough to wear to class, too. Below, I'll show you two ways to wear this trend. If you're interested in how to wear white jeans for class and a night out, read on.
White Jeans: Class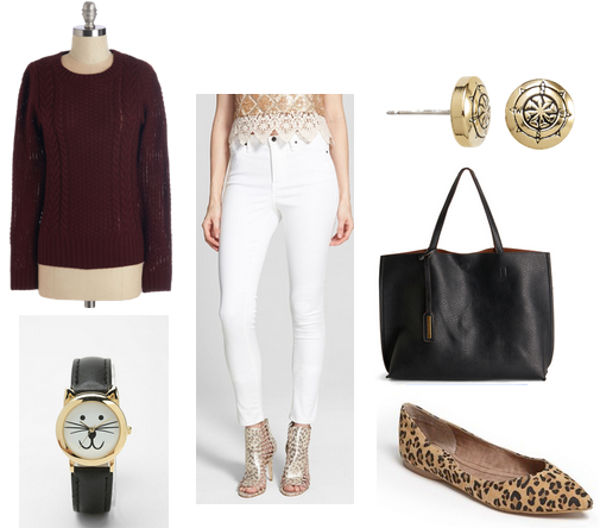 Product Info: White Jeans, Sweater, Flats, Tote, Earrings, Watch
For an outfit that's comfy for a full day of classes, start by pairing your favorite white skinny jeans with a cozy sweater in a deep color; burgundy, for example, looks great against white denim. Add a pop of pattern with these pointy-toed leopard print flats.
Keep your jewelry simple but fun with gold compass stud earrings and a quirky cat watch. Grab a black tote that's big enough to carry all of your books, and you'll be set for the day.
White Jeans: Night Out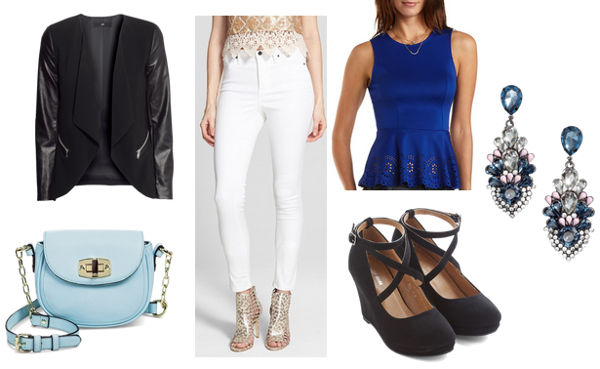 Product Info: White Jeans, Top, Blazer, Purse, Wedges, Earrings
White denim looks absolutely amazing next to bold jewel tones, so pair your jeans with a cobalt-colored peplum top for a night on the town. For some added warmth and edge, throw on a mix-media blazer.
Elevate your ensemble with a pair of strappy black wedges, then toss your essentials into a sky blue crossbody bag. All you need for jewelry is a beautiful pair of dangly earrings, and you're ready to go.
Thoughts?
Are you bold enough to rock winter white? Would you wear either of these outfits, or have you tried this look on your own? Leave me a comment and let me know!