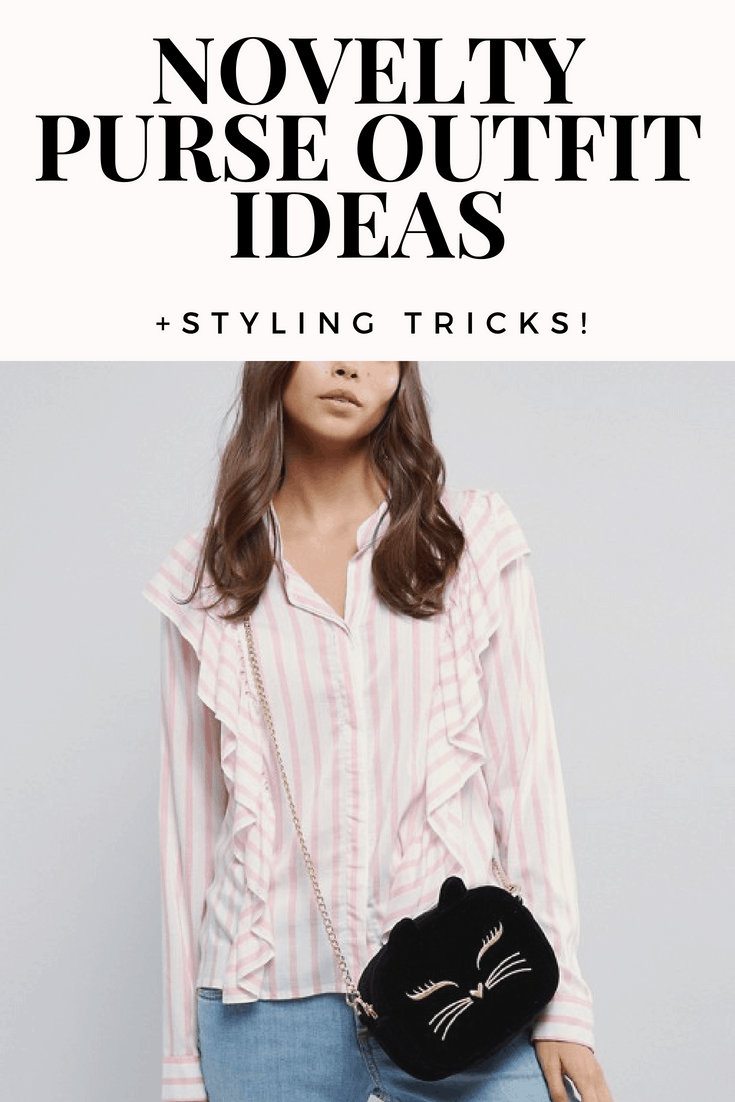 Novelty purses come in all kinds of adorable shapes and sizes. At least one has probably caught your eye before. Maybe it was shaped like your favorite animal or fruit. You may have grabbed it up excitedly before putting it back on the rack, thinking to yourself the thought that will stop any purchase in its tracks.
"But I feel like I'll never use it."
After all, novelty purses don't seem super practical at first glance. Sure, you'd tote a fox-shaped purse to a costume party, but where else? Well, more places than you'd think, for starters. The key to styling a novelty purse for everyday use is to let it be a star accessory. Think of it like a statement necklace. You wouldn't want to wear one of those and then a bunch of other over-the-top jewelry alongside it. Same goes for a novelty purse.
If the novelty purse isn't a neutral color, let it dictate what the rest of your outfit looks like instead of the other way around. Avoid playing into the "theme" of the purse too much – wearing cherry-shaped earrings with a cherry-shaped purse, for example. This is what can make the outfit look campy.
The most important tip for styling a novelty purse it to be confident with it. Don't obsess over whether or not the outfit is "working." If you're selling the look, everyone else will buy it.
Here are some ideas for different ways you can style a novelty purse!
Novelty Purse Outfit 1: Black Cat Cutie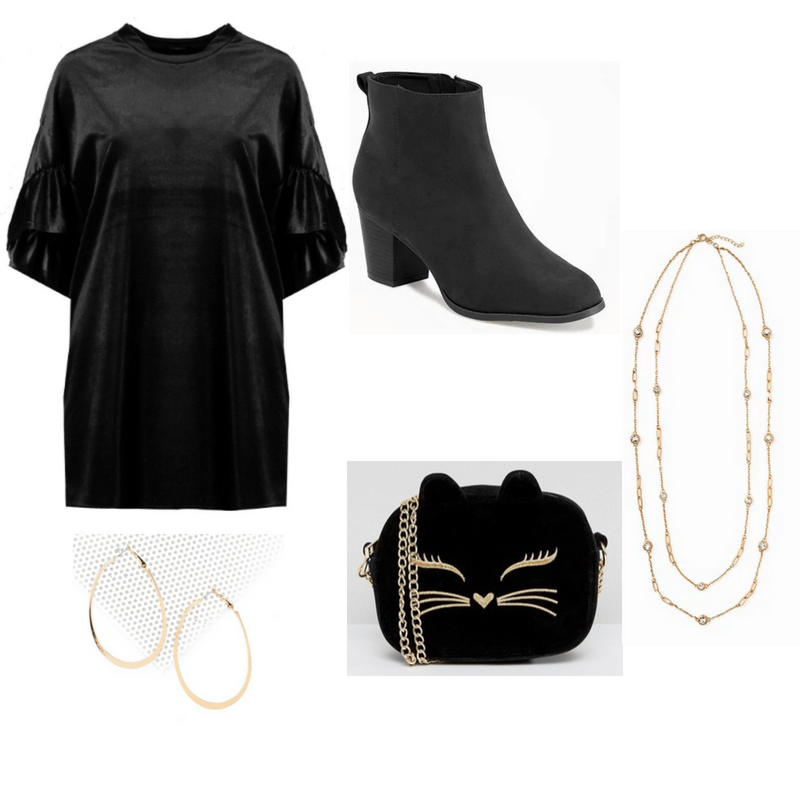 Products: Purse – ASOS, Dress – Boohoo, Boots – Old Navy, Earrings – Nasty Gal, Necklace – Old Navy
If you're still hesitant about purchasing a novelty purse, one like this would be a good buy. It's cute but in a neutral color and not overly whimsical. Still, it's different enough to get noticed – and hopefully earn some compliments.
Since this particular purse is more low-key, the other accessories can shine a little more. Notice how they're still simple, though. The purse is the star of the show here, with black boots and a velvet dress to match its elegant texture. This outfit shows that you can use a novelty purse in a more dressy setting, too.
Novelty Purse Outfit 2: Rosy Cheek Perfection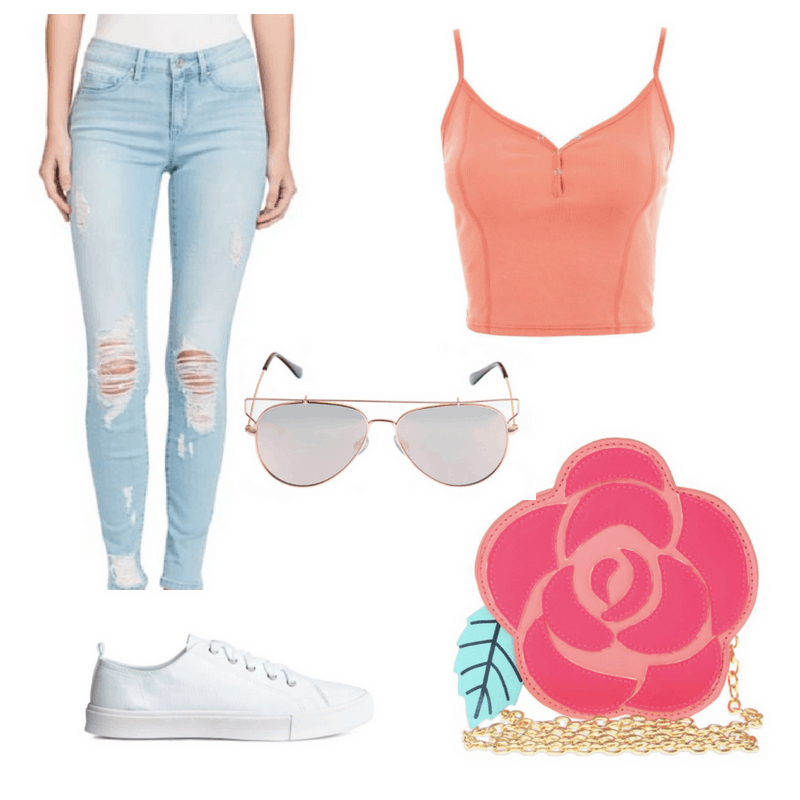 Products: Purse – Nordstrom, Top – Topshop, Jeans – Lord and Taylor, Sunglasses – JCPenney
Here's an example of how to really let a novelty purse shine with your outfit. The cute rose purse definitely has a lot of novelty to it. Paired with a few other detailed items of clothing and accessories, it could look less nice than it actually is. Notice how simple everything else in this outfit is, though. Everything is a solid color and not too busy. This makes sure that the eye is drawn to the purse. It doesn't get lost in everything else that's going on with the look.
The novelty purse is the crown jewel of this outfit, and it shows a way to style a purse for a casual situation.
Novelty Purse Outfit 3: Pineapple Prettiness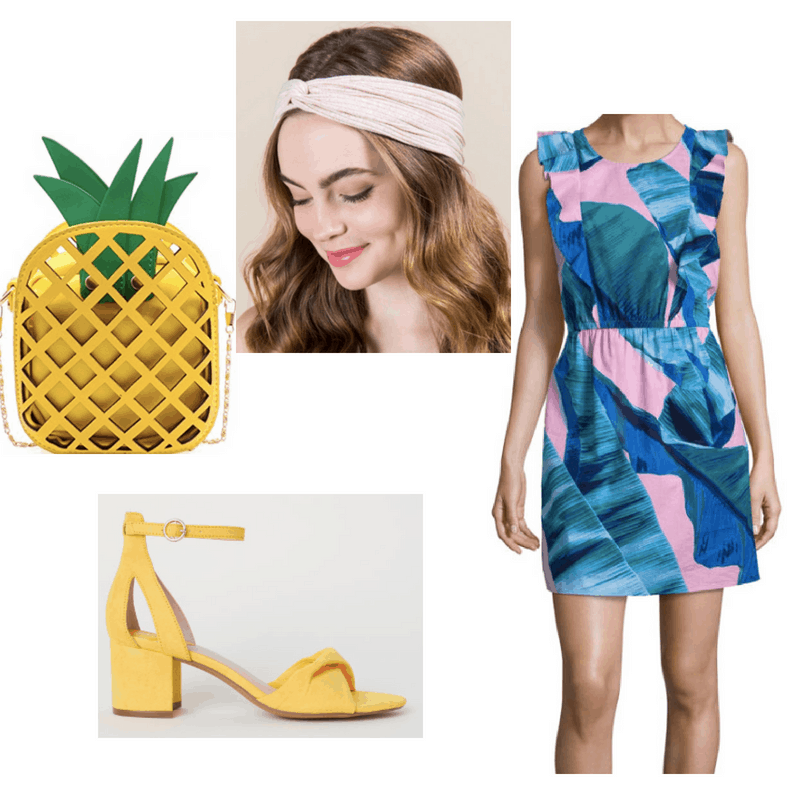 Products: Purse – Amazon, Dress – JCPenney, Shoes – H&M, Headband – Francesca's
This is a fun way to style a brightly colored novelty purse. The colors of the dress are bold without clashing with the tones of this adorable pineapple bag. The yellow shoes tie the outfit together with the purse but keep it from being too matchy-matchy. That's what can hurt the chic appearance of a look. Having the pineapple purse and yellow shoes and, for example, a green and yellow dress and a green headband would be overkill. The colors of the outfit work with the purse without being too strong.
What do you think?
Do you own any novelty purses? How do you style them with your outfits? Would you consider giving one a try? Let me know in the comments below!