Spring break may have already come and gone, but the weather in Athens is still up and down relentlessly. From 40° in the morning to a balmy 82° by lunch, it's hard to dress for the temperatures, let alone for style.
When I walked into work and spotted Crystal, I was immediately drawn to her funky white overalls and rocker accessories. Bottom line: Crystal was nailing that cool-girl look.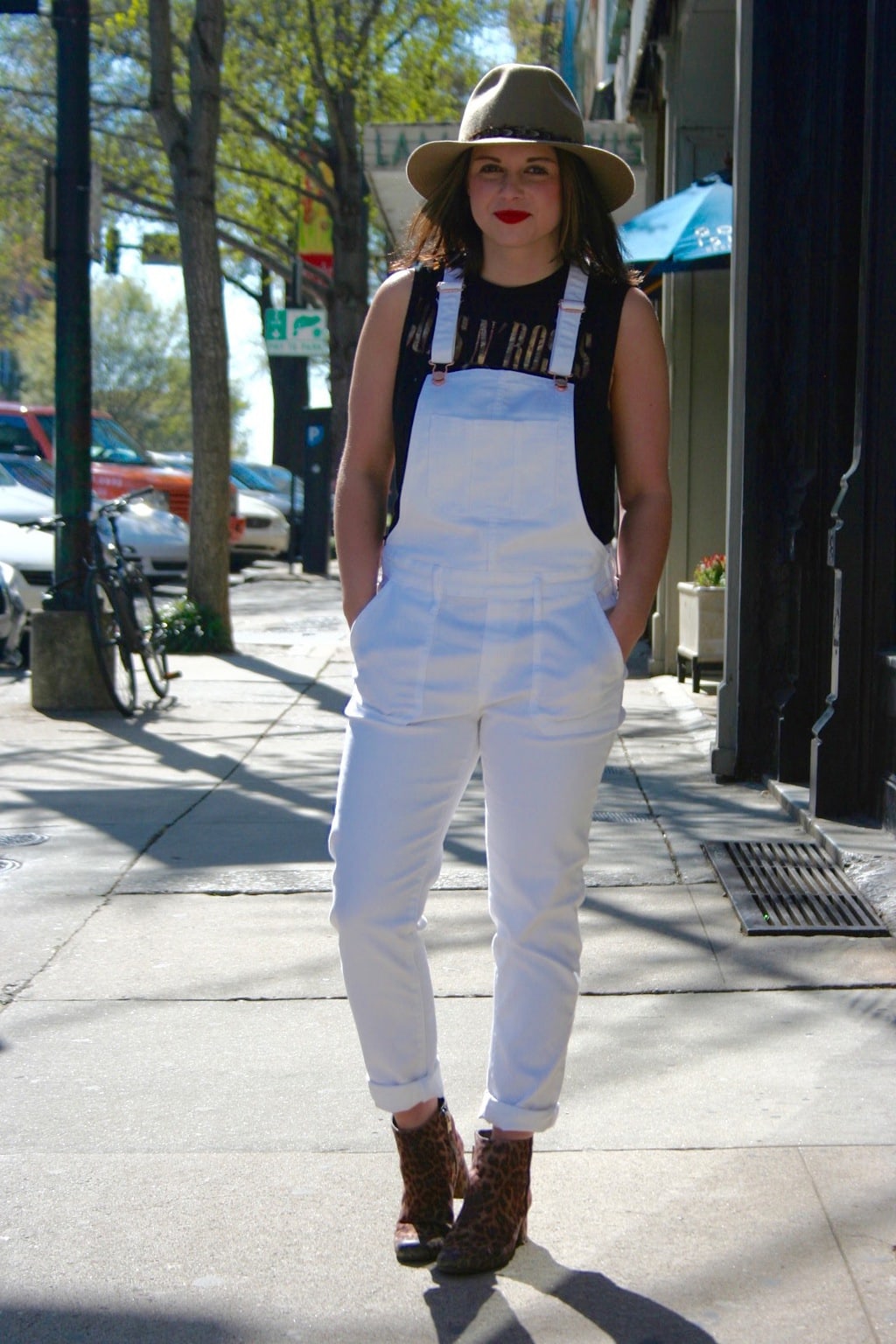 Crystal 101

Name: Crystal
School: University of Georgia
Year: Senior
Major: Fashion Merchandising
Hometown: Winder, Georgia
Let's Talk Fashion

Who or what inspires your style? "I was born in London so I really look towards what the London bloggers are doing. They inspire me to embrace my heritage."
Where do you like to shop?
"I like to shop at thrift stores. I'm a very thrift store kind of girl, but if not, then I love my Forever 21, Topshop, H&M. Those are a couple of my favorite fast fashion retailers. I like to get classic pieces from Old Navy, Macy's, Nordstrom, [and other] department stores."
How would you describe your sense of style? "I would really describe my personal style as… well, it kind of varies. I'm very rock and edgy one day [and the next], I'm in my favorite maxi dress with my Nike kicks on."
Why did you choose this particular outfit? "I chose this outfit because of the white overalls. I feel like they're really an up-and-coming trend. I paired them with my favorite band tee and some statement pieces that I really like."
What fashion advice would you give to other students looking to improve their style? "Look around you! If you like an outfit someone is wearing, ask them to stop and snap a pic of it so you can remake it. I also don't use one thing for one purpose; if I've got a maxi skirt I see how I can make it a dress with a cool jacket or belt."
What are your favorite trends right now? "My favorite trend… I'm still loving the street style sneakers with everything [and] midi dresses too. I'm loving the lingerie trend, I feel like that's really fun. I'm also really loving the crop[ped], kind of gaucho jean."
Do you have any favorite designers or lines from this season?
"I loved the Balmain line this season. It was awesome. I also loved the Topshop pre-fall line."
If you could raid anyone's closet, whose and why?
"Oh my gosh, Olivia Palermo. Her excessive amounts of fur coats and tennis shoes… wow. Her street style is so cool."
What do you do for fun? Do you have any unique hobbies or interests? "When I'm not stalking people for outfits on social media, I love decorating my room. I take down and redecorate my room once a month just for the fun of it. I also love shopping for vinyl and seeing live music anywhere."
What's your favorite item in your closet and where did you get it?
"Probably my white fur jacket from Forever 21, surprisingly! I love to wear it with leather leggings and tennis shoes in the fall."
What's one embarrassing fashion fad you regret giving into?
"The sequin mermaid scale slouchy bags and gauchos. Black gauchos. That was a bad fashion faux-pas of mine."
Elements Crystal's Outfit

1. Overalls and Band Tee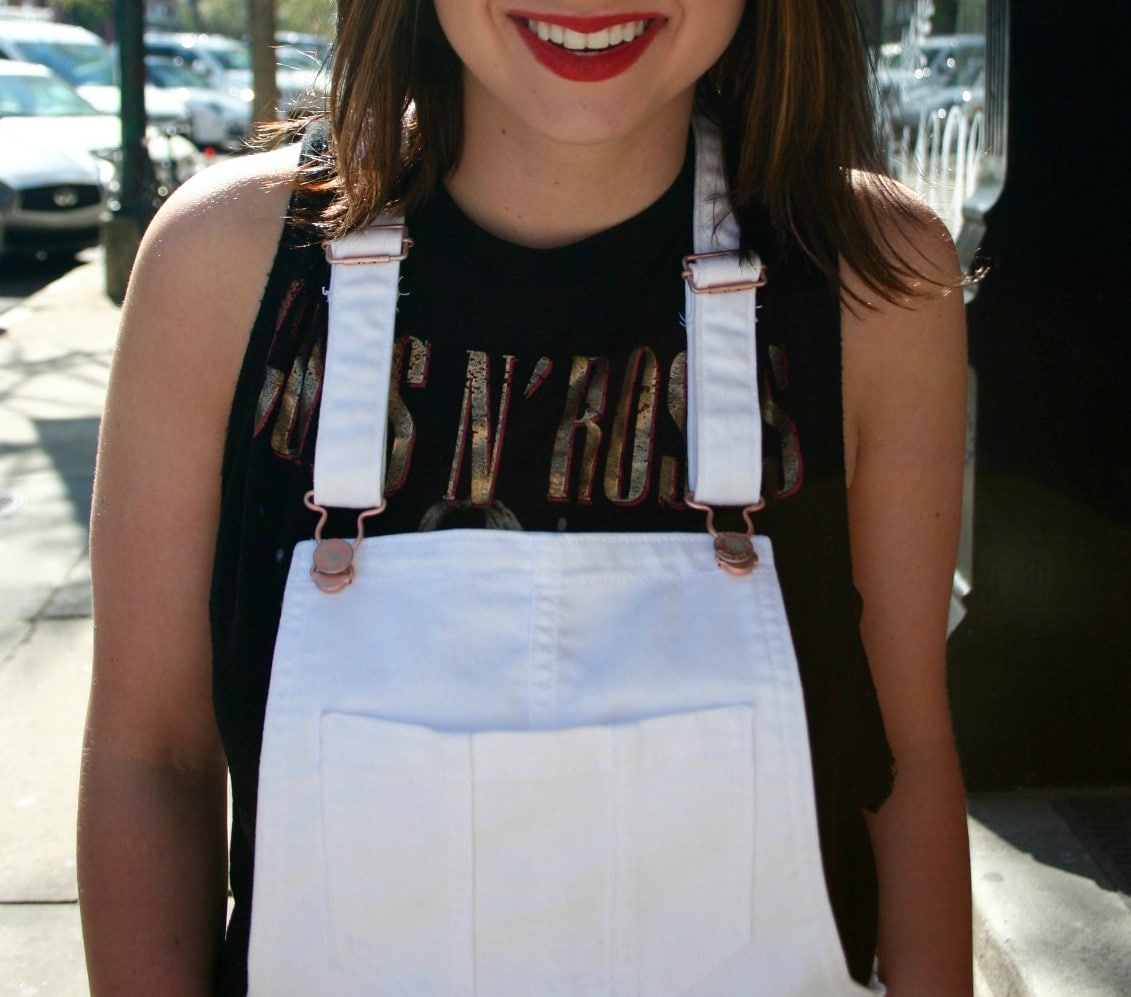 Crystal's white overalls are a springtime twist on the funky '90s staple. With her graphic band tee from Forever 21, her outfit is an edgy update on the usual jeans and t-shirt combo.
2. Statement Hat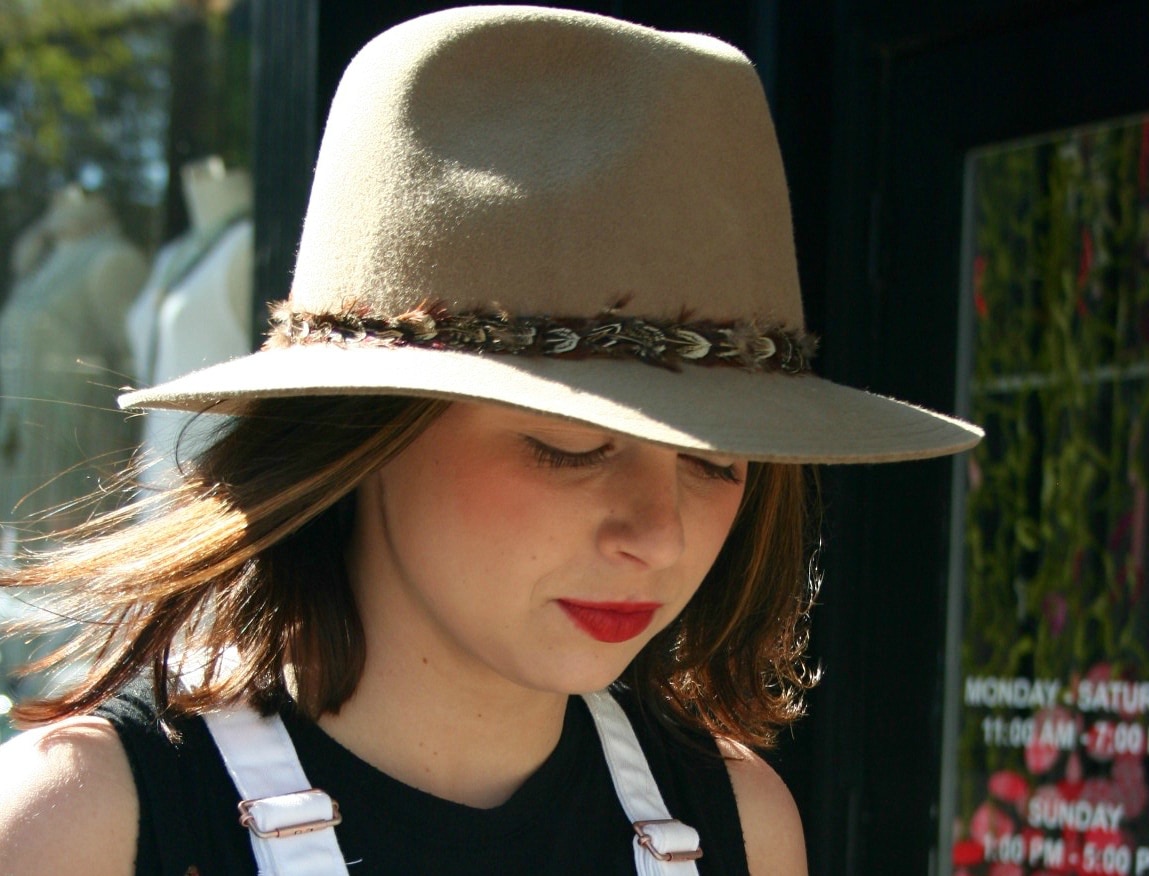 When layers of clunky bangles or tangled necklaces aren't your thing, you can still accessorize. Top off your outfit with a classic wide-brim hat like Crystal's. A felt fedora or boater is fab in place of shades while walking to class! Even better, it'll cover greasies for days when dry shampoo just isn't cutting it.
3. Leopard Booties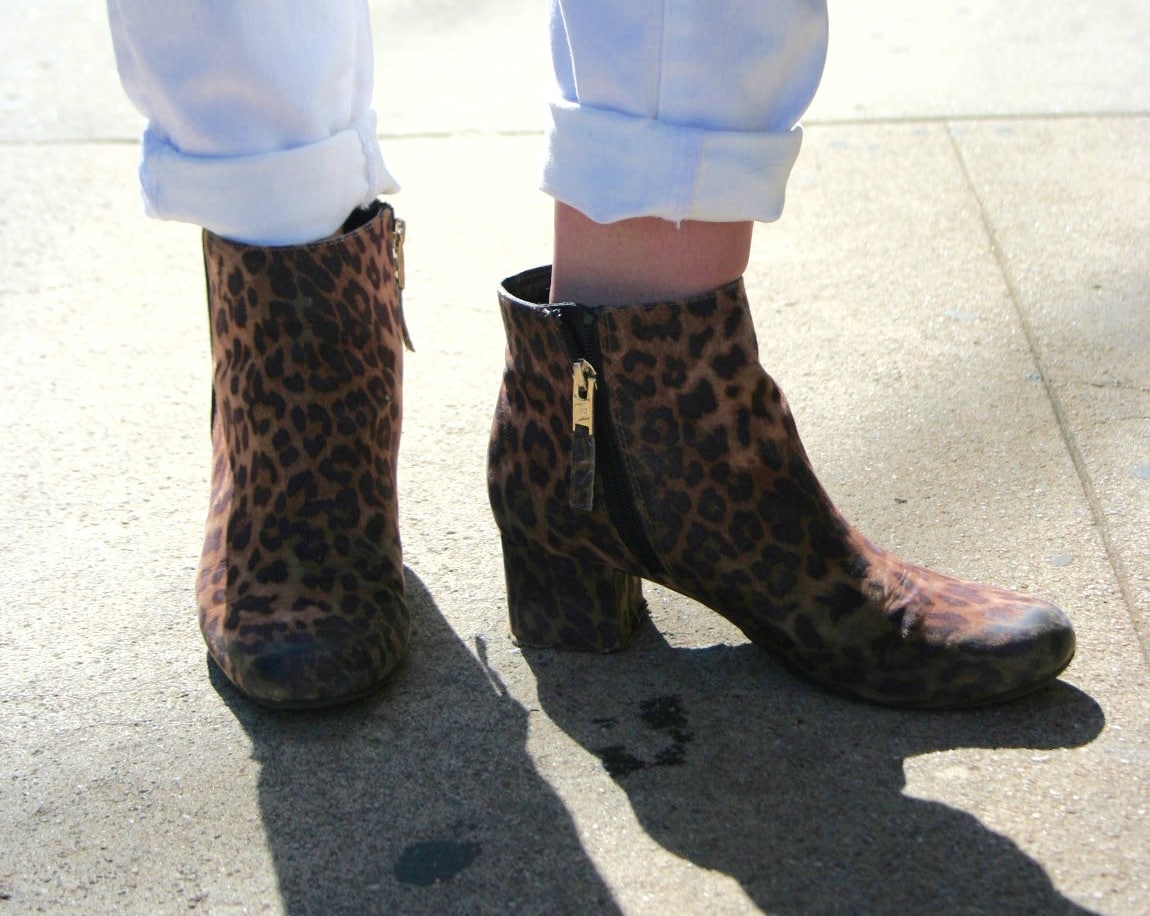 While you might be in a committed relationship to your Nike high tops, sometimes the two of you may need a little space. Animal print ankle booties are a stylish substitute for your usual comfy kicks (but just as comfy, Crystal swears!).
Leopard booties and overalls, oh my!
Are you as obsessed with Crystal's outfit as we are? Chat with us below about how you feel her style.