Double denim is one of my favorite trends this season. I love the layered look and am constantly inspired by those who can rock it. Spending a part of her summer at the University of Colorado at Boulder, Rebecca caught my eye with her innovative look.
With shredded jeans, a denim jacket, and a bold belt, Rebecca's look displays her confidence and trendiness. The coolest part? Most of her outfit is thrifted!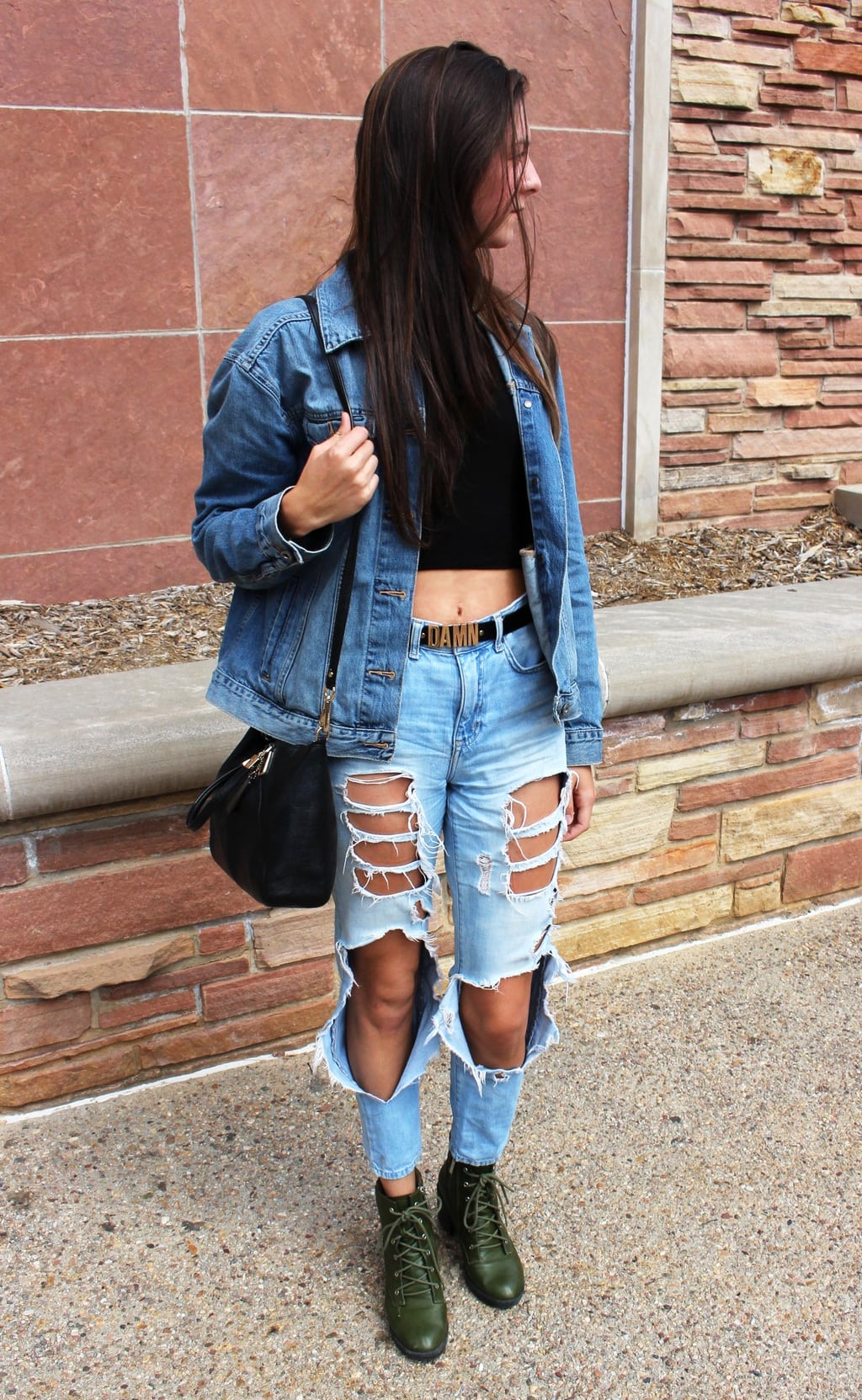 Rebbecca 101
Name: Rebecca
School: University of Colorado Boulder
Year: Junior
Major: Communications with a Minor in French and Studio Arts/TAM Certificate
Let's Talk Fashion
Who or what inspires your style? "Everyday people when I am out and see something I like or the way someone wears something. If they look confident and rock something, it makes me want to try something new."
Where do you like to shop? "I work at Plato's Closet so I try not to buy anything retail price. I also like Buffalo Exchange. I am very environmentally conscious and don't want to contribute to buying and consuming mass-produced clothing."
How would you describe your sense of style? "Kinda Funky. I don't know. I just wear whatever I want. I don't have a certain style, I just bounce around."
Why did you choose this particular outfit? "I found this belt at work the other day so I knew I had to buy it. And I like my jeans a lot, and gold accessories with denim."
What fashion advice would you give to other students looking to improve their style? "I would say just look around and see what is attractive to you. As long as you like something it can't be wrong."
What are your favorite trends right now? "Distressed denim and jumpsuits. Even though I don't have a lot of piercings I also really love the look of studs stacked up the ear."
What do you do for fun – do you have any unique hobbies or interests? "I did pole dancing for a semester and it was a lot of fun. I would be sweating after every class."
If you could raid anyone's closet, who would it be and why? "Maybe Joan Jett when she was in The Runaways. Or Gwen Stefani, she is really powerful and always confident. She pretty much rocks a wife-beater."
Elements of Rebecca's Outfit
1. Belt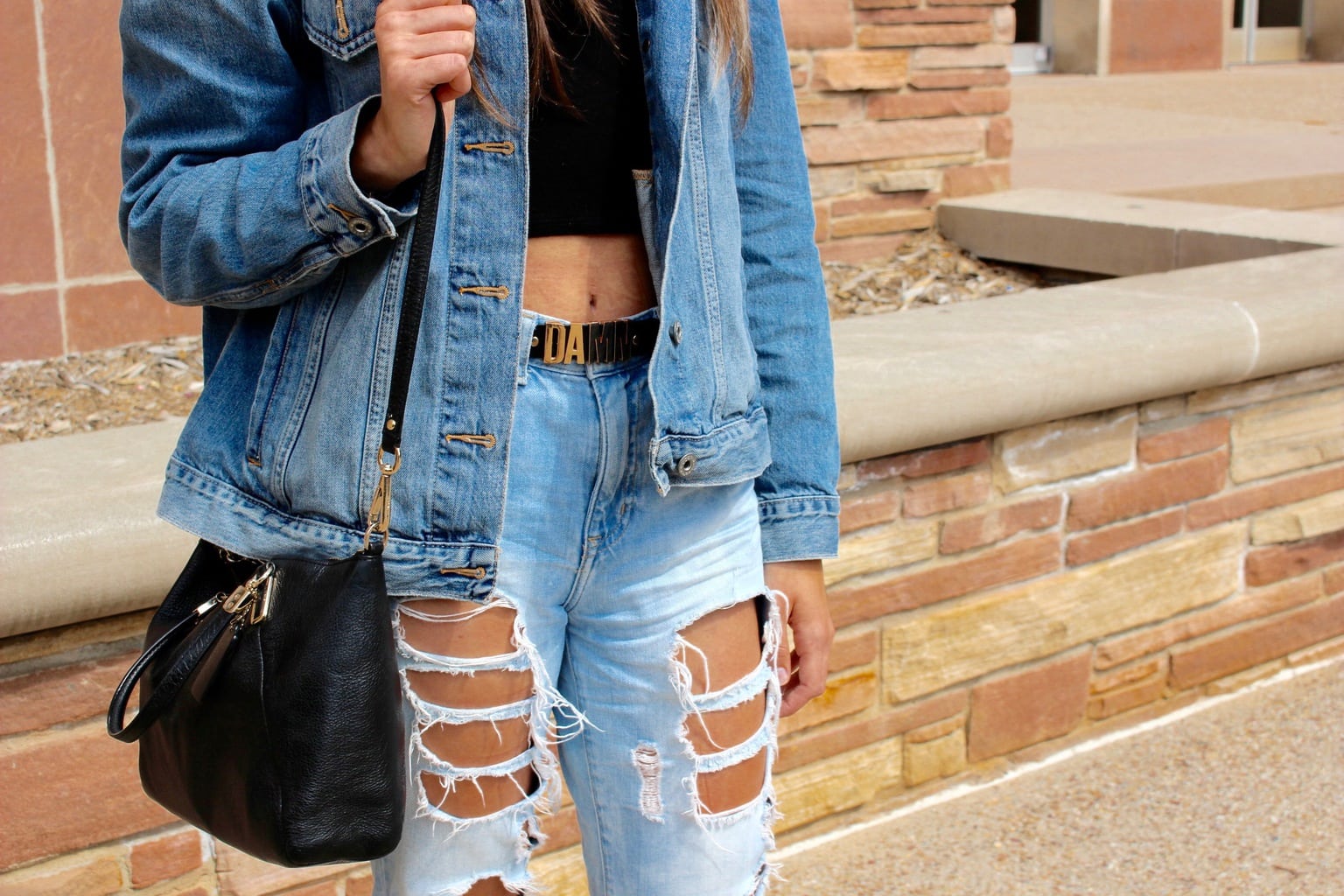 Vintage belts have been a huge trend for this season with the accessory making appearances everywhere. I just bought one myself, but nothing compares to Rebecca's statement belt. Reading "DAMN", the belt accents her rebellious and carefree personality. The gold is flashy and a funky addition to her bold outfit. I love it!
2. Shoes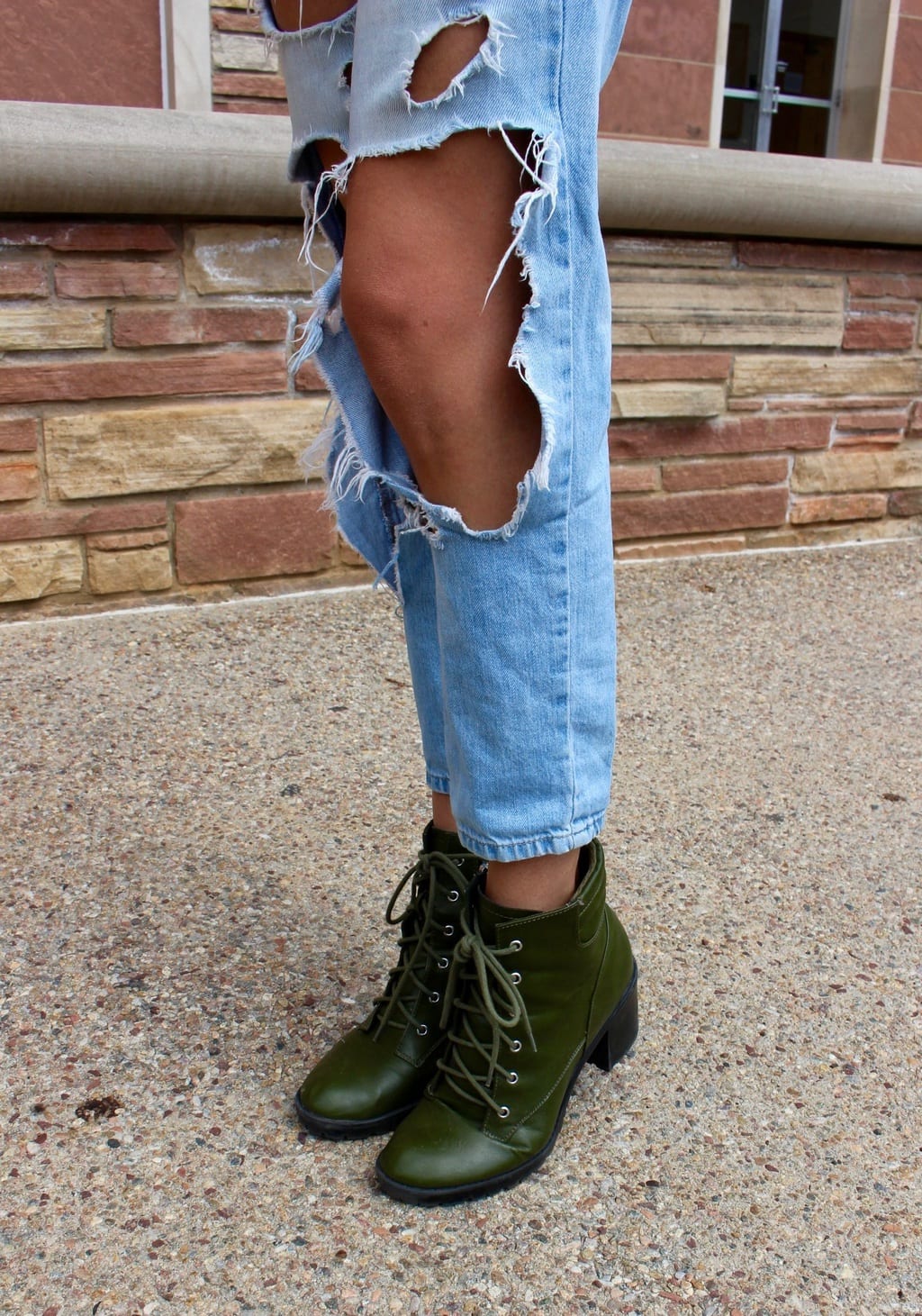 Adding a hint of color to the black and denim look, Rebecca rocks these forest green lace-up booties.
Incredibly, Rebecca's boots, jacket, and belt were all thrifted, proving that you don't need to break the bank to achieve a trendy and stylish ensemble.
What do you think?
Are you a thrift store shopper? Would you wear ultra distressed jeans like Rebecca's? How awesome is her DAMN belt? Let us know in the comments section.