It's that time of the year again, when it's cold in the mornings but warm during the day. Choosing the right outfit during the school week can easily become frustrating. Spring calls for lots of light layers as each day brings unpredictable weather.
I spotted Breanne on campus and couldn't help but marvel at her comfy, cute, and casual ensemble. Attaining the three C's of the perfect outfit is difficult for most people, but Breanne pulled it off so effortlessly that I had to ask her about her style secrets.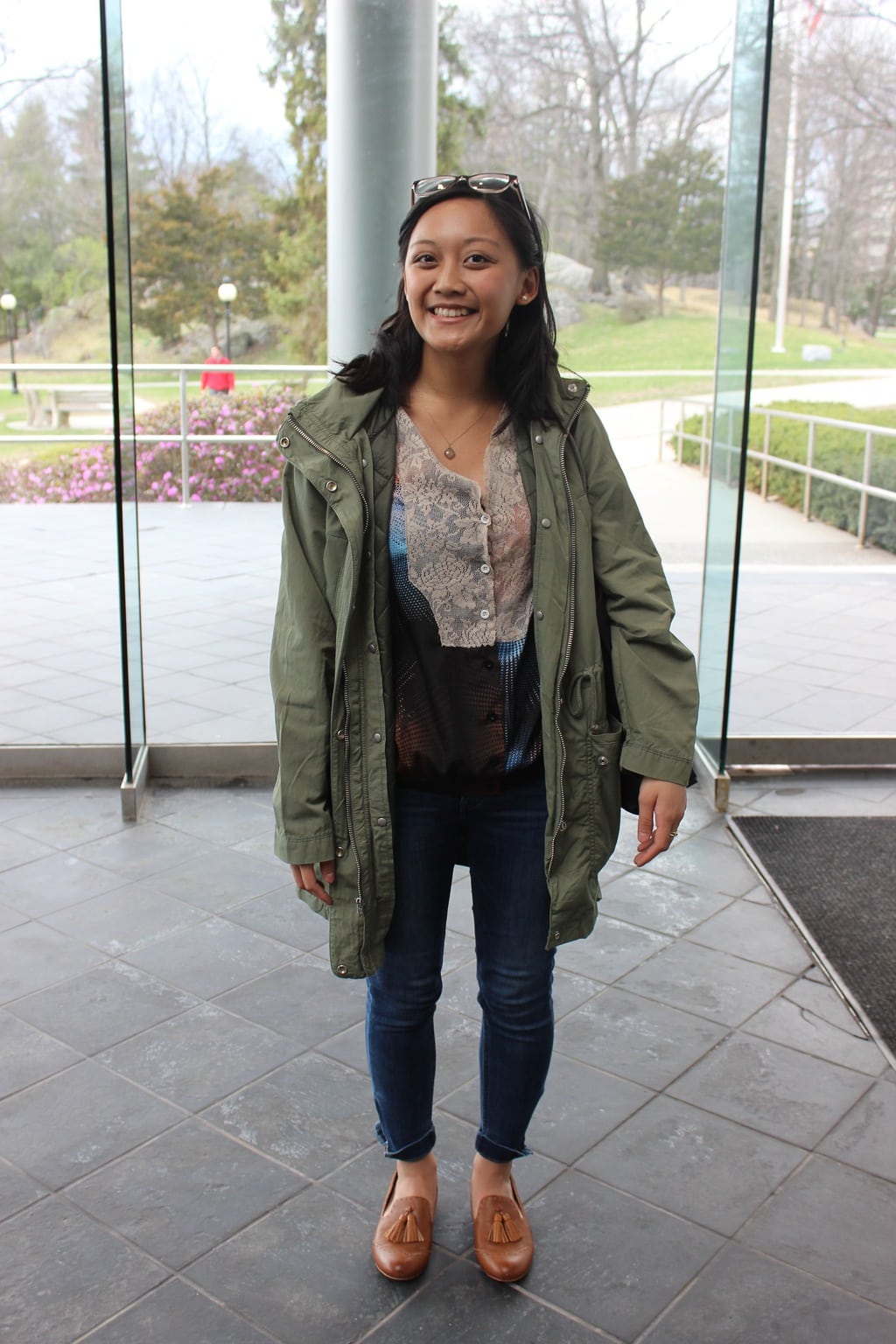 Breanne 101
Name: Breanne
Year: Freshman
Major: Political Science
Minor: Journalism
School: Marist College
Hometown: San Diego, CA
Let's Talk Fashion
Who or what inspires your style? "I look a lot at Pinterest and Tumblr, but usually I just look around campus for cute styles and then look in my closet to see what I can try to put together that looks similar."
Where do you like to shop? "American Eagle, thrift shops, H&M, and any store that has sales going on."
How would you describe your sense of style? "Comfortable. Sometimes I dress up depending on how I feel. My go-to outfit is flats, jeans, and a blouse."
What fashion advice would you give other students looking to improve their style? "Look at Instagram and Pinterest for inspiration because there are a lot of good style accounts that put together outfits and list where you can buy each item. Also, if you're on a budget, just go thrift shopping or hunt for sales."
What are your favorite trends right now? "Right now I'm really into cropped jeans because I like where they hit on my ankle."
Do you have any favorite fashion designers and if so who? "Not really. I wouldn't say I'm a 'fashionista,' but I just play it by what I think looks nice."
What do you do for fun? Do you have any unique hobbies or interests? "I like to read and write, and I love to binge watch shows on Netflix."
If you could raid anyone's closet who would it be and why? "I'd probably raid Maya Mitchell's [closet] because she's my favorite actress, and Lily Collins's."
Elements of Breanne's Outfit
1. Olive Green Coat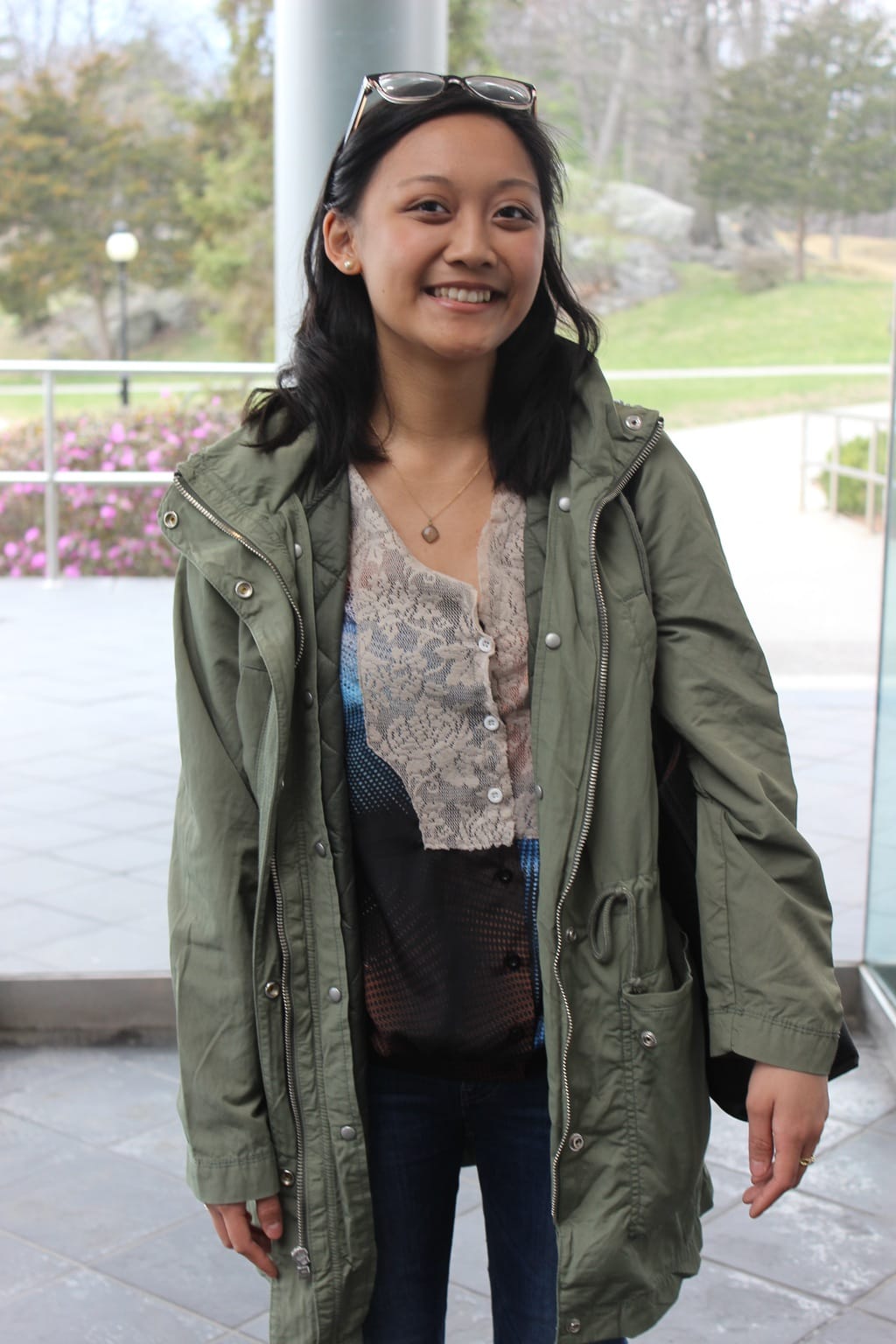 Olive green is a trending color for spring and this jacket is a perfect lightweight option for the season. Not only is it easy to layer over everything but it can be styled in many different ways. Plus, olive green is now considered a neutral so this jacket goes with any color palette.
2. Loafers + Cropped Zipper-Cuff Jeans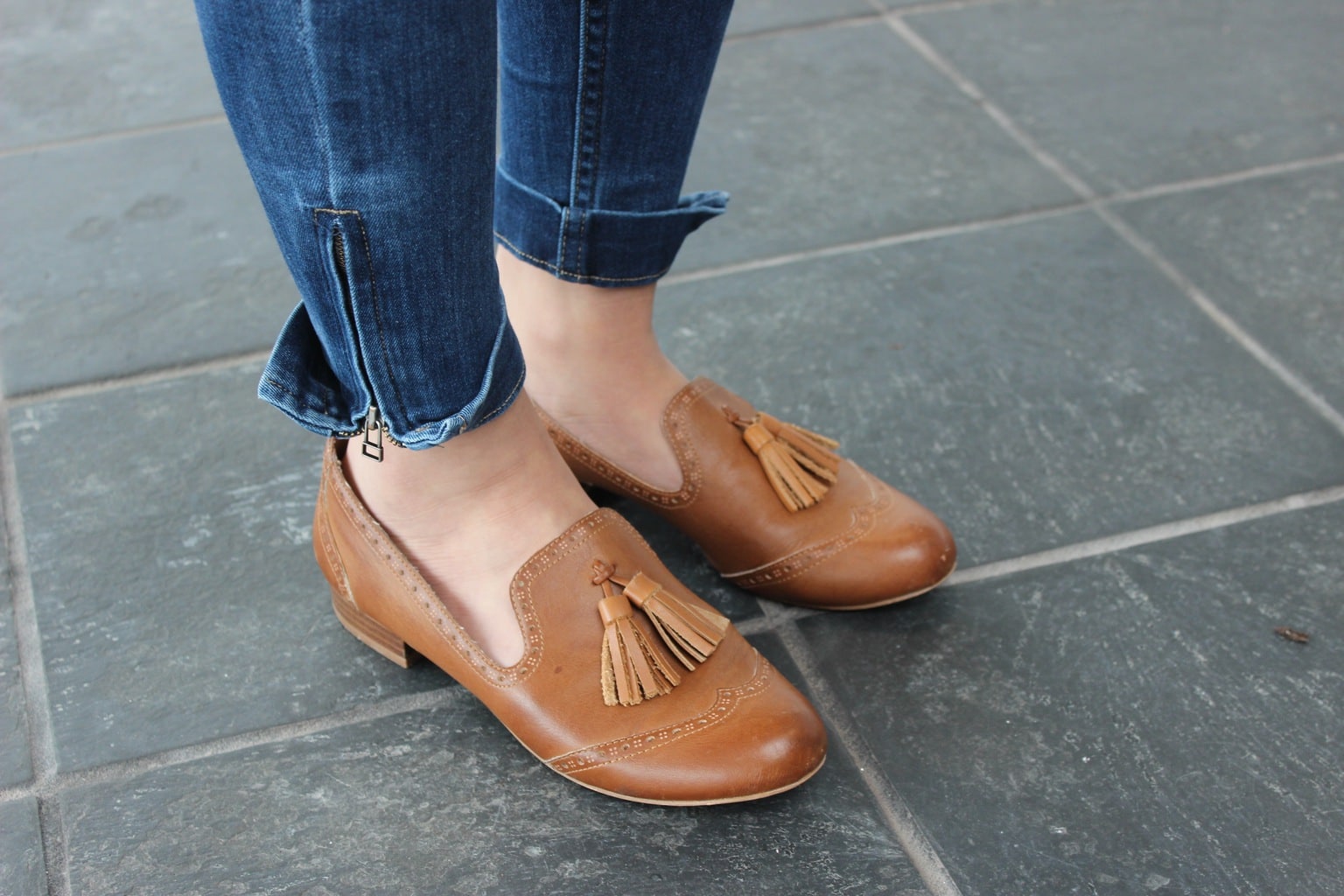 The first thing I noticed when I spotted Breanne was her loafers and cuffed jeans combo. She put an unexpected twist on her simple jeans by turning up the cuffs. As for the loafers, what better way to dress up an outfit on campus than by playing up the shoes?
3. Shopper Tote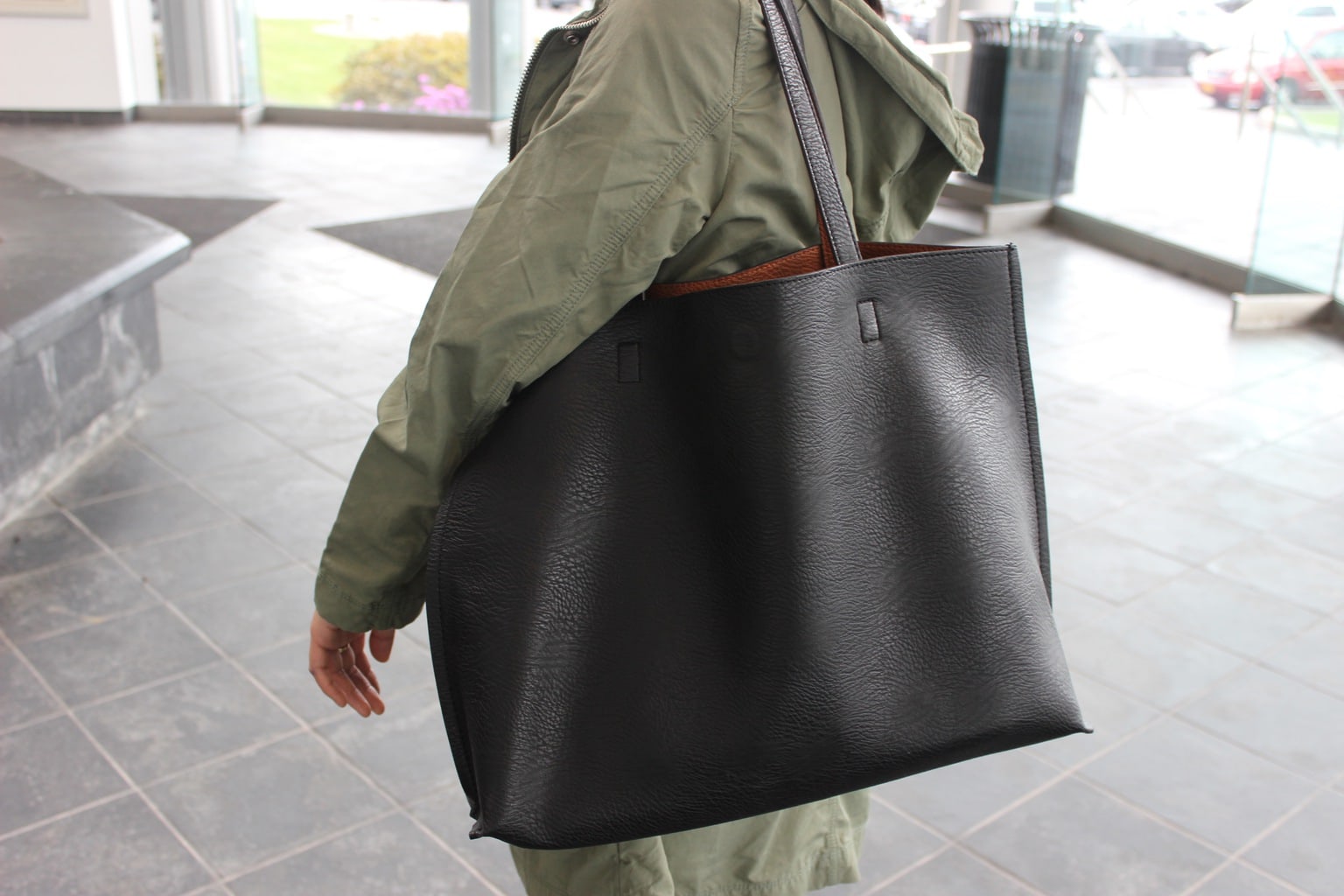 A popular choice amongst students, a shopper is one of our favorite alternatives to a book bag. If you don't feel like lugging around a massive backpack, a shopper tote is a great way to carry your books and laptop. Breanne's classic black style would work with any outfit.
4. Muted Necklace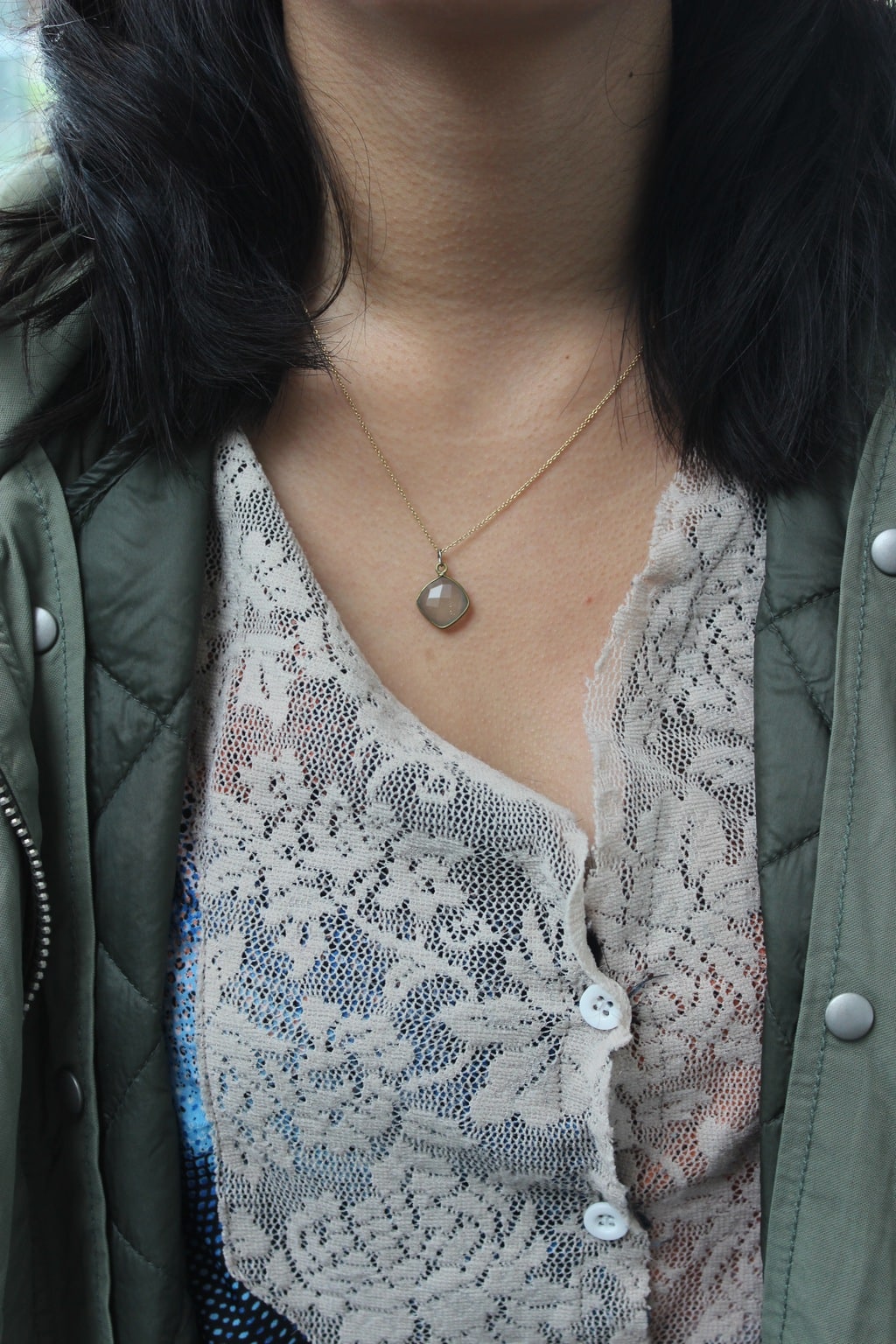 Breanne's pale, dainty necklace adds an extra hint of elegance to her entire look. The soft and thin gold chain don't overpower her outfit.
Would you wear Breanne's outfit?
Does this style speak to you? Would you wear her jacket and loafers? Let us know what you think below!