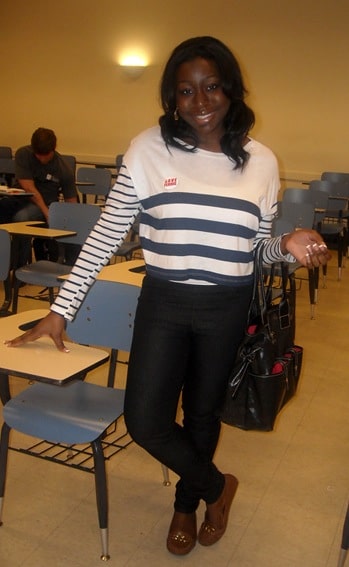 As I sat in Economics, thinking of things a bit more interesting than supply and demand (like lunch), I looked over and saw a classmate's bag sitting against her desk. Oh, it was love at first sight! I wondered, in light of Economics, what the opportunity cost of my stealing her Dooney and Bourke bag and running out of class would be?
I picked my brain for the entire class period, until I finally decided against stealing her gorgeous bag, and decided to take several pictures of her awesome outfit instead.
Ticola 101
Name: Ticola
University: Georgia Southern University
Major: Community Health
Some More Details…
Year in College: Senior
Who or what inspires your style? "80's films!" (Check out her 'Save Ferris' button below! How cute!)
Where do like to shop? "One of my favorite places to shop is a vintage/thrift shop in Savannah [Georgia] called Clothing Warehouse."
Elements of Ticola's Outfit
1. Nautical Trend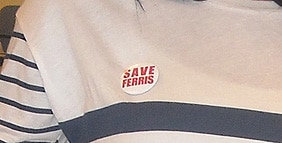 Nautical-inspired pieces were all over runways for Spring 2010, and these blue stripes are a definite must for spring. Ticola's nautical-inspired top is an ideal way for any college girl to rock a trend from the runway in a realistic, everyday way.
2. A Statement Bag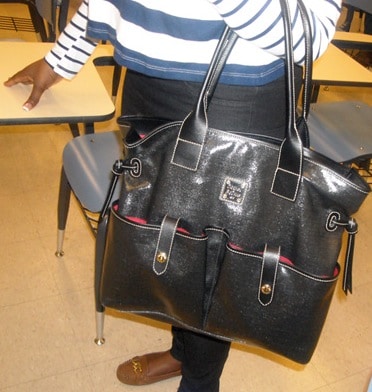 Ticola's bag is definitely one of my favorite elements of her outfit! This Dooney and Bourke masterpiece left my mouth watering, and instead of worrying about taking notes, I simply watched her bag, like a creep.
3. Cute (and Quirky) Accessories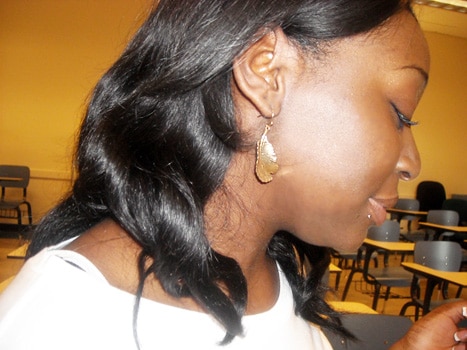 Ticola's cute dangling earrings and 'Save Ferris' button add amazing flair and individuality to her ensemble! It's so easy to dress up any look with the right accessories – you just have to be creative and have fun with it!
Looks Inspired by Ticola
I compiled these looks so you can get Ticola's nautical-inspired look yourself! I have a warm weather version, and a cooler weather version, so you can still sail away no matter the temperature. The whole set is extremely budget-friendly, and contains two complete outfits with versatile pieces that you can mix and match to your heart's content.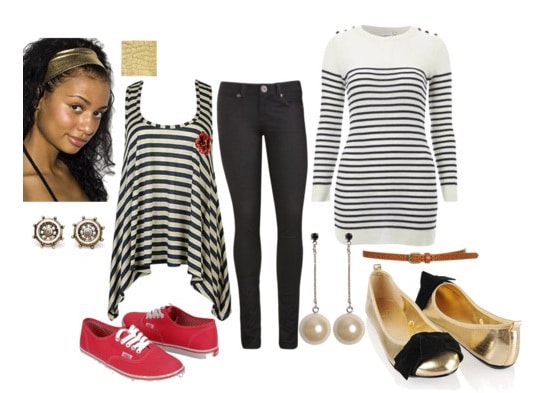 Product Information: Nautical Jumper Dress- Newlook (UK), Nautical Flower Patch Top- Forever 21 (this recently sold out- but they have a lot of similar tops!), Knit Denim Skinny Pant- Wet Seal, Metallic Round Toe Flats- Forever 21, VANS Authentic Womens Shoes- Vans, Shiny Headband (Wide)- American Apparel, Nautical Wheel Post- Urban Outfitters, Cut Out Skinny Belt- Topshop, Pearl Earrings- Fun Accessories
This isn't really an outfit. Instead, I've compiled a group of some pretty awesome statement bags like Ticola's Dooney and Bourke purse. Though these can be a bit out of the "normal" college budget, they will last forever and look great with everything. If there is anything worth splurging on, it's an awesome statement bag!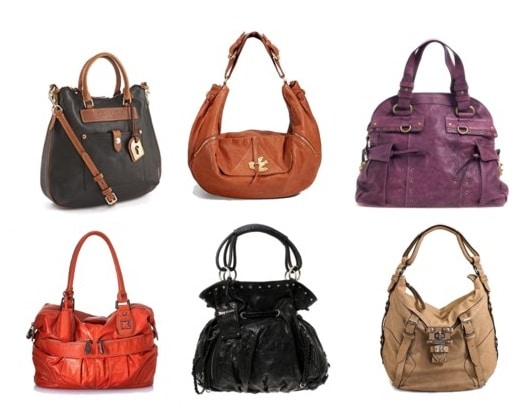 Product Information (clockwise from upper left):
Dooney & Bourke "Dillen" Tear Drop Hobo Bag-Dillard's, Petal To the Metal Mevie Large Hobo- Saks, Juicy Couture Leather Tote Bag- asos, BCBGMAXAZRIA Femme Fatale Leather Satchel Handbag- Bag, Borrow, or Steal, Juicy Couture Leather Drawstring Tote Bag- asos, Lock-It Larchmont Leather Shoulder Bag- Saks
What Do YOU Think?
Do you love Ticola's look as much as we do? Do you own any nautical-inspired pieces? Tell us about it in the comments!