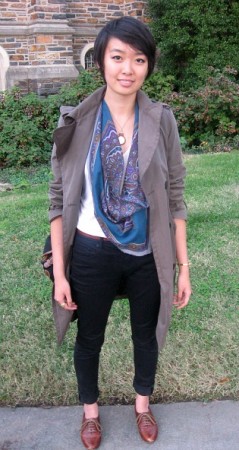 When I go visit my best friend in her dorm, I am often graced by the presence of her hall mate, the stylish Serena. Every time I see her she looks effortlessly put-together. So when I found her walking around campus, I knew I had to ask her to dish out some of her secrets for staying chic.
Serena 101
Name: Serena
Hometown: Manhattan
Class: Senior
Major: Art History
Hobbies and Interests: "I write a blog on museum theory. I also experiment with presentation in art and freelance graphic design work. I also work on my latte art."
Why this look?
"It's really just a white t-shirt and black jeans. I really only wear neutrals – I think it has to do with my taste in art. Also, it was raining and (therefore) a trench coat day – I love this coat. And I love oxfords and scarves."
Where do you get your style inspiration?
"I look at Lookbook.nu. I also like window shopping because people do really interesting things with mannequins."
Where do you shop?
"Etsy – my ring is from Etsy. Also, thrift stores – my watch and scarf are vintage. I also like places with good basics like H&M, Zara, and Urban Outfitters."
Do you have any favorite designers?
"I love Rick Owens and Comme des Garçons."
Are you excited that it is Fall? What is your must-have item for the season?
"Sweater and scarf season is my favorite. Scarves make everything look classy. Putting on a scarf is a great way to take your look into Fall. Oxfords and loafers are nice alternatives to flats when it gets colder, too."
What is your secret to looking fly even if campus life is super hectic and time is short?
"A nice baggy cardigan. Throw it over whatever you are wearing and it will make your entire look. It's wonderful."
Elements of Serena's Style
Neutral Basics: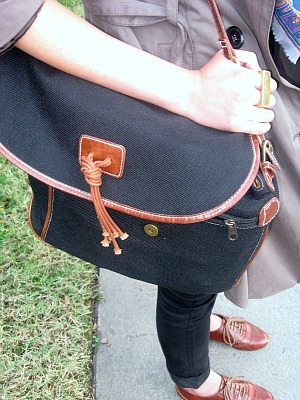 Serena's chic look starts off with simple, neutral-colored pieces. She is wearing dark denim jeans cropped at the ankle and a white tank top under a gray trench coat.
Outfit Harmony: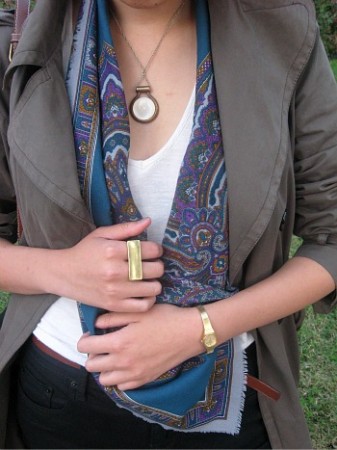 Serena breaks up her neutral color palette with a colorful scarf draped over her white top. Serena's gold necklace, ring, and watch add more color and unity to the look. Also, her shoes, belt, and the lining of her bag are a similar brown color, which creates a harmonious color palette.
Oxfords: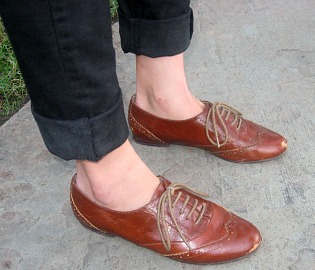 Serena's brown oxfords help give her outfit a more elegant look. Plus, oxfords are not common here at Duke, so they really make her stand out on campus!
I am obsessed with this pair – I really love their deep brown color. Even though brown is a neutral, the hue adds richness to her look. And, although oxfords are menswear-inspired, the slender shape of this pair gives them a feminine feel.
Share Your Thoughts
Do you build your outfit from simple basics? Do you like Oxfords as an alternative to typical ballet flats? Please let us know in the comments!