I first came across Sara's eclectic fashion sense last year when I interviewed one of her classmates for an article I was writing. Since then, I've seen Sara around campus several times, and her ability to combine textures and colors as well as play with conventional outfit proportions is always impressive and eye-catching.
Sara 101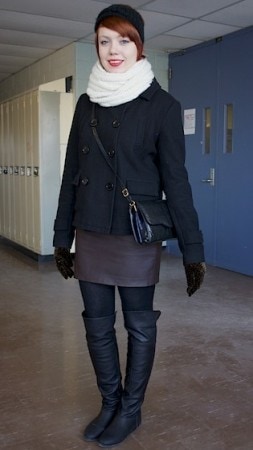 Name: Sara Schouten
School: Humber College
Major: Fashion Arts
Hobbies/Interests: "Fashion, music, old films, and tea."
Let's Talk Fashion
Who or what inspires your style? "I gain a lot of inspiration from old films and style icons from other eras. I'm also inspired by street style and my peers in my program."
Where do you like to shop? "I like to shop at vintage and thrift shops; my favorite spot in Toronto is Kensington Market. I also shop at stores that are stylish but affordable like H&M and Forever 21."
What or who are your style inspirations? "Edie Sedgwick is my biggest style inspiration. Her look was iconic but so effortless; I am starting to see parts of her style reflected in my wardrobe."
Why did you choose this particular outfit? "I put this outfit together because I liked the combination of a high-waisted skirt paired with a cropped top. Over-the-knee boots, and tights worn with the skirt make this outfit appropriate to wear in the winter. My structured purse fits all my essentials – I found it for two dollars at a little thrift store in my hometown."
How would you describe your sense of style? "I would say my sense of style is '60s feminine with an edge."
What fashion advice would you give to other students looking to improve their style? "Look for classic pieces that you will wear often and versatile pieces that can be used in several different outfits."
What are your favorite trends right now? "My favorite trend right now is jumpsuits. They are extremely versatile and can be dressed up or down, and paired with countless accessories."
If you could raid anyone's closet, who would it be and why? "I would raid Carey Mulligan's closet because she is one of my favorite actresses and I love everything she wears, on and off the red carpet."
Elements of Sara's Outfit
Sara is one of those girls who can take a vintage outfit and turn it into something that feels instantly fresh and relevant. She has impeccable taste and her neutral ensemble, seen against her striking red lips and hair, creates a strong, chic visual. I initially chose to photograph Sara because I was so taken with the way she mixed a leather skirt with such a neat, prim jacket. Here are some more elements of her style that I found noteworthy.
1. Winter Accessories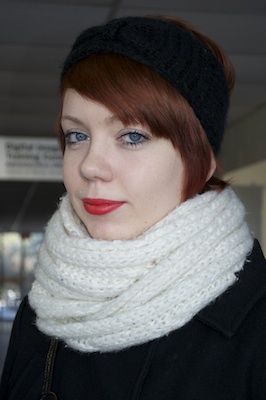 Here we can see how Sara has accessorized her winter outerwear with a chunky wool scarf and trendy pair of earmuffs. The monochromatic color scheme seen above plays up her striking red hair and blue eyes.
2. Proportions and Textures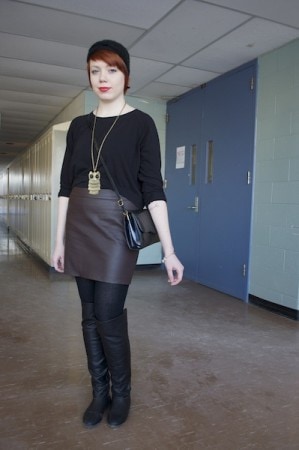 I love how Sara played with proportion in this outfit. The high-waisted leather skirt paired with the black crop top create a flattering silhouette, while the unique mix of textures also adds an interesting element to the look.
3. Bag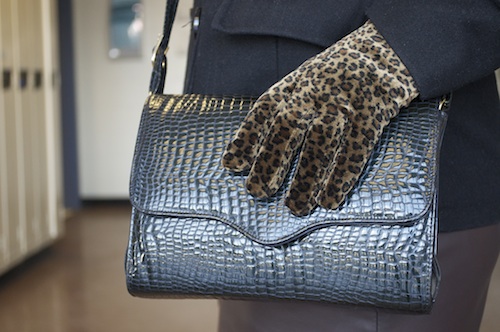 A boxy vintage handbag is perfect for toting around those small school day essentials. Paired with a leopard printed glove, it screams old school Hollywood glamor.
4. Boots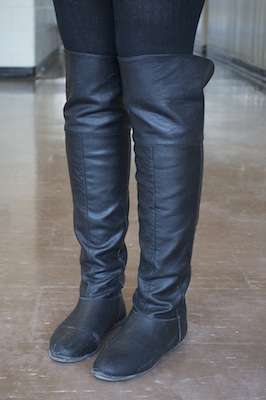 Sara's over-the-knee boots add a certain trendiness to her ensemble that helps prevent the outfit from becoming too retro.
5. Jewelry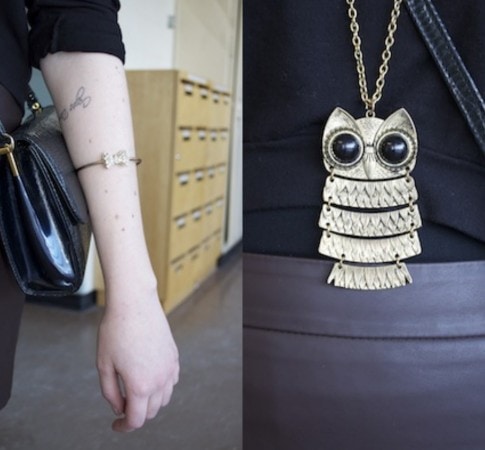 A single, delicate gold bow bangle is flirty and feminine and adds a sophisticated touch to the ensemble. Sara's owl pendant is fun, fashionable, and perks up the basic black of her look. It also plays to the gold trend that is happening in fashion right now.
What do you think?
Do you like Sarah's style? What do you think of her vintage look? Are you inspired by the '60s? What do you think of her outfit's proportions? Let us know in the comments!