On a weekend visit back home in California to my previous school, University of the Pacific, I had the pleasure of visiting my old sorority house (Delta Gamma) to catch up with some of my beautiful sisters!
As I turned the corner into the living room filled with pink and blue couches and smiling faces, I was greeted by Rachel. Rachel was a year younger than me while I was still studying at UOP and I didn't get to spend as much time with her as I would have liked before moving to Nashville.
I've always appreciated Rachel's beautiful personality and kind heart, but I knew I had to feature her amazing sense of style here on CF! Read on for the low-down on her effortlessly feminine look.
Rachel 101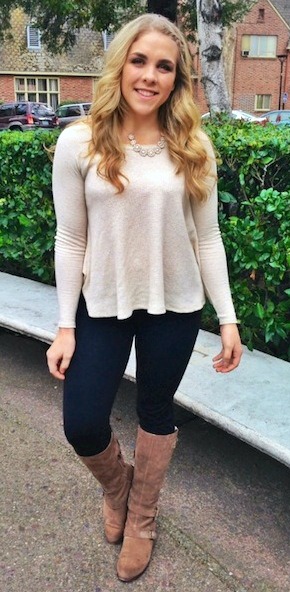 Name: Rachel
Year: Sophomore
Hometown: San Jose, California
Major: Business
Age: 20
Let's Talk Fashion
Who or what inspires your style? "A lot of the older girls in my sorority, Delta Gamma, inspire my style and encourage me to step out of my comfort zone when it comes to fashion."
Where do you like to shop? "I mainly shop at Free People. I rarely find something in that store that I don't absolutely love. I also like small boutiques, and Nordstrom for some staples such as good jeans."
How would you describe your sense of style? "I would say my sense of style is a mix of sporty, edgy, and boho. I like mixing these three different styles together to create a look that is unique to me."
Why did you choose this particular outfit? "I always base my outfit off of how I want my hair for the day. So, since I choose a braid and big loose curls, I decided to pair it with something neutral and effortless-looking with a dainty statement necklace."
What fashion advice would you give other college students? "I would say my biggest advice to anyone looking to improve their style would be to choose styles and clothing that are flattering to you and your particular personality. Just because something looks great on your friend doesn't necessarily mean it will work for you! Be yourself and choose the best trends to enhance your own unique style."
What are your favorite trends right now? "My favorite trends right now are anything edgy and slightly boho. I love all the darker colors from fall that will translate into spring and the warmer months. I also love keeping up-to-date with the different shapes and materials the designers are using in particular – any tops with open backs or back cutouts!"
Who are you favorite designers? "My favorite designers of all time are Hervé [Léger], Armani, and Kate Spade. I also really enjoy a lot of the designers that Free People selects from."
What do you do for fun? "I grew up riding horses as a kid, so honestly whenever I get the chance to go home and do that I am a happy gal!"
If you could raid anyone's closet, who would it be and why? "Well, one of the most fun things about living in a sorority house filled with girls who love clothes and fashion is that we all like to get together to trade and mix and match. We are always trying to combine outfits and mix and match pieces from everyone's closets to create the perfect look. I am pretty lucky in this way. Don't worry… we always ask first and return, though!"
What are your hobbies and interests? "I love to work out, hang out with my sorority sisters, and go to concerts. I also really love to ride horses when I am home some weekends from school."
Elements of Rachel's Outfit
1. Side Braid with Loose Beachy Curls and Statement Necklace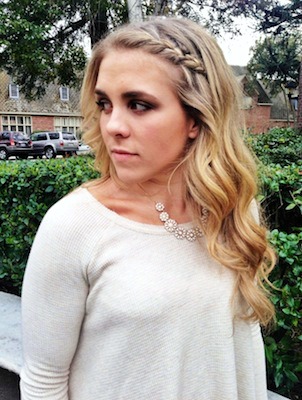 One of the first things I noticed when I met Rach two years ago was her beautiful hair. She is always trying different styles, and believes that high-quality hair products are worth the splurge. Rachel used Kerastase Resistance Ciment Thermique (a CF favorite!) and a 1.5 inch wrap curling iron for this look. She also used a little bit of hair spray to set the braid. Rachel's makeup is a beautiful chocolate brown smokey eye.
Rachel certainly knows the meaning of the beautiful and simple statement necklace. While layering accessories can be great, this particular necklace really pulls her whole outfit together. I especially love the tiny jewels around the edges of the flowers.
2. Dark Green Kate Spade Tote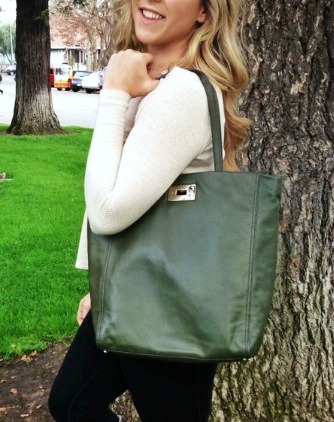 The color of this bag is so wonderfully on-trend for this season! The hunter green adds a lovely new tone to Rachel's ensemble and pairs nicely with her boots. This bag is big enough to carry a few books, a laptop, a sweater, or whatever else she might need throughout the day.
3. Suede UGG Boots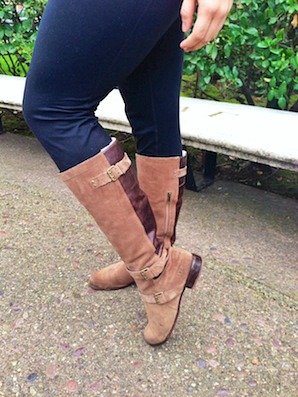 When I looked down and saw Rachel's suede boots, I became obsessed. When she told me they were UGGs, I was floored. From the colors to the mix of leather and suede sides, they are so unique. I love the double side buckle and the tiny dark color on the side of the heel. I think that the plain brown boot can sometimes tend to get a little bit overdone, which is why I appreciate Rachel switching it up with something uncommon.
What do you think of Rachel's school day look?
Do you like her casual yet put-together look? Is this an outfit you would wear to class? Are you as obsessed with her boots as we are? Let us know your thoughts by leaving a comment below.