When walking around campus, I always try to look for my most vibrant and chic-ly dressed peers to feature. Minh's sparkling personality stood out to me because of her big smile and overwhelming confidence; I knew I had to capture her unique style and learn more about it.
I was lucky to get the chance to talk to this awesome gal about her menswear-inspired look, which is versatile enough to take her from thesis writing sessions to spoken word meetings to Vietnamese literature class!
Minh 101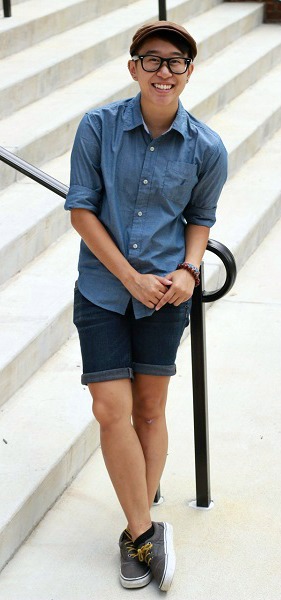 Name: Minh
School: University of Georgia
Class Standing: Senior, Class of 2015
Major: Linguistics and Women's Studies with a minor in French
From: Cumming, GA
Let's Talk Fashion
Who or what inspires your style? "I've never been into conventionally feminine fashion for myself. I appreciate it on other people, but for me personally, I appreciate classic menswear. I think it's hard to go wrong with a well-fitting button-up and a slick pair of pants.
There are actually a lot of queer and androgynous female models that have mastered this menswear look while balancing it with feminine accents. I don't really have a lot of 'who's' who inspire me, because I don't really follow the fashion world, but I have always been attracted to clean cut fashion looks. I love looking through GQ and seeing all of the sharp styles."
Where do you like to shop? "I do a lot of thrifting. Since I'm really small, menswear doesn't really fit me, so I have to shop in the little boys section. I advise it for anyone who's petite and wants to follow this style of clothing.
I really like H&M, and if I could afford it, I would buy J. Crew's catalogue. I get all my skinny jeans from Forever 21 because they fit me the best in the waist and leg and they are pretty cheap."
What fashion advice would you give to other students looking to improve their style? "Definitely have solid pieces in your wardrobe that are cohesive and go with everything else. Once you have those, it's really easy to pair those pieces with other ones in your closet. I try not to buy too many items that I can't see working well with other pieces in my closet. If you have a bold piece, make sure you know what you can wear with it and when."
What are your favorite trends right now? "For fall, I'm really excited for warmer colors and pairing sweaters with my favorite button downs and leather jacket. Fashion is more fun when it's colder, because then you get to layer and add more aspects to your outfit, while playing with your closet a little more. Summer's hard because it gets so hot here – so the winter gives me more freedom."
What do you do for fun – do you have any unique hobbies or interests? "I love biking around campus and writing and performing spoken word poetry. On the weekends I spend a lot of time with my friends hanging out and going out. When I'm alone I listen to a lot of music and write."
If you could raid anyone's closet, who would it be and why? "If I could shrink down Joseph Gordon Levitt to my size I would steal his closet. His suits are all on point and his casual wear is very urban and well-fitting."
Elements of Minh's Outfit
1. Button-Up Shirt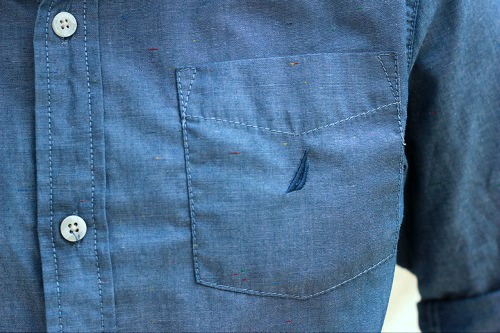 Minh's shirt is a thrift store find from back home. The button-down emulates her clean-cut, classic style. From far away, it looks like a solid color, but closer up little specks of color flash and give the piece a bit of intrigue.
2. Vintage Hat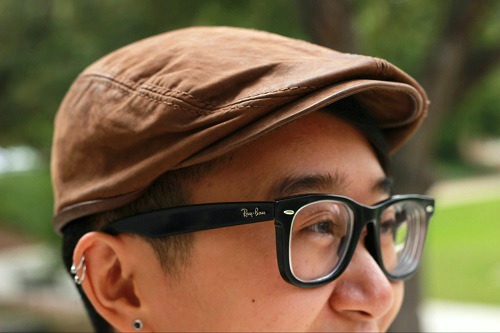 Minh's hat was a gem picked up at a thrift store in Paris. It plays on the menswear aspect of her look and is a fantastic accessory that pulls the ensemble together. Paired with her Ray-Ban glasses and piercings, the entire outfit becomes more edgy. Her overall look incorporates a fun mix of styles inspired by different eras.
3. Distressed Shoes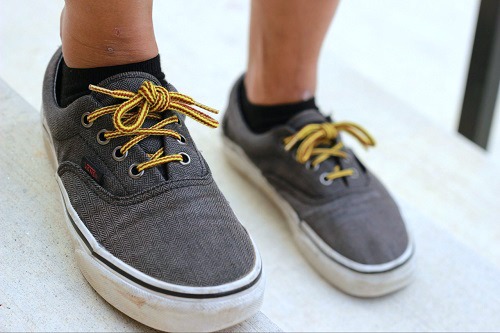 The bright laces add a pop of color to these already textured Vans. Their casual vibe, neutral color, and understated pattern go with almost everything. Not only does Minh wear these sneakers with more laid-back outfits, but she also loves dressing them up with slacks, a dress shirt, and tie.
What do you think of Minh's androgynous style?
Are you as obsessed with her swag as much as we are? Would you wear her vintage hat? Leave a comment below and let us know what you think!