I spotted Manuela sitting at the table in front of the beautiful lake at the University of Miami during freshman orientation week. Her monochrome look and leather jacket stood out in a place full of color and layered skirts. It was obvious she has an eye for sophisticated yet on-trend ensembles.
Manuela 101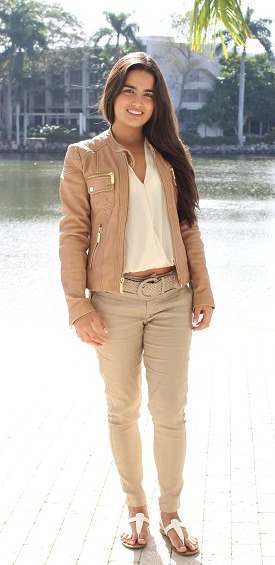 Name: Manuela
Origin: Colombia
Year: Freshman
Major: Entrepreneurship
Let's Talk Fashion!
What inspires your style? "I like to follow a lot of bloggers on Instagram. Sometimes I search with hashtags and find more stuff that I like."
Where do you like to shop? "Well… Obviously MK [Michael Kors]!"
How would you describe your style? "I like to wear pastel colors, more neutral tones. I normally go with a more classic look."
What fashion advice would you give to other students looking to improve their style? "To look for inspiration on websites or on Instagram and always consider what their major is in order to dress appropriately. Also, when going to class I would say to wear something put-together but not too fancy as a sign of respect."
Is the way people dress in Colombia different from Miami? "It's not that different, but girls do tend to show more skin in Colombia. I'm not about that though; I don't like it."
What do you do for fun – do you have any hobbies or interests? "I like horseback riding. I love being around horses!"
Elements of Manuela's Outfit
1. Light Tan Jacket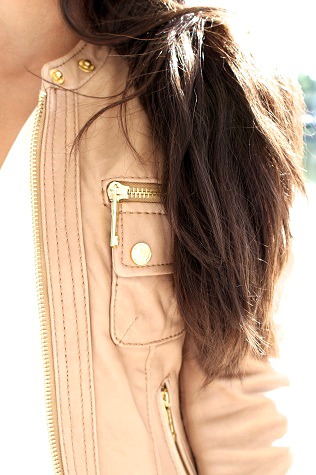 Manuela's leather jacket and studded sandals add that edgy factor to an otherwise classic outfit. The gold hardware on the jacket stands out in a chic way, and is the perfect accent to her more neutral look.
2. Nail Art
Having a sophisticated sense of style does not mean you can't have a little fun! Manuela had some cool, glittery, and colorful nail art going on. It popped against her monochromatic outfit.
3. Patterned Purse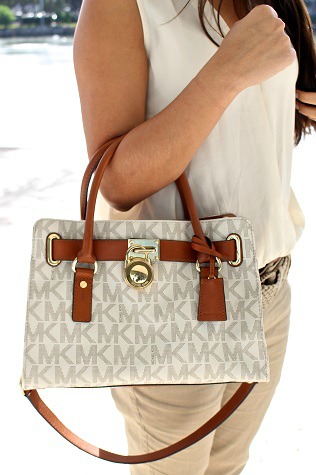 Of course, no look is complete without a purse and her choice was obviously Michael Kors! We love the structured shape and classic vibe of this bag, and it complements the rest of Manuela's outfit perfectly.
What do you think of Manuela's tan and taupe outfit?
Would you wear her chic biker jacket? Do you ever dress monochromatically? Do you like her seriously glittery nail art? Comment below because we want to know what you think!