With the temperature drifting down to the mere teens here in CT, it's been a bit difficult lately to look stylish while staying warm. However, there are a select few that have mastered this dilemma. Maggie took the chilly day and used it as a fashion opportunity.
Maggie 101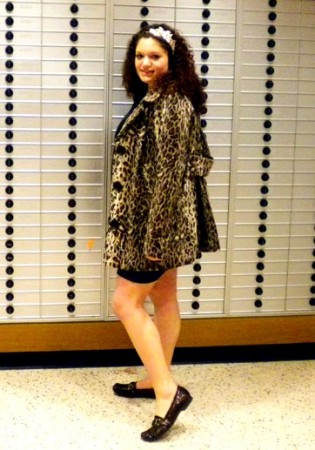 Name: Maggie
School: Wesleyan University
Class Standing: Freshman
Hometown: Border of Pennsylvania & New Jersey
Major: Sociology & Vocal Performance
Hobbies: "Singing, reading, cheerleading, and saving the world."
Let's Talk Fashion
How would you describe your style? "I'd say that I'm a combination of girly and conservative. I'm definitely more of a Charlotte than a Samantha, but I've got a lot of Carrie in me too." (Sex and the City reference, anyone?)
What or who inspires your style? "Both my mother and my best friend Erica inspire me. They both dress in clothes that physically suit them and make them happy."
Where are your favorite places to shop? "I love Bloomingdale's, Neiman Marcus, Nordstrom, and Marshall's because I can easily mix and match seasonal pieces there."
Who are your favorite designers? "Marc Jacobs, Diane Von Furstenberg, Betsey Johnson, and Elie Tahari."
What's your favorite trend right now? "Currently, I'm loving fur-trimmed coats – they're both functional and classy. I also love using animal prints as a neutral."
Elements of Maggie's Outfit
1. Overall Look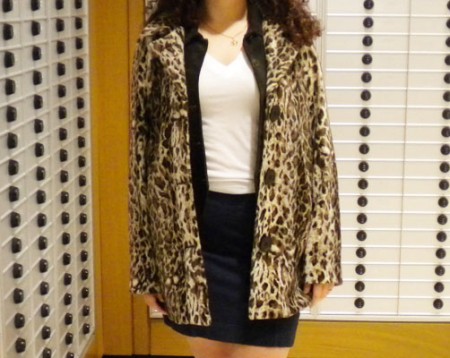 Maggie's style philosophy is smart and simple. She says, "to create a nice, polished look, mix one or two higher-end pieces with basic, more subtle pieces." Her combination of a Bailey 44 Jacket, Marc Jacobs Skirt, vintage vest, and Gap tee display this perfectly.
2. Headband & Jewelry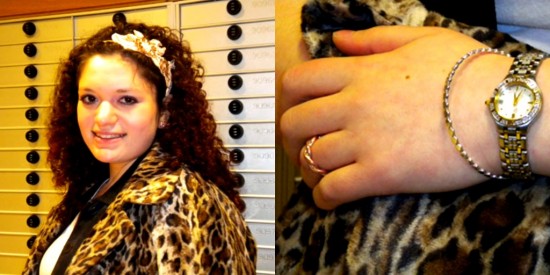 Minimal, practical accessories are always a great choice for any girl on the go. Instead of a hair-tie, Maggie opted for a sparkly headband to keep her hair in place. She also paired a Citizen watch and a plain bracelet with a copper ring (from a gumball machine!) to create her functional and fashionable look.
3. Loafers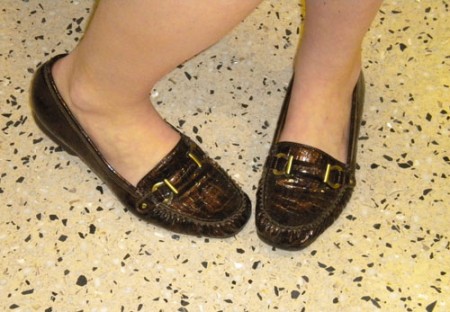 "I love loafers," Maggie says, "They're so comfortable, and instantly make any outfit smarter." We're loving this preppy classic, too – they work well with pretty much any look and add a dash of prep to your ensemble.
What do you think?
Do you like Maggie's style? Do you wear animal print? What do you think of penny loafers? Let us know in the comments!