I ran into Maggie during auditions for the play season. In a sea of girls in over-the-top dresses, Maggie looked professional, put-together, and adorable in a simple green and crème dress. Her outfit stood out to me as a wonderful example of simple pieces working together to create a charming ensemble. Read on to learn more about her sense of style!
Maggie 101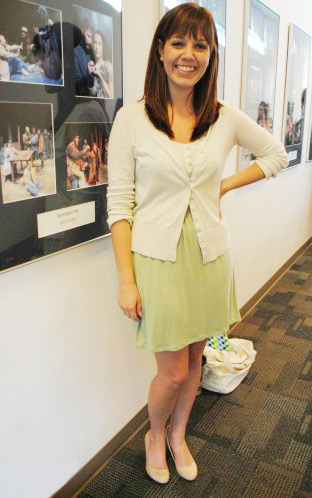 Name: Maggie
College: University of Central Florida
Year: Senior
Major: Theatre Studies
Let's Talk Fashion
What inspires your style? "I love the '20s, '30s, and '40s. Not just the fashion but the ideals and the way of life back then. Women were so feminine and classic during those periods and I try to capture that in the way that I dress. I always say I was born in the wrong time period!"
Where do you shop? "Everywhere. You never know what you'll find. I am partial to stores like Urban Outfitters and Anthropologie, though because they tend to have the vintage style that I'm going for."
How would you describe your style? "Feminine, romantic, vintage."
Why did you choose this outfit? "The leaf-green color of the dress is one of my favorites and I love the buttons and the detailing at the top. It makes me feel girly and it's definitely reminiscent of another era."
What advice do you have for college girls looking to improve their style? "Invest in quality pieces. They can be paired with anything and can totally change up an entire look. You don't need a lot of clothes to make a lot of outfits. And it takes just as long to put on a pair of sweats as it does to put on a dress. I find that when I feel great about my outfit, I have a better day."
What are your favorite trends right now? "I love the high-waisted trend, especially when it comes to skirts. I also love the floral patterns that are popping up everywhere. They really fit the look I'm going for. For dresses, the drop waist is coming back and I love it."
Who is your favorite designer and why? "Elie Saab. He designs the most gorgeous dresses! They're always so floaty and romantic. I wish I could wear one every day and frolic through the woods – that's what they remind me of!"
What are your hobbies? "I love to dance and I really enjoy writing and reading."
If you could raid anyone's closet who would it be and why? "Probably my Nana's closet. But I'd love to raid her closet from when she was in her late teens/early twenties. I bet she would have had some great things in there!"
Elements of Maggie's Outfits
1. Nude Heels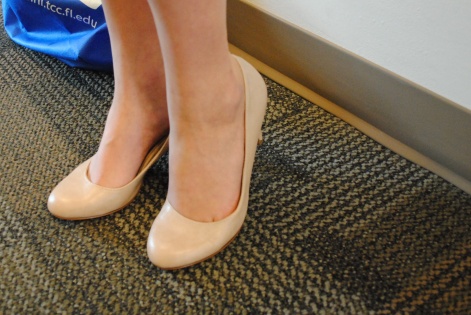 Maggie's nude heels were what caught my eye first. They prove that something incredibly simple can make an outfit look chic. A pair of heels can be a girl's best friend, and in this case, Maggie's beige heels work with her skin tone and go with absolutely everything.
2. Pearl earrings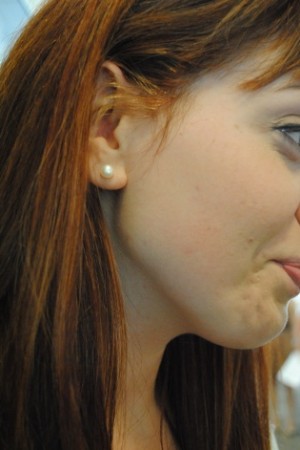 This tiny detail is just the cherry on top of Maggie's outfit. Another simple addition that goes a long way, pearl earrings go with everything but make your outfit look a little fancier. They also bring a bit of that vintage feel to any ensemble.
What do you think?
Do you like Maggie's outfit? Will you be wearing dresses this semester? Do you own a pair of nude heels yet? Are pearl earrings in your jewelry box? Let us know with a comment!